Abstract
Purpose
Oral agents for cancer treatment are increasingly prescribed due to their benefits. However, oral cancer medications are difficult to handle and have a considerable potential for side effects. This type of therapy requires a high level of self-management competence by the patient. A standardized patient education program provided by physicians and oncology nurses may positively influence the handling of oral agents. The aim of the study was to evaluate the impact of a standardized patient education program provided by specially trained oncology nurses on therapy management regarding side effects and unplanned therapy interruptions.
Methods
One hundred sixty-five patients from 28 office-based oncology practices from all over Germany participated in this cluster-randomized controlled study. Patients of both intervention (n = 111) and standard care groups (n = 54) received the usual oncologist counseling; in addition, the patients from the intervention group (k = 17 practices) received an education from specially trained oncology nurses. The time of observation was 3 months per patient.
Results
The patients of the intervention group reported fewer side effects (skin rash, pain, fatigue, nausea, vomiting). Patients in the standard care group interrupted the therapy more frequently without informing their oncologist, compared to the intervention group.
Conclusions
Patients benefit from a standardized patient education program provided by specially trained oncology nurses. They tend to handle side effects and critical situations better.
Access options
Buy single article
Instant access to the full article PDF.
USD 39.95
Price excludes VAT (USA)
Tax calculation will be finalised during checkout.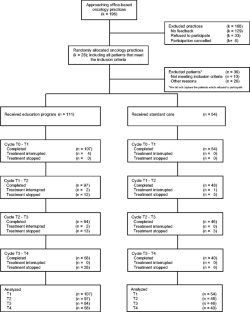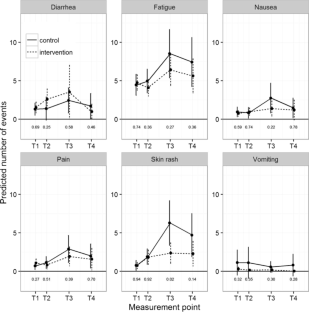 References
May P, Figgins B (2016) Oral anticancer therapy: a comprehensive assessment of patient perceptions and challenges. J Community Support Oncol:112–116

Shah N, Casella E, Capozzi D, McGettigan S, Gangadhar TC, Schuchter L, Myers JS (2015) Improving the safety of oral chemotherapy at an academic medical center. J Oncol Pract. doi:10.1200/JOP.2015.007260

Banna GL, Collova E, Gebbia V, Lipari H, Giuffrida P, Cavallaro S, Condorelli R, Buscarino C, Tralongo P, Ferraù F (2010) Anticancer oral therapy: emerging related issues. Cancer Treat rev 36(8):595–605

Baumann, W (2014) Qualitätsbericht der onkologischen Schwerpunktpraxen 2014. BNHO – Berufsverband der Niedergelassenen Hämatologen und Onkologen 2015, Köln

Chihara D, Ito H, Matsuda T, Katanoda K, Shibata A, Saika K, Sobue T, Matsuo K (2012) Decreasing trend in mortality of chronic myelogenous leukemia patients after introduction of imatinib in Japan and the U.S. Oncologist 17(12):1547–1550

Bordonaro S, Raiti F, Di Mari A, Lopiano C, Romano F, Pumo V, Giuliano SR, Iacono M, Lanteri E, Puzzo E, Spada S, Tralongo P (2012) Active home-based cancer treatment. J Multidiscip Healthc 5:137–143. doi:10.2147/JMDH.S31494

Overkamp F (2015) Herausforderungen zielgerichteter Substanzen an die onkologische Supportivtherapie. Onkologe 21:297–304. doi:10.1007/s00761-014-2795-y

Riechelmann RP, Del Giglio A (2009) Drug interactions in oncology: how common are they? Ann Oncol 20:1907–1912. doi:10.1093/annonc/mdp369

Barth J, Schelenz C (2011) Orale Tumortherapie—DO's and DON'Ts. Onkologische Pharmazie 13.3(2011):14–23

Schilder CM, Seynaeve C, Linn SC, Boogerd W, Beex LV, Gundy CM, Nortier JW, van de Velde CJ, van Dam FS, Schagen SB (2010) Cognitive functioning of postmenopausal breast cancer patients before adjuvant systemic therapy, and its association with medical and psychological factors. Crit Rev Oncol Hematol 76(2):133–141. doi:10.1016/j.critrevonc.2009.11.001

Molassiotes A, Brearley S, Saunders M, Craven O, Wardley A, Farrell C, Swindell R, Todd C, Luker K (2009) Effectiveness of a home care nursing program in the symptom management of patients with colorectal and breast cancer receiving oral chemotherapy: a randomized, controlled trial. J Clin Oncol 27:6191–6198. doi:10.1200/JCO.2008.20.6755

Birner A (2003) Safe administration of oral chemotherapy. Clin J Oncol Nurs 7:158–162. doi:10.1188/03.CJON.158-162

Miaskowski C, Shockney L, Chlebowski RT (2008) Adherence to oral endocrine therapy for breast cancer: a nursing perspective. Clin J Oncol Nurs 12:213–221. doi:10.1188/08. CJON.213-221

Kav S, Johnson J, Rittenberg C, Fernadez-Ortega P, Suominen T, Olsen PR, Patiraki E, Porock D, Dahler A, Toliusiene J, Tadic D, Pittayapan P, Roy V, Wang Q, Colak M, Saca-Hazboun H, Makumi D, Kadmon I, Ami SB, Anderson E, Clark-Snow R (2008) Role of the nurse in patient education and follow-up of people receiving oral chemotherapy treatment: an international survey. Support Care Cancer 16:1075–1083. doi:10.1007/s00520-007-0377-x

Bordonaro S, Romano F, Lateri E, Cappuccio F, Indorato R, Butera A, D'Angelo A, Ferraú F, Tralongo P (2014) Effect of a structured, active, home-based cancer-treatment program for the management of patients on oral chemotherapy. Patient Preferences Adherence 8:917–923

Chau I, Legge S, Fumoleau P (2004) The vital role of education and information in patients receiving capecitabine (Xeloda). Eur J Oncol Nurs 8(Suppl 1):41–53. doi:10.1016/j.ejon.2004.06.008

Temel JS, Greer JA, Muzikansky A, Gallagher ER, Admane S, Jackson VA, Dahlin CM, Blinderman CD, Jacobsen J, Pirl WF, Billings JA, Lynch TJ (2010) Early palliative care for patients with metastatic non–small-cell lung cancer. N Engl J Med 363:733–742. doi:10.1056/NEJMoa1000678

Campbell C (2016) An oral cancer therapy nurse navigator role. Canadian Nurse. https://www.canadian-nurse.com/en/articles/issues/2016/april-2016/an-oral-cancer-therapy-nurse-navigator-role. Accessed 12 July 2016

Adams G, Gulliford MC, Ukoumunne OC, Eldridge S, Chinn S, Campbell MJ (2004) Patterns of intra-cluster correlation from primary care research to inform study design and analysis. J Clin Epidemiol 57:785–794. doi:10.1016/j.jclinepi.2003.12.013

Kav S, Schulmeister L, Nirenberg A, Barber L, Johnson J, Rittenberg C (2010) Development of the MASCC teaching tool for patients receiving oral agents for cancer. Support Care Cancer 18:583–590. doi:10.1007/s00520-009-0692-5

Long JS, Freese J (2014) Regression models for categorical dependent variables using stata, Third edn. Stata Press Publication, StataCorp LP, College Station (Texas)

R Core Team (2016). R: A language and environment for statistical computing. R Foundation for Statistical Computing, Vienna, Austria. URL https://www.R-project.org/.

McCorkle R, Strumpf NE, Nuamah IF, Adler DC, Cooley ME, Jepson C, Lusk EJ, Torosian M (2000) A specialized home care intervention improves survival among older post-surgical cancer patients. J Am Geriatr Soc 48:1707–1713

Haslbeck J (2008) Bewältigung komplexer Medikamentenregime aus Sicht chronisch Kranker. Pflege Gesellschaft 13(1):48–61

Basch E, Deal AM, Kris MG, Scher HI, Hudis CA, Sabbatini P, Rogak L, Bennett AV, Dueck AC, Atkinson TM, Chou JF, Dulko D, Sit L, Barz A, Novotny P, Fruscione M, Sloan JA, Schrag D (2015) Symptom monitoring with patient-reported outcomes during routine cancer treatment: a randomized controlled trial. Journal of Clinical Oncology JCO630830. doi:10.1200/JCO.2015.63.0830

Jatoi A, Rowland K, Sloan JA, Gross HM, Fishkin PA, Kahanic SP, Novotny PJ, Schaefer PL, Johnson DB, Tschetter LK, Loprinzi CL (2008) Tetracycline to prevent epidermal growth factor receptor inhibitor-induced skin rashes: results of a placebo-controlled trial from the North Central Cancer Treatment Group (N03CB). Cancer 113:847–853. doi:10.1002/cncr.23621

Roila F, Herrstedt J, Aapro M, Gralla RJ, Einhorn LH, Ballatori E, Bria E, Clark-Snow RA, Espersen BT, Feyer P, Grunberg SM, Hesketh PJ, Jordan K, Kris MG, Maranzano E, Molassiotis A, Morrow G, Olver I, Rapoport BL, Rittenberg C, Saito M, Tonato M, Warr D, Group O behalf of the E.G.W (2010) Guideline update for MASCC and ESMO in the prevention of chemotherapy- and radiotherapy-induced nausea and vomiting: results of the Perugia consensus conference. Ann Oncol 21:232–243. doi:10.1093/annonc/mdq194

Macedo LT, Lima JPN, dos Santos LV, Sasse AD (2014) Prevention strategies for chemotherapy-induced hand-foot syndrome: a systematic review and meta-analysis of prospective randomised trials. Support Care Cancer 22:1585–1593. doi:10.1007/s00520-014-2129-z

Wood L (2012) A review on adherence management in patients on oral cancer therapies. Eur J Oncol Nurs 16:432–438. doi:10.1016/j.ejon.2011.10.002

Miranda V, Fede A, Nobuo M, Ayres V, Giglio A, Miranda M, Riechelmann RP (2011) Adverse drug reactions and drug interactions as causes of hospital admission in oncology. J Pain Symptom Manag 42:342–353. doi:10.1016/j.jpainsymman.2010.11.014
Acknowledgements
This research was funded by the German Federal Ministry of Health within the National Cancer Plan. We give special thanks to Klaus Becker, Patricia Bernhardt, Mathias Bertram, Hans Peter Böck, Maria Borrmann, Anita Breninek, Andrea Cazan, Hans Wilhelm Dübbers, Michael Eckart, Peter Ehscheidt, Ulrike Eichhorn, Alexandra Elflein, Till Oliver Emde, Birgit Euchenhofer, Regina Fey, Astrid Flöte, Werner Freier, Roswitha Fuchs, Stefanie Gawel, Thomas Hamm, Richard Hansen, Stefanie Heidtmann, Melanie Heinz, Anja Herbst, Alexandra Hesse, Jochen Heymanns, Ulrich Hutzschenreuter, Georg Jacobs, Semra Jäckel, Elke Janning, Sabine Kirchhoff, Nicole Kissel, Astrid Klein, Nicole Kratzer, Tanja Kreuzpaintner, Andrea Kretz, Carmen Lenz, Anja Liesegang, Albrecht Lindemann, Enno Moorahrend, Lothar Müller, Monika Müller, Constanze Priebe-Richter, Margret Rebmann-Albes, Tobias Reiber, Antje Reschke, Daniel Reschke, Annette Sauer, Michael Schauer, Susann Schleife, Stephan Schmitz, Ina Schoon, Monika Spanger, Jan Schröder, Petra Schwedhelm, Eveline Siegel, Daria Tisch, Eva Völkel, Dorothee Volgmann, Thomas Walawgo, Maria Weber, Monika Weiler, Linda Werner, Jochen Wilke, Merle Willam, Sarah Wolff, Mark-Oliver Zahn, and Pablo Zamora.
Ethics declarations
Conflict of interest
The authors declare that there is no conflict of interest.
About this article
Cite this article
Riese, C., Weiß, B., Borges, U. et al. Effectiveness of a standardized patient education program on therapy-related side effects and unplanned therapy interruptions in oral cancer therapy: a cluster-randomized controlled trial. Support Care Cancer 25, 3475–3483 (2017). https://doi.org/10.1007/s00520-017-3770-0
Received:

Accepted:

Published:

Issue Date:

DOI: https://doi.org/10.1007/s00520-017-3770-0
Keywords
Oral cancer therapy

Patient education

Oncology nurses

Therapy-related side effects

Unplanned therapy interruption