Abstract
Purpose
Opioids are associated with side effects in the treatment of moderate-to-severe chronic cancer pain. Oral combination of opioid agonist-antagonist oxycodone-naloxone (OXN-PR) attenuates gastrointestinal side effects; however, evidence on high-dose OXN-PR treatment is scant. This study evaluates the efficacy and tolerability of high-dose OXN-PR in chronic cancer pain.
Patients and methods
This was a multicenter, prospective 60-day observation on consecutive cancer patients with uncontrolled moderate-severe chronic pain or intolerant to other analgesics, who were switched at entry visit (T0) to OXN-PR ≥80 mg daily. Patients were reassessed 14, 30, 45, and 60 days later (T60). Primary endpoint of the study was analgesic response rate (decrease ≥30% of pain intensity from baseline, measured on a 0–10 numerical rating scale, NRS) after 30 days on OXN-PR. Additional endpoints assessed at every visit were the impact of pain on quality of life (QoL), breakthrough cancer pain (BTCP) episodes, opioid dosage escalation index, bowel dysfunction, safety, and other side effects.
Results
One hundred nineteen patients were included (age 64 ± 12, metastatic disease in 91.6%); 101 of them (84.9%) completed the 60-day observation. At T0, the majority had severe pain (NRS ≥7 in 79.8%; neuropathic features in 83.2%). Response rate at 30-day visit was 79.8% (n = 95). OXN-PR resulted in a significant reduction in pain over time (T0: 7.4 ± 1.3; T60: 3.3 ± 1.8; p < 0.001), and the number of daily (BTCP) declined (3.9 ± 2.2 vs. 2.0 ± 0.6, p < 0.001). Daily dosage of OXN-PR slightly increased (T0: 81.3 ± 6.0; T60: 93.6 ± 34.0; p < 0.001). The impact of pain on QoL abated (p < 0.0001), and bowel function improved overtime (p < 0.001). After the switch to OXN-PR, the number of patients complaining for side effects decreased overall (p < 0.0001); laxatives and antiemetic use also declined significantly.
Conclusions
OXN-PR was highly effective and well tolerated even at high doses in cancer patients with chronic pain. The agonist-antagonist combination rapidly alleviated pain and its impact on life style, reducing the number of BTCP and improving opioid side effects.
Access options
Buy single article
Instant access to the full article PDF.
USD 39.95
Price excludes VAT (USA)
Tax calculation will be finalised during checkout.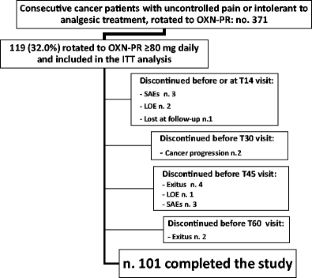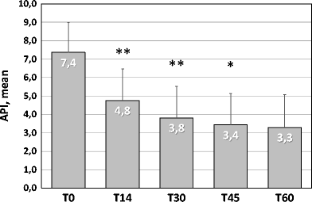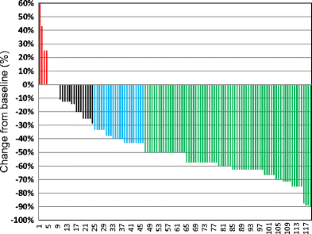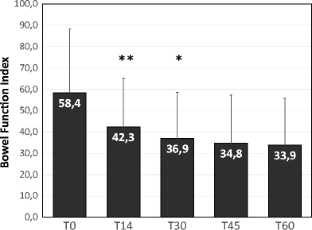 References
Smith TJ, Temin S, Alesi ER et al (2012) American Society of Clinical Oncology provisional clinical opinion: the integration of palliative care into standard oncology care. J Clin Oncol 30:880–887

Caraceni A, Hanks G, Kaasa S et al (2012) European Association for Palliative Care (EAPC). Use of opioid analgesics in the treatment of cancer pain: evidence-based recommendations from the EAPC. Lancet Oncol 13:e58–e68

Ripamonti CI, Santini D, Maranzano E, Berti M, Roila F (2012) Management of cancer pain: ESMO clinical practice guidelines. Ann Oncol 23:vii139–vii154

Corli O, Floriani I, Roberto A et al (2016) Are strong opioids equally effective and safe in the treatment of chronic cancer pain? A multicenter randomized phase IV "real life" trial on the variability of response to opioids. Ann Oncol 27:1107–1115

Mancini I, Bruera E (1998) Constipation in advanced cancer patients. Support Care Cancer 6:356

Camilleri M (2011) Opioid-induced constipation: challenges and therapeutic opportunities. Am J Gastroenterol 106:835–842

Meissner W, Leyendecker P, Mueller-Lissner S et al (2009) A randomised controlled trial with prolonged-release oral oxycodone and naloxone to prevent and reverse opioid-induced constipation. Eur J Pain 13:56–64

Mercadante S, Giarratano A (2013) Combined oral prolonged-release oxycodone and naloxone in chronic pain management. Expert Opin Investig Drugs 22:161–166

Lowenstein O, Leyendecker P, Lux EA et al (2010) Efficacy and safety of combined prolonged-release oxycodone and naloxone in the management of moderate/severe chronic non-malignant pain: results of a prospectively designed pooled analysis of two randomised, double-blind clinical trials. BMC Clin Pharmacol 10:12

Ahmedzai SH, Nauck F, Bar-Sela G, Bosse B, Leyendecker P, Hopp M (2012) A randomized, double-blind, active-controlled, double-dummy, parallel-group study to determine the safety and efficacy of oxycodone/naloxone prolonged-release tablets in patients with moderate/severe, chronic cancer pain. Palliat Med 26:50–60

Cuomo A, Russo G, Esposito G, Forte CA, Connola M, Marcassa C (2014) Efficacy and gastrointestinal tolerability of oral oxycodone/naloxone combination for chronic pain in outpatients with cancer: an observational study. Am J Hosp Palliat Care 31:867–876

Lazzari M, Greco MT, Marcassa C, Finocchi S, Caldarulo C, Corli O (2015) Efficacy and tolerability of oral oxycodone and oxycodone/naloxone combination in opioid-naïve cancer patients: a propensity analysis. Drug Des Devel Ther 9:5863–5872

Ueberall MA, Mueller-Schwefe GH (2015) Safety and efficacy of oxycodone/naloxone vs oxycodone vs. morphine for the treatment of chronic low back pain: results of a 12-week prospective, randomized, open-label blinded endpoint streamlined study with prolonged-release preparations. Curr Med Res Opin 31:1413–1429

Amato F, Ceniti S, Vellucci R et al (2014) Cancer pain therapy with a fixed combination of prolonged-release oxycodone/naloxone: a real-life scenario. Reg Anesth Pain Med 39:E301–E302

Bonezzi C, Nava A, Barbieri M et al (2002) Validazione della versione italiana del Brief Pain Inventory nei pazienti con dolore cronico [Validation of an Italian version of the Brief Pain Inventory in patients with chronic pain]. Minerva Anestesiol 68:607–611 Italian

Rentz AM, Yu R, Muller-Lissner S, Leyendecker P (2009) Validation of the Bowel Function Index to detect clinically meaningful changes in opioid-induced constipation. J Med Econ 12:371–383

Mercadante S, Dardanoni G, Salvaggio L, Armata MG, Agnello A (1997) Monitoring of opioid therapy in advanced cancer pain patients. J Pain Symptom Manag 13:204–212

King SJ, Reid C, Forbes K et al (2011) A systematic review of oxycodone in the management of cancer pain. Palliat Med 25:454–470

Meissner W, Schmidt U, Hartmann M, Kath R, Reinhart K (2000) Oral naloxone reverses opioid-associated constipation. Pain 84:105–109

US Food and Drug Administration. FDA approves Targiniq ER with abuse-deterrent properties. http://www.fda.gov/Drugs/DrugSafety/PostmarketDrugSafetyInformationforPatientsandProviders/ucm406290.htm. Accessed 7 October 2016

Summary of Product Characteristics [webpage on the Internet]. Targin 5/2.5 mg, 10/5 mg, 20/10 mg and 40/20 mg prolonged release tablets; 2015. Available from: http://www.medicines.ie/medicine/14383/SPC/Targin+5+2.5mg%2c+10mg+5mg%2c+20mg+10mg+and+40+20mg+prolonged+release+tablets/#PRODUCTINFO. Accessed 14 Novembre 2016

Ahmedzai SH, Leppert W, Janecki M et al (2015) Long-term safety and efficacy of oxycodone/naloxone prolonged-release tablets in patients with moderate-to-severe chronic cancer pain. Support Care Cancer 23:823–830

Löwenstein OT, Stachowiak A, Ellery A, Bosse B, Kremers W, Hopp M. Long-term pain relief with high dose oxycodone/naloxone prolonged release formulation (OXN PR). EFIC—9th conference of the European Pain Federation, Vienna, Austria, 2–5 September 2015

Mercadante S, Ferrera P, Adile C (2011) High doses of oxycodone-naloxone combination may provide poor analgesia. Support Care Cancer 19:1471–1472

Kang JH, Lee GW, Shin SH, Bruera E (2013) Opioid withdrawal syndrome after treatment with low-dose extended-release oxycodone and naloxone in a gastric cancer patient with portal vein thrombosis. J Pain Symptom Manag 46:e15–e17
Acknowledgements
Editorial assistance for the preparation of this manuscript was provided by Luca Giacomelli, PhD, and Sara Parodi, PhD, on behalf of Content Ed Net; this assistance was funded by Mundipharma Pharmaceuticals srl, Milan Italy.
Ethics declarations
The authors have full control of all primary data and agree to allow the journal to review their data, if requested.
Conflicts of interest
The authors declare that they have no conflicts of interest.
About this article
Cite this article
Amato, F., Ceniti, S., Mameli, S. et al. High dosage of a fixed combination oxycodone/naloxone prolonged release: efficacy and tolerability in patients with chronic cancer pain. Support Care Cancer 25, 3051–3058 (2017). https://doi.org/10.1007/s00520-017-3709-5
Received:

Accepted:

Published:

Issue Date:

DOI: https://doi.org/10.1007/s00520-017-3709-5
Keywords
Cancer pain

Opioids

Oxycodone

Naloxone

Prolonged release

Constipation

Pain control