Abstract
Purpose
Cancer patients frequently experience reduced physical fitness due to the disease itself as well as treatment-related side effects. However, studies on physical fitness in pancreatic cancer patients are missing. Therefore, we assessed cardiorespiratory fitness and muscle strength of pancreatic cancer patients.
Methods
We included 65 pancreatic cancer patients, mostly after surgical resection. Cardiorespiratory fitness was assessed using cardiopulmonary exercise testing (CPET) and 6-min walk test (6MWT). Hand-held dynamometry was used to evaluate isometric muscle strength. Physical fitness values were compared to reference values of a healthy population. Associations between sociodemographic and clinical variables with patients' physical fitness were analyzed using multiple regression models.
Results
Cardiorespiratory fitness (VO2peak, 20.5 ± 6.9 ml/min/kg) was significantly lower (−24%) compared to healthy reference values. In the 6MWT pancreatic cancer patients nearly reached predicted values (555 vs. 562 m). Maximal voluntary isometric contraction (MVIC) of the upper (−4.3%) and lower extremities (−13.8%) were significantly lower compared to reference values. Overall differences were larger in men than those in women. Participating in regular exercise in the year before diagnosis was associated with greater VO2peak (p < .05) and MVIC of the knee extensors (p < .05).
Conclusions
Pancreatic cancer patients had significantly impaired physical fitness with regard to both cardiorespiratory function and isometric muscle strength, already in the early treatment phase (median 95 days after surgical resection). Our findings underline the need to investigate exercise training in pancreatic cancer patients to counteract the loss of physical fitness.
Access options
Buy single article
Instant access to the full article PDF.
US$ 39.95
Tax calculation will be finalised during checkout.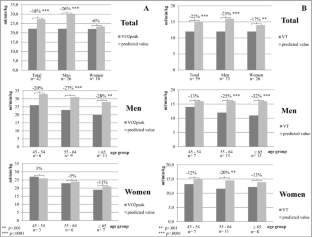 References
1.

Siegel RL, Miller KD, Jemal A (2015) Cancer statistics, 2015. CA Cancer J Clin 65(1):5–29. doi:10.3322/caac.21254

2.

Hidalgo M (2010) Pancreatic cancer. N Engl J Med 362(17):1605–1617. doi:10.1056/NEJMra0901557

3.

Ryan DP, Hong TS, Bardeesy N (2014) Pancreatic adenocarcinoma. N Engl J Med 371(22):1039–1049. doi:10.1056/NEJMc1412266

4.

Gong J, Tuli R, Shinde A, Hendifar AE (2016) Meta-analyses of treatment standards for pancreatic cancer. Mol Clin Oncol 4(3):315–325. doi:10.3892/mco.2015.716

5.

Cameron JL, Riall TS, Coleman J, Belcher KA (2006) One thousand consecutive pancreaticoduodenectomies. Ann Surg 244(1):10–15. doi:10.1097/01.sla.0000217673.04165.ea

6.

Neoptolemos JP, Stocken DD, Friess H, Bassi C, Dunn JA, Hickey H, Beger H, Fernandez-Cruz L, Dervenis C, Lacaine F, Falconi M, Pederzoli P, Pap A, Spooner D, Kerr DJ, Buchler MW, European Study Group for Pancreatic C (2004) A randomized trial of chemoradiotherapy and chemotherapy after resection of pancreatic cancer. N Engl J Med 350(12):1200–1210. doi:10.1056/NEJMoa032295

7.

Oettle H, Post S, Neuhaus P, Gellert K, Langrehr J, Ridwelski K, Schramm H, Fahlke J, Zuelke C, Burkart C, Gutberlet K, Kettner E, Schmalenberg H, Weigang-Koehler K, Bechstein WO, Niedergethmann M, Schmidt-Wolf I, Roll L, Doerken B, Riess H (2007) Adjuvant chemotherapy with gemcitabine vs observation in patients undergoing curative-intent resection of pancreatic cancer: a randomized controlled trial. JAMA 297(3):267–277. doi:10.1001/jama.297.3.267

8.

Jones LW, Alfano CM (2013) Exercise-oncology research: past, present, and future. Acta Oncol 52(2):195–215. doi:10.3109/0284186X.2012.742564

9.

Steins Bisschop CN, Velthuis MJ, Wittink H, Kuiper K, Takken T, van der Meulen WJ, Lindeman E, Peeters PH, May AM (2012) Cardiopulmonary exercise testing in cancer rehabilitation: a systematic review. Sports Med 42(5):367–379. doi:10.2165/11598480-000000000-00000

10.

Christensen JF, Jones LW, Andersen JL, Daugaard G, Rorth M, Hojman P (2014) Muscle dysfunction in cancer patients. Ann Oncol. doi:10.1093/annonc/mdt551

11.

Klassen O, Schmidt ME, Scharhag-Rosenberger F, Sorkin M, Ulrich CM, Schneeweiss A, Potthoff K, Steindorf K, Wiskemann J (2014) Cardiorespiratory fitness in breast cancer patients undergoing adjuvant therapy. Acta Oncol 53(10):1356–1365. doi:10.3109/0284186X.2014.899435

12.

Persoon S, Kersten MJ, Buffart LM, Vander Slagmolen G, Baars JW, Visser O, Manenschijn A, Nollet F, Chinapaw MJ (2016) Health-related physical fitness in patients with multiple myeloma or lymphoma recently treated with autologous stem cell transplantation. J Sci Med Sport. doi:10.1016/j.jsams.2016.01.006

13.

Hummler S, Thomas M, Hoffmann B, Gartner P, Zoz M, Huber G, Ulrich CM, Wiskemann J (2014) Physical performance and psychosocial status in lung cancer patients: results from a pilot study. Oncol Res Treat 37(1–2):36–41. doi:10.1159/000358157

14.

Jones LW, Eves ND, Peterson BL, Garst J, Crawford J, West MJ, Mabe S, Harpole D, Kraus WE, Douglas PS (2008) Safety and feasibility of aerobic training on cardiopulmonary function and quality of life in postsurgical nonsmall cell lung cancer patients: a pilot study. Cancer 113(12):3430–3439. doi:10.1002/cncr.23967

15.

Soyupek F, Soyupek S, Perk H, Ozorak A (2008) Androgen deprivation therapy for prostate cancer: effects on hand function. Urol Oncol 26(2):141–146. doi:10.1016/j.urolonc.2006.12.014

16.

Howley ET, Bassett DR Jr, Welch HG (1995) Criteria for maximal oxygen uptake: review and commentary. Med Sci Sports Exerc 27(9):1292–1301

17.

Midgley AW, McNaughton LR, Polman R, Marchant D (2007) Criteria for determination of maximal oxygen uptake: a brief critique and recommendations for future research. Sports Med 37(12):1019–1028

18.

Beaver WL, Wasserman K, Whipp BJ (1986) A new method for detecting anaerobic threshold by gas exchange. J Appl Physiol 60(6):2020–2027

19.

AmericanThoracic Society (2002) ATS statement: guidelines for the six-minute walk test. Am J Respir Crit Care Med 166:111–117. doi:10.1164/rccm.166/1/111

20.

Schmidt K, Vogt L, Thiel C, Jager E, Banzer W (2013) Validity of the six-minute walk test in cancer patients. Int J Sports Med 34(7):631–636. doi:10.1055/s-0032-1323746

21.

Kasymjanova G, Correa JA, Kreisman H, Dajczman E, Pepe C, Dobson S, Lajeunesse L, Sharma R, Small D (2009) Prognostic value of the six-minute walk in advanced non-small cell lung cancer. J Thorac Oncol 4(5):602–607. doi:10.1097/JTO.0b013e31819e77e8

22.

Bohannon RW (1997) Reference values for extremity muscle strength obtained by hand-held dynamometry from adults aged 20 to 79 years. Arch Phys Med Rehabil 78(1):26–32

23.

Bohannon RW (2012) Hand-held dynamometry: a practicable alternative for obtaining objective measures of muscle strength. Isokinet Exerc Sci 20(4):301–315

24.

Ainsworth BE, Haskell WL, Herrmann SD, Meckes N, Bassett DR Jr, Tudor-Locke C, Greer JL, Vezina J, Whitt-Glover MC, Leon AS (2011) 2011 compendium of physical activities: a second update of codes and MET values. Med Sci Sports Exerc 43(8):1575–1581. doi:10.1249/MSS.0b013e31821ece12

25.

Koch B, Schaper C, Ittermann T, Spielhagen T, Dorr M, Volzke H, Opitz CF, Ewert R, Glaser S (2009) Reference values for cardiopulmonary exercise testing in healthy volunteers: the SHIP study. Eur Respir J 33(2):389–397. doi:10.1183/09031936.00074208

26.

Enright PL, Sherrill DL (1998) Reference equations for the six-minute walk in healthy adults. Am J Respir Crit Care Med 158(5):1384–1387. doi:10.1164/ajrccm.158.5.9710086

27.

Bachmann J, Heiligensetzer M, Krakowski-Roosen H, Buchler MW, Friess H, Martignoni ME (2008) Cachexia worsens prognosis in patients with resectable pancreatic cancer. J Gastrointest Surg 12(7):1193–1201. doi:10.1007/s11605-008-0505-z

28.

Quist M, Adamsen L, Rorth M, Laursen JH, Christensen KB, Langer SW (2015) The impact of a multidimensional exercise intervention on physical and functional capacity, anxiety, and depression in patients with advanced-stage lung cancer undergoing chemotherapy. Integr Cancer Ther 14(4):341–349. doi:10.1177/1534735415572887

29.

Morishita S, Kaida K, Ikegame K, Yoshihara S, Taniguchi K, Okada M, Kodama N, Ogawa H, Domen K (2012) Impaired physiological function and health-related QOL in patients before hematopoietic stem-cell transplantation. Support Care Cancer 20(4):821–829. doi:10.1007/s00520-011-1156-2

30.

Jones LW, Courneya KS, Mackey JR, Muss HB, Pituskin EN, Scott JM, Hornsby WE, Coan AD, Herndon JE 2nd, Douglas PS, Haykowsky M (2012) Cardiopulmonary function and age-related decline across the breast cancer survivorship continuum. J Clin Oncol 30(20):2530–2537. doi:10.1200/JCO.2011.39.9014

31.

Wood WA, Deal AM, Reeve BB, Abernethy AP, Basch E, Mitchell SA, Shatten C, Hie Kim Y, Whitley J, Serody JS, Shea T, Battaglini C (2013) Cardiopulmonary fitness in patients undergoing hematopoietic SCT: a pilot study. Bone Marrow Transplant 48(10):1342–1349. doi:10.1038/bmt.2013.58

32.

Jones LW, Hornsby WE, Goetzinger A, Forbes LM, Sherrard EL, Quist M, Lane AT, West M, Eves ND, Gradison M, Coan A, Herndon JE, Abernethy AP (2012) Prognostic significance of functional capacity and exercise behavior in patients with metastatic non-small cell lung cancer. Lung Cancer 76(2):248–252. doi:10.1016/j.lungcan.2011.10.009

33.

Chen CH, Ho C, Huang YZ, Hung TT (2011) Hand-grip strength is a simple and effective outcome predictor in esophageal cancer following esophagectomy with reconstruction: a prospective study. J Cardiothorac Surg 6:98. doi:10.1186/1749-8090-6-98

34.

Courneya KS, Segal RJ, Mackey JR, Gelmon K, Reid RD, Friedenreich CM, Ladha AB, Proulx C, Vallance JK, Lane K, Yasui Y, McKenzie DC (2007) Effects of aerobic and resistance exercise in breast cancer patients receiving adjuvant chemotherapy: a multicenter randomized controlled trial. J Clin Oncol 25(28):4396–4404. doi:10.1200/JCO.2006.08.2024

35.

van Waart H, Stuiver MM, van Harten WH, Geleijn E, Kieffer JM, Buffart LM, de Maaker-Berkhof M, Boven E, Schrama J, Geenen MM, Meerum Terwogt JM, van Bochove A, Lustig V, van den Heiligenberg SM, Smorenburg CH, Hellendoorn-van Vreeswijk JA, Sonke GS, Aaronson NK (2015) Effect of low-intensity physical activity and moderate- to high-intensity physical exercise during adjuvant chemotherapy on physical fitness, fatigue, and chemotherapy completion rates: results of the PACES randomized clinical trial. J Clin Oncol 33(17):1918–1927. doi:10.1200/JCO.2014.59.1081

36.

Van Vulpen J, Velthuis MJ, Steins Bisschop CN, Travier N, BJ VDB, Backx FJ, Los M, Erdkamp FL, Bloemendal HJ, Koopman M, DER MA, Verhaar MJ, Ten Bokkel-Huinink D, VDW E, Peeters PH, May AM (2016) Effects of an exercise program in colon cancer patients undergoing chemotherapy. Med Sci Sports Exerc 48(5):767–775. doi:10.1249/MSS.0000000000000855

37.

Mizrahi D, Broderick C, Friedlander M, Ryan M, Harrison M, Pumpa K, Naumann F (2015) An exercise intervention during chemotherapy for women with recurrent ovarian cancer: a feasibility study. Int J Gynecol Cancer 25(6):985–992. doi:10.1097/IGC.0000000000000460

38.

Mishra SI, Scherer RW, Snyder C, Geigle PM, Berlanstein DR, Topaloglu O (2012) Exercise interventions on health-related quality of life for people with cancer during active treatment. Cochrane Database Syst Rev 8:CD008465. doi:10.1002/14651858.CD008465.pub2

39.

Mishra SI, Scherer RW, Geigle PM, Berlanstein DR, Topaloglu O, Gotay CC, Snyder C (2012) Exercise interventions on health-related quality of life for cancer survivors. Cochrane Database Syst Rev 8:CD007566. doi:10.1002/14651858.CD007566.pub2

40.

Lakoski SG, Eves ND, Douglas PS, Jones LW (2012) Exercise rehabilitation in patients with cancer. Nat Rev Clin Oncol 9(5):288–296. doi:10.1038/nrclinonc.2012.27

41.

Schmitz KH, Courneya KS, Matthews C, Demark-Wahnefried W, Galvao DA, Pinto BM, Irwin ML, Wolin KY, Segal RJ, Lucia A, Schneider CM, von Gruenigen VE, Schwartz AL (2010) American College of Sports Medicine roundtable on exercise guidelines for cancer survivors. Med Sci Sports Exerc 42(7):1409–1426. doi:10.1249/MSS.0b013e3181e0c112

42.

Robert Koch-Institut (2015) Gesundheit in Deutschland. Gesundheitsberichterstattung des Bundes. Gemeinsam getragen von RKI und Destatis. RKI, Berlin

43.

Buanes TA (2016) Updated therapeutic outcome for patients with periampullary and pancreatic cancer related to recent translational research. World J Gastroenterol 22(48):10502–10511. doi:10.3748/wjg.v22.i48.10502

44.

Westgaard A, Pomianowska E, Clausen OP, Gladhaug IP (2013) Intestinal-type and pancreatobiliary-type adenocarcinomas: how does ampullary carcinoma differ from other periampullary malignancies? Ann Surg Oncol 20(2):430–439. doi:10.1245/s10434-012-2603-0
Acknowledgements
We would like to thank the patients who participated in this clinical trial. We also thank Friederike Scharhag-Rosenberger, PhD for her expertise and assistance in determining the VT, Martina Schmidt, PhD and Sabine Holzmeier for the support in data management and statistics and Jens Werner, MD for clinical advice on designing the trial.
Ethics declarations
Conflict of interest
The authors declare that they have no conflict of interest.
Disclosure of funding
The research was funded by a grant of the German Cancer Aid (SUPPORT-Study Grant No. 110513 and 110552) as well as by additional financial support of the German Cancer Research Center (Division of Physical Activity, Prevention and Cancer) and the University Hospital Heidelberg (Divisions of Medical Oncology and General, Visceral and Transplantation Surgery).
Informed consent
Informed consent was obtained from all individual participants included in the study. This process was supervised by the local ethics committee.
Additional information
Joachim Wiskemann and Karen Steindorf shared last authorship
About this article
Cite this article
Clauss, D., Tjaden, C., Hackert, T. et al. Cardiorespiratory fitness and muscle strength in pancreatic cancer patients. Support Care Cancer 25, 2797–2807 (2017). https://doi.org/10.1007/s00520-017-3694-8
Received:

Accepted:

Published:

Issue Date:
Keywords
Physical fitness

Exercise

Oncology

Cardiorespiratory function

Physical activity