Abstract
Purpose
Survival with advanced pancreatic cancer is less than 12 months. Pancreatic exocrine insufficiency may contribute to pancreatic cancer-related cachexia, via nutrient malabsorption. We aimed to determine the feasibility of prescribing pancreatic extract (Creon®) for patients with advanced pancreatic cancer.
Methods
Patients with advanced pancreatic cancer, without frank malabsorption, were randomised in this feasibility study to pancreatic extract 50,000 units with meals and 25,000 units with snacks, or placebo. Standardised dietary advice was given. Anti-cancer and supportive care treatments were permitted. Outcomes included weight, body mass index (BMI), quality of life (QLQC30, PAN26), survival and nutritional assessment (PG-SGA).
Results
Eighteen patients were randomised before study closure due to slow recruitment. Baseline characteristics were well matched. Weight loss prior to randomisation was numerically greater in the pancreatic extract group (mean 0.7 vs 2.2 kg). Weight loss was numerically greater in the placebo group, however not significantly. No differences in BMI or nutrition score were seen. Quality of life did not differ between study groups. Median overall survival was 17 (95% CI 8.1–48.7) weeks in the control group, and 67.6 (95% CI 14.1–98.4) weeks in the pancreatic extract group (p = 0.1063). Only 17% (18/106) of potentially eligible patients were recruited, related to patient/family reluctance, rapid clinical deterioration and patients already prescribed pancreatic extract. A moderate pill burden was noted.
Conclusion
Despite intriguing survival results, this study was not sufficiently feasible to proceed to a fully powered comparative study. A multi-centre study would be required to exclude a significant difference in outcomes.
This is a preview of subscription content, log in to check access.
Access options
Buy single article
Instant access to the full article PDF.
US$ 39.95
Price includes VAT for USA
Subscribe to journal
Immediate online access to all issues from 2019. Subscription will auto renew annually.
US$ 199
This is the net price. Taxes to be calculated in checkout.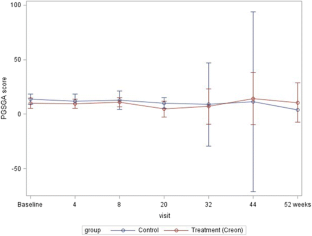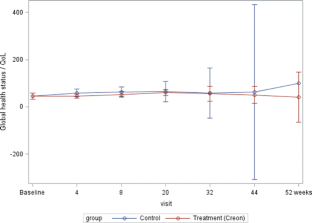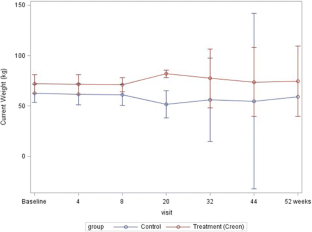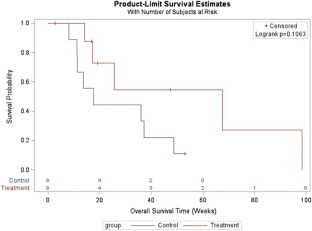 References
1.

Conroy T, Desseigne F, Ychou M, Bouche O, Guimbaud R, Becouarn Y, Adenis A, Raoul JL, Gourgou-Bourgade S, de la Fouchardiere C, Bennouna J, Bachet JB, Khemissa-Akouz F, Pere-Verge D, Delbaldo C, Assenat E, Chauffert B, Michel P, Montoto-Grillot C, Ducreux M (2011) FOLFIRINOX versus gemcitabine for metastatic pancreatic cancer. N Engl J Med 364(19):1817–1825. doi:10.1056/NEJMoa1011923

2.

Ferlay J, Soerjomataram I, Dikshit R, Eser S, Mathers C, Rebelo M (2015) Cancer incidence and mortality worldwide: sources, methods and major patterns in GLOBOCAN 2012. Int J Cancer 136(5):E359–E386. doi:10.1002/ijc.29210

3.

Oettle H, Neuhaus P, Hochhaus A, Hartmann JT, Gellert K, Ridwelski K, Niedergethmann M, Zulke C, Fahlke J, Arning MB, Sinn M, Hinke A, Riess H (2013) Adjuvant chemotherapy with gemcitabine and long-term outcomes among patients with resected pancreatic cancer: the CONKO-001 randomized trial. J Am Med Assoc 310(14):1473–1481. doi:10.1001/jama.2013.279201

4.

Gooden HM, White KJ (2013) Pancreatic cancer and supportive care—pancreatic exocrine insufficiency negatively impacts on quality of life. Support Care Cancer 21(7):1835–1841. doi:10.1007/s00520-013-1729-3

5.

Domínguez-Muñoz JE, Nieto-Garcia L 2013 Iglesias-Garcia J Impact of diagnosis and treatment of pancreatic exocrine insufficiency (PEI) on survival of patients with unresectable pancreatic cáncer (PC) In: vol 3 (suppl). Pancreatology, p S80

6.

Davidson W, Ash S, Capra S, Bauer J (2004) Weight stabilisation is associated with improved survival duration and quality of life in unresectable pancreatic cancer. Clin Nutr 23(2):239–247

7.

Bauer J, Capra S, Battistutta D, Davidson W, Ash S (2005) Compliance with nutrition prescription improves outcomes in patients with unresectable pancreatic cancer. Clin Nutr 24(6):998–1004. doi:10.1016/j.clnu.2005.07.002

8.

Partelli S, Frulloni L, Minniti C, Bassi C, Barugola G, D'Onofrio M, Crippa S, Falconi M (2012) Faecal elastase-1 is an independent predictor of survival in advanced pancreatic cancer. Dig Liver Dis 44(11):945–951. doi:10.1016/j.dld.2012.05.017

9.

Sikkens EC, Cahen DL, de Wit J, Looman CW, van Eijck C, Bruno MJ (2014) A prospective assessment of the natural course of the exocrine pancreatic function in patients with a pancreatic head tumor. J Clin Gastroenterol 48(5):e43–e46. doi:10.1097/MCG.0b013e31829f56e7

10.

Smith RC, Smith SF, Wilson J, Pearce C, Wray N, Vo R, Chen J, Ooi CY, Oliver M, Katz T, Turner R, Nikfarjam M, Rayner C, Horowitz M, Holtmann G, Talley N, Windsor J, Pirola R, Neale R (2016) Summary and recommendations from the Australasian guidelines for the management of pancreatic exocrine insufficiency. Pancreatology: official journal of the International Association of Pancreatology (IAP) [et al.] 16(2):164–180. doi:10.1016/j.pan.2015.12.006

11.

Bruno MJ, Haverkort EB, Tijssen GP, Tytgat GN, van Leeuwen DJ (1998) Placebo controlled trial of enteric coated pancreatin microsphere treatment in patients with unresectable cancer of the pancreatic head region. Gut 42(1):92–96

12.

Domínguez-Muñoz JE, Iglesias-García J, Iglesias-Rey M, Vilariño-Insua M (2006) Optimising the therapy of exocrine pancreatic insufficiency by the association of a proton pump inhibitor to enteric coated pancreatic extracts. Gut 55(7):1056–1057. doi:10.1136/gut.2006.094912

13.

Fitzsimmons D, Kahl S, Butturini G, van Wyk M, Bornman P, Bassi C, Malfertheiner P, George SL, Johnson CD (2005) Symptoms and quality of life in chronic pancreatitis assessed by structured interview and the EORTC QLQ-C30 and QLQ-PAN26. Am J Gastroenterol 100(4):918–926

14.

Aaronson NK, Ahmedzai S, Bergman B, Bullinger M, Cull A, Duez NJ, Filiberti A, Flechtner H, Fleishman SB, de Haes JC, JMd, Kaasa S, Klee M, Osoba D, Razavi D, Rofe PB, Schraub S, Sneeuw K, Sullivan M, Takeda F (1993) The European Organization for Research and Treatment of Cancer QLQ-C30: a quality-of-life instrument for use in international clinical trials in oncology. J Natl Cancer Inst 85(5):365–376. doi:10.1093/jnci/85.5.365

15.

Fitzsimmons D, Johnson CD (1998) Quality of life after treatment of pancreatic cancer. Langenbecks Arch Chir 383(2):145–151. doi:10.1007/s004230050106

16.

Bauer J, Capra S, Ferguson M (2002) Use of the scored Patient-Generated Subjective Global Assessment (PG-SGA) as a nutrition assessment tool in patients with cancer. Eur J Clin Nutr 56:779–785. doi:10.1038/sj.ejcn.1601412

17.

Fearon K, Strasser F, Anker SD, Bosaeus I, Bruera E, Fainsinger RL, Jatoi A, Loprinzi C, MacDonald N, Mantovani G, Davis M, Muscaritoli M, Ottery F, Radbruch L, Ravasco P, Walsh D, Wilcock A, Kaasa S, Baracos VE (2011) Definition and classification of cancer cachexia: an international consensus. Lancet Oncol 12(5):489–495. doi:10.1016/s1470-2045(10)70218-7

18.

Blum D, Stene GB, Solheim TS, Fayers P, Hjermstad MJ, Baracos VE, Fearon K, Strasser F, Kaasa S (2014) Validation of the consensus-definition for cancer cachexia and evaluation of a classification model–a study based on data from an international multicentre project (EPCRC-CSA). Ann Oncol 25(8):1635–1642. doi:10.1093/annonc/mdu086

19.

Whitcomb DC, Lehman GA, Vasileva G, Malecka-Panas E, Gubergrits N, Shen Y, Sander-Struckmeier S, Caras S (2010) Pancrelipase delayed-release capsules (CREON) for exocrine pancreatic insufficiency due to chronic pancreatitis or pancreatic surgery: A double-blind randomized trial. Am J Gastroenterol 105(10):2276–2286. doi:10.1038/ajg.2010.201

20.

Toouli J, Biankin AV, Oliver MR, Pearce CB, Wilson JS, Wray NH (2010) Management of pancreatic exocrine insufficiency: Australasian Pancreatic Club recommendations. Med J Aust 193(8):461–467

21.

Bye A, Wesseltoft-Rao N, Iversen PO, Skjegstad G, Holven KB, Ulven S, Hjermstad MJ (2016) Alterations in inflammatory biomarkers and energy intake in cancer cachexia: a prospective study in patients with inoperable pancreatic cancer. Med Oncol 33(6):54. doi:10.1007/s12032-016-0768-2

22.

Ozola Zalite I, Zykus R, Francisco Gonzalez M, Saygili F, Pukitis A, Gaujoux S, Charnley RM, Lyadov V (2015) Influence of cachexia and sarcopenia on survival in pancreatic ductal adenocarcinoma: a systematic review. Pancreatology : official journal of the International Association of Pancreatology (IAP) [et al.] 15(1):19–24. doi:10.1016/j.pan.2014.11.006

23.

Proctor MJ, Morrison DS, Talwar D, Balmer SM, Fletcher CD, O'Reilly DS, Foulis AK, Horgan PG, McMillan DC (2011) A comparison of inflammation-based prognostic scores in patients with cancer. A Glasgow Inflammation Outcome Study. Eur J Cancer 47(17):2633–2641. doi:10.1016/j.ejca.2011.03.028

24.

Togashi Y, Kogita A, Sakamoto H, Hayashi H, Terashima M, de Velasco MA, Sakai K, Fujita Y, Tomida S, Kitano M, Okuno K, Kudo M, Nishio K (2015) Activin signal promotes cancer progression and is involved in cachexia in a subset of pancreatic cancer. Cancer Lett 356(2 Pt B):819–827. doi:10.1016/j.canlet.2014.10.037

25.

Sever S, White DL, Garcia JM (2016) Is there an effect of ghrelin/ghrelin analogs on cancer? A systematic review. Endocrine Related Cancer 23(9):R393–R409. doi:10.1530/erc-16-0130

26.

Gartner S, Kruger J, Aghdassi AA, Steveling A, Simon P, Lerch MM, Mayerle J (2016) Nutrition in pancreatic cancer: a review. Gastrointestinal tumors 2(4):195–202. doi:10.1159/000442873

27.

Prado CM, Lieffers JR, McCargar LJ, Reiman T, Sawyer MB, Martin L, Baracos VE (2008) Prevalence and clinical implications of sarcopenic obesity in patients with solid tumours of the respiratory and gastrointestinal tracts: a population-based study. Lancet Oncol 9(7):629–635. doi:10.1016/s1470-2045(08)70153-0

28.

Bailey P, Chang DK, Nones K, Johns AL, Patch AM, Gingras MC, Miller DK, Christ AN, Bruxner TJ, Quinn MC, Nourse C, Murtaugh LC, Harliwong I, Idrisoglu S, Manning S, Nourbakhsh E, Wani S, Fink L, Holmes O, Chin V, Anderson MJ, Kazakoff S, Leonard C, Newell F, Waddell N, Wood S, Xu Q, Wilson PJ, Cloonan N, Kassahn KS, Taylor D, Quek K, Robertson A, Pantano L, Mincarelli L, Sanchez LN, Evers L, Wu J, Pinese M, Cowley MJ, Jones MD, Colvin EK, Nagrial AM, Humphrey ES, Chantrill LA, Mawson A, Humphris J, Chou A, Pajic M, Scarlett CJ, Pinho AV, Giry-Laterriere M, Rooman I, Samra JS, Kench JG, Lovell JA, Merrett ND, Toon CW, Epari K, Nguyen NQ, Barbour A, Zeps N, Moran-Jones K, Jamieson NB, Graham JS, Duthie F, Oien K, Hair J, Grutzmann R, Maitra A, Iacobuzio-Donahue CA, Wolfgang CL, Morgan RA, Lawlor RT, Corbo V, Bassi C, Rusev B, Capelli P, Salvia R, Tortora G, Mukhopadhyay D, Petersen GM, Munzy DM, Fisher WE, Karim SA, Eshleman JR, Hruban RH, Pilarsky C, Morton JP, Sansom OJ, Scarpa A, Musgrove EA, Bailey UM, Hofmann O, Sutherland RL, Wheeler DA, Gill AJ, Gibbs RA, Pearson JV, Waddell N, Biankin AV, Grimmond SM (2016) Genomic analyses identify molecular subtypes of pancreatic cancer. Nature 531(7592):47–52. doi:10.1038/nature16965
Acknowledgements
We would like to thank study participants and their families, and site study staff for their contribution to this study.
Author contributions
Conception and design: NZ, GR, AB, AF
Participant recruitment: NZ, AB
Data collection: NZ, AB, LP, JC
Data analysis: CO, NZ.
Manuscript preparation and critical review: All authors
Review of final manuscript: All authors
All authors agree to be accountable for all aspects of the work in ensuring that questions related to the accuracy or integrity of any part of the work are appropriately investigated and resolved.
The corresponding author has access to the full dataset and agrees that the journal may inspect that data if required.
Ethics declarations
This study was designed in accordance with the principles of the Declaration of Helsinki and the International Conference on Harmonisation–Good Clinical Practice guidelines. It was prospectively approved by the Hunter New England Local Health District Human Research Ethics Committee (approval number 11/07/20/3.01), and registered on the Australian and New Zealand Clinical Trial Registry (www.anzctr.org.au, ACTRN12612000299808). All participants provided voluntary informed consent prior to any study-related procedures. The study drug manufacturer was not involved in the design, funding, conduct or analysis of this study.
Conflict of interest
The authors declare that they have no conflict of interest.
About this article
Cite this article
Zdenkowski, N., Radvan, G., Pugliese, L. et al. Treatment of pancreatic insufficiency using pancreatic extract in patients with advanced pancreatic cancer: a pilot study (PICNIC). Support Care Cancer 25, 1963–1971 (2017). https://doi.org/10.1007/s00520-017-3602-2
Received:

Accepted:

Published:

Issue Date:
Keywords
Pancreatic insufficiency

Cachexia

Malabsorption

Pancreatic cancer