Abstract
Purpose
Professional organizations provide no guidelines regarding assessment and management of opioid abuse risk in cancer. Universal precautions (UP) developed for non-cancer pain, include assessments for aberrant behavior, screening questionnaires, and urine drug screens (UDS). The role of UDS for identifying opioid abuse risk in cancer is uncertain. Our aim is to characterize inappropriate UDS, and identify a potential role for UDS in therapeutic decision-making.
Methods
An observational retrospective chart review of 232 consecutive supportive care clinic patients were seen during the study. Twenty-eight of the two hundred thirty-two did not meet inclusion criteria. One hundred fifty of the two hundred four had active cancer, while 54 had no evidence of active disease. Clinicians ordered UDS based on their clinical judgment of patients' substance misuse risk. Edmonton symptom assessment scores, history of substance abuse, alcohol use, tobacco use, aberrant behavior, and morphine equivalent daily dose (MEDD) were obtained.
Results
Pain scores and MEDD were higher (p = 0.021; p < 0.001) in the UDS group vs non-UDS. Forty percent of the patients (n = 82/204) had at least one UDS and 70% (60/82) had an inappropriate result. Thirty-nine percent (32) were inappropriately negative, showing no prescribed opioids. Forty-nine of the eighty-two were positive for non-prescribed opioids, benzodiazepine, or illicit substance. Eleven of the forty-nine had only cannabis metabolites in their urine. There were no significant differences between appropriate and inappropriate UDS groups regarding pain scores, MEDD or referral to psychology, psychiatry, or substance abuse specialists.
Conclusions
UDS on the 82 oncology patients at high risk for substance misuse were frequently positive (46%) for non-prescribed opioids, benzodiazepines or potent illicit drugs such as heroin or cocaine, and 39% had inappropriately negative UDS, raising concerns for diversion.
Access options
Buy single article
Instant access to the full article PDF.
US$ 39.95
Tax calculation will be finalised during checkout.
Subscribe to journal
Immediate online access to all issues from 2019. Subscription will auto renew annually.
US$ 119
Tax calculation will be finalised during checkout.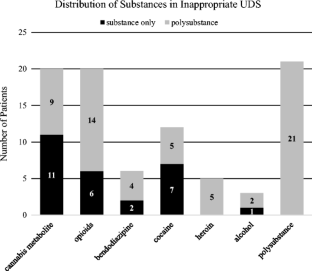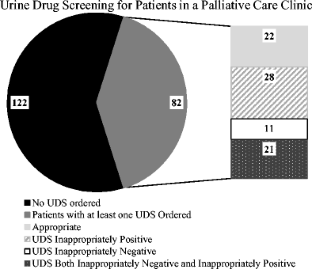 References
1.

Del Fabbro E (2014) Assessment and management of chemical coping in patients with cancer. J Clin Oncol 32(16):1734–1738. doi:10.1200/JCO.2013.52.5170

2.

Gourlay DL, Heit HA, Almahrezi A (2005) Universal precautions in pain medicine: a rational approach to the treatment of chronic pain. Pain Med 6(2):107–112. doi:10.1111/j.1526-4637.2005.05031.x

3.

Modesto-Lowe V, Girard L, Chaplin M (2012) Cancer pain in the opioid-addicted patient: can we treat it right? J Opioid Manag 8(3):167–175. doi:10.5055/jom.2012.0113

4.

Couto JE, Romney MC, Leider HL, Sharma S, Goldfarb NI (2009) High rates of inappropriate drug use in the chronic pain population. Popul Health Manag 12(4):185–190. doi:10.1089/pop.2009.0015

5.

Turner JA, Saunders K, Shortreed SM, Rapp SE, Thielke S, LeResche L et al (2014) Chronic opioid therapy risk reduction initiative: impact on urine drug testing rates and results. J Gen Intern Med 29(2):305–311. doi:10.1007/s11606-013-2651-6

6.

Rauenzahn S, Del Fabbro E (2014) Opioid management of pain: the impact of the prescription opioid abuse epidemic. Curr Opin Support Palliat Care 8(3):273–278. doi:10.1097/SPC.0000000000000065

7.

Childers JW, King LA, Arnold RM (2015) Chronic pain and risk factors for opioid misuse in a palliative care clinic. Am J Hosp Palliat Care 32(6):654–659. doi:10.1177/1049909114531445

8.

Barclay JS, Owens JE, Blackhall LJ (2014) Screening for substance abuse risk in cancer patients using the opioid risk tool and urine drug screen. Support Care Cancer 22(7):1883–1888. doi:10.1007/s00520-014-2167-6

9.

Tan PD, Barclay JS, Blackhall LJ (2015) Do palliative care clinics screen for substance abuse and diversion? Results of a National Survey. J Palliat Med 18(9):752–757. doi:10.1089/jpm.2015.0098

10.

Dev R, Parsons HA, Palla S, Palmer JL, Del Fabbro E, Bruera E (2011) Undocumented alcoholism and its correlation with tobacco and illegal drug use in advanced cancer patients. Cancer 117(19):4551–4556. doi:10.1002/cncr.26082

11.

Chou R, Fanciullo GJ, Fine PG, Adler JA, Ballantyne JC, Davies P et al (2009) Clinical guidelines for the use of chronic opioid therapy in chronic noncancer pain. J Pain 10(2):113–130. doi:10.1016/j.jpain.2008.10.008

12.

Morton T, Kostenbader K, Montgomery J, Devarakonda K, Barrett T, Webster L (2014) Comparison of subjective effects of extended-release versus immediate-release oxycodone/acetaminophen tablets in healthy nondependent recreational users of prescription opioids: a randomized trial. Postgrad Med 126(4):20–32. doi:10.3810/pgm.2014.07.2780

13.

Shram MJ, Sathyan G, Khanna S, Tudor IC, Nath R, Thipphawong J et al (2010) Evaluation of the abuse potential of extended release hydromorphone versus immediate release hydromorphone. J Clin Psychopharmacol 30(1):25–33. doi:10.1097/JCP.0b013e3181c8f088

14.

Parsons HA, Delgado-Guay MO, El Osta B, Chacko R, Poulter V, Palmer JL et al (2008) Alcoholism screening in patients with advanced cancer: impact on symptom burden and opioid use. J Palliat Med 11(7):964–968. doi:10.1089/jpm.2008.0037

15.

Koyyalagunta D, Bruera E, Aigner C, Nusrat H, Driver L, Novy D (2013) Risk stratification of opioid misuse among patients with cancer pain using the SOAPP-SF. Pain Med 14(5):667–675. doi:10.1111/pme.12100

16.

Kwon JH, Hui D, Chisholm G, Bruera E (2013) Predictors of long-term opioid treatment among patients who receive chemoradiation for head and neck cancer. Oncologist 18(6):768–774. doi:10.1634/theoncologist.2013-0001

17.

Paice JA, Von Roenn JH (2014) Under- or overtreatment of pain in the patient with cancer: how to achieve proper balance. J Clin Oncol 32(16):1721–1726. doi:10.1200/JCO.2013.52.5196

18.

Paulozzi LJ, Mack KA, Hockenberry JM (2014) Division of Unintentional Injury Prevention NCfIP, Control CDC. Vital signs: variation among States in prescribing of opioid pain relievers and benzodiazepines–United States, 2012. MMWR Morb Mortal Wkly Rep 63(26):563–568
Acknowledgment
Teri-Dulong Rae in preparation of the manuscript
Ethics declarations
Conflict of interest
The authors declare that they have no conflict of interest.
About this article
Cite this article
Rauenzahn, S., Sima, A., Cassel, B. et al. Urine drug screen findings among ambulatory oncology patients in a supportive care clinic. Support Care Cancer 25, 1859–1864 (2017). https://doi.org/10.1007/s00520-017-3575-1
Received:

Accepted:

Published:

Issue Date:
Keywords
Opioid pain management

Urine drug screen

Universal precautions

Risk stratification

Outpatient palliative care