Abstract
Purpose
Many women who have been diagnosed with breast cancer (BC) would like to return to work after undergoing cancer treatment. This review explores the nature of interventions addressing return to work (RTW) for this population.
Method
A scoping review was conducted using the Arksey and O'Malley framework. A search was conducted in five bibliographic databases from 2005 to 2015 to identify intervention studies. Article selection and characterization were performed by two reviewers using systematic grids. Themes were identified to construct a narrative summary of the existing literature.
Results
The literature search identified 17 articles published between 2005 and 2015. The interventions (n = 16) vary in terms of objectives, methodology, description of intervention activities, and period of deployment. Only one intervention referred to a theory linked to RTW. The results further show that nearly 44% of the interventions found provided only information on RTW (information booklet, individual meeting, group session). Only 38% of the interventions were work-directed and offered other activities, such as coordination of services and information, as well as instructions for drawing up an RTW plan. More than 80% of the interventions were provided by health care professionals. Interventions took place during the survivorship period (75%), at the hospital (44%), or an external rehabilitation center (38%).
Conclusion
The variability of interventions found indicates the need to clarify the concept of RTW after a BC diagnosis. Recommendations are made for the development of multicomponent interventions that include both the clinic and the workplace to meet the particular needs of this population.
This is a preview of subscription content, log in to check access.
Access options
Buy single article
Instant access to the full article PDF.
US$ 39.95
Price includes VAT for USA
Subscribe to journal
Immediate online access to all issues from 2019. Subscription will auto renew annually.
US$ 199
This is the net price. Taxes to be calculated in checkout.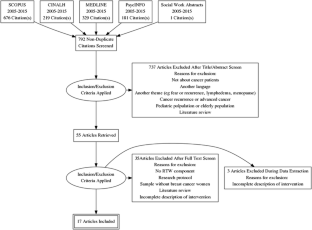 References
1.

De Santis CE, Lin CC, Mariotto AB, Siegel RL, Stein KD, Kramer JL, Alteri R, Robbins AS, Jemal A (2014) Cancer treatment and survivorship statistics, 2014. CA Cancer J Clin 64(4):252–271

2.

Chasen MR, Jacobsen PB (2011) Rehabilitation in cancer. In: Olver IN (ed) The MASCC textbook of cancer supportive care and survivorship. Springer, New York, pp 389–398. doi: 10.1007/978-4419-1225-1

3.

Knobf MT (2015) The transition experience to breast cancer survivorship. Semin Oncol Nurs 31:178–182

4.

Nachreiner N, Dagher R, McGovern P, Baker B, Alexander B, Gerberich S (2007) Successful return to work for cancer survivors. AAOHN J 55(290):295

5.

Rasmussen DM, Elverdam B (2008) The meaning of work and working life after cancer: an interview study. Psycho-Oncology 17(12):1232–1238

6.

Morrison TL, Thomas RL (2014) Survivors' experiences of return to work following cancer: A photovoice study: Expériences vécues par des survivantes à un cancer face à leur retour au travail : Une étude photovoice. Can J Occup Ther. doi:10.1177/0008417414534398

7.

Wells M, Williams B, Firnigl D, Lang H, Coyle J, Kroll T, MacGillivray S (2013) Supporting 'work-related goals' rather than 'return to work'after cancer? A systematic review and meta-synthesis of 25 qualitative studies. Psycho-Oncology 22(6):1208–1219

8.

Dorland H, Abma F, Roelen C, Smink J, Ranchor A, Bültmann U (2016) Factors influencing work functioning after cancer diagnosis: a focus group study with cancer survivors and occupational health professionals. Support Care Cancer 24(1):261–266

9.

Stergiou-Kita M, Grigorovich A, Tseung V, Milosevic E, Hebert D, Phan S, Jones J (2014) Qualitative meta-synthesis of survivors' work experiences and the development of strategies to facilitate return to work. Journal of Cancer Survivorship:1–14

10.

Knott V, Zrim S, Shanahan EM, Anastassiadis P, Lawn S, Kichenadasse G, Sukumaran S, Karapetis C, Koczwara B (2014) Returning to work following curative chemotherapy: a qualitative study of return to work barriers and preferences for intervention. Support Care Cancer 22(12):3263–3273. doi:10.1007/s00520-014-2324-y

11.

Tiedtke C, Dierckx de Casterlé B, Donceel P, de Rijk A (2015) Workplace support after breast cancer treatment: recognition of vulnerability. Disabil Rehabil 37(19):1770–1776. doi:10.3109/09638288.2014.982830

12.

Hoving J, Broekhuizen M, Frings-Dresen M (2009) Return to work of breast cancer survivors: a systematic review of intervention studies. BMC Cancer 9(1):117

13.

De Boer A, Taskila T, Tamminga S, Frings-Dresen M, Feuerstein M, Verbeek J (2015) Interventions to enhance return-to-work for cancer patients. Cochrane Database Syst Rev 9. doi:10.1002/14651858.CD007569.pub3

14.

Arksey H, O'Malley L (2005) Scoping studies: towards a methodological framework. Int J Soc Res Methodol 8(1):19–32

15.

Levac D, Colquhoun H, O'Brien KK (2010) Scoping studies: advancing the methodology. Implement Sci 5(1):1–9. doi:10.1186/1748-5908-5-69

16.

Riva JJ, Malik K, Burnie SJ, Endicott AR, Busse JW (2012) What is your research question? An introduction to the PICOT format for clinicians. J Can Chiropr Assoc 56(3):167–171

17.

Goldhirsch A, Glick J, Gelber R, Coates A, Thürlimann B, Senn H-J (2005) Meeting highlights: international expert consensus on the primary therapy of early breast cancer 2005. Ann Oncol 16(10):1569–1583

18.

Hoffmann TC, Glasziou PP, Boutron I, Milne R, Perera R, Moher D, Altman DG, Barbour V, Macdonald H, Johnston M (2014) Better reporting of interventions: template for intervention description and replication (TIDieR) checklist and guide. BMJ 348:g1687

19.

Bertheussen GF, Kaasa S, Hokstad A, Sandmæl JA, Helbostad JL, Salvesen Ø, Oldervoll LM (2012) Feasibility and changes in symptoms and functioning following inpatient cancer rehabilitation. Acta Oncol 51(8):1070–1080. doi:10.3109/0284186x.2012.699684

20.

Cimprich B, Janz NK, Northouse L, Wren PA, Given B, Given CW (2005) Taking charge: a self-management program for women following breast cancer treatment. Psycho-Oncology 14(9):704–717. doi:10.1002/pon.891

21.

Mullan F (1985) Seasons of survival: reflections of a physician with cancer. N Engl J Med 313(4):270–273

22.

Bandura A (1986) Social foundations of thought and action: a social cognitive theory. Englewood Cliffs: Prentice-Hall

23.

Groeneveld IF, de Boer AGEM, Frings-Dresen MHW (2013) Physical exercise and return to work: cancer survivors' experiences. J Cancer Surviv 7(2):237–246. doi:10.1007/s11764-012-0264-4

24.

De Backer IC, Van Breda E, Vreugdenhil A, Nijziel MR, Kester AD, Schep G (2007) High-intensity strength training improves quality of life in cancer survivors. Acta Oncol 46(8):1143–1151. doi:10.1080/02841860701418838

25.

Hauken MA, Holsen I, Fismen E, Bogsnes Larsen TM (2015) Working toward a good life as a cancer survivor: a longitudinal study on positive health outcomes of a rehabilitation program for young adult cancer survivors. Cancer Nurs 38(1):3–15. doi:10.1097/ncc.0000000000000138

26.

Courneya KS, Friedenreich CM (2001) Framework PEACE: an organizational model for examining physical exercise across the cancer experience. Ann Behav Med 23(4):263–272

27.

Ferrell BR, Dow KH, Leigh S, Ly J, Gulasekaram P (1995) Quality of life in long-term cancer survivors. Oncol Nurs Forum, 22:915–922

28.

Hegel MT, Lyons KD, Hull JG, Kaufman P, Urquhart L, Li Z, Ahles TA (2011) Feasibility study of a randomized controlled trial of a telephone-delivered problem-solving-occupational therapy intervention to reduce participation restrictions in rural breast cancer survivors undergoing chemotherapy. Psycho-Oncology 20(10):1092–1101. doi:10.1002/pon.1830

29.

Law M, Cooper B, Strong S, Stewart D, Rigby P, Letts L (1996) The person-environment-occupation model: A transactive approach to occupational performance. Can J Occup Ther 63(1):9–23

30.

Hershman DL, Greenlee H, Awad D, Kalinsky K, Maurer M, Kranwinkel G, Brafman L, Jayasena R, Tsai WY, Neugut AI, Crew KD (2013) Randomized controlled trial of a clinic-based survivorship intervention following adjuvant therapy in breast cancer survivors. Breast Cancer Res Treat 138(3):795–806. doi:10.1007/s10549-013-2486-1

31.

Hubbard G, Gray NM, Ayansina D, Evans JMM, Kyle RG (2013) Case management vocational rehabilitation for women with breast cancer after surgery: a feasibility study incorporating a pilot randomised controlled trial. Trials 14(1). doi:10.1186/1745-6215-14-175

32.

Khan F, Amatya B, Pallant JF, Rajapaksa I, Brand C (2012) Multidisciplinary rehabilitation in women following breast cancer treatment: a randomized controlled trial. J Rehabil Med 44(9):788–794. doi:10.2340/16501977-1020

33.

Korstjens I, Mesters I, Van Der Peet E, Gijsen B, Van Den Borne B (2006) Quality of life of cancer survivors after physical and psychosocial rehabilitation. Eur J Cancer Prev 15(6):541–547. doi:10.1097/01.cej.0000220625.77857.95

34.

Vlaeyen J, Smeets R, Mulder H, Pelt R, Bakker-Boerrigter A (1993) Secondary prevention of chronic low back pain: a behavior-oriented approach. Ned Tijdschr Geneeskd 137(31):1544–1549

35.

Lyons KD, Hull JG, Kaufman PA, Li Z, Seville JL, Ahles TA, Kornblith AB, Hegel MT (2015) Development and initial evaluation of a telephone-delivered, behavioral activation, and problem-solving treatment program to address functional goals of breast cancer survivors. J Psychosoc Oncol 33(2):199–218. doi:10.1080/07347332.2014.1002659

36.

Mehnert A, Koch U (2013) Predictors of employment among cancer survivors after medical rehabilitation—a prospective study. Scand J Work Environ Health 39(1):76–87. doi:10.5271/sjweh.3291

37.

Meneses KD, McNees P, Loerzel VW, Su X, Zhang Y, Hassey LA (2007) Transition from treatment to survivorship: effects of a psychoeducational intervention on quality of life in breast cancer survivors. Oncol Nurs Forum 34(5):1007–1016. doi:10.1188/07.onf.1007-1016

38.

Meneses K, McNees P, Azuero A, Loerzel VW, Su X, Hassey LA (2009) Preliminary evaluation of psychoeducational support interventions on quality of life in rural breast cancer survivors after primary treatment. Cancer Nurs 32(5):385–397. doi:10.1097/NCC.0b013e3181a850e6

39.

Dow KH, FerrellBR, Leigh S, Ly J, Gulasekaram P (1996) An evaluation of the quality of life among long-term survivors of breast cancer. Breast Cancer Res Treat 39(3):261–273

40.

Ferrell B, Dow KH, Grant M (1995) Measurement of the quality of life in cancer survivors. Qual Life Res 4(6):523–531

41.

Nieuwenhuijsen K, Bos-Ransdorp B, Uitterhoeve LLJ, Sprangers MAG, Verbeek JHA (2006) Enhanced provider communication and patient education regarding return to work in cancer survivors following curative treatment: a pilot study. J Occup Rehabil 16(4):647–657

42.

Siegert R, Taylor W (2004) Theoretical aspects of goal-setting and motivation in rehabilitation. Disabil Rehabil 26:1–8

43.

Rottmann N, Dalton SO, Bidstrup PE, Würtzen H, Høybye MT, Ross L, Christensen J, Frederiksen K, Hansen DG, Johansen C (2012) No improvement in distress and quality of life following psychosocial cancer rehabilitation. A randomised trial. Psycho-Oncology 21(5):505–514. doi:10.1002/pon.1924

44.

Tamminga SJ, Verbeek JHAM, Bos MMEM, Fons G, Kitzen JJEM, Plaisier PW, Frings-Dresen MHW, de Boer AGEM (2013) Effectiveness of a hospital-based work support intervention for female cancer patients—a multi-Centre randomised controlled trial. PLoS One 8(5). doi:10.1371/journal.pone.0063271

45.

Oeffinger KC, McCabe MS (2006) Models for delivering survivorship care. J Clin Oncol 24(32):5117–5124

46.

Thijs K, Boer A, Vreugdenhil G, Wouw A, Houterman S, Schep G (2012) Rehabilitation using high-intensity physical training and long-term return-to-work in cancer survivors. J Occup Rehabil 22(2):220–229. doi:10.1007/s10926-011-9341-1

47.

Hewitt M, Ganz PA (2005) From cancer patient to cancer survivor—lost in transition: an American Society of Clinical Oncology and Institute of Medicine Symposium. The National Academies Press, Washingtion

48.

Porteus NL (2012) La construction du modèle logique d'un programme. In: Ridde V, Dagenais C (eds) Approches et pratiques en évaluation de programme. Presses universitaires de Montréal, Montreal, pp. 89–107

49.

Craig P, Dieppe P, Macintyre S, Michie S, Nazareth I, Petticrew M (2008) Developing and evaluating complex interventions: the new Medical Research Council guidance. BMJ 337:a1655

50.

Michie S, Johnston M, Francis J, Hardeman W, Eccles M (2008) From theory to intervention: mapping theoretically derived behavioural determinants to behaviour change techniques. Appl Psychol 57(4):660–680

51.

Pawson R, Tilley N (1997) Realistic evaluation. Sage, Thousand Oaks

52.

Schultz IZ, Stowell AW, Feuerstein M, Gatchel RJ (2007) Models of return to work for musculoskeletal disorders. J Occup Rehabil 17(2):327–352

53.

Halpern MT, Viswanathan M, Evans TS, Birken SA, Basch E, Mayer DK (2014) Models of cancer survivorship care: overview and summary of current evidence. J Oncol Pract:JOP. 2014.001403

54.

Noeres D, Park-Simon TW, Grabow J, Sperlich S, Koch-Gießelmann H, Jaunzeme J, Geyer S (2013) Return to work after treatment for primary breast cancer over a 6-year period: results from a prospective study comparing patients with the general population. Support Care Cancer 21(7):1901–1909. doi:10.1007/s00520-013-1739-1

55.

Crist P (2013) Functional challenges among late effects cancer survivors: a preliminary report on work engagement issues. Work: A J Prev Assess Rehabil 46(4):369–379

56.

Carlsen K, Jensen AJ, Rugulies R, Christensen J, Bidstrup PE, Johansen C, Huitfeldt Madsen IE, Dalton SO (2013) Self-reported work ability in long-term breast cancer survivors. A population-based questionnaire study in Denmark. Acta Oncol 52(2):423–429. doi:10.3109/0284186x.2012.744877

57.

Blinder V, Patil S, Eberle C, Griggs J, Maly RC (2013) Early predictors of not returning to work in low-income breast cancer survivors: a 5-year longitudinal study. Breast Cancer Res Treat 140(2):407–416. doi:10.1007/s10549-013-2625-8

58.

Cohen SG, Bailey DE (1997) What makes teams work: group effectiveness research from the shop floor to the executive suit. J Manag 23(3):239–290

59.

Mathieu J, Maynard MT, Rapp T, Gilson L (2008) Team effectiveness 1997-2007: a review of recent advancements and a glimpse into the future. J Manag 34(3):410–476

60.

Poole MS, Real K (2003) Handbook of health communication: groups and teams in healthcare: communication and effectiveness. Lawrence Erlbaum, Mahwah

61.

Borras JM, Albreht T, Audisio R, Briers E, Casali P, Esperou H, Grube B, Hamoir M, Henning G, Kelly J (2014) Policy statement on multidisciplinary cancer care. Eur J Cancer 50(3):475–480

62.

Gagliardi AR, Dobrow MJ, Wright FC (2011) How can we improve cancer care? A review of interprofessional collaboration models and their use in clinical management. Surg Oncol 20(3):146–154

63.

Silver JK, Baima J, Newman R, Galantino ML, Shockney LD (2013) Cancer rehabilitation may improve function in survivors and decrease the economic burden of cancer to individuals and society. Work: A J Prev Assess Rehabil 46(4):455–472

64.

Loisel P (2011) Work disability: it is not just the "lesion". In: Feuerstein M (ed) Work and cancer survivors. Springer, New York, pp. 93–103

65.

Shaw W, Q-n H, Pransky G, Loisel P (2008) A literature review describing the role of return-to-work coordinators in trial programs and interventions designed to prevent workplace disability. J Occup Rehabil 18(1):2–15

66.

Franche R-L, Cullen K, Clarke J, Irvin E, Sinclair S, Frank J (2005) Workplace-based return-to-work interventions: a systematic review of the quantitative literature. J Occup Rehabil 15(4):607–631. doi:10.1007/s10926-005-8038-8

67.

Vogel N, Schandelmaier S, Zumbrunn T, Ebrahim S, de Boer WE, Mousavi SM, Guyatt GH, Busse JW, Kunz R (2015) Return to work coordination programmes for improving return to work in workers on sick leave. Cochrane Database Syst Rev 3. doi:10.1002/14651858.CD011618

68.

Durand M-J, Corbière M, Coutu M-F, Reinharz D, Albert V (2014) A review of best work-absence management and return-to-work practices for workers with musculoskeletal or common mental disorders. Work 48(4):579–589

69.

Moore GF, Audrey S, Barker M, Bond L, Bonell C, Hardeman W, Moore L, O'Cathain A, Tinati T, Wight D (2015) Process evaluation of complex interventions: Medical Research Council Guidance. BMJ 350:1–7
Acknowledgements
We wish to acknowledge the financial support from the Quebec Nursing Intervention Research Network (publication support fund).
About this article
Cite this article
Bilodeau, K., Tremblay, D. & Durand, M. Exploration of return-to-work interventions for breast cancer patients: a scoping review. Support Care Cancer 25, 1993–2007 (2017). https://doi.org/10.1007/s00520-016-3526-2
Received:

Accepted:

Published:

Issue Date:
Keywords
Intervention

Return to work

Breast cancer

Cancer survivors

Scoping review