Abstract
Purpose
Little is known about the degree to which caregiver training as part of routine clinical care influences caregiver self-efficacy. The objective of this study was to examine the relationship between training during routine clinical cancer care and self-efficacy among caregivers of colorectal cancer patients.
Methods
Caregivers completed a self-administered questionnaire about their experiences with training for specific patient problems and about their task-specific and general caregiving self-efficacy. Associations between training and self-efficacy were examined for each problem using multivariate logistic regression adjusted for caregiver age, race, care burden, education, perception of patient's health, and patient stage of disease.
Results
Four hundred seventeen caregivers completed the survey (70% response rate), of whom 374 (90%) were female and 284 (68%) were the patient's spouse/partner. Overall, 77 (38%) reported inadequate training for pain, 80 (38%) for bowel, 121 (48%) for fatigue, 65 (26%) for medication administration, and 101 (40%) for other symptoms. The odds of having low self-efficacy were significantly higher among those with perceptions of inadequate training across the following cancer-related problems: pain 10.10 (3.36, 30.39), bowel 5.04 (1.98, 12.82), fatigue 8.45 (3.22, 22.15), managing medications 9.00 (3.30, 24.51), and other 3.87 (1.68, 8.93).
Conclusions
Caregivers commonly report inadequate training in routine colorectal cancer care. Significant and consistent associations between training adequacy and self-efficacy were found. This study supports the value of training caregivers in common cancer symptoms. Further work on how and when to provide caregiver training to best impact self-efficacy is needed.
This is a preview of subscription content, log in to check access.
Access options
Buy single article
Instant access to the full article PDF.
US$ 39.95
Price includes VAT for USA
Subscribe to journal
Immediate online access to all issues from 2019. Subscription will auto renew annually.
US$ 199
This is the net price. Taxes to be calculated in checkout.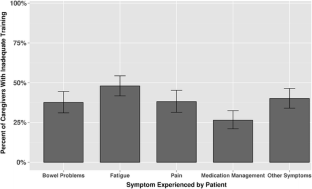 References
1.

National Alliance for Caregiving and the AARP Public Policy Institute. Caregiving in the U.S 2015 http://www.caregiving.org/wp-content/uploads/2015/05/2015_CaregivingintheUS_Final-Report-June-4_WEB.pdf. Accessed 4 October 2016

2.

van Ryn M, Sanders S, Kahn K et al (2011) Objective burden, resources, and other stressors among informal cancer caregivers: a hidden quality issue? Psychooncology 20(1):44–52. doi:10.1002/pon.1703

3.

Clark MM, Atherton PJ, Lapid MI et al (2014) Caregivers of patients with cancer fatigue: a high level of symptom burden. Am J Hops Palliat Care 31(2):121–125. doi:10.1177/1049909113479153

4.

Mystakidou K, Parpa E, Panagiotou I, Tsilika E, Galanos A, Gouliamos A (2013) Caregivers' anxiety and self-efficacy in palliative care. Eur J Cancer Care 22(2):188–195. doi:10.1111/ecc.12012

5.

Keefe FJ, Ahles TA, Porter LS et al (2003) The self-efficacy of family caregivers for helping cancer patients manage pain at end-of-life. Pain 103(1–2):157–162

6.

Teschendorf B, Schwartz C, Ferrans CE, O'Mara A, Novotny P, Sloan J (2007) Caregiver role stress: when families become providers. Cancer Control 14(2):183–189

7.

Bandura A (1997) Self-efficacy: the exercise of control. Prentice Hall, Englewood Cliffs

8.

Pajares F (1997) Current directions in self-efficacy research. In: Maehr M, Pintrich PR (eds) Advances in motivation and achievement. JAI Press, Greenwich, pp. 1–49

9.

Au A, Lai MK, Lau KM et al (2009) Social support and well-being in dementia family caregivers: the mediating role of self-efficacy. Aging Ment Health 13(5):761–768. doi:10.1080/13607860902918223

10.

Nijboer C, Tempelaar R, Triemstra M, van den Bos GA, Sanderman R (2001) The role of social and psychologic resources in caregiving of cancer patients. Cancer 91(5):1029–1039

11.

Fortinsky RH, Kercher K, Burant CJ (2002) Measurement and correlates of family caregiver self-efficacy for managing dementia. Aging Ment Health 6(2):153–160

12.

Gilliam CM, Steffen AM (2006) The relationship between caregiving self-efficacy and depressive symptoms in dementia family caregivers. Aging Ment Health 10(2):79–86

13.

Duggleby WD, Williams A, Holstlander L et al (2014) Hope of rural women caregivers of persons with advanced cancer: guilt, self-efficacy and mental health. Rural Remote Health 14:2561

14.

Milligan S (2015) In some states, a new focus on family caregivers. Pew Trust Web. http://www.pewtrusts.org/en/research-and-analysis/blogs/stateline/2015/6/22/in-some-states-a-new-focus-on-family-caregivers. Accessed 4 October 2016

15.

Coleman EA (2016) Family caregivers as partners in care transitions: the caregiver advise record and enable act. J Hosp Med. doi:10.1002/jhm.2637

16.

Hendrix CC, Abernethy A, Sloane R, Misuraca J, Moore J (2009) A pilot study on the influence of an individualized and experiential training on cancer caregiver's self-efficacy in home care and symptom management. Home Healthc Nurse 27(5):271–278

17.

Hendrix CC, Landerman R, Abernethy AP (2013) Effects of an individualized caregiver training intervention on self-efficacy of cancer caregivers. West J Nurs Res 35(5):590–610. doi:10.1177/0193945911420742

18.

van Ryn M, Phelan SM, Arora NK et al (2014) Patient-reported quality of supportive care among patients with colorectal cancer in the veterans affairs health care system. J Clin Oncol 32(8):809–815. doi:10.1200/JCO.2013.49.4302

19.

Phelan SM, Griffin JM, Jackson GL et al (2013) Stigma, perceived blame, self-blame, and depressive symptoms in men with colorectal cancer. Psychooncology 22(1):65–73. doi:10.1002/pon.2048

20.

Archbold PG, Stewart BJ, Greenlick MR, Harvath T (1990) Mutuality and preparedness as predictors of caregiver role strain. Res Nurs Health 13(6):375–384

21.

Archbod PG, Stewart BJ, Greenlick MR, Harvath T (1992) The clinical assessment of mutuality and preparedness in family caregivers to frail older people. In: Funk SG, Tornquist EM, Champagne MT, Copp LA (eds) Kep aspects of eldercare. Springer Publishing Company, New York, pp. 328–339

22.

Schumacher KL, Stewart BJ, Archbold PG (1998) Conceptualization and measurement of doing family caregiving well. Image J Nurs Sch 30(1):63–69

23.

SAS Institute Inc (2007) SAS software, Version 9.4 of the SAS System. SAS and all other SAS Institute Inc product or service names are registered trademarks or trademarks of SAS Institute, Cary, NC, USA

24.

Wickham H (2009) ggplot2: elegant graphics for data analysis. Springer-Verlag, New York

25.

Department of Veterans Affairs (2012) 2011 survey of veteran enrollees' health and reliance upon VA. Veterans Affairs Web. http://www.va.gov/HEALTHPOLICYPLANNING/SOE2011/SoE2011_Report.pdf. Accessed 4 October 2016

26.

Porter LS, Keefe FJ, Garst J, McBride CM, Baucom D (2008) Self-efficacy for managing pain, symptoms, and function in patients with lung cancer and their informal caregivers: associations with symptoms and distress. Pain 137(2):306–315
Ethics declarations
Conflict of interest
The authors declare that they have no conflicts of interest.
Funding/support
This study was supported by the Interagency Quality of Care Committee, Applied Research Branch, National Cancer Institute (NCI), through an interagency agreement with the Veterans Health Administration and by NCI Grant No. 5R25CA116339, Outcomes Research Branch of the National Cancer Institute, National Institutes of Health, the Mayo Clinic Robert D. and Patricia E. Kern Center for the Science of Health Care Delivery, and the CTSA Grant Number UL1 TR000135 from the National Center for Advancing Translational Sciences (NCATS), a component of the National Institutes of Health (NIH). Its contents are solely the responsibility of the authors and do not necessarily represent the official view of NIH. The authors have full control of all primary data and agree to allow the journal to review the data if requested.
About this article
Cite this article
Havyer, R.D., van Ryn, M., Wilson, P.M. et al. The effect of routine training on the self-efficacy of informal caregivers of colorectal cancer patients. Support Care Cancer 25, 1071–1077 (2017). https://doi.org/10.1007/s00520-016-3494-6
Received:

Accepted:

Published:

Issue Date:
Keywords
Cancer

Oncology

Caregiver

Self-efficacy

Training