Abstract
Purpose
The purpose of this study is to determine the efficacy of ginger for reducing chemotherapy-induced nausea and vomiting (CINV) in breast cancer patients receiving adriamycin and cyclophosphamide (AC) regimens.
Methods
We enrolled breast cancer patients receiving AC who experienced moderate to severe nausea or vomiting during the first chemotherapy cycle. Subjects were randomized to receive a 500-mg ginger capsule or placebo twice a day for 5 days starting on the first day of the second AC cycle and were switched to the other treatment in the third cycle. All participants also received ondansetron and dexamethasone for CINV prophylaxis. Nausea severity was recorded once a day during the first 5 days of each cycle. The primary outcome was reduction in nausea score.
Results
Thirty-four subjects (68 cycles of AC) were enrolled. Mean (range) maximum nausea score in the first AC cycle was 58 (40–90). Thirty-three subjects (97 %) received the same AC doses in the second as in the third cycle. Mean (±standard error) maximum nausea scores in patients receiving ginger and placebo were 35.36 (±4.43) and 32.17 (±3.71), respectively. The difference in mean maximum nausea scores was 3 (95 % confidence interval, −3 to 9; P = 0.3). There were no significant differences between ginger and placebo in terms of vomiting incidence and severity, rescue medication use, chemotherapy compliance, and adverse events.
Conclusions
Ginger (500 mg) twice daily was safe, but conferred no additional benefit in terms of reducing nausea severity in breast cancer patients receiving AC and ondansetron and dexamethasone for CINV prophylaxis.
Access options
Buy single article
Instant access to the full article PDF.
USD 39.95
Price excludes VAT (USA)
Tax calculation will be finalised during checkout.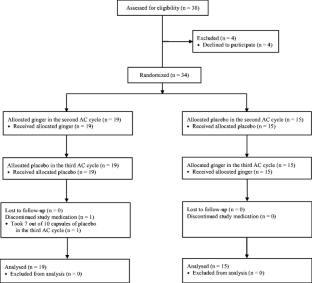 References
Griffin AM, Butow PN, Coates AS, Childs AM, Ellis PM, Dunn SM, Tattersall MH (1996) On the receiving end. V: Patient perceptions of the side effects of cancer chemotherapy in 1993. Ann Oncol 7(2):189–195

de Boer-Dennert M, de Wit R, Schmitz PI, Djontono J, v Beurden V, Stoter G, Verweij J (1997) Patient perceptions of the side-effects of chemotherapy: the influence of 5HT3 antagonists. Br J Cancer 76(8):1055–1061

Osoba D, Zee B, Warr D, Kaizer L, Latreille J, Pater J (1996) Quality of life studies in chemotherapy-induced emesis. Oncology 53(Suppl 1):92–95

NCCN (2015) Guidelines® Antiemesis., http://www.nccn.org/professionals/physician_gls/pdf/antiemesis.pdf. Accessed 26 February 2016

MASCC/ESMO Antiemetic Guideline 2016 (2016) http://www.mascc.org/assets/Guidelines-Tools/mascc_antiemetic_guidelines_english_2016_v.1.0.pdf. Accessed 26 February 2016

Meattini I, Francolini G, Scotti V, De Luca CC, Cappelli S, Meacci F, Furfaro IF, Muntoni C, Scoccianti S, Detti B, Mangoni M, Nori J, Orzalesi L, Fambrini M, Bianchi S, Livi L (2015) Aprepitant as prophylaxis of chemotherapy-induced nausea and vomiting in anthracyclines and cyclophosphamide-based regimen for adjuvant breast cancer. Med Oncol 32(3):80. doi:10.1007/s12032-015-0535-9

Warr DG, Hesketh PJ, Gralla RJ, Muss HB, Herrstedt J, Eisenberg PD, Raftopoulos H, Grunberg SM, Gabriel M, Rodgers A, Bohidar N, Klinger G, Hustad CM, Horgan KJ, Skobieranda F (2005) Efficacy and tolerability of aprepitant for the prevention of chemotherapy-induced nausea and vomiting in patients with breast cancer after moderately emetogenic chemotherapy. J Clin Oncol 23(12):2822–2830. doi:10.1200/JCO.2005.09.050

Giacosa A, Morazzoni P, Bombardelli E, Riva A, Bianchi Porro G, Rondanelli M (2015) Can nausea and vomiting be treated with ginger extract? Eur Rev Med Pharmacol Sci 19(7):1291–1296

Chrubasik S, Pittler MH, Roufogalis BD (2005) Zingiberis rhizoma: a comprehensive review on the ginger effect and efficacy profiles. Phytomedicine 12(9):684–701. doi:10.1016/j.phymed.2004.07.009

Chaiyakunapruk N, Kitikannakorn N, Nathisuwan S, Leeprakobboon K, Leelasettagool C (2006) The efficacy of ginger for the prevention of postoperative nausea and vomiting: a meta-analysis. Am J Obstet Gynecol 194(1):95–99. doi:10.1016/j.ajog.2005.06.046

Viljoen E, Visser J, Koen N, Musekiwa A (2014) A systematic review and meta-analysis of the effect and safety of ginger in the treatment of pregnancy-associated nausea and vomiting. Nutr J 13:20. doi:10.1186/1475-2891-13-20

Thomson M, Corbin R, Leung L (2014) Effects of ginger for nausea and vomiting in early pregnancy: a meta-analysis. J Am Board Fam Med 27(1):115–122. doi:10.3122/jabfm.2014.01.130167

Ryan JL, Heckler CE, Roscoe JA, Dakhil SR, Kirshner J, Flynn PJ, Hickok JT, Morrow GR (2012) Ginger (Zingiber officinale) reduces acute chemotherapy-induced nausea: a URCC CCOP study of 576 patients. Support Care Cancer 20(7):1479–1489. doi:10.1007/s00520-011-1236-3

Manusirivithaya S, Sripramote M, Tangjitgamol S, Sheanakul C, Leelahakorn S, Thavaramara T, Tangcharoenpanich K (2004) Antiemetic effect of ginger in gynecologic oncology patients receiving cisplatin. Int J Gynecol Cancer 14(6):1063–1069. doi:10.1111/j.1048-891X.2004.14603.x

Panahi Y, Saadat A, Sahebkar A, Hashemian F, Taghikhani M, Abolhasani E (2012) Effect of ginger on acute and delayed chemotherapy-induced nausea and vomiting: a pilot, randomized, open-label clinical trial. Integr Cancer Ther 11(3):204–211. doi:10.1177/1534735411433201

Pillai AK, Sharma KK, Gupta YK, Bakhshi S (2011) Anti-emetic effect of ginger powder versus placebo as an add-on therapy in children and young adults receiving high emetogenic chemotherapy. Pediatr Blood Cancer 56(2):234–238. doi:10.1002/pbc.22778

Sontakke S, Thawani V, Naik M (2003) Ginger as an antiemetic in nausea and vomiting induced by chemotherapy: a randomized, cross-over, double blind study. Indian J Pharmacol 35:32–36

Zick SM, Ruffin MT, Lee J, Normolle DP, Siden R, Alrawi S, Brenner DE (2009) Phase II trial of encapsulated ginger as a treatment for chemotherapy-induced nausea and vomiting. Support Care Cancer 17(5):563–572. doi:10.1007/s00520-008-0528-8

Lee J, Oh H (2013) Ginger as an antiemetic modality for chemotherapy-induced nausea and vomiting: a systematic review and meta-analysis. Oncol Nurs Forum 40(2):163–170. doi:10.1188/13.ONF.163-170

Schwertner HA, Rios DC (2007) High-performance liquid chromatographic analysis of 6-gingerol, 8-gingerol, 10-gingerol, and 6-shogaol in ginger-containing dietary supplements, spices, teas, and beverages. J Chromatogr B Analyt Technol Biomed Life Sci 856(1-2):41–47. doi:10.1016/j.jchromb.2007.05.011

Mandal P, Das A, Majumdar S, Bhattacharyya T, Mitra T, Kundu R (2014) The efficacy of ginger added to ondansetron for preventing postoperative nausea and vomiting in ambulatory surgery. Pharmacognosy Res 6(1):52–57. doi:10.4103/0974-8490.122918
Acknowledgments
The authors thank the Government Pharmaceutical Organization for providing ginger capsules and placebo, Siriraj Cancer Center for providing funding support, the personnel of the Division of Medical Oncology, Department of Medicine, Faculty of Medicine, Siriraj Hospital, for coordinating the study, and Mr. Suthipol Udompanthurak for performing statistical analyses of the data.
About this article
Cite this article
Thamlikitkul, L., Srimuninnimit, V., Akewanlop, C. et al. Efficacy of ginger for prophylaxis of chemotherapy-induced nausea and vomiting in breast cancer patients receiving adriamycin–cyclophosphamide regimen: a randomized, double-blind, placebo-controlled, crossover study. Support Care Cancer 25, 459–464 (2017). https://doi.org/10.1007/s00520-016-3423-8
Received:

Accepted:

Published:

Issue Date:

DOI: https://doi.org/10.1007/s00520-016-3423-8
Keywords
Ginger

Breast cancer

Chemotherapy

Nausea

Vomiting

Anthracycline