Abstract
Purpose
The use of novel and often expensive drugs offering limited survival benefit in advanced disease is controversial. Treatment recommendations are influenced by patient characteristics and trial data showing overall response rates (ORR), progression-free survival (PFS) and overall survival (OS). PFS is frequently the primary outcome in licencing studies.
Patients and methods
As part of a longitudinal study Assessing the 'VALue' to patients of PROgression Free Survival (AVALPROFS), oncologists completed checklists at baseline following consultations with patients. Questions probed perceived clinical benefits of the drugs to populations in general. Patients completed study-specific interview schedules at baseline, 6 weeks into treatment, and at withdrawal due to toxicity or progression. Patients also completed tumour- and treatment-specific quality of life questionnaires monthly for their time in the study. Only baseline results are reported here.
Results
Thirty-two UK oncologists discussed management options with 90 patients with heterogeneous advanced cancers. Oncologists' estimates of medical benefit in general from treatment varied between 10 and 80 %. They expected 46/90 (51 %) of their patients to derive some clinical benefit from the prescribed treatment but were either unsure or expected none for 44/90 (49 %). Predictions of life expectancy were variable but 62 % (56/90) of patients were expected to survive longer with treatment. A majority of patients 51/90 (57 %) had 'no idea' or were 'unclear' what PFS meant and 45/90 (50 %) thought extension of life was the primary therapeutic aim of treatment.
Conclusion
Discussions between doctors and patients with metastatic disease about future management plans and likely therapeutic gains are challenging. Factors influencing decisions about putative benefits of novel drugs are often applied inconsistently can be overly optimistic and may even contradict published data.
This is a preview of subscription content, log in to check access.
Access options
Buy single article
Instant access to the full article PDF.
US$ 39.95
Price includes VAT for USA
Subscribe to journal
Immediate online access to all issues from 2019. Subscription will auto renew annually.
US$ 199
This is the net price. Taxes to be calculated in checkout.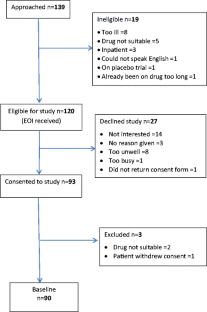 References
1.

Booth CM, Eisenhauer AF (2012) Progression-free survival: meaningful or simply measurable? JCO 30(10):1030–1033

2.

National Cancer Institute website: http://www.cancer.gov/publications/dictionaries/cancer-terms?cdrid=44782, accessed August 10th 2016

3.

Burzykowski T, Buyse M, Piccart-Gebhart MJ, et al. (2008) Evaluation of tumor response, disease control, progression-free survival, and time to progression as potential surrogate end points in metastatic breast cancer. JCO 26(12):1987–1992

4.

Kim C, Prasad V (2015) Cancer drugs approved on the basis of a surrogate end point and subsequent overall survival: an analysis of 5 years of US food and drug administration approvals. JAMA Intern Med 175(12):1992–1994

5.

Prasad V, Kim C, Burotto M, et al. (2015) The strength of association between surrogate end points and survival in oncology: a systematic review of trial-level meta-analyses. JAMA Intern Med 175(8):1389–1398

6.

Fallowfield LJ, Fleissig A (2013) The value of progression-free survival to patients with advanced-stage cancer. Nat Rev Clin Onc 9(1):41–47

7.

Niraula S, Seruga B, Ocana A, et al. (2011) The price we pay for progress: a meta-analysis of harms of newly approved anticancer drugs. JCO 30(24):3012–3019

8.

Brundage MD, Feldman-Stewart D, Cosby R, et al. (2001) Cancer patients' attitudes toward treatment options for advanced non-small cell lung cancer: implications for patient education and decision support. Pat Ed Counsel 45(2):149–157

9.

Bruner DW (2007) Should patient-reported outcomes be mandatory for toxicity reporting in cancer clinical trials? JCO 25(34):5345–5347

10.

Bridges JF, Mohamed AF, Finnern HW, et al. (2012) Patients' preferences for treatment outcomes for advanced non-small cell lung cancer: a conjoint analysis. Lung Cancer 77(1):224–231

11.

Weeks JC, Cook EF, O'Day SJ, et al. (1998) Relationship between cancer patients' predictions of prognosis and their treatment preferences. JAMA 279(21):1709–1714

12.

Jenkins V, Solis-Trapala I, Langridge C, et al. (2011) What oncologists believe they said and what patients believe they heard: an analysis of phase I trial discussions. JCO 29(1):61–68

13.

Temel JS, Greer JA, Admane S, et al. (2011) Longitudinal perceptions of prognosis and goals of therapy in patients with metastatic non-small-cell lung cancer: results of a randomized study of early palliative care. JCO 29(17):2319–2326

14.

Smith TJ, Hillner BE (2010) Explaining marginal benefits to patients, when 'marginal' means additional but not necessarily small. Clin Ca Res 16(24):5981–5986

15.

Christakis NA, Lamont EB (2000) Extent and determinants of error in doctors' prognoses in terminally ill patients: prospective cohort study. BMJ 320:9–473

16.

Hodi FS, O'Day SJ, McDermott DF, et al. (2010) Improved survival with Ipilimumab in patients with metastatic melanoma. N Engl J Med 363:711–723

17.

Baselga J, Cortes J, Kim SB, et al. (2012) Pertuzumab plus trastuzumab plus docetaxel for metastatic breast cancer. NEJM 366:109–119

18.

Swain SM, Baselga J, Kim SB, et al. (2015) Pertuzumab, trastuzumab, and docetaxel in HER2-positive metastatic breast cancer. NEJM 8:724–734

19.

Spicer J, Tischer B, Peters M. (2015) EGFR Mutation Testing and Oncologist Treatment Choice in Advanced NSCLC: Global Trends and Differences. Presented at ELCC abstract number LBA2_PR

20.

Gelsomino F, Agustoni F, Niger M, et al. (2013) Epidermal growth factor receptor tyrosine kinase inhibitor treatment in patients with EGFR wild-type non–small-cell lung cancer: the never-ending story. JCO 31(26):3291–3293

21.

Chapman PB, Hauschild A, Robert C, et al. (2011) Improved survival with vemurafenib in melanoma with BRAF V600E mutation. N Engl J Med 364(26):2507–2516

22.

Hauschild A, Grob JJ, Demidov LV, et al. (2012) Dabrafenib in BRAF-mutated metastatic melanoma: a multicentre, open-label, phase 3 randomised controlled trial. Lancet 380(9839):358–365

23.

NICE technology appraisal guidance [TA258] (2012) Erlotinib for first-line treatment of locally advanced or metastatic EGFR-TK positive non-small cell lung cancer. Accessed online 02/12/15 https://www.nice.org.uk/guidance/ta258breast cancer N Engl J Med 366:109–119

24.

NICE technology appraisal guidance [TA162] (2008) Erlotinib for the treatment of non-small cell lung cancer. Accessed online 02/12/15

25.

Hiu D, Sri Karuturi M, Tanco KC, et al. (2013) Targeted agent use in cancer patients at the end of life. J Pain Symptom Manag 46(1):1–8

26.

Ellis LM, Bernstein DS, Voest EE, et al. (2014) American Society of Clinical Oncology perspective: raising the bar for clinical trials by defining clinically meaningful outcomes. JCO 32(12):1186–1187
Acknowledgments
We wish to thank all the patients who gave up their time to participate in the research, and also the oncologists, research nurses and trial co-ordinators. In addition, we would like to thank Angela Fry for her assistance with administration and Boehringer Ingelheim for the funds to conduct the study.
Ethics declarations
Written consent was obtained prior to the initial interview, which took place within 2 weeks from the consultation with the doctor.
Conflict of interest
Lesley Fallowfield has received grant funding and speaker honoraria from Boehringer Ingelheim.
Electronic supplementary material
About this article
Cite this article
Fallowfield, L.J., Catt, S.L., May, S.F. et al. Therapeutic aims of drugs offering only progression-free survival are misunderstood by patients, and oncologists may be overly optimistic about likely benefits. Support Care Cancer 25, 237–244 (2017). https://doi.org/10.1007/s00520-016-3408-7
Received:

Accepted:

Published:

Issue Date:
Keywords
Oncologists' decision making

Patients

Metastatic cancer

Progression-free survival estimates

Therapeutic benefits