Abstract
Purpose
An update of the recommendations for the prophylaxis of acute and delayed emesis induced by moderately emetogenic chemotherapy published after the last MASCC/ESMO antiemetic consensus conference in 2009 has been carried out.
Methods
A systematic literature search using PubMed from January 1, 2009 to January 6, 2015 with a restriction to papers in English was conducted.
Results
Overall, two randomized phase II and seven randomized phase III studies plus the results of three subgroup analysis of large phase III trials and those of a pilot study have been included.
Conclusions
In carboplatin-treated patients, a moderate benefit from adding an NK1 receptor antagonist to dexamethasone and a 5-HT3 receptor antagonist has been shown. However, in oxaliplatin-treated patients, contrasting results about the role of NK1 receptor antagonists have been obtained. At present, it is not possible to suggest a specific 5-HT3 receptor antagonist to use for the prevention of acute emesis in these patients. No routine prophylaxis for delayed emesis is recommended but in patients receiving moderately emetogenic chemotherapy with known potential for delayed emesis (e.g., oxaliplatin, doxorubicin, cyclophosphamide) the use of dexamethasone for days 2–3 can be considered.
Access options
Buy single article
Instant access to the full article PDF.
US$ 39.95
Tax calculation will be finalised during checkout.
Subscribe to journal
Immediate online access to all issues from 2019. Subscription will auto renew annually.
US$ 119
Tax calculation will be finalised during checkout.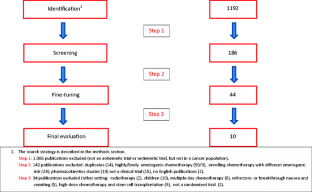 References
1.

Popovic M, Warr DG, Deangelis C, et al. (2014) Efficacy and safety of palonosetron for the prophylaxis of chemotherapy-induced nausea and vomiting (CINV): a systematic review and meta-analysis of randomized controlled trials. Support Care Cancer 22:1685–1697

2.

Geling O, Eichler HG (2005) Should 5-hydroxytryptamine-3 receptor antagonists be administered beyond 24 hours after chemotherapy to prevent delayed emesis? Systematic re-evaluation of clinical evidence and drug cost implications. J Clin Oncol 23:1289–1294

3.

Rojas C, Stathis M, Thomas AG, et al. (2008) Palonosetron exhibits unique molecular interactions with the 5-HT3 receptor. Anesth Analg 107:469–478

4.

Italian Group for Antiemetic Research (2000) Dexamethasone alone or in combination with ondansetron for the prevention of delayed nausea and vomiting induced by chemotherapy. N Engl J Med 342:1554–1559

5.

Inoue A, Yamada Y, Matsumura Y, et al. (2003) Randomized study of dexamethasone treatment for delayed emesis, anorexia and fatigue induced by irinotecan. Support Care Cancer 11:528–532

6.

Hesketh PJ, Bosnjak SM, Nikolic V, et al. (2011) Incidence of delayed nausea and vomiting in patients with colorectal cancer receiving irinotecan-based chemotherapy. Support Care Cancer 19:2063–2066

7.

Lindley C, Goodin S, McCune J, et al. (2005) Prevention of delayed chemotherapy-induced nausea and vomiting after moderately high to highly emetogenic chemotherapy: comparison of ondansetron, prochlorperazine, and dexamethasone. Am J Clin Oncol 28:270–276

8.

Rapoport B, Jordan K, Boice JA, et al. (2010) Aprepitant for the prevention of chemotherapy-induced nausea and vomiting associated with a broad range of moderately emetogenic chemotherapies and tumor types: a randomized, double-blind study. Support Care Cancer 18:423–431

9.

Weinstein C, Jordan K, Green SA, et al. (2016) Single-dose fosaprepitant for the prevention of chemotherapy-induced nausea and vomiting associated with moderately emetogenic chemotherapy: results of a randomized, double-blind phase III trial. Ann Oncol 27:172–178

10.

Gralla RJ, Rapoport BL, Jordan K, et al. (2010) Assessing the magnitude of antiemetic benefit with the addition of the NK1 receptor antagonist aprepitant for all platinum agents: analysis of 1872 patients in prospective randomized clinical phase III trials. J Clin Oncol 28:650s abstract 9057

11.

Jordan K, Gralla R, Rossi G, et al. (2014) Is the addition to an NK1 receptor antagonist beneficial in patients receiving carboplatin? Supplementary data with NEPA, a fixed dose combination of netupitant and palonosetron. Support Care Cancer 22:107s abstract 0162

12.

Hesketh PJ, Schnadig ID, Schwartzberg LS, et al. (2016) Efficacy of the neurokinin-1 receptor antagonist rolapitant in preventing nausea and vomiting in patients receiving carboplatin-based chemotherapy. Cancer 122:2418–2425

13.

Tanioka M, Kitao A, Matsumoto K, et al. (2013) A randomized, placebo controlled, double-blind study of aprepitant in nondrinking women younger than 70 years receiving moderately emetogenic chemotherapy. Br J Cancer 109:859–865

14.

Yahata H, Kobayashi H, Sonoda K, et al (2016) Efficacy of aprepitant for the prevention of chemotherapy-induced nausea and vomiting with a moderately emetogenic chemotherapy regimen: a multicenter, placebo-controlled, double-blind, randomized study in patients with gynecologic cancer receiving paclitaxel and carboplatin. Int J Clin Oncol 21(3):491–7. doi:10.1007/s10147-015-0928-y

15.

Ito Y, Karayama M, Inui N, et al. (2014) Aprepitant in patients with advanced non-small-cell lung cancer receiving carboplatin-based chemotherapy. Lung Cancer 84:259–264

16.

Hesketh PJ, Wright O, Rosati G, et al. (2012) Single-dose intravenous casopitant in combination with ondansetron and dexamethasone for the prevention of oxaliplatin-induced nausea and vomiting: a multicenter, randomized, double-blind, active-controlled, two arm, parallel group study. Support Care Cancer 20:1471–1480

17.

Nishimura J, Satoh T, Fukunaga M, et al. (2015) Combination antiemetic therapy with aprepitant/fosaprepitant in patients with colorectal cancer receiving oxaliplatin-based chemotherapy (SENRI trial): a multicenter, randomized, controlled phase III trial. Eur J Cancer 51:1274–1282

18.

Molassiotis A, Aapro MA, Dicato M, et al. (2014) Evaluation of risk factors predicting chemotherapy-related nausea and vomiting: results from a European prospective observational study. J Pain Symptom Manage 47:839–848
Ethics declarations
Conflict of interest
F. Roila: None declared
D. Warr: Helsinn, MSD Merck, Tesaro
P. Hesketh: None declared
R.J. Gralla: Helsinn, MSD Merck, Tesaro, Eisai
J. Herrestedt: Tesaro, Swedish Orphan Biovitrum
K. Jordan: Helsinn, MSD Merck, Tesaro
M. Aapro: Helsinn, Tesaro, MSD Merck, Roche
E. Ballatori: None declared
B.L. Rapoport: Helsinn, MSD Merck, Tesaro
About this article
Cite this article
Roila, F., Warr, D., Hesketh, P.J. et al. 2016 updated MASCC/ESMO consensus recommendations: Prevention of nausea and vomiting following moderately emetogenic chemotherapy. Support Care Cancer 25, 289–294 (2017). https://doi.org/10.1007/s00520-016-3365-1
Received:

Accepted:

Published:

Issue Date:
Keywords
Moderately emetogenic chemotherapy

Carboplatin

Irinotecan

Oxaliplatin

NK1 receptor antagonists

5-HT3 receptor antagonists