Abstract
Purpose
To explore outcomes of psychological distress, including anxiety, depression and stress, amongst adult haematological cancer survivors, with a specific focus on potential differences between rural and urban survivors.
Methods
One thousand four hundred fourteen urban and rural survivors were recruited from five Australian population-based cancer registries and completed a self-report pen-and-paper survey on their well-being, including the Depression Anxiety and Stress Scale 21-item version.
Results
A quarter of survivors were identified as reporting above normal levels of anxiety and depression, respectively, and almost one fifth (17 %) reported above normal levels of stress. There were no statistically significant differences in the percentage of rural and urban survivors reporting above normal levels of anxiety, depression, or stress. Survivors who had experienced financial burden due to their cancer or were of middle age had higher odds of reporting multiple domains of psychological distress, compared to their counterparts.
Conclusions
Haematological cancer survivors diagnosed during middle age or who experience increased financial burden as a result of their diagnosis may require additional support and care with regards to psychological distress.
Access options
Buy single article
Instant access to the full article PDF.
US$ 39.95
Tax calculation will be finalised during checkout.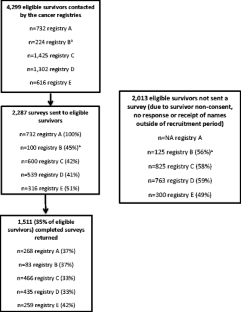 References
1.

Carlson LE, Angen M, Cullum J, Goodey E, Koopmans J, Lamont L, Bultz BD (2004) High levels of untreated distress and fatigue in cancer patients. Br J Cancer 90(12):2297–2304

2.

Linden W, Vodermaier A, MacKenzie R, Greig D (2012) Anxiety and depression after cancer diagnosis: prevalence rates by cancer type, gender, and age. J Affect Disord 141(2):343–351

3.

Allart P, Soubeyran P, Cousson-Gélie F (2013) Are psychosocial factors associated with quality of life in patients with haematological cancer? A critical review of the literature. Psycho-Oncology 22(2):241–249

4.

Ell K, Sanchez K, Vourlekis B, Lee PJ, Dwight-Johnson M, Lagomasino I, Russell C (2005) Depression, correlates of depression, and receipt of depression care among low-income women with breast or gynecologic cancer. J Clin Oncol 23(13):3052–3060

5.

DiMatteo MR, Lepper HS, Croghan TW (2000) Depression is a risk factor for noncompliance with medical treatment: meta-analysis of the effects of anxiety and depression on patient adherence. Arch Intern Med 160(14):2101–2107

6.

Molassiotis A, Wilson B, Blair S, Howe T, Cavet J (2011) Unmet supportive care needs, psychological well-being and quality of life in patients living with multiple myeloma and their partners. Psycho-Oncology 20(1):88–97

7.

Montgomery C, Pocock M, Titley K, Lloyd K (2003) Predicting psychological distress in patients with leukaemia and lymphoma. J Psychosom Res 54(4):289–292

8.

Sherman AC, Simonton S, Latif U, Plante TG, Anaissie EJ (2009) Changes in quality-of-life and psychosocial adjustment among multiple myeloma patients treated with high-dose melphalan and autologous stem cell transplantation. Biol Blood Marrow Transplant 15:12–20

9.

Hjermstad MJ, Knobel H, Brinch L, Fayers PM, Loge JH, Holte H, Kaasa S (2004) A prospective study of health-related quality of life, fatigue, anxiety and depression 3–5 years after stem cell transplantation. Bone Marrow Transplant 34:257–266

10.

Tecchio C, Bonetto C, Bertani M, Cristofalo D, Lasalvia A, Nichele I, Bonani A, Andreini A, Benedetti F, Ruggeri M, Pizzolo G (2013) Predictors of anxiety and depression in hematopoietic stem cell transplant patients during protective isolation. Psycho-Oncology 22:1790–1797

11.

Clinton-McHarg T, Carey M, Sanson-Fisher R, Tzelepis F, Bryant J, Williamson A (2014) Anxiety and depression among haematological cancer patients attending treatment centres: prevalence and predictors. J Affect Disord 165:176–181

12.

Priscilla D, Hamidin A, Azhar MZ, Noorjan KON, Salmiah MS, Bahariah K (2011) Assessment of depression and anxiety in haematological cancer patients and their relationship with quality of life. East Asian Arch Psychiatr 21:108–114

13.

Santos FR, Kozasa EH, Maria de Lourdes LF, Colleoni GW, Leite JR (2006) Psychosocial adaptation and quality of life among Brazilian patients with different hematological malignancies. J Psychosom Res 60(5):505–511

14.

McCorkle R, Cooke E (2013) Psychosocial aspects of hematologic disorders. In: Hoffman R, Benz EJ, Silberstein LE, Heslop HE, Weitz JI, Anastais J (eds) Hematology: basic principles and practice, 6th edn. Elsevier Inc., Philadelphia

15.

National Institute for Clinical Excellence (2003) Guidance on cancer services- improving outcomes in haematological cancers: the manual. NICE, London, UK

16.

Butow PN, Phillips F, Schweder J, White K, Underhill C, Goldstein D (2012) Psychosocial well-being and supportive care needs of cancer patients living in urban and rural/regional areas: a systematic review. Support Care Cancer 20(1):1–22

17.

Weaver KE, Geiger AM, Lu L, Case LD (2013) Rural-urban disparities in health status among US cancer survivors. Cancer 119(5):1050–1057

18.

Boyes AW, Girgis A, D'Este C, Zucca AC (2011) Flourishing or floundering? Prevalence and correlates of anxiety and depression among a population-based sample of adult cancer survivors 6 months after diagnosis. J Affect Disord 135(1):184–192

19.

Schootman M, Homan S, Weaver KE, Jeffe DB, Yun SY (2013) The health and welfare of rural and urban cancer survivors in Missouri. Prev Chronic Dis 10:130052

20.

Paul CL, Hall AE, Carey ML, Cameron EC, Clinton‐McHarg T (2013) Access to care and impacts of cancer on daily life: do they differ for metropolitan versus regional hematological cancer survivors? J Rural Health 29(s1):s43–50

21.

Dauch S, Dolbeault S, Reich M (2013) Depression in cancer patients. Eur J Cancer Suppl 2:205–215

22.

Traeger L, Greer JA, Fernandez-Robles C, Temel JS, Pirl WF (2012) Evidence-based treatment of anxiety in patients with cancer. J Clin Oncol 30(11):1197–1205

23.

Feuerstein M (2007) Defining cancer survivorship. J Cancer Surviv 1:5–7

24.

Twombly R (2004) What's in a name: who is a cancer survivor? J Nat Cancer Inst 96(19):1414–1415

25.

Australian Bureau of Statistics (2013) Australian Statistical Geography Standard (ASGS): volume 5—remoteness structure. ABS Catalogue No. 1270.0.55.005. ABS, Canberra

26.

Hall AE, Sanson-Fisher RW, Lynagh MC, Threlfall T, D'Este CA (2013) Format and readability of an enhanced invitation letter did not affect participation rates in a cancer registry-based study: a randomized controlled trial. J Clin Epidemiol 66(1):85–94

27.

Hall A, D'Este C, Tzelepis F, Sanson-Fisher R, Lynagh M (2014) The Survivor Unmet Needs Survey (SUNS) for haematological cancer survivors: a cross-sectional study assessing the relevance and psychometric properties. BMC Health Serv Res 14(1):211–223

28.

Lynagh M, Clinton-McHarg T, Hall A, Sanson-Fisher R, Stevenson W, Tiley C, Bisquera A (2015) Are Australian clinicians monitoring medication adherence in hematological cancer survivors? Two cross-sectional studies. Exp Hematol Oncol 4(15)

29.

Lovibond SH, Lovibond PF (1995) Manual for the Depression Anxiety Stress Scales, 2nd edn. Psychology Foundation Monograph, Sydney

30.

Brown TA, Chorpita BF, Korotitsch W, Barlow DH (1997) Psychometric properties of the Depression Anxiety Stress Scales (DASS) in clinical samples. Behav Res Ther 35(1):79–89

31.

Gloster AT, Rhoades HM, Novy D, Klotsche J, Senior A, Kunik M, Stanley MA (2008) Psychometric properties of the Depression Anxiety and Stress Scale-21 in older primary care patients. J Affect Disord 110(3):248–259

32.

School of Psychology University of New South Wales (2011) DASS FAQ (frequently asked questions). http://www2.psy.unsw.edu.au/Groups/Dass/DASSFAQ.htm. Accessed March 2013

33.

National Comprehensive Cancer Network (2013) NCCN clinical practice guidelines in oncology: distress management version 2.2103. NCCN,

34.

Walker J, Sawhney A, Hansen CH, Ahmed S, Martin S, Symeonides S, Murray G, Sharpe M (2014) Treatment of depression in adults with cancer: a systematic review of randomized controlled trials. Psychol Med 44:897–907

35.

Goldstein D, Underhill C (2007) Regional cancer services in Australia: some evidence of improvement but a long way to go. Cancer Forum 2(31)

36.

McGrath P (2000) It's horrendous-but really, what can you do? Preliminary findings on financial impact of relocation for specialist treatment. Aust Health Rev 23(3):94–103

37.

McGrath P, Seguerra J (2000) The patient transit assistance scheme: a consumer's perspective. Aust J Rural Health 8(4):232–238

38.

Bleyer A (2005) The adolescent and young adult gap in cancer care and outcome. Curr Probl Pediatr Adolesc Health Care 35(5):182–217

39.

McAdams DP, Olson BD (2010) Personality developing continuity and change over the life course. Annu Rev Psychol 61:517–542

40.

Hammond CT, Beckjord EB, Arora NK, Bellizzi KM, Jeffery DD, Aziz NM (2008) Non-Hodgkin's lymphoma survivors' fertility and sexual function-related information needs. Fertil Steril 90(4):1256–1258

41.

Smith T, Stein KD, Mehta CC, Kaw C, Kepner JL, Buskirk T, Baker F (2007) The rationale, design, and implementation of the American Cancer Society's studies of cancer survivors. Cancer 109(1):1–12

42.

Watson N, Wooden M (2009) Identifying factors affecting longitudinal survey response. In: Lynn P (ed) Methodology of longitudinal surveys. John Wiley & Sons Ltd, Chichester

43.

Australian Bureau of Statistics (2015) 3218.0 regional population growth, Australia population estimates by remoteness area, 2004 to 2014. ABS, Canberra
Acknowledgments
The authors are grateful for all the hard work and assistance of the registry staff, for multiple research personnel, including Ms Sandra Dowley and Miss Clara Davis for the data entry; Miss Ally Logatchova, Dr Emilie Cameron, Miss Hannah Small, Miss Lara Ryan, Mr Scott Stronach and Ms Natalie Dodds for the assistance with data cleaning and/or recruitment; and Ms Alessandra Bisquera for the statistical support. The authors would also like to acknowledge the time and effort provided by the survivors and support persons who took part in this research; the authors greatly appreciate their involvement, as without their assistance, this research would not be possible.
Ethics declarations
Funding
This grant no. 569290 was awarded through the Priority-driven Collaborative Cancer Research Scheme and co-funded by beyondblue and the Australian Government through Cancer Australia. It also received funding support from a Strategic Research Partnership Grant (CSR 11–02) from Cancer Council NSW to the Newcastle Cancer Control Collaborative (New-3C) and infrastructure funding from the University of Newcastle and Hunter Medical Research Institute. Christine Paul is supported by an NHMRC Career Development Fellowship (APP1061335). Mariko Carey is supported by a National Health and Medical Research Council (NHMRC) Translating Research into Practice (TRIP) Fellowship.
Conflict of interest
The authors declare that they have no conflict of interest.
About this article
Cite this article
Hall, A.E., Sanson-Fisher, R.W., Carey, M.L. et al. Prevalence and associates of psychological distress in haematological cancer survivors. Support Care Cancer 24, 4413–4422 (2016). https://doi.org/10.1007/s00520-016-3282-3
Received:

Accepted:

Published:

Issue Date:
Keywords
Cancer

Oncology

Distress

Haematological cancer

Geographical location