Abstract
Background
Evidence from randomized controlled trials is growing that exercise interventions are beneficial in cancer patients receiving allogeneic stem cell transplantation (allo-HCT). However, information about adherence to exercise interventions and exercise contamination in control groups is lacking. This information is crucial for the interpretation of study results. We therefore examined the determinants of exercise adherence and contamination in different treatment periods during (inpatient) and after (outpatient) allo-HCT.
Methods
One hundred fifty-three patients scheduled for allo-HCT were randomized to a 1-year partly supervised exercise intervention (endurance and resistance exercise) or to a control group. Adherence was assessed via exercise logs and contamination via questionnaires.
Results
Adherence varied between 66 % (inpatient) and 78 % (outpatient) in different treatment periods. During (inpatient) transplantation period, higher adherence was significantly associated with lower fatigue (P = 0.004) and with having children at home (P = 0.049). Adherence after discharge was positively associated with endurance performance (P = 0.003); higher adherence after day 100 was associated with exercise activity prior allo-HCT (P = 0.010) and higher adherence after discharge (P = 0.001). Contamination among controls was high with 54 % and significantly associated with muscle strength (P = 0.025) and fatigue (P = 0.050).
Conclusion
Exercise adherence in different treatment periods was determined by different variables, and contamination among controls was evident. These findings may have important implications for correct interpretation of randomized exercise intervention trials.
Access options
Buy single article
Instant access to the full article PDF.
US$ 39.95
Tax calculation will be finalised during checkout.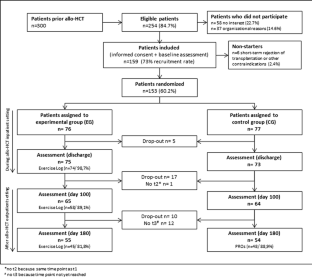 References
1.

Copelan EA (2006) Hematopoietic stem-cell transplantation. N Engl J Med 354(17):1813–1826. doi:10.1056/NEJMra052638

2.

Sorror ML, Storer BE, Maloney DG, Sandmaier BM, Martin PJ, Storb R (2008) Outcomes after allogeneic hematopoietic cell transplantation with nonmyeloablative or myeloablative conditioning regimens for treatment of lymphoma and chronic lymphocytic leukemia. Blood 111(1):446–452. doi:10.1182/blood-2007-07-098483

3.

Passweg JR, Baldomero H, Bregni M, Cesaro S, Dreger P, Duarte RF, Falkenburg JH, Kroger N, Farge-Bancel D, Bobby Gaspar H, Marsh J, Mohty M, Peters C, Sureda A, Velardi A, Ruiz de Elvira C, Madrigal A (2013) Hematopoietic SCT in Europe: data and trends in 2011. Bone Marrow Transplant 48(9):1161–1167. doi:10.1038/bmt.2013.51

4.

Persoon S, Kersten MJ, van der Weiden K, Buffart LM, Nollet F, Brug J, Chinapaw MJ (2013) Effects of exercise in patients treated with stem cell transplantation for a hematologic malignancy: a systematic review and meta-analysis. Cancer Treat Rev 39(6):682–690. doi:10.1016/j.ctrv.2013.01.001

5.

Wiskemann J, Huber G (2008) Physical exercise as adjuvant therapy for patients undergoing hematopoietic stem cell transplantation. Bone Marrow Transplant 41(4):321–329. doi:10.1038/sj.bmt.1705917

6.

Wiskemann J, Dreger P, Schwerdtfeger R, Bondong A, Huber G, Kleindienst N, Ulrich CM, Bohus M (2011) Effects of a partly self-administered exercise program before, during, and after allogeneic stem cell transplantation. Blood 117(9):2604–2613. doi:10.1182/blood-2010-09-306308

7.

van Haren IE, Timmerman H, Potting CM, Blijlevens NM, Staal JB, Nijhuis-van der Sanden MW (2013) Physical exercise for patients undergoing hematopoietic stem cell transplantation: systematic review and meta-analyses of randomized controlled trials. Phys Ther 93(4):514–528. doi:10.2522/ptj.20120181

8.

Wiskemann J, Kleindienst N, Kuehl R, Dreger P, Schwerdtfeger R, Bohus M (2015) Effects of physical exercise on survival after allogeneic stem cell transplantation. Int J Cancer. doi:10.1002/ijc.29633

9.

World Health Organization (WHO) (2003) Adherence to long-term therapies: evidence for action. WHO Library Cataloguing-in-Publication Data, Switzerland

10.

Kampshoff CS, Jansen F, van Mechelen W, May AM, Brug J, Chinapaw MJ, Buffart LM (2014) Determinants of exercise adherence and maintenance among cancer survivors: a systematic review. Int J Behav Nutr Phys Act 11(1):80. doi:10.1186/1479-5868-11-80

11.

Winters-Stone KM, Neil SE, Campbell KL (2014) Attention to principles of exercise training: a review of exercise studies for survivors of cancers other than breast. Br J Sports Med 48(12):987–995. doi:10.1136/bjsports-2012-091732

12.

Hacker ED, Mjukian M (2014) Review of attrition and adherence in exercise studies following hematopoietic stem cell transplantation. Eur J Oncol Nurs 18(2):175–182. doi:10.1016/j.ejon.2013.10.013

13.

Woodard CM, Berry MJ (2001) Enhancing adherence to prescribed exercise: structured behavioral interventions in clinical exercise programs. J Cardiopulm Rehabil 21(4):201–209

14.

Wiskemann J, Kuehl R, Dreger P, Huber G, Kleindienst N, Ulrich CM, Bohus M (2015) Physical Exercise Training versus Relaxation in Allogeneic stem cell transplantation (PETRA study)—rationale and design of a randomized trial to evaluate a yearlong exercise intervention on overall survival and side-effects after allogeneic stem cell transplantation. BMC Cancer 15(1):619. doi:10.1186/s12885-015-1631-0

15.

Ferguson JM, Marquis JN, Taylor CB (1977) A script for deep muscle relaxation. Dis Nervous Syst 38(9):703–708

16.

Crapo R, Casaburi R, Coaties A, Enright P, MacIntyre N, McKay P, Johnson DH, Wanger J, Zeballos R (2002) ATS statement: guidelines for the six-minute walk test. Am J Respir Crit Care Med 166(1):111–117. doi:10.1164/ajrccm.166.1.at1102

17.

Bohannon RW (1997) Reference values for extremity muscle strength obtained by hand-held dynamometry from adults aged 20 to 79 years. Arch Phys Med Rehabil 78(1):26–32

18.

Knols RH, de Bruin ED, Uebelhart D, Aufdemkampe G, Schanz U, Stenner-Liewen F, Hitz F, Taverna C, Aaronson NK (2011) Effects of an outpatient physical exercise program on hematopoietic stem-cell transplantation recipients: a randomized clinical trial. Bone Marrow Transplant 46(9):1245–1255. doi:10.1038/bmt.2010.288

19.

Mello M, Tanaka C, Dulley FL (2003) Effects of an exercise program on muscle performance in patients undergoing allogeneic bone marrow transplantation. Bone Marrow Transplant 32(7):723–728. doi:10.1038/sj.bmt.1704227

20.

Knols RH, Aufdemkampe G, de Bruin ED, Uebelhart D, Aaronson NK (2009) Hand-held dynamometry in patients with haematological malignancies: measurement error in the clinical assessment of knee extension strength. BMC Musculoskelet Disord 10:31. doi:10.1186/1471-2474-10-31

21.

Schmidt K, Vogt L, Thiel C, Jager E, Banzer W (2013) Validity of the six-minute walk test in cancer patients. Int J Sports Med 34(7):631–636. doi:10.1055/s-0032-1323746

22.

Smets EM, Garssen B, Bonke B, De Haes JC (1995) The Multidimensional Fatigue Inventory (MFI) psychometric qualities of an instrument to assess fatigue. J Psychosom Res 39(3):315–325

23.

Bower JE, Bak K, Berger A, Breitbart W, Escalante CP, Ganz PA, Schnipper HH, Lacchetti C, Ligibel JA, Lyman GH, Ogaily MS, Pirl WF, Jacobsen PB, American Society of Clinical O (2014) Screening, assessment, and management of fatigue in adult survivors of cancer: an American Society of Clinical oncology clinical practice guideline adaptation. J Clin Oncol 32(17):1840–1850. doi:10.1200/JCO.2013.53.4495

24.

Aaronson NK, Ahmedzai S, Bergman B, Bullinger M, Cull A (1993) The European Organization for Research and Treatment of Cancer QLQ-C30: a quality-of-life instrument for use in international clinical trials in oncology. J Natl Cancer Institute 8:365–376

25.

Babyak MA (2004) What you see may not be what you get: a brief, nontechnical introduction to overfitting in regression-type models. Psychosom Med 66(3):411–421

26.

Jarden M, Baadsgaard MT, Hovgaard DJ, Boesen E, Adamsen L (2009) A randomized trial on the effect of a multimodal intervention on physical capacity, functional performance and quality of life in adult patients undergoing allogeneic SCT. Bone Marrow Transplant 43(9):725–737. doi:10.1038/bmt.2009.27

27.

DeFor T, Burns L, Gold E, Weisdorf D (2007) A randomized trial of the effect of a walking regimen on the functional status of 100 adult allogeneic donor hematopoietic cell transplant patients. Biol Blood Marrow Transplant 13:948–955

28.

Schmitz KH, Courneya KS, Matthews C, Demark-Wahnefried W, Galvao DA, Pinto BM, Irwin ML, Wolin KY, Segal RJ, Lucia A, Schneider CM, von Gruenigen VE, Schwartz AL (2010) American College of Sports Medicine roundtable on exercise guidelines for cancer survivors. Med Sci Sports Exerc 42(7):1409–1426. doi:10.1249/MSS.0b013e3181e0c112

29.

Courneya KS, Stevinson C, McNeely ML, Sellar CM, Peddle CJ, Friedenreich CM, Mazurek A, Chua N, Tankel K, Basi S, Reiman T (2010) Predictors of adherence to supervised exercise in lymphoma patients participating in a randomized controlled trial. Ann Behav Med 40(1):30–39. doi:10.1007/s12160-010-9205-5

30.

Ferrara JL, Levine JE, Reddy P, Holler E (2009) Graft-versus-host disease. Lancet 373(9674):1550–1561. doi:10.1016/S0140-6736(09)60237-3

31.

Mitchell SA, Leidy NK, Mooney KH, Dudley WN, Beck SL, LaStayo PC, Cowen EW, Palit P, Comis LE, Krumlauf MC, Avila DN, Atlam N, Fowler DH, Pavletic SZ (2010) Determinants of functional performance in long-term survivors of allogeneic hematopoietic stem cell transplantation with chronic graft-versus-host disease (cGVHD). Bone Marrow Transplant 45(4):762–769. doi:10.1038/bmt.2009.238

32.

Morris GS, Brueilly KE, Scheetz JS, de Lima MJ (2012) Adherence of stem cell transplant recipients receiving glucocorticoid therapy to an exercise-based rehabilitation program. Support Care Cancer 20(10):2391–2398. doi:10.1007/s00520-011-1352-0

33.

Wiskemann J, Kuehl R, Dreger P, Schwerdtfeger R, Huber G, Ulrich CM, Jaeger D, Bohus M (2014) Efficacy of exercise training in SCT patients—who benefits most? Bone Marrow Transplant 49(3):443–448. doi:10.1038/bmt.2013.194

34.

Stevinson C, Tonkin K, Capstick V, Schepansky A, Ladha AB, Valance JK, Faught W, Steed H, Courneya KS (2009) A population-based study of the determinants of physical activity in ovarian cancer survivors. J Phys Act Health 6(3):339–346

35.

Courneya KS, Friedenreich CM, Quinney HA, Fields AL, Jones LW, Fairey AS (2004) Predictors of adherence and contamination in a randomized trial of exercise in colorectal cancer survivors. Psychooncology 13(12):857–866. doi:10.1002/pon.802

36.

Shang J, Wenzel J, Krumm S, Griffith K, Stewart K (2012) Who will drop out and who will drop in, exercise adherence in a randomized clinical trial among patients receiving active cancer treatment. Cancer Nurs 35(4):312–322. doi:10.1097/NCC.0b013e318236a3b3

37.

Courneya KS, Sellar CM, Stevinson C, McNeely ML, Peddle CJ, Friedenreich CM, Tankel K, Basi S, Chua N, Mazurek A, Reiman T (2009) Randomized controlled trial of the effects of aerobic exercise on physical functioning and quality of life in lymphoma patients. J Clin Oncol 27(27):4605–4612. doi:10.1200/JCO.2008.20.0634
Ethics declarations
Funding
Deutsche José Carreras Leukämie-Stiftung e. V. (project no. R10/42pf).
Conflict of interest
The authors declare that they have no conflict of interest.
About this article
Cite this article
Kuehl, R., Schmidt, M.E., Dreger, P. et al. Determinants of exercise adherence and contamination in a randomized controlled trial in cancer patients during and after allogeneic HCT. Support Care Cancer 24, 4327–4337 (2016). https://doi.org/10.1007/s00520-016-3271-6
Received:

Accepted:

Published:

Issue Date:
Keywords
Physical activity

Cancer

Adherence

Contamination

Transplantation

Oncology