Abstract
Context
Conversations about end-of-life (EOL) wishes are challenging for many clinicians. The Go Wish card game (GWG) was developed to facilitate these conversations. Little is known about the type and consistency of EOL wishes using the GWG in advanced cancer patients.
Methods
We conducted a randomized controlled trial to assess the EOL wishes of 100 patients with advanced cancer treated at The University of Texas MD Anderson Cancer Center. The purpose of this study was to determine the EOL wishes of patients with advanced cancer and to compare patients' preference between the GWG and List of wishes/statements (LOS) containing the same number of items. Patients were randomized into four groups and completed either the GWG or a checklist of 35 LOS and one opened statement found on the GWG cards; patients were asked to categorize these wishes as very, somewhat, or not important. After 4–24 h, the patients were asked to complete the same or other test. Group A (n = 25) received LOS-LOS, group B (n = 25) received GWG-GWG, group C (n = 26) received GWG-LOS, and group D (n = 24) received LOS-GWG. All patients completed the State-Trait Anxiety Inventory (STAI) for adults before and after the first test.
Results
Median age (interquartile range = IQR): 56 (27–83) years. Age, sex, ethnicity, marital status, religion, education, and cancer diagnosis did not differ significantly among the four groups. All patients were able to complete the GWG and/or LOS. The ten most common wishes identified as very important by patients in the first and second test were to be at peace with God (74 vs. 71 %); to pray (62 vs. 61 %); and to have family present (57 vs. 61 %). to be free from pain (54 vs. 60 %); not being a burden to my family (48 vs. 49 %); to trust my doctor (44 vs. 45 %); to keep my sense of humor (41 vs. 45 %); to say goodbye to important people in my life (41 vs. 37 %); to have my family prepared for my death (40 vs. 49 %); and to be able to help others (36 vs. 31 %). There was significant association among the frequency of responses of the study groups. Of the 50 patients exposed to both tests, 43 (86 %) agreed that the GWG instructions were clear, 45 (90 %) agreed that the GWG was easy to understand, 31 (62 %) preferred the GWG, 39 (78 %) agreed that the GWG did not increase their anxiety and 31 (62 %) agreed that having conversations about EOL priorities was beneficial. The median STAI score after GWG was 48 (interquartile range, 39–59) vs. 47 (interquartile range, 27–63) after LOS (p = 0.2952).
Conclusion
Patients with advanced cancer assigned high importance to spirituality and the presence/relationships of family, and these wishes were consistent over the two tests. The GWG did not worsen anxiety.
This is a preview of subscription content, log in to check access.
Access options
Buy single article
Instant access to the full article PDF.
US$ 39.95
Price includes VAT for USA
Subscribe to journal
Immediate online access to all issues from 2019. Subscription will auto renew annually.
US$ 199
This is the net price. Taxes to be calculated in checkout.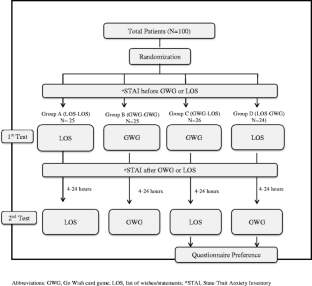 References
1.

Delgado-Guay MO, De la Cruz MG, Epner DE (2013) "I don't want to burden my family": handling communication challenges in geriatric oncology. Ann Oncol 23(Supplement 7):vii30–vii35

2.

Epstein RM, Street RL Jr (2007) Patient-centered communication in cancer care: promoting healing and reducing suffering. Bethesda, MD, National Cancer Institute

3.

Beckman HB, Frankel RM (2003) Training practitioners to communicate effectively in cancer care: it is the relationship that counts. Patient Educ Couns 50:85–89

4.

Curtis JR, Patrick DL, Shannon SE, et al. (2001) The family conference as a focus to improve communication about end-of-life care in the intensive care unit: opportunities for improvement. Crit Care Med 29(2 Suppl):26–33

5.

DesHarnais S, Carter RE, Hennessy W, et al. (2007) Lack of concordance between physician and patient: reports on end-of-life care discussions. J Palliat Med 10(3):728–740

6.

Doukas DJ, Hardwig J (2003) Using the family covenant in planning end-of-life care: obligations and promises of patients, families, and physicians. J Am Geriatr Soc 51(8):1155–1158

7.

Keating NL, Landrum MB, Rogers SO Jr, et al. (2010) Physician factors associated with discussions about end-of-life care. Cancer 116(4):998–1006

8.

Mack JW, Cronin A, Taback N, et al. (2012) End-of-life care discussions among patients with advanced cancer: a cohort study. Ann Intern Med 156(3):204–210

9.

Boyd D, Merkh K, Rutledge DN, et al. (2011) Nurses' perceptions and experiences with end-of-life communication and care. Oncol Nurs Forum 38(3):E229–E239

10.

Wright AA, Zhang B, Ray A, et al. (2008) Associations between end-of-life discussions, patient mental health, medical care near death, and caregiver bereavement adjustment. JAMA 300(14):1665–1673

11.

Heyland DK, Dodek P, Rocker G, et al. (2006) What matters most in end-of-life care: perceptions of seriously ill patients and their family members. CMAJ 174(5):627–633

12.

LeGrand SB (2000) Communication in advanced disease. Curr Oncol Rep 2(4):358–361

13.

Borreani C, Brunelli C, Bianchi E, et al. (2012) Talking about end-of-life preferences with advanced cancer patients: factors influencing feasibility. J Pain Symptom Manag 43(4):739–746

14.

Stewart M, Brown JB, Boon H, et al. (1999) Evidence on patient-doctor communication. Cancer Prev Control 3(1):25–30

15.

Field MJ, Cassel CK (1997) Approaching death: improving care at the end of life. National Academy Press, Washington, DC

16.

Kehl KA (2006) Moving toward peace: an analysis of the concept of a good death. Am J Hosp Palliat Med 23(4):277–286

17.

Steinhauser KE, Clipp EC, McNeilly M, et al. (2000) In search of a good death: observations of patients, families, and providers. Ann Intern Med 132:825–832

18.

Lorenz KA, Lynn J, Dy SM, et al. (2008) Evidence for improving palliative care at the end-of-life: a systematic review. Ann Intern Med 148:147–159

19.

Lankarani-Fard A, Knapp H, Lorenz KA, et al. (2010) Feasibility of discussing end-of-life care goals with inpatients using a structured, conversational approach: the go wish card game. J Pain Symptom Manag 39(4):637–643

20.

Steinhauser KE, Christakis NA, Clipp EC, et al. (2000) Factors considered important at the end of life by patients, family, physicians, and other care providers. J Am Med Assoc 284(19):2476–2482

21.

Quill T, Norton S, Shah M, et al. (2006) What is most important for you to achieve? An analysis of patient responses when receiving palliative care consultation. J Palliat Med 9:382–388

22.

Menkin ES (2007) Go wish: a tool for end-of-life care conversations. J Palliat Med 10(2):297–303

23.

Tuck I, Johnson SC, Kuznetsova MI, et al. (2012) Sacred healing stories told at the end of life. J Holist Nurs 30(2):69–80

24.

Elizabeth S, Menkin ES (2010) Nourishment while fasting. J Palliat Med 13(10):1288–1289

25.

Centeno C, Sanz A, Bruera E (2004) Delirium in advanced cancer patients. Palliat Med 18(3):184–194

26.

de Rooij SE, Schuurmans MJ, van der Mast RC, et al. (2005) Clinical subtypes of delirium and their relevance for daily clinical practice: a systematic review. Int J Geriatr Psychiatry 20(7):609–615

27.

Lawlor PG, Nekolaichuk C, Gagnon B, et al. (2000) Clinical utility, factor analysis, and further validation of the memorial delirium assessment scale in patients with advanced cancer: assessing delirium in advanced cancer. Cancer 88(12):2859–2867

28.

Spielberger C (1983) Manual for the State-Trait Anxiety Inventory. Consulting Psychologist Press, Palo Alto, CA

29.

Downey L, Engelberg RA, Curtis JR, et al. (2009) Shared priorities for the end-of-life period. J Pain Symptom Manag 37(2):175–188

30.

Delgado-Guay MO, Hui D, Parsons HA, et al. (2011) Spirituality, religiosity, and spiritual pain in advanced cancer patients. J Pain Symptom Manage 41(6):986–994

31.

True G, Phipps EJ, Braitman LE, et al. (2005) Treatment preferences and advance care planning at end of life: the role of ethnicity and spiritual coping in cancer patients. Ann Behav Med 30:174–179

32.

Moadel A, Morgan C, Fatone A, et al. (1999) Seeking meaning and hope: self-reported spiritual and existential needs among an ethnically diverse cancer patient population. Psycho-Oncology 8(5):378–385

33.

Abba K, Horton S, Zammit R, et al. (2015) PA17 interventions to improve upstream communication about death and dying. BMJ Support Palliat Care 5(1):A24

34.

Dobrina R, Vianello C, Tenze M, et al. (2016) Mutual needs and wishes of cancer patients and their family caregivers during the last week of life: a descriptive phenomenological study. J Holist Nurs 34(1):24–34. doi:10.1177/0898010115581936

35.

Conill C, Verger E, Henriquez I, et al. (1997) Symptom prevalence in the last week of life. J Pain Symptom Manag 14(6):328–331

36.

Khan SA, Gomes B, Higginson IJ (2014) End-of-life care: what do cancer patients want? Nat Rev Clin Oncol 11(2):100–108

37.

Montoya-Juarez R, Garcia-Caro MP, Campos-Calderon C, et al. (2013) Psychological responses of terminally ill patients who are experiencing suffering: a qualitative study. Int J Nurs Stud 50(1):53–62

38.

Booij SJ, Tibben A, Engberts DP, et al. (2014) Wishes for the end of life in Huntington's disease: the perspective of European physicians. J Huntington's Dis 3(3):229–232

39.

Fleming R, Kelly F, Stillfried G (2015) "I want to feel at home": establishing what aspects of environmental design are important to people with dementia nearing the end of life. BMC Palliat Care 14:26

40.

Towsley GL, Hirschman KB, Madden C (2015) Conversations about end of life: perspectives of nursing home residents, family, and staff. J Palliat Med 18(5):421–428

41.

American Religious Identification Survey. Available from http://www.americanreligionsurvey-aris.org/. Accessed 20 July 2015

42.

Balboni T, Vanderwerker L, Block S, et al. (2007) Religiousness and spiritual support among advanced cancer patients and associations with end-of-life treatment preferences and quality of life. J Clin Oncol 25:550–560
Acknowledgments
The list of goals and values on the cards, the game instructions, and information for ordering the cards are available on the Coda Alliance website: www.codaalliance.org.
Dr. E. Bruera is supported in part by the National Institutes of Health grants R01NR010162-01A1, R01CA122292-01, and R01CA124481-01.
Ethics declarations
Our randomized controlled trial was approved by the Institutional Review Board of The University of Texas MD Anderson Cancer Center, and written informed consent was obtained from all participants.
Conflict of interest
The authors have declared no conflicts of interest.
About this article
Cite this article
Delgado-Guay, M.O., Rodriguez-Nunez, A., De la Cruz, V. et al. Advanced cancer patients' reported wishes at the end of life: a randomized controlled trial. Support Care Cancer 24, 4273–4281 (2016). https://doi.org/10.1007/s00520-016-3260-9
Received:

Accepted:

Published:

Issue Date:
Keywords
Wishes at end of life

Advanced cancer

Communication