Abstract
Purpose
The aim of this study was to assess the effectiveness and acceptability of photobiomodulation using MLS® laser therapy (LT) in the management of acute radiation dermatitis (RD).
Methods
We compared two successive groups of breast cancer patients undergoing identical radiotherapy regimens post-lumpectomy. Both groups received our standard skin care but the second group received six additional LT sessions (beam area 19.635 cm2, 0.168 W/cm2, 4 J/cm2), starting at fraction 20 of radiotherapy (control and LT group, N = 41 and 38, respectively). The clinical outcomes were the severity of RD (using the Radiation Therapy Oncology Group [RTOG] criteria and the Radiotherapy-Induced Skin Reaction Assessment Scale [RISRAS]) and dermatology-specific quality of life (Skindex-16) before the start of LT and at the end of radiotherapy. Secondary outcomes were patients' ratings of skin care or LT (pleasantness, soothing effect, and global satisfaction).
Results
Skin toxicity was equivalent between the groups before the start of LT but significantly differed at the end of radiotherapy, with an aggravation in the control but not in the LT group (e.g., 29 versus 3 % of RTOG grade 2 RD, respectively, P < 0.005). We found no significant group differences with respect to quality of life. However, the RISRAS subjective score decreased in the LT group only, implying a decreased impact of RD on patients' quality of life. Finally, patients' ratings were significantly higher for LT than for standard care.
Conclusions
These findings suggest that LT might be effective to manage acute RD and warrant further research.
Trial registration
Clinical trial number: NCT01932073. https://clinicaltrials.gov/ct2/show/NCT01932073.
This is a preview of subscription content, log in to check access.
Access options
Buy single article
Instant access to the full article PDF.
US$ 39.95
Price includes VAT for USA
Subscribe to journal
Immediate online access to all issues from 2019. Subscription will auto renew annually.
US$ 199
This is the net price. Taxes to be calculated in checkout.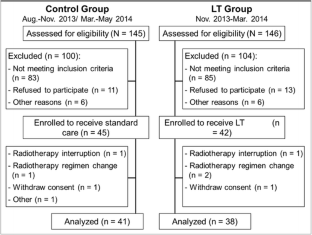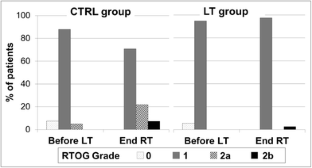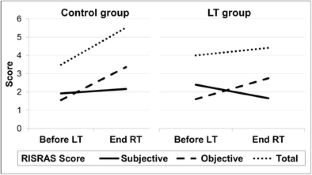 Notes
1.

The MLS® combines a laser diode emitting at 808 nm in continuous mode with a laser emitting at 905 nm in pulsed mode. Continuous laser emissions act on inflammation, stimulates blood and lymphatic circulation, and induces fast re-absorption of fluid build-ups; while pulsed laser emissions have an immediate effect on pain, since they are able to induce analgesia interfering with the very transmission of the pain impulse to the higher brain centers. Thanks to this combination, these various therapeutic effects not only take place at the same time but also reciprocally reinforce each other, resulting in rapid physiological effects and symptoms relief. Moreover, both wavelengths fall into the so-called optical window where the effective tissue penetration of light is maximized [24]. LT using synchronized wavelengths of 808 and 905 nm will reach both the epidermal and dermal layers and will be able to stimulate the self-renewing property of the epidermis and the production of collagen tissue by the dermal fibroblasts.
References
1.

The FAST Trialists group (2011) First results of the randomised UK FAST Trial of radiotherapy hypofractionation for treatment of early breast cancer (CRUKE/04/015). Radiother Oncol 100:93–100. doi:10.1016/j.radonc.2011.06.026

2.

Denham JW, Hauer-Jensen M (2002) The radiotherapeutic injury—a complex 'wound'. Radiother Oncol 63:129–145. doi:10.1016/S0167-8140(02)00060-9

3.

Gieringer M, Gosepath J, Naim R (2011) Radiotherapy and wound healing: principles, management and prospects (review). Oncol Rep 26:299–307. doi:10.3892/or.2011.1319

4.

Glean E, Edwards S, Faithfull S, Meredith C, Richards C, Smith M, Colyer H (2001) Intervention for acute radiotherapy induced skin reactions in cancer patients: the development of a clinical guideline recommended for use by the college of radiographers. J Radiother Pract 2:75–84. doi:10.1017/S1460396900000133

5.

Hymes SR, Strom EA, Fife C (2006) Radiation dermatitis: clinical presentation, pathophysiology, and treatment. J Am Acad Dermatol 54:28–46. doi:10.1016/j.jaad.2005.08.054

6.

Kraus-Tiefenbacher U, Sfintizky A, Welzel G, Simeonova A, Sperk E, Siebenlist K, Mai S, Wenz F (2012) Factors of influence on acute skin toxicity of breast cancer patients treated with standard three-dimensional conformal radiotherapy (3D-CRT) after breast conserving surgery (BCS). Radiat Oncol 7:217. doi:10.1186/1748-717x-7-217

7.

Sharp L, Johansson H, Hatschek T, Bergenmar M (2013) Smoking as an independent risk factor for severe skin reactions due to adjuvant radiotherapy for breast cancer. Breast 22:634–638. doi:10.1016/j.breast.2013.07.047

8.

Chan R, Webster J, Chung B, Marquart L, Ahmed M, Garantziotis S (2014) Prevention and treatment of acute radiation-induced skin reactions: a systematic review and meta-analysis of randomized controlled trials. BMC Cancer 14:53. doi:10.1186/1471-2407-14-53

9.

Pommier P, Gomez F, Sunyach MP, D'Hombres A, Carrie C, Montbarbon X (2004) Phase III randomized trial of Calendula Officinalis compared with Trolamine for the prevention of acute dermatitis during irradiation for breast cancer. J Clin Oncol 22:1447–1453. doi:10.1200/JCO.2004.07.063

10.

Schnur JB, Ouellette SC, DiLorenzo TA, Green S, Montgomery GH (2011) A qualitative analysis of acute skin toxicity among breast cancer radiotherapy patients. Psychooncology 20:260–268. doi:10.1002/pon.1734

11.

The Royal College of Radiologists (2008) The timely delivery of radical radiotherapy: standards and guidelines for the management of unscheduled treatment interruptions, 3 edn. London. Accessed October 18, 2012, from http://www.rcr.ac.uk/publications.aspx?PageID=149&PublicationID=294

12.

Schindl A, Schindl M, Pernerstorfer-Schön H, Mossbacher U, Schindl L (2000) Low intensity laser irradiation in the treatment of recalcitrant radiation ulcers in patients with breast cancer—long-term results of 3 cases. Photodermatol Photoimmunol Photomed 16:34–37. doi:10.1034/j.1600-0781.2000.160109.x

13.

Schindl A, Schindl M, Schindl L, Jurecka W, Hönigsmann H, Breier F (1999) Increased dermal angiogenesis after low-intensity laser therapy for a chronic radiation ulcer determined by a video measuring system. J Am Acad Dermatol 40:481–484. doi:10.1016/S0190-9622(99)70503-7

14.

Schindl M, Kerschan K, Schindl A, Schön H, Heinzl H, Schindl L (1999) Induction of complete wound healing in recalcitrant ulcers by low-intensity laser irradiation depends on ulcer cause and size. Photodermatol Photoimmunol Photomed 15:18–21. doi:10.1111/j.1600-0781.1999.tb00047.x

15.

Karu TI (2015) Low-power laser therapy. In: Vo-Dinh T (ed) Biomedical photonics handbook, 2nd edn. CRC Press, Boca Raton, FL, pp 187–217

16.

Huang YY, Sharma SK, Carroll J, Hamblin MR (2011) Biphasic dose response in low level light therapy—an update. Dose Response 9:602–618. doi:10.2203/dose-response.11-009.Hamblin

17.

Hamblin MR, Huang YY (2014) Handbook of photomedicine. CRC Press, Boca Raton, FL

18.

Migliorati C, Hewson I, Lalla RV, Antunes HS, Estilo CL, Hodgson B, Lopes NN, Schubert MM, Bowen J, Elad S (2013) Systematic review of laser and other light therapy for the management of oral mucositis in cancer patients. Support Care Cancer 21:333–341. doi:10.1007/s00520-012-1605-6

19.

Oberoi S, Zamperlini-Netto G, Beyene J, Treister NS, Sung L (2014) Effect of prophylactic low level laser therapy on oral mucositis: a systematic review and meta-analysis. PLoS One 9, e107418. doi:10.1371/journal.pone.0107418

20.

DeLand MM, Weiss RA, McDaniel DH, Geronemus RG (2007) Treatment of radiation-induced dermatitis with light-emitting diode (LED) photomodulation. Lasers Surg Med 39:164–168. doi:10.1002/lsm.20455

21.

Fife D, Rayhan DJ, Behnam S, Ortiz A, Elkeeb L, Aquino L, Eduardo Roa D, Ramsinghani N, Kuo J, Newcomb R, Zachary CB, Kelly KM (2010) A randomized, controlled, double-blind study of light emitting diode photomodulation for the prevention of radiation dermatitis in patients with breast cancer. Dermatol Surg 36:1921–1927. doi:10.1111/j.1524-4725.2010.01801.x

22.

Bensadoun RJ, Nair RG (2015) Low-level laser therapy in the management of mucositis and dermatitis induced by cancer therapy. Photomed Laser Surg 33:487–491. doi:10.1089/pho.2015.4022

23.

Zecha JAEM, Raber-Durlacher JE, Nair RG, Epstein JB, Elad S, Hamblin MR, Barasch A, Migliorati CA, Milstein DMJ, Genot M-T, Lansaat L, Brink R, Arnabat-Dominguez J, Molen L, Jacobi I, Diessen J, Lange J, Smeele LE, Schubert MM, Bensadoun R-J (2016) Low-level laser therapy/photobiomodulation in the management of side effects of chemoradiation therapy in head and neck cancer: part 2: proposed applications and treatment protocols. Support Care Cancer: 1-13. doi: 10.1007/s00520-016-3153-y

24.

Chung H, Dai T, Sharma SK, Huang YY, Carroll JD, Hamblin MR (2012) The nuts and bolts of low-level laser (light) therapy. Ann Biomed Eng 40:516–533. doi:10.1007/s10439-011-0454-7

25.

Cox JD, Stetz J, Pajak TF (1995) Toxicity criteria of the Radiation Therapy Oncology Group (RTOG) and the European organization for research and treatment of cancer (EORTC). Int J Radiat Oncol Biol Phys 31:1341–1346. doi:10.1016/0360-3016(95)00060-c

26.

Noble-Adams R (1999) Radiation-induced skin reactions. 2: development of a measurement tool. Br J Nurs 8:1208–1211

27.

MacBride SK, Wells ME, Hornsby C, Sharp L, Finnila K, Downie L (2008) A case study to evaluate a new soft silicone dressing, Mepilex Lite, for patients with radiation skin reactions. Cancer Nurs 31:E8–E14. doi:10.1097/01.NCC.0000305680.06143.39

28.

Chren MM, Lasek RJ, Sahay AP, Sands LP (2001) Measurement properties of Skindex-16: a brief quality-of-life measure for patients with skin diseases. J Cutan Med Surg 5:105–110. doi:10.1007/s102270000010

29.

Haley A, Calahan C, Gandhi M, West D, Rademaker A, Lacouture M (2011) Skin care management in cancer patients: an evaluation of quality of life and tolerability. Support Care Cancer 19:545–554. doi:10.1007/s00520-010-0851-8

30.

Miller RC, Schwartz DJ, Sloan JA, Griffin PC, Deming RL, Anders JC, Stoffel TJ, Haselow RE, Schaefer PL, Bearden Iii JD, Atherton PJ, Loprinzi CL, Martenson JA (2011) Mometasone Furoate effect on acute skin toxicity in breast cancer patients receiving radiotherapy: a phase III double-blind, randomized Trial from the North Central Cancer Treatment Group N06C4. Int J Radiat Oncol Biol Phys 79:1460–1466. doi:10.1016/j.ijrobp.2010.01.031

31.

Schnur J, Graff Zivin J, Mattson D, Green S, Jandorf L, Wernicke A, Montgomery G (2012) Acute skin toxicity-related, out-of-pocket expenses in patients with breast cancer treated with external beam radiotherapy. Support Care Cancer 20:3105–3113. doi:10.1007/s00520-012-1435-6

32.

World Health Organization (2000) Obesity: preventing and managing the global epidemic. Report of a WHO consultation (WHO Technical Report Series 894). Geneva, Switzerland. Accessed November 15, 2012, from http://www.who.int/nutrition/publications/obesity/WHO_TRS_894/en/

33.

Fisher J, Scott C, Stevens R, Marconi B, Champion L, Freedman GM, Asrari F, Pilepich MV, Gagnon JD, Wong G (2000) Randomized phase III study comparing best supportive care to biafine as a prophylactic agent for radiation-induced skin toxicity for women undergoing breast irradiation: Radiation therapy oncology group (RTOG) 97-13. Int J Radiat Oncol Biol Phys 48:1307–1310. doi:10.1016/S0360-3016(00)00782-3

34.

World Health Organization (2002) Global solar UV index: a practical guide. Switzerland, Geneva, Accessed March 13, 2013, from http://www.who.int/uv/publications/globalindex/en/

35.

Fitzpatrick TB (1988) The validity and practicality of sun-reactive skin types I through VI. Arch Dermatol 124:869–871

36.

Newcombe RG, Altman DG (2000) Proportions and their differences. In: Altman DG, Machin D, Bryant TN, Gardner MJ (eds) Statistics with confidence: confidence intervals and statistical guidelines, 2nd edn. British Medical Journal, Bristol, UK, pp 45–56

37.

Hedges LV (1982) Estimation of effect size from a series of independent experiments. Psychol Bull 92:490–499

38.

Grissom RJ, Kim JJ (2012) Effect size for research: univariate and multivariate applications, 2nd edn. Routledge, New York

39.

Zecha JAEM, Raber-Durlacher JE, Nair RG, Epstein JB, Sonis ST, Elad S, Hamblin MR, Barasch A, Migliorati CA, Milstein DMJ, Genot M-T, Lansaat L, Brink R, Arnabat-Dominguez J, Molen L, Jacobi I, Diessen J, Lange J, Smeele LE, Schubert MM, Bensadoun R-J (2016) Low level laser therapy/photobiomodulation in the management of side effects of chemoradiation therapy in head and neck cancer: part 1: mechanisms of action, dosimetric, and safety considerations. Support Care Cancer: 1-12. doi: 10.1007/s00520-016-3152-z

40.

Powell K, Low P, McDonnell PA, Laakso E-L, Ralph SJ (2010) The effect of laser irradiation on proliferation of human breast carcinoma, melanoma, and immortalized mammary epithelial cells. Photomed Laser Surg 28:115–123. doi:10.1089/pho.2008.2445

41.

Sonis ST, Hashemi S, Epstein JB, Nair RG, Raber-Durlacher JE (2016) Could the biological robustness of low level laser therapy (Photobiomodulation) impact its use in the management of mucositis in head and neck cancer patients. Oral Oncol 54:7–14. doi:10.1016/j.oraloncology.2016.01.005
Acknowledgments
The present work had no specific funding. The authors wish to thank the nursing staff of the Jessa Hospital Radiotherapy Department for their invaluable support and assistance in carrying out this study. We are also thankful to anonymous reviewers for their helpful comments on a previous draft of this manuscript. Preliminary or partial results of this research have been presented at the 39th ESMO Annual Meeting and at the 2015 MASCC/ISOO Annual Meeting (Censabella et al., 2014, Ann Oncol 25: iv517-iv541-1533P; Censabella et al., 2015, Support Care Cancer 23: S260-S261, respectively).
Ethics declarations
The study protocol was approved by our local Medical Ethics Committees and was registered at the National Institutes of Health (www.clinicaltrials.gov No. NCT01932073). All participants provided written informed consent prior to their inclusion in the study.
Conflict of interest
Prof. J. Mebis and J. Robijns report financial sponsorship from ASA srl subsequent to this work.
About this article
Cite this article
Censabella, S., Claes, S., Robijns, J. et al. Photobiomodulation for the management of radiation dermatitis: the DERMIS trial, a pilot study of MLS® laser therapy in breast cancer patients. Support Care Cancer 24, 3925–3933 (2016). https://doi.org/10.1007/s00520-016-3232-0
Received:

Accepted:

Published:

Issue Date:
Keywords
Breast neoplasms

Low level laser therapy

Photobiomodulation

Radiation

Radiation oncology

Radiotherapy-induced skin reactions