Abstract
Purpose
The early loss of a parent is a tragedy and a serious life event. This study investigated grief resolution and morbidity in cancer-bereaved teenagers 6 to 9 years after the loss of a parent to cancer.
Methods
In a nationwide population-based study of 622 of 851 (73 %) youths who as teenagers 6 to 9 years earlier had lost a parent to cancer, we explored the magnitude of unresolved grief and its association with psychological and physiological morbidity. Participants answered a study-specific anonymous questionnaire including questions about if they had worked through their grief and about their current health.
Results
Six to nine years post-loss 49 % reported unresolved grief (8 % no and 41 % a little grief resolution). They had, in comparison with youths reporting resolved grief, statistically significantly elevated risks, e.g. for insomnia (sons' relative risk (RR) 2.3, 95 % CI 1.3–4.0; daughters' RR 1.7, 95 % CI 1.1–2.7), fatigue (sons' RR 1.8, 95 % CI 1.3–2.5; daughters' RR 1.4, 95 % CI 1.1–1.7) and moderate to severe depression, i.e. score >9, PHQ-9 (sons' RR 3.6, 95 % CI 1.4–8.8; daughters' RR 1.8, 95 % CI 1.1–3.1). Associations remained for insomnia in sons, exhaustion in daughters and fatigue in both sons and daughters when depression, negative intrusive thoughts and avoiding reminders of the parents' disease or death were included in a model.
Conclusions
Approximately half of cancer-bereaved youth report no or little grief resolution 6 to 9 years post-loss, which is associated with fatigue, sleeping problems and depressive symptoms.
Access options
Buy single article
Instant access to the full article PDF.
USD 39.95
Price excludes VAT (USA)
Tax calculation will be finalised during checkout.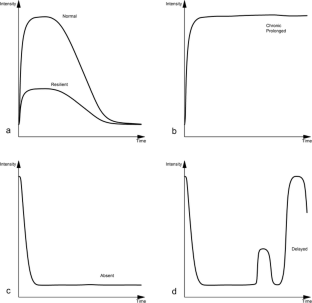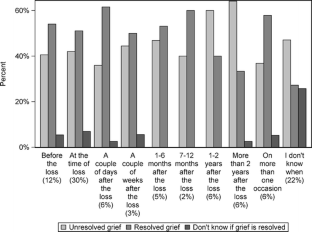 Abbreviations
PHQ-9:

Patient Health Questionnaire

ICG:

Complicated grief inventory
References
Christ GH, Siegel K, Christ AE (2002) Adolescent grief: "It never really hit me...until it actually happened". JAMA 288: 1269–1278

Stroebe W, Schut H (2001) Risk factors in bereavement outcome: a methodological and empirical review. In: Stroebe MS, Hansson RO, Stroebe W, Schut H (eds) Handbook of bereavement research: consequences, coping, and care. American Psychological Association, Washington, pp. 349–371

Romeo RD (2013) The teenage brain: the stress response and the adolescent brain. Curr Dir Psychol Sci 22:140–145

Bylund-Grenklo T, Kreicbergs U, Valdimarsdottir UA, Nyberg T, Steineck G, Furst CJ (2014) Self-injury in youths who lost a parent to cancer: nationwide study of the impact of family-related and health-care-related factors. Psychooncology 23:989–997

Jakobsen IS, Christiansen E (2011) Young people's risk of suicide attempts in relation to parental death: a population-based register study. J Child Psychol Psychiatry 52:176–183

Li J, Vestergaard M, Cnattingius S, Gissler M, Bech BH, Obel C, Olsen J (2014) Mortality after parental death in childhood: a nationwide cohort study from three Nordic countries. PLoS Med 11:e1001679

Boelen PA, van den Bout J, van den Hout MA (2003) The role of negative interpretations of grief reactions in emotional problems after bereavement. J Behav Ther Exp Psychiatry 34:225–238

Zisook S, Iglewicz A, Avanzino J, Maglione J, Glorioso D, Zetumer S, Seay K, Vahia I, Young I, Lebowitz B, Pies R, Reynolds C, Simon N, Shear MK (2014) Bereavement: course, consequences, and care. Curr Psychiatry Rep 16:482

Freud S (1961) Mourning and melancholia. In: Strachey J (ed) The standard edition of the complete psychological works of Sigmund Freud. Basic Books, New York

Stroebe M, Stroebe W (1991) Does "grief work" work? J Consult Clin Psychol 59:479–482

Bowlby J (1980) Loss: sadness and depression. Hogarth, London

Worden JW (2008) Grief counseling and grief therapy: a handbook for the mental health practitioner, 4th edn. Springer Publishing Company, New York

Stroebe M, Schut H (1999) The dual process model of coping with bereavement: rationale and description. Death Stud 23:197–224

Baker JE, Sedney MA, Gross E (1992) Psychological tasks for bereaved children. Am J Orthopsychiatry 62:105–116

Bonanno GA, Keltner D, Holen A, Horowitz MJ (1995) When avoiding unpleasant emotions might not be such a bad thing: verbal-autonomic response dissociation and midlife conjugal bereavement. J Pers Soc Psychol 69:975–989

Parkes CM (1993) Bereavement. In: MacDonald N (ed) Derek Doyle GWCH. Oxford Textbook of Palliative Medicine. Oxford University Press, London, pp. 995–1012

Grenklo TB, Kreicbergs UC, Valdimarsdottir UA, Nyberg T, Steineck G, Furst CJ (2013) Communication and trust in the care provided to a dying parent: a nationwide study of cancer-bereaved youths. J Clin Oncol 31:2886–2894

Siegel K, Mesagno FP, Christ G (1990) A prevention program for bereaved children. Am J Orthopsychiatry 60:168–175

Bonanno GA, Kaltman S (2001) The varieties of grief experience. Clin Psychol Rev 21:705–734

Prigerson HG, Horowitz MJ, Jacobs SC, Parkes CM, Aslan M, Goodkin K, Raphael B, Marwit SJ, Wortman C, Neimeyer RA, Bonanno G, Block SD, Kissane D, Boelen P, Maercker A, Litz BT, Johnson JG, First MB, Maciejewski PK (2009) Prolonged grief disorder: psychometric validation of criteria proposed for DSM-V and ICD-11. PLoS Med 6:e1000121

Stroebe M, Schut H, Stroebe W (2007) Health outcomes of bereavement. Lancet 370:1960–1973

Parkes CM (1965) Bereavement and mental illness. 2. A classification of bereavement reactions. Br J Med Psychol 38:13–26

Worden JW, Silverman, P.R. (1996) Parental death and the adjustment of school-age children. Omega 33: 91–102

Omerov P, Steineck G, Runeson B, Christensson A, Kreicbergs U, Pettersen R, Rubenson B, Skoogh J, Radestad I, Nyberg U (2013) Preparatory studies to a population-based survey of suicide-bereaved parents in Sweden. Crisis 34:200–210

Sveen J, Eilegard A, Steineck G, Kreicbergs U (2014) They still grieve—a nationwide follow-up of young adults 2-9 years after losing a sibling to cancer. Psychooncology 23:658–664

Kroenke K, Spitzer RL, Williams JB (2001) The PHQ-9: validity of a brief depression severity measure. J Gen Intern Med 16:606–613

Lannen PK, Wolfe J, Prigerson HG, Onelov E, Kreicbergs UC (2008) Unresolved grief in a national sample of bereaved parents: impaired mental and physical health 4 to 9 years later. J Clin Oncol 26:5870–5876

Hall M, Buysse DJ, Dew MA, Prigerson HG, Kupfer DJ, Reynolds CF 3rd (1997) Intrusive thoughts and avoidance behaviors are associated with sleep disturbances in bereavement-related depression. Depress Anxiety 6:106–112

Hauksdottir A, Steineck G, Furst CJ, Valdimarsdottir U (2010) Long-term harm of low preparedness for a wife's death from cancer–a population-based study of widowers 4-5 years after the loss. Am J Epidemiol 172:389–396

Dyregrov A, Dyregrov K (2013) Complicated grief in children–the perspectives of experienced professionals. Omega (Westport) 67:291–303

Compas BE, Desjardins L, Vannatta K, Young-Saleme T, Rodriguez EM, Dunn M, Bemis H, Snyder S, Gerhardt CA (2014) Children and adolescents coping with cancer: self- and parent reports of coping and anxiety/depression. Health Psychol 33:853–861

McClatchey IS, Vonk ME, Lee J, Bride B (2014) Traumatic and complicated grief among children: one or two constructs? Death Stud 38:69–78

Bugge KE, Haugstvedt KT, Rokholt EG, Darbyshire P, Helseth S (2012) Adolescent bereavement: embodied responses, coping and perceptions of a body awareness support programme. J Clin Nurs 21:2160–2169

Luecken LJ, Roubinov DS (2012) Pathways to lifespan health following childhood parental death. Soc Personal Psychol Compass 6:243–257

Bylund-Grenklo T, Kreicbergs U, Uggla C, Valdimarsdottir UA, Nyberg T, Steineck G, Furst CJ (2015) Teenagers want to be told when a parent's death is near: a nationwide study of cancer-bereaved youths' opinions and experiences. Acta Oncol 54:944–950

Kallestad H, Jacobsen HB, Landro NI, Borchgrevink PC, Stiles TC (2015) The role of insomnia in the treatment of chronic fatigue. J Psychosom Res 78:427–432

Buysse DJ (2013) Insomnia. JAMA 309:706–716

Roth T (2007) Insomnia: definition, prevalence, etiology, and consequences. J Clin Sleep Med 3:S7–10

Buysse DJ, Angst J, Gamma A, Ajdacic V, Eich D, Rossler W (2008) Prevalence, course, and comorbidity of insomnia and depression in young adults. Sleep 31:473–480

Curcio G, Ferrara M, De Gennaro L (2006) Sleep loss, learning capacity and academic performance. Sleep Med Rev 10:323–337

Gaultney JF (2010) The prevalence of sleep disorders in college students: impact on academic performance. J Am Coll Heal 59:91–97

Kronholm E, Puusniekka R, Jokela J, Villberg J, Urrila AS, Paunio T, Valimaa R, Tynjala J (2015) Trends in self-reported sleep problems, tiredness and related school performance among Finnish adolescents from 1984 to 2011. J Sleep Res 24:3–10

Hardison HG, Neimeyer RA, Lichstein KL (2005) Insomnia and complicated grief symptoms in bereaved college students. Behav Sleep Med 3:99–111

Carlsson ME, Nilsson IM (2007) Bereaved spouses' adjustment after the patients' death in palliative care. Palliat Support Care 5:397–404

Steineck G, Hunt H, Adolfsson J (2006) A hierarchical step-model for causation of bias-evaluating cancer treatment with epidemiological methods. Acta Oncol 45:421–429
Acknowledgments
We thank Else Lundin and Susanne Castells for the assistance with data collection, Lawrence Lundgren for the language review and all cancer-bereaved youth for sharing their experiences with us.
Ethics declarations
Ethical approval
All procedures performed in studies involving human participants were in accordance with the ethical standards of the institutional and national research committee and with the 1964 Helsinki Declaration and its later amendments or comparable ethical standards. For this type of study formal consent is not required. Ethical approval was obtained from the Regional Ethics Review Board, Karolinska Institute and all participants provided informed consent.
Funding
This work was supported by the Swedish Research Council (grant number 2008–4428) and the Gålö Foundation.
Conflict of interest
All authors have nothing to declare. All authors have full control over primary data.
Additional information
"It is my greatest regret today that I didn't accept the support that was offered but let my grief grow for seven years until it wasn't containable any longer."
Part of an advice to health-care professionals from a daughter who 8 years earlier, at age 16, lost her father to blood cancer
About this article
Cite this article
Bylund-Grenklo, T., Fürst, C.J., Nyberg, T. et al. Unresolved grief and its consequences. A nationwide follow-up of teenage loss of a parent to cancer 6–9 years earlier. Support Care Cancer 24, 3095–3103 (2016). https://doi.org/10.1007/s00520-016-3118-1
Received:

Accepted:

Published:

Issue Date:

DOI: https://doi.org/10.1007/s00520-016-3118-1
Keywords