Abstract
Purpose
The aim of this study was to evaluate the feasibility and acceptability of "Cascade": an online, group-based, cognitive behavioral therapy intervention, delivered "live" by a psychologist, to assist parents of children who have completed cancer treatment.
Methods
Forty-seven parents were randomized to Cascade (n = 25) or a 6-month waitlist (n = 22). Parents completed questionnaires at baseline, 1–2 weeks and 6 months post-intervention. Thirty parents completed full evaluations of the Cascade program (n = 21 randomized to Cascade, n = 9 completed Cascade post-waitlist).
Results
Ninety-six percent of Cascade participants completed the intervention (n = 24/25). Eighty percent of parents completed every questionnaire (mean completion time 25 min (SD = 12)). Cascade was described as at least "somewhat" helpful by all parents. None rated Cascade as "very/quite" burdensome. Parents reported that the "online format was easy to use" (n = 28, 93.3 %), "I learnt new skills" (n = 28, 93.3 %), and "I enjoyed talking to others" (n = 29, 96.7 %). Peer-to-peer benefits were highlighted by good group cohesion scores.
Conclusions
Cascade is highly acceptable and feasible. Its online delivery mechanism may address inequities in post-treatment support for parents, a particularly acute concern for rural/remote families. Future research needs to establish the efficacy of the intervention.
Trial registration
ACTRN12613000270718, https://www.anzctr.org.au/Trial/Registration/TrialReview.aspx?ACTRN=12613000270718
Access options
Buy single article
Instant access to the full article PDF.
USD 39.95
Price includes VAT (USA)
Tax calculation will be finalised during checkout.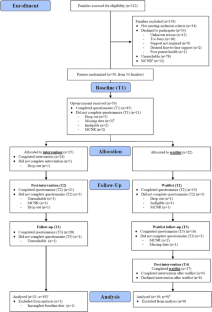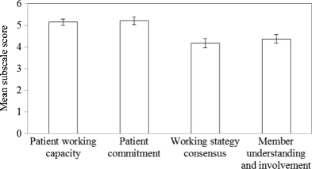 References
1.

Pai AL, Greenley RN, Lewandowski A, Drotar D, Youngstrom E, Peterson CC (2007) A meta-analytic review of the influence of pediatric cancer on parent and family functioning. J Fam Psychol 21:407. doi:10.1037/0893-3200.21.3.407

2.

Duran B (2013) Posttraumatic growth as experienced by childhood cancer survivors and their families: a narrative synthesis of qualitative and quantitative research. J Pediatr Oncol Nurs 30:179–197. doi:10.1177/1043454213487433

3.

Wakefield CE, Butow P, Fleming CAK, Daniel G, Cohn RJ (2011) Family information needs at childhood cancer treatment completion. Pediatr Blood Cancer 58:621–626. doi:10.1002/pbc.23316

4.

Maurice‐Stam H, Oort FJ, Last BF, Grootenhuis MA (2008) Emotional functioning of parents of children with cancer: the first five years of continuous remission after the end of treatment. Psycho-Oncology 17:448–459. doi:10.1002/pon.1260

5.

Klassen AF, Klaassen R, Dix D, Pritchard S, Yanofsky R, O'Donnell M, Scott A, Sung L (2008) Impact of caring for a child with cancer on parents' health-related quality of life. J Clin Oncol 26:5884–5889. doi:10.1200/JCO.2007.15.2835

6.

Greening L, Stoppelbein L (2007) Brief report: pediatric cancer, parental coping style, and risk for depressive, posttraumatic stress, and anxiety symptoms. J Pediatr Psychol 32:1272–1277. doi:10.1093/jpepsy/jsm057

7.

Wakefield CE, McLoone JK, Evans NT, Ellis SJ, Cohn RJ (2014) It's more than dollars and cents: the impact of childhood cancer on parents' occupational and financial health. J Psychosoc Oncol 32:602–621. doi:10.1080/07347332.2014.936653

8.

Lindahl Norberg A, Boman KK (2008) Parent distress in childhood cancer: a comparative evaluation of posttraumatic stress symptoms, depression and anxiety. Acta Oncol 47:267–274. doi:10.1080/02841860701558773

9.

Rosenberg AR, Baker KS, Syrjala KL, Back AL, Wolfe J (2013) Promoting resilience among parents and caregivers of children with cancer. J Palliat Med 16:645–652. doi:10.1089/jpm.2012.0494

10.

Mishel MH (1988) Uncertainty in illness. Image J Nurs Sch 20:225–232. doi:10.1111/j.1547-5069.1988.tb00082.x

11.

Rolland JS, Walsh F (2006) Facilitating family resilience with childhood illness and disability. Curr Opin Pediatr 18:527–538. doi:10.1097/01.mop.0000245354.83454.68

12.

Mertens AC, Yasui Y, Neglia JP, Potter JD, Nesbit ME, Ruccione K, Smithson WA, Robison LL (2001) Late mortality experience in five-year survivors of childhood and adolescent cancer: the childhood cancer survivor study. J Clin Oncol 19:3163–3172

13.

Goldbeck L (2001) Parental coping with the diagnosis of childhood cancer: gender effects, dissimilarity within couples, and quality of life. Psycho-Oncology 10:325–335. doi:10.1002/pon.530

14.

Grootenhuis MA, Last BF (1997) Predictors of parental emotional adjustment to childhood cancer. Psychooncology 6:115–128. doi:10.1002/(sici)1099-1611(199706)6:2<115::aid-pon252>3.0.co;2-d

15.

Wright LJ, Afari N, Zautra A (2009) The illness uncertainty concept: a review. Curr Pain Headache Rep 13:133–138. doi:10.1007/s11916-009-0023-z

16.

Meyler E, Guerin S, Kiernan G, Breatnach F (2010) Review of family-based psychosocial interventions for childhood cancer. J Pediatr Psychol 35:1116–1132. doi:10.1093/jpepsy/jsq032

17.

Hoff AL, Mullins LL, Gillaspy SR, Page MC, Van Pelt JC, Chaney JM (2005) An intervention to decrease uncertainty and distress among parents of children newly diagnosed with diabetes: a pilot study. Fam, Syst, Health 23:329. doi:10.1037/1091-7527.23.3.329

18.

Wakefield CE, McLoone JK, Butow P, Lenthen K, Cohn RJ (2011) Parental adjustment to the completion of their child's cancer treatment. Pediatr Blood Cancer 56:524–531. doi:10.1002/pbc.22725

19.

Sansom-Daly UM, Wakefield CE, Bryant RA, Butow P, Sawyer S, Patterson P, Anazodo A, Thompson K, Cohn RJ (2012) Online group-based cognitive-behavioural therapy for adolescents and young adults after cancer treatment: a multicenter randomised controlled trial of recapture life-AYA. BMC Cancer 12:339. doi:10.1186/1471-2407-12-339

20.

Hu C, Kung S, Rummans TA, Clark MM, Lapid MI (2014) Reducing caregiver stress with internet-based interventions: a systematic review of open-label and randomized controlled trials. J Am Med Inform Assoc. doi:10.1136/amiajnl-2014-002817

21.

Kazak AE (2005) Evidence-based interventions for survivors of childhood cancer and their families. J Pediatr Psychol 30:29–39. doi:10.1093/jpepsy/jsi013

22.

Lovibond SH, Lovibond PF (1995) Manual for the depression anxiety stress scales, 2nd edn. Psychology Foundation, Sydney

23.

Wakefield CE, Sansom-Daly UM, McGill BC, McCarthy M, Girgis A, Grootenhuis M, Barton B, Patterson P, Osborn M, Lowe C (2015) Online parent-targeted cognitive-behavioural therapy intervention to improve quality of life in families of young cancer survivors: study protocol for a randomised controlled trial. Trials 16:153. doi:10.1186/s13063-015-0681-6

24.

Wakefield CE, McLoone JK, Butow P, Lenthen K, Cohn RJ (2011) Parental adjustment to the completion of their child's cancer treatment. Pediatr Blood Cancer 56:524–531

25.

Gaston L, Marmar CR (1994) The California psychotherapy alliance scales. In: Horvath AO, Greenberg LS (eds) The working alliance: theory, research and practice. New York, Wiley, pp 85–108

26.

Stüntzner-Gibson D, Koren PE, DeChillo N (1995) The youth satisfaction questionnaire: what kids think of services. Fam Soc 76:616–624

27.

Collins ME, Lemon C, Street E (2000) A consumer view of teen living programs: teen parents' satisfaction with program components and services. Fam Soc: J Contemp Soc Serv 81:284–293. doi:10.1606/1044-3894.1019

28.

Ferrell BR (1995) The impact of pain on quality of life. A decade of research. Nurs Clin N Am 30:609–624

29.

Juarez G, Ferrell B, Uman G, Podnos Y, Wagman LD (2008) Distress and quality of life concerns of family caregivers of patients undergoing palliative surgery. Cancer Nurs 31:2–10. doi:10.1097/01.NCC.0000305682.13766.c2

30.

Lovibond PF, Lovibond SH (1995) The structure of negative emotional states: comparison of the Depression Anxiety Stress Scales (DASS) with the beck depression and anxiety inventories. Behav Res Ther 33:335–343. doi:10.1016/0005-7967(94)00075-U

31.

Henry JD, Crawford JR (2005) The short‐form version of the Depression Anxiety Stress Scales (DASS‐21): construct validity and normative data in a large non‐clinical sample. Br J Clin Psychol 44:227–239. doi:10.1348/014466505X29657

32.

Northouse LL (1981) Mastectomy patients and the fear of cancer recurrence. Cancer Nurs 4:213–220. doi:10.1097/00002820-198106000-00004

33.

Epstein N, Baldwin LM, Bishop DS (1983) The McMaster family assessment device. J Marital Fam Ther 9:171–180. doi:10.1111/j.1752-0606.1983.tb01497.x

34.

Alderfer MA, Navsaria N, Kazak AE (2009) Family functioning and posttraumatic stress disorder in adolescent survivors of childhood cancer. J Fam Psychol 23:717. doi:10.1037/a0015996

35.

Hertzog MA (2008) Considerations in determining sample size for pilot studies. Res Nurs Health 31:180–191. doi:10.1002/nur.20247

36.

Information and Research Branch of the Commonwealth Department of Health and Aged Care: Measuring Remoteness: Accessibility/Remoteness Index of Australia (ARIA). Canberra: Australia; 2001

37.

Miles MB, Huberman AM (1994) Qualitative data analysis: an expanded sourcebook. Sage, London

38.

Leykin Y, Thekdi SM, Shumay DM, Muñoz RF, Riba M, Dunn LB (2012) Internet interventions for improving psychological well‐being in psycho‐oncology: review and recommendations. Psycho-Oncology 21:1016–1025. doi:10.1002/pon.1993

39.

Rees CS, Haythornthwaite S (2004) Telepsychology and videoconferencing: issues, opportunities and guidelines for psychologists. Aust Psychol 39:212–219. doi:10.1080/00050060412331295108

40.

Lindgren A, Barber JP, Sandahl C (2008) Alliance to the group-as-a-whole as a predictor of outcome in psychodynamic group therapy. Int J Group Psychother 58:163–184. doi:10.1521/ijgp.2008.58.2.163

41.

Shulman L (1986) The dynamics of mutual aid. Soc Work Groups 8:51–60. doi:10.1300/J009v08n04_06

42.

Badger K, Royse D (2010) Adult burn survivors' views of peer support: a qualitative study. Soc Work Health Care 49:299–313. doi:10.1080/00981380903493095

43.

Sansom-Daly UM, Peate M, Wakefield CE, Bryant RA, Cohn RJ (2012) A systematic review of psychological interventions for adolescents and young adults living with chronic illness. Health Psychol 31:380. doi:10.1037/a0025977

44.

Faller H, Schuler M, Richard M, Heckl U, Weis J, Küffner R (2013) Effects of psycho-oncologic interventions on emotional distress and quality of life in adult patients with cancer: systematic review and meta-analysis. J Clin Oncol. doi:10.1200/JCO.2011.40.8922

45.

Harun A, Harrison JD, Young JM (2013) Interventions to improve patient participation in the treatment process for culturally and linguistically diverse people with cancer: a systematic review. Asia Pac J Clin Oncol 9:99–109. doi:10.1111/j.1743-7563.2012.01531.x

46.

Trask PC, Paterson AG, Trask CL, Bares CB, Birt J, Maan C (2003) Parent and adolescent adjustment to pediatric cancer: associations with coping, social support, and family function. J Pediatr Oncol Nurs 20:36–47. doi:10.1053/jpon.2003.5
Acknowledgments
The authors thank Dr. Antoinette Anazodo, Dr. Belinda Barton, Dr. Luciano Dallo-Pozza, Dr. Peter Downie, Prof. Afaf Girgis, Dr. Martha Grootenhuis, A/Prof. Madeleine King, Ms. Cherie Lowe, Dr. Maria McCarthy, Mr. Gordon Miles, Dr. Michael Osborn, Dr. Pandora Patterson, Dr. Nicole Schneider, Prof. Rosalie Viney, and Ms. Helen Wilson.
Ethics declarations
Funding
This work is supported by Cancer Australia (grant number: APP1065428); the National Health and Medical Research Council of Australia (grant number: APP1067501), to CW; Cancer Institute of New South Wales (grant number: 11/ECF/3-43), to CW; and Cancer Institute of New South Wales (grant number: 14/ECF/1-11), to USD. The Behavioural Sciences Unit is supported by the Kids with Cancer Foundation.
Ethical approval
All procedures performed in studies involving human participants were in accordance with the ethical standards of the institutional and/or national research committee and with the 1964 Helsinki declaration and its later amendments or comparable ethical standards.
Electronic supplementary material
Below is the link to the electronic supplementary material.
About this article
Cite this article
Wakefield, C.E., Sansom-Daly, U.M., McGill, B.C. et al. Acceptability and feasibility of an e-mental health intervention for parents of childhood cancer survivors: "Cascade". Support Care Cancer 24, 2685–2694 (2016). https://doi.org/10.1007/s00520-016-3077-6
Received:

Accepted:

Published:

Issue Date:
Keywords
Cancer and oncology

Coping skills and adjustment

Parents

Computer applications/eHealth