Abstract
Purpose
The majority (95 %) of lung cancer patients report stigma, with 48 % of lung cancer patients specifically reporting feeling stigmatized by their medical providers. Typically associated with the causal link to smoking and the historically poor prognosis, lung cancer stigma can be seen as a risk factor for poor psychosocial and medical outcomes in the context of lung cancer diagnosis and treatment. Thus, modifiable targets for lung cancer stigma-reducing interventions are needed. The present study sought to test the hypothesis that good patient-provider communication is associated with lower levels of lung cancer stigma.
Methods
Lung cancer patients (n = 231) across varying stages of disease participated in a cross-sectional, multisite study designed to understand lung cancer stigma. Patients completed several survey measures, including demographic and clinical characteristics, a measure of patient-provider communication (Consumer Assessment of Healthcare Providers and Systems Program or CAHPS), and a measure of lung cancer stigma (Cataldo Lung Cancer Stigma Scale).
Results
As hypothesized, results indicated that good patient-provider communication was associated with lower levels of lung cancer stigma (r = −0.18, p < 0.05). These results remained significant, even when controlling for relevant demographic and clinical characteristics (Stan. β = −0.15, p < 0.05).
Conclusions
Results indicate that good patient-provider communication is associated with lower levels of lung cancer stigma, suggesting that improving patient-provider communication may be a good intervention target for reducing lung cancer stigma.
Access options
Buy single article
Instant access to the full article PDF.
USD 39.95
Price excludes VAT (USA)
Tax calculation will be finalised during checkout.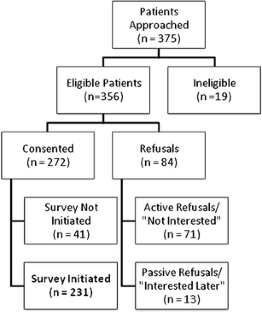 References
Bell K, Salmon A, Bowers M, Bell J, McCullough L (2010) Smoking, stigma and tobacco 'denormalization': further reflections on the use of stigma as a public health tool. A commentary on Social Science & Medicine's Stigma, Prejudice, Discrimination and Health Special Issue. Soc Sci Med 70(6):795–799

Bayer R, Stuber J (2006) Tobacco control, stigma, and public health: rethinking the relations. Am J Public Health 96(1):47–50

Gritz ER, Sarna L, Dresler C, Healton CG (2007) Building a united front: aligning the agendas for tobacco control, lung cancer research, and policy. Cancer Epidemiol Biomarkers Prev Publ Am Assoc Cancer Res Am Soc Prev Oncol 16(5):859–863

Hamann HA, Howell LA, McDonald JL. Causal attributions and attitudes toward lung cancer. Journal of Applied Social Psychology. 2013

Cataldo JK, Jahan TM, Pongquan VL (2012) Lung cancer stigma, depression, and quality of life among ever and never smokers. Eur J Oncol Nurs Official J Eur Oncol Nur Soc 16(3):264–269

Chapple A, Ziebland S, McPherson A (2004) Stigma, shame, and blame experienced by patients with lung cancer: qualitative study. BMJ (Clin Res ed) 328(7454):1470

Hamann HA, Ostroff JS, Marks EG, Gerber DE, Schiller JH, Lee SJC. Stigma among patients with lung cancer: a patient reported measurement model. Psycho‐Oncology. 2013

LoConte NK, Else-Quest NM, Eickhoff J, Hyde J, Schiller JH (2008) Assessment of guilt and shame in patients with non-small-cell lung cancer compared with patients with breast and prostate cancer. Clin Lung cancer 9(3):171–178

Weiss T, Weinberger M, Schwerd AM, Holland J (2012) A 30-Year perspective on psychosocial issues in lung cancer: how lung cancer "came out of the closet". Thorac Surg Clin 22(4):449–456

Holland JC, Kelly BJ, Weinberger MI (2010) Why psychosocial care is difficult to integrate into routine cancer care: stigma is the elephant in the room. J Natl Compr Cancer Netw 8(4):362–366

Else-Quest NM, LoConte NK, Schiller JH, Hyde JS (2009) Perceived stigma, self-blame, and adjustment among lung, breast and prostate cancer patients. Psychol Health 24(8):949–964

Gonzalez BD, Jacobsen PB (2012) Depression in lung cancer patients: the role of perceived stigma. Psycho-Oncology 21(3):239–246

Cataldo JK, Slaughter R, Jahan TM, Pongquan VL, Hwang WJ (2011) Measuring stigma in people with lung cancer: psychometric testing of the Cataldo Lung Cancer Stigma Scale. Oncol Nurs Forum 38(1):E46–E54

Morse DS, Edwardsen EA, Gordon HS (2008) Missed opportunities for interval empathy in lung cancer communication. Arch Intern Med 168(17):1853–1858

Heijnders M, Van Der Meij S (2006) The fight against stigma: an overview of stigma-reduction strategies and interventions. Psychol Health Med 11(3):353–363

Hamann HA, Lee J-W, Schiller JH et al (2013) Clinician perceptions of care difficulty, quality of life, and symptom reports for lung cancer patients: an analysis from the Symptom Outcomes and Practice patterns (SOAPP) study. J Thorac Oncol 8(12):1474–1483

Ball DL, Irving LB (2000) Are patients with lung cancer the poor relations in oncology? Med J Aust 172(7):310–311

Perez EA (1998) Perceptions of prognosis, treatment, and treatment impact on prognosis in non-small cell lung cancer. Chest 114(2):593–604

Wassenaar TR, Eickhoff JC, Jarzemsky DR, Smith SS, Larson ML, Schiller JH (2007) Differences in primary care clinicians' approach to non-small cell lung cancer patients compared with breast cancer. J Thorac Oncol 2(8):722–728

Tod AM, Craven J, Allmark P (2008) Diagnostic delay in lung cancer: a qualitative study. J Adv Nurs 61(3):336–343

Koller M, Kussman J, Lorenz W et al (1996) Symptom reporting in cancer patients: the role of negative affect and experienced social stigma. Cancer 77(5):983–995

Westerman MJ, Sprangers MA, Groen HJ, van der Wal G, Hak T (2007) Small-cell lung cancer patients are just 'a little bit' tired: response shift and self-presentation in the measurement of fatigue. Qual Life Res 16(5):853–861

Kim SS, Kaplowitz S, Johnston MV (2004) The effects of physician empathy on patient satisfaction and compliance. Eval Health Professions 27(3):237–251

Lelorain S, Brédart A, Dolbeault S, Sultan S (2012) A systematic review of the associations between empathy measures and patient outcomes in cancer care. Psycho-Oncology 21(12):1255–1264

Pollak KI, Arnold RM, Jeffreys AS et al (2007) Oncologist communication about emotion during visits with patients with advanced cancer. J Clin Oncol 25(36):5748–5752

Hsu I, Saha S, Korthuis PT et al (2012) Providing support to patients in emotional encounters: a new perspective on missed empathic opportunities. Patient Educ Couns 88(3):436–442

Hays RD, Shaul JA, Williams VS et al (1999) Psychometric properties of the CAHPS™ 1.0 survey measures. Med Care 37(3):MS22–MS31

Lee Hargraves J, Hays RD, Cleary PD (2003) Psychometric properties of the consumer assessment of health plans study (CAHPS®) 2.0 adult core survey. Health Serv Res 38(6):1509–1528

Browne K, Roseman D, Shaller D, Edgman-Levitan S (2010) Analysis & commentary measuring patient experience as a strategy for improving primary care. Health Aff 29(5):921–925

Cataldo JK, Brodsky JL (2013) Lung cancer stigma, anxiety, depression and symptom severity. Oncology 85(1):33–40

Lee JL, Kim KS (2011) The relationships between stigma, distress, and quality of life in patients with lung cancer. J Kor Oncol Nurs 11(3):237–246

Willms DG, Best J, Wilson D et al (1990) Patients' perspectives of a physician-delivered smoking cessation intervention. Am J Prev Med 7(2):95–100

Kissane DW, Bylund CL, Banerjee SC et al (2012) Communication skills training for oncology professionals. J Clin Oncol 30(11):1242–1247

Rao JK, Anderson LA, Inui TS, Frankel RM (2007) Communication interventions make a difference in conversations between physicians and patients: a systematic review of the evidence. Med Care 45(4):340–349

Baile WF, Aaron J (2005) Patient-physician communication in oncology: past, present, and future. Curr Opin Oncol 17(4):331–335

Schofield PE, Butow PN (2004) Towards better communication in cancer care: a framework for developing evidence-based interventions. Patient Educ Couns 55(1):32–39
Ethics declarations
Funding
This work was supported by the following grants: National Cancer Institute (T32-CA009461), National Cancer Institute (1R03CA154016), the North Carolina Chapter (Young Investigator Award), and the Lung Cancer Research Foundation.
Grant support
UL1TR001105 (National Center for Advancing Translational Sciences, NIH).
About this article
Cite this article
Shen, M.J., Hamann, H.A., Thomas, A.J. et al. Association between patient-provider communication and lung cancer stigma. Support Care Cancer 24, 2093–2099 (2016). https://doi.org/10.1007/s00520-015-3014-0
Received:

Accepted:

Published:

Issue Date:

DOI: https://doi.org/10.1007/s00520-015-3014-0
Keywords
Lung cancer

Lung cancer stigma

Patient-provider communication