Abstract
Purpose
The purpose of this cohort study was to investigate the association of adjuvant chemotherapy with quality of life (QoL), survival, and recurrence over the 24 months following diagnosis in stage II colon cancer patients.
Methods
Overall, 453 patients were recruited from North Carolina from 2009 to 2011 and interviewed with a closed-ended survey detailing quality of life, health behaviors, treatment, and cancer recurrence at three times points: diagnosis, 12-, and 24-months post-diagnosis; mortality was obtained via the National Death Index.
Results
In sum, 265 patients received chemotherapy. Receipt of chemotherapy exhibited an inverse association with total Functional Assessment of Cancer Treatment (FACT)-General (P < 0.01), FACT-Colorectal (P < 0.01), physical (P < 0.01), emotional (P = 0.02), and functional (P < 0.01) well-being; the inverse association between receiving chemotherapy and emotional well-being persisted for Caucasians but not African Americans (P interaction = 0.049). Those who received chemotherapy demonstrated significantly higher odds of cancer recurrence (odds ratio (OR) 2.74; 95 % confidence interval (CI) 1.18, 6.35) and all-cause mortality (OR: 1.95; 95 % CI: 1.05, 3.62).
Conclusions
In this study, stage II colon cancer patients who received chemotherapy treatment were more likely to have poor QoL, recurrence, and all-cause mortality after 24 months compared to those who did not receive chemotherapy. Future research focusing on subtypes of chemotherapy treatment, as well as a longer follow-up period, is needed.
Access options
Buy single article
Instant access to the full article PDF.
US$ 39.95
Tax calculation will be finalised during checkout.
Subscribe to journal
Immediate online access to all issues from 2019. Subscription will auto renew annually.
US$ 119
Tax calculation will be finalised during checkout.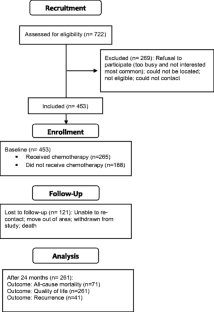 Abbreviations
QoL:

Quality of life

FACT-C:

Functional assessment of cancer therapy-colorectal

SF-12:

Medical outcomes short form 12

FACT-G:

Functional assessment of cancer therapy-general

P/S/E/FWB:

Physical, social, emotional, and functional well-being

CCS:

Colorectal cancer subscale

TOI-PFC:

Trial outcome index-physical/functional/colorectal

PCS:

Physical component score of SF-12

MCS:

Mental component score of SF-12
References
1.

Howlader N, Noone A, Krapcho M, Neyman N, Aminou R, Altekruse S, Kosary C, Ruhl J, Tatalovich Z, Cho H, Mariotto A, Eisner M, Lewis D, Chen H, Feuer E, Cronin K (2012) SEER cancer statistics review, 1975–2009. Nat Cancer Inst. http://seer.cancer.gov/csr/1975_2009_pops09/. Accessed February 13 2013

2.

Des Guetz G, Schischmanoff O, Nicolas P, Perret G-Y, Morere J-F, Uzzan B (2009) Does microsatellite instability predict the efficacy of adjuvant chemotherapy in colorectal cancer? A systematic review with meta-analysis. Eur J Cancer 45(10):1890–1896

3.

Stillwell A, Buettner P, Ho Y (2010) Meta-analysis of survival of patients with stage IV colorectal cancer managed with surgical resection versus chemotherapy alone. World J Surg 34(4):797–807

4.

Golfinopoulos V, Salanti G, Pavlidis N, Ioannidis JP (2007) Survival and disease-progression benefits with treatment regimens for advanced colorectal cancer: a meta-analysis. Lancet Oncol 8(10):898–911

5.

O'Connor ES, Greenblatt DY, LoConte NK, Gangnon RE, Liou J-I, Heise CP, Smith MA (2011) Adjuvant chemotherapy for stage II colon cancer with poor prognostic features. J Clin Oncol 29(25):3381–3388

6.

Allegra C, Yothers G, O'Connell M, Sharif S, Petrelli N, Colangelo L, Wolmark N (2011) Overall survival (OS) and updated disease-free survival (DFS) results of the NSABP C-08 trial assessing bevacizumab (B) in stage II and III colon cancer. In: J Clin Oncol (Meeting Abstracts) 15(suppl) 3508

7.

Yothers G, Allegra C, O'Connell M, George T, Sharif S, Petrelli N, Lopa S, Wolmark N (2011) The efficacy of oxaliplatin (Ox) when added to 5-fluorouracil/leucovorin (FU/L) in stage II colon cancer. J Clin Oncol 29 (suppl):abstr 3507

8.

McKenzie S, Nelson R, Mailey B, Lee W, Chung V, Shibata S, Garcia‐Aguilar J, Kim J (2011) Adjuvant chemotherapy improves survival in patients with american joint committee on cancer stage II colon cancer. Cancer 117(24):5493–5499

9.

Gray R, Barnwell J, McConkey C, Hills RK, Williams NS, Kerr DJ (2007) Adjuvant chemotherapy versus observation in patients with colorectal cancer: a randomised study. Lancet 370(9604):2020

10.

Figueredo A, Charette ML, Maroun J, Brouwers MC, Zuraw L (2004) Adjuvant therapy for stage II colon cancer: a systematic review from the cancer care Ontario program in evidence-based care's gastrointestinal cancer disease site group. J Clin Oncol 22(16):3395–3407

11.

Benson AB, Bekaii-Saab T, Chan E, Chen Y-J, Choti MA, Cooper HS, Engstrom PF, Enzinger PC, Fakih MG, Fenton MJ, Fuchs CS, Grem JL, Hunt S, Kamel A, Leong LA, Lin E, May KS, Mulcahy MF, Murphy K, Rohren E, Ryan DP, Saltz L, Sharma S, Shibata D, Skibber JM, Small W, Sofocleous CT, Venook AP, Willett CG, Gregory KM, Freedman-Cass DA (2013) Metastatic colon cancer, version 3.2013: featured updates to the NCCN guidelines. J Natl Compr Cancer Netw 11(2):141–152

12.

Benson AB, Schrag D, Somerfield MR, Cohen AM, Figueredo AT, Flynn PJ, Krzyzanowska MK, Maroun J, McAllister P, Van Cutsem E, Brouwers M, Charette M, Haller DG (2004) American society of clinical oncology recommendations on adjuvant chemotherapy for stage II colon cancer. J Clin Oncol 22(16):3408–3419. doi:10.1200/jco.2004.05.063

13.

O'Connell MJ, Laurie JA, Kahn M, Fitzgibbons R, Erlichman C, Shepherd L, Moertel CG, Kocha WI, Pazdur R, Wieand HS (1998) Prospectively randomized trial of postoperative adjuvant chemotherapy in patients with high-risk colon cancer. J Clin Oncol 16(1):295–300

14.

Efficace F, Bottomley A, Coens C, Van Steen K, Conroy T, Schöffski P, Schmoll H, Van Cutsem E, Köhne C-H (2006) Does a patient's self-reported health-related quality of life predict survival beyond key biomedical data in advanced colorectal cancer? Eur J Cancer 42(1):42–49

15.

Gotay CC, Kawamoto CT, Bottomley A, Efficace F (2008) The prognostic significance of patient-reported outcomes in cancer clinical trials. J Clin Oncol 26(8):1355–1363

16.

Maione P, Perrone F, Gallo C, Manzione L, Piantedosi F, Barbera S, Cigolari S, Rosetti F, Piazza E, Robbiati SF (2005) Pretreatment quality of life and functional status assessment significantly predict survival of elderly patients with advanced Non-small-cell lung cancer receiving chemotherapy: a prognostic analysis of the multicenter Italian lung cancer in the elderly study. J Clin Oncol 23(28):6865–6872

17.

Eton DT, Fairclough DL, Cella D, Yount SE, Bonomi P, Johnson DH (2003) Early change in patient-reported health during lung cancer chemotherapy predicts clinical outcomes beyond those predicted by baseline report: results from eastern cooperative oncology group study 5592. J Clin Oncol 21(8):1536–1543

18.

Stommel M, Given BA, Given CW (2002) Depression and functional status as predictors of death among cancer patients. Cancer 94(10):2719–2727

19.

Hack TF, Degner LF, Watson P, Sinha L (2006) Do patients benefit from participating in medical decision making? Longitudinal follow‐up of women with breast cancer. Psycho-Oncology 15(1):9–19

20.

Glimelius B, Hoffman K, Graf W, Påhlman L, Sjödén PO (1994) Quality of life during chemotherapy in patients with symptomatic advanced colorectal cancer. Cancer 73(3):556–562

21.

Quasar Collaborative Group (2007) Adjuvant chemotherapy versus observation in patients with colorectal cancer: a randomised study. Lancet 370(9604):2020–2029

22.

McCollum AD, Catalano PJ, Haller DG, Mayer RJ, Macdonald JS, Benson AB, Fuchs CS (2002) Outcomes and toxicity in African-American and Caucasian patients in a randomized adjuvant chemotherapy trial for colon cancer. J Natl Cancer Inst 94(15):1160–1167

23.

Lynch HT, Lynch JF (2000) Hereditary nonpolyposis colorectal cancer. In: Seminars in surgical oncology. Wiley Online Library, 4:305–313

24.

Half E, Bercovich D, Rozen P (2009) Familial adenomatous polyposis. Orphanet J Rare Dis 4(1):22

25.

Howlader N, Noone A, Krapcho M, Garshell J, Neyman N, Altekruse S, Kosary C, Yu M, Ruhl J, Tatalovich Z, Cho H, Mariotto A, Lewis D, Chen H, Feuer E, Cronin K (2013) SEER cancer statistics review, 1975–2010. National Cancer Institute, Bethesda http://seer.cancer.gov/csr/1975_2010/

26.

Lewis C, Xun P, He K (2014) Physical activity in relation to quality of life in newly diagnosed colon cancer patients: a 24-month follow-up. Qual Life Res 23:2235–2246

27.

Choi B (2003) Computer assisted telephone interviewing (CATI) for health surveys in public health surveillance: methodological issues and challenges ahead. Chronic Dis Can 25(2):21–27

28.

Yoo HJ, Kim JC, Eremenco S, Han OS (2005) Quality of life in colorectal cancer patients with colectomy and the validation of the functional assessment of cancer therapy-colorectal (FACT-C), version 4. J Pain Symptom Manag 30(1):24–32

29.

Ware JE Jr, Kosinski M, Keller SD (1996) A 12-item short-form health survey: construction of scales and preliminary tests of reliability and validity. Med Care 34(3):220–233

30.

White E, Patterson RE, Kristal AR, Thornquist M, King I, Shattuck AL, Evans I, Satia-Abouta J, Littman AJ, Potter JD (2004) VITamins and lifestyle cohort study: study design and characteristics of supplement users. Am J Epidemiol 159(1):83–93

31.

De Marco M, Janssen-Heijnen M, Van der Heijden L, Coebergh J (2000) Comorbidity and colorectal cancer according to subsite and stage: a population-based study. Eur J Cancer 36(1):95–99

32.

Hou JK, Abraham B, El-Serag H (2011) Dietary intake and risk of developing inflammatory bowel disease: a systematic review of the literature. Am J Gastroenterol 106(4):563–573

33.

Pischon T, Lahmann PH, Boeing H, Friedenreich C, Norat T, Tjønneland A, Halkjaer J, Overvad K, Clavel-Chapelon F, Boutron-Ruault M-C (2006) Body size and risk of colon and rectal cancer in the European prospective investigation into cancer and nutrition (EPIC). J Natl Cancer Inst 98(13):920–931

34.

Marcella S, Miller JE (2001) Racial differences in colorectal cancer mortality: the importance of stage and socioeconomic status. J Clin Epidemiol 54(4):359–366

35.

Din FV, Theodoratou E, Farrington SM, Tenesa A, Barnetson RA, Cetnarskyj R, Stark L, Porteous ME, Campbell H, Dunlop MG (2010) Effect of aspirin and NSAIDs on risk and survival from colorectal cancer. Gut 59(12):1670–1679

36.

Botteri E, Iodice S, Bagnardi V, Raimondi S, Lowenfels AB, Maisonneuve P (2008) Smoking and colorectal cancer: a meta-analysis. JAMA 300(23):2765–2778

37.

Fedirko V, Tramacere I, Bagnardi V, Rota M, Scotti L, Islami F, Negri E, Straif K, Romieu I, La Vecchia C (2011) Alcohol drinking and colorectal cancer risk: an overall and dose-response meta-analysis of published studies. Ann Oncol 22(9):1958–1972

38.

Giovannucci E (2003) Diet, body weight, and colorectal cancer: a summary of the epidemiologic evidence. J Women's Health 12(2):173–182

39.

NCI national cancer institute risk factor monitoring and methods branch, division of cancer control and population sciences

40.

Subar A, Thompson F, Kipnis V, Midthune D, Hurwitz P, McNutt S, McIntosh A, Rosenfeld S (2001) Comparative validation of the block, Willett, and national cancer institute food frequency questionnaires: the eating at America's table study. Am J Epidemiol 154(12):1089–1099

41.

Tofthagen C, Donovan KA, Morgan MA, Shibata D, Yeh Y (2013) Oxaliplatin-induced peripheral neuropathy's effects on health-related quality of life of colorectal cancer survivors. Support Care Cancer:1–7

42.

Douillard J, Cunningham D, Roth A, Navarro M, James R, Karasek P, Jandik P, Iveson T, Carmichael J, Alakl M (2000) Irinotecan combined with fluorouracil compared with fluorouracil alone as first-line treatment for metastatic colorectal cancer: a multicentre randomised trial. Lancet 355(9209):1041–1047

43.

Borner M, Bernhard J, Dietrich D, Popescu R, Wernli M, Saletti P, Rauch D, Herrmann R, Koeberle D, Honegger H (2005) A randomized phase II trial of capecitabine and two different schedules of irinotecan in first-line treatment of metastatic colorectal cancer: efficacy, quality-of-life and toxicity. Ann Oncol 16(2):282–288

44.

Heydarnejad M, Hassanpour DA, Solati DK (2012) Factors affecting quality of life in cancer patients undergoing chemotherapy. Afr Health Sci 11(2):266–270

45.

Boyd KA, Briggs AH, Paul J, Iveson T, Midgely R, Harkin A, Bates G, Alexander L, Cassidy J (2011) Analysis of adverse events and quality of life data for an economic evaluation of adjuvant chemotherapy in colorectal cancer: when can we stop collecting? Trials 12(Suppl 1):A41

46.

Tofthagen C (2010) Surviving chemotherapy for colon cancer and living with the consequences. J Palliat Med 13(11):1389–1391

47.

Culver JL, Arena PL, Antoni MH, Carver CS (2002) Coping and distress among women under treatment for early stage breast cancer: comparing African Americans, Hispanics and non-Hispanic whites. Psycho-Oncology 11(6):495–504

48.

Stacey D, Légaré F, Col NF, Bennett CL, Barry MJ, Eden KB, Holmes-Rovner M, Llewellyn-Thomas H, Lyddiatt A, Thomson R (2014) Decision aids for people facing health treatment or screening decisions. Cochrane Database Syst Rev 1 (1)

49.

Andersen MR, Bowen DJ, Morea J, Stein KD, Baker F (2009) Involvement in decision-making and breast cancer survivor quality of life. Health Psychol 28(1):29

50.

Figueredo A, Germond C, Maroun J, Browman G, Walker-Dilks C, Wong S (1997) Adjuvant therapy for stage II colon cancer after complete resection. Provincial gastrointestinal disease site group. Cancer Prev Control 1(5):379

51.

Mouradov D, Domingo E, Gibbs P, Jorissen RN, Li S, Soo PY, Lipton L, Desai J, Danielsen HE, Oukrif D (2013) Survival in stage II/III colorectal cancer is independently predicted by chromosomal and microsatellite instability, but not by specific driver mutations. Am J Gastroenterol 108:1785–1793

52.

Griggs JJ, Sabel MS (2008) Obesity and cancer treatment: weighing the evidence. J Clin Oncol 26(25):4060–4062

53.

Michaud D, Midthune D, Hermansen S, Leitzmann M, Harlan L, Kipnis V, Schatzkin A (2005) Comparison of cancer registry case ascertainment with SEER estimates and self-reporting in a subset of the NIT-AARP diet and health study. J Registry Manag 32(2):70–75

54.

Andrykowski MA, Hunt JW (1993) Positive psychosocial adjustment in potential bone marrow transplant recipients: cancer as a psychosocial transition. Psycho-Oncology 2(4):261–276

55.

Sprangers M, Schwartz C (1999) The challenge of response shift for quality-of-life-based clinical oncology research. Ann Oncol 10(7):747–749

56.

Bernhard J, Hürny C, Maibach R, Herrmann R, Laffer U (1999) Quality of life as subjective experience: reframing of perception in patients with colon cancer undergoing radical resection with or without adjuvant chemotherapy. Ann Oncol 10(7):775–782
Acknowledgments
This work was supported by a research grant from American Cancer Society (RSGT-08-094-CPPB).
The sponsors were not involved in the design of the study or in the data analyses or manuscript elaboration.
Conflict of interest
The authors declare that they have no competing interests.
About this article
Cite this article
Lewis, C., Xun, P. & He, K. Effects of adjuvant chemotherapy on recurrence, survival, and quality of life in stage II colon cancer patients: a 24-month follow-up. Support Care Cancer 24, 1463–1471 (2016). https://doi.org/10.1007/s00520-015-2931-2
Received:

Accepted:

Published:

Issue Date:
Keywords
Colon cancer

Chemotherapy

Quality of life

Survival

Recurrence