Abstract
Purpose
The aim of this study is to assess the safety and tolerability of Kinesio® Taping (KT) in patients with arm lymphedema.
Method
Medical device clinical study in women with arm lymphedema. Kinesio® Tex Gold bandage was applied by the KT technique. Assessments and interviews were carried out both at the beginning and 4 days after intervention. Skin disorders, reported tolerance and modification of limb volume and function after intervention were assessed. Changes in limb volume and functionality before and after intervention were compared by the Student's t test and the Wilcoxon Signed-Rank test, considering significant p value <0.05.
Results
Twenty-four women were studied. After intervention, no patient had cutaneous lesions, vesicle or limb hyperthermia, and 4.2 % presented skin peeling and redness. Most patients reported no change in social life and that they felt safer in the daily activity and were very pleased with the treatment. The patients presented improvement of upper limb functionality after intervention (p < 0.001). No difference of limb volume was found after intervention (p = 0.639).
Conclusions
Kinesio® Tex Gold bandage by the KT technique proved to be safe and tolerable in patients with lymphedema, with improved functionality and no change of the affected limb volume.
This is a preview of subscription content, log in to check access.
Access options
Buy single article
Instant access to the full article PDF.
US$ 39.95
Price includes VAT for USA
Subscribe to journal
Immediate online access to all issues from 2019. Subscription will auto renew annually.
US$ 199
This is the net price. Taxes to be calculated in checkout.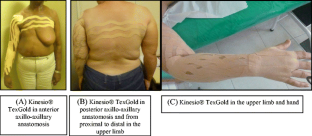 References
1.

Disipio T, Rye S, Newman B, Hayes S (2013) Incidence of unilateral arm lymphoedema after breast cancer: a systematic review and meta-analysis. Lancet Oncol 14(6):500–515

2.

Bevilacqua JL, Kattan MW, Changhong Y, Koifman S, Mattos IE, Koifman RJ, Bergmann A (2012) Nomograms for Predicting the Risk of Arm Lymphedema after Axillary Dissection in Breast Cancer. Ann Surg Oncol 19(8):2580–2589

3.

Bergmann A, Ferreira MGC, Aguiar SS, Dias RA, Abrahão KS, Paltrinieri EM, Allende RGM, Andrade MCF (2014) Physiotherapy in upper limb lymphedema after breast cancer treatment: a randomized study. Lymphology 47(2):82–91

4.

Haghighat S, Lotfi-Tokaldany M, Maboudi AA, Karami M, Bahadori A, Weiss J (2013) Predictive factors of response to phase I complete decongestive therapy in upper extremity lymphedema following breast carcinoma in Iran. Lymphology 46(2):97–104

5.

Tsai HJ, Hung HC, Yang JL, Huang CS, Tsauo JY (2009) Could kinesio tape replace the bandage in decongestive lymphatic therapy for breast-cancer-related lymphedema? A pilot study. Support Care Cancer 17(11):1353–1360

6.

Finnerty S, Thomason S, Woods M (2010) Audit of the use of kinesiology tape for breast oedema. J Lymphoedema 5(1):38–44

7.

Chou YH, Li SH, Liao SF, Tang HW (2013) Case report: manual lymphatic drainage and kinesio taping in the secondary malignant breast cancer-related lymphedema in an arm with arteriovenous (A-V) fistula for hemodialysis. Am J Hosp Palliat Care 30(5):503–506

8.

Smykla A, Walewicz K, Trybulski R, Halski T, Kucharzewski M, Kucio C, Mikusek W, Klakla K, Taradaj J (2013) Effect of kinesiology taping on breast cancer-related lymphedema: a randomized single-blind controlled pilot study. Biomed Res Int 2013:767106

9.

Pekyavaş NÖ, Tunay VB, Akbayrak T, Kaya S, Karataş M (2014) Complex decongestive therapy and taping for patients with postmastectomy lymphedema: a randomized controlled study. Eur J Oncol Nurs 18(6):585–590

10.

Ferrandez JC, Theys S, Bouchet JY (2014) Taping and lymphedema. Kinesither Rev 14(147):31–33

11.

Pop TB, Karczmarek-Borowska B, Tymczak M, Hałas I, Banaś J (2014) The influence of Kinesiology Taping on the reduction of lymphoedema among women after mastectomy - preliminary study. Contemp Oncol (Pozn) 18(2):124–129

12.

Orfale AG, Araujo PMP, Ferraz MB, Natour J (2005) Translation into Brazilian Portuguese, cultural adaptation and evaluation of the reliability of the Disabilities of the Arm, Shoulder and Hand Questionnaire. Braz J Med Biol Res[online] 38(2):293–302

13.

The International Society of Lymphology Consensus Document (2013) The diagnosis and treatment of peripheral lymphedema: 2013 Consensus Document of the International Society of Lymphology. Lymphology 46(1):1–11

14.

Lasinski BB (2013) Complete descongestive therapy for treatment of lymphedema. Seminars In Oncology Nursing 29(1):20–27

15.

Brown JC, Cheville AL, Tchou JC, Harris SR, Schmitz KH (2014) Prescription and adherence to lymphedema self-care modalities among women with breast cancer-related lymphedema. Support Care Cancer 22(1):135–143

16.

Bosman J. Lymphtaping for lymphoedema: an overview of the treatment and its uses. Br J Community Nurs. 2014;S12, S14, S16-8.

17.

Morris D, Jones D, Ryan H, Ryan CG (2013) Systematic review the clinical effects of Kinesio® Tex Taping: a systematic review. Physiotherapy Theory And Practice 29(4):259–270

18.

Mirandola D, Miccinesi G, Muraca MG, Sgambati E, Monaci M, Marini M (2014) Evidence for adapted physical activity as an effective intervention for upper limb mobility and quality of life in breast cancer survivors. J Phys Act Health 11(4):814–822
Acknowledgments
The authors thank the M. Muller Ltda for donating the bandage necessary for this research.
Conflict of interest
The authors declare that they have no conflict of interest.
Ethical approval
All procedures performed in this study were in accordance with the ethical standards of the institutional research committee and with the 1964 Helsinki declaration and its later amendments or comparable ethical standards.
Informed consent
Informed consent was obtained from all individual participants included in the study.
About this article
Cite this article
Martins, J., Aguiar, S.S., Fabro, E.A.N. et al. Safety and tolerability of Kinesio® Taping in patients with arm lymphedema: medical device clinical study. Support Care Cancer 24, 1119–1124 (2016). https://doi.org/10.1007/s00520-015-2874-7
Received:

Accepted:

Published:

Issue Date:
Keywords
Kinesio Taping

Bandage

Lymphedema

Physiotherapy

Breast cancer