Abstract
Purpose
Caregiving to a family member with cancer might have health implications. However, limited research has investigated the psychophysical health of home-cared cancer patients family caregivers. In a previous study, we have found that a prolonged worry in daily life is a crucial variable compared to caregivers' psychophysical symptomatology. This investigation was designed to further examine the well-being of family caregivers, explore the domains of worry, and assess to what extent "content-dependent" worry could be associated with the caregivers' health
Methods
The sample consisted of 100 family caregivers of oncological patients assisted at home. Participants completed a battery of self-report questionnaires (Penn State Worry Questionnaire, Worry Domain Questionnaire, Hospital Anxiety and Depression Scale, Family Strain Questionnaire Short Form, and Psychophysiological Questionnaire of the Battery CBA 2.0).
Results
The level of worry was medium-high among participants, and caregivers worry more about their occupation and future. Depression, anxiety, and somatic symptomatology levels resulted mild, while strain level resulted high. Statistical analyses confirm the conclusions of the previous study, revealing a significant positive correlation between worry levels and caregivers' psychophysical health. Innovatively, it has been highlighted that who has higher scores of content-dependent worry shows also higher levels of strain, somatic symptoms, anxiety, and depression
Conclusions
Not only trait-worry ("content-free" measure) but also content-dependent worry is associated with strain and negative health outcomes. People may worry about different targets, and it might be useful to further investigate what are the specific worriers of family caregivers in order to promote their physical and emotional well-being.
Access options
Buy single article
Instant access to the full article PDF.
US$ 39.95
Tax calculation will be finalised during checkout.
Subscribe to journal
Immediate online access to all issues from 2019. Subscription will auto renew annually.
US$ 119
Tax calculation will be finalised during checkout.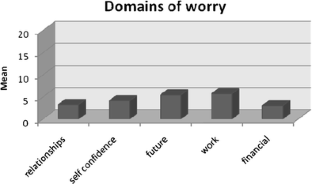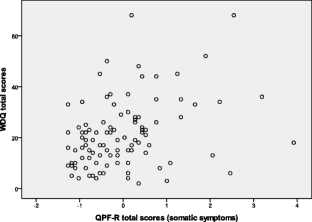 References
1.

Kurtz ME, Kurtz JC, Given CW, Given B (1995) Relationship of caregiver reactions and depression to cancer patients' symptoms, functional states and depression: a longitudinal view. Soc Sci Med 40:837–846

2.

Hodges LJ, Humphris GM, Macfarlane G (2005) A meta-analytic investigation of the relationship between the psychological distress of cancer patients and their careers. Soc Sci Med 60:1–12

3.

Donelan KG, Hill CA, Hoffman C, Scoles K, Feldman PH, Levine C, Gould D (2002) Challenge to care: informal caregivers in a changing health system. Health Aff 21(4):222–231

4.

Northouse L, Williams AL, Given B, McCorkle R (2012) Psychosocial care for family caregivers of patients with cancer. J Clin Oncol 30(11):1227–1234

5.

Kitrungroter L, Cohen MZ (2006) Quality of life of family caregivers of patients with cancer: a literature review. Oncol Nurs Forum 33:625–632

6.

Swore Fletcher BA, Dodd MJ, Schumacher KL, Miaskowski C (2008) Symptom experience of family caregivers of patients with cancer. Oncol Nurs Forum 35:E23–E44

7.

Robison J, Fortinsky R, Kleppinger A, Shugrue N, Porter M (2009) A broader view of family caregiving: effects of caregiving and caregiver conditions on depressive symptoms, health, work, and social isolation. J Gerontol Ser B Psychol Sci Soc Sci 64:788–798

8.

Berger AM, Parker KP, Young-McCaughan S, Mallory GA, Barsevick AM, Beck SL, Carpenter JS, Carter PA, Farr LA, Hinds PS, Lee KA, Miaskowski C, Mock V, Payne JK, Hall M (2005) Sleep wake disturbances in people with cancer and their caregivers: state of the science. Oncol Nurs Forum 32:E98–E126

9.

Carter PA, Chang BL (2000) Sleep and depression in cancer caregivers. Cancer Nurs 23:410–415

10.

Lee S, Colditz GA, Berkman LF, Kawachi I (2003) Caregiving and risk of coronary heart disease in US women: a prospective study. Am J Prev Med 24:113–119

11.

Rohleder N, Marin TJ, Ma R, Miller GE (2009) Biologic cost of caring for a cancer patient: dysregulation of pro- and anti-inflammatory signaling pathways. J Clin Oncol 27:2909–2915

12.

Zavagli V, Varani S, Samolsky-Dekel AR, Brighetti G, Pannuti F (2012) Worry as a risk factor for mental and somatic diseases. A research on home-cared cancer patients family caregivers. Giornale Italiano Med Lavoro Ergonomia 34(2):B17–B22

13.

Grov EK, Dahl AA, Moum T, Fosså SD (2005) Anxiety, depression, and quality of life in caregivers of patients with cancer in late palliative phase. Ann Oncol 16:1185–1191

14.

Grov EK, Dahl AA, Fosså SD, Wahl AK, Moum T (2006) Global quality of life in primary caregivers of patients with cancer in palliative phase staying at home. Support Care Cancer 14:943–951

15.

Brosschot JF, Gerin W, Thayer JF (2006) The perseverative cognition hypothesis: a review of worry, prolonged stress-related physiological activation and health. J Psychosom Res 60:113–124

16.

Thayer JF, Brosschot JF (2005) Psychosomatics and psychopathology: looking up and down from the brain. Psychoneuroendocrinology 30:1050–1058

17.

Thayer JF, Friedman BH, Borkovec TD (1996) Autonomic characteristics of generalized anxiety disorder and worry. Biol Psychiatry 39:255–266

18.

Borkovec TD, Robinson E, Pruzinsky T, Dupree JA (1983) Preliminary exploration of worry: some characteristics and processes. Behav Res Ther 23:481–482

19.

Casadio M, Biasco G, Abernethy A, Bonazzi V, Pannuti R, Pannuti F (2010) The national tumor association foundation (ANT): a 30 year old model of home palliative care. BMC Palliative Care 9:12

20.

Meyer TJ, Miller ML, Metzger RL, Borkovec TD (1990) Development and validation of the penn state worry questionnaire. Behav Res Ther 28:487–495

21.

Tallis F, Eysenck MW, Mathews A (1992) A questionnaire for the measurement of nonpathological worry. Personal Individ Differ 13:161–168

22.

Morani S, Pricci D, Sanavio E (1999) Penn state worry questionnaire" e "worry domains questionnaire". presentazione delle versioni italiane ed analisi della fedeltà. Psicoterapia Cognitiva Comport 5:195–209

23.

Pancheri P, Chiari G, Michielin P (1986) Questionario Psicofisiologico forma ridotta. Organizzazioni Speciali, Firenze

24.

Zigmond AS, Snaith RP (1983) The hospital anxiety and depression scale. Acta Psychiatr Scand 67(6):361–370

25.

Crawford JR, Henry JD, Crombie C, Taylor EP (2001) Normative data for the HADS from a large non-clinical sample. Br J Clin Psychol 40:429–434

26.

Costantini M, Musso M, Viterbori P, Bonci F, Del Mastro L, Garrone O, Venturini M, Morasso G (1999) Detecting psychological distress in cancer patients: validity of the Italian version of the hospital anxiety and depression scale. Support Care Cancer 7(3):121–127

27.

Vidotto G, Rossi Ferrario S, Bond TG, Zotti AM (2010) Family strain questionnaire - short form for nurses and general practitioners. J Clin Nurs 19:275–283

28.

Given B, Wyatt G, Given C, Sherwood P, Gift A, DeVoss D, Rahbar M (2006) Burden and depression among caregivers of patients with cancer at the end of life. Oncol Nurs Forum 31:1105–1117

29.

Kris AE, Cherlin EJ, Prigerson H, Carlson MD, Johnson-Hurzeler R, Kasl SV, Bradley EH (2006) Length of hospice enrollment and subsequent depression in family caregivers: 13-month follow-up study. Am J Geriatr Psychiatr 14:264–269

30.

Rivera HR (2009) Depression symptoms in cancer caregivers. Clin J Oncol Nurs 13:195–202

31.

Braun M, Mikulincer M, Rydall A, Walsh A, Rodin G (2007) Hidden morbidity in cancer: spouse caregivers. J Clin Oncol 25:4829–4834

32.

McLean LM, Walton T, Matthew A, Jones JM (2011) Examination of couples' attachment security in relation to depression and hopelessness in maritally distressed patients facing end-stage cancer and their spouse caregivers: a buffer or facilitator of psychosocial distress? Support Care Cancer 19:1539–1548

33.

Hendriksen E, Williams E, Sporn N, Greer J, DeGrange A, Koopman C (2015) Worried together: a qualitative study of shared anxiety in patients with metastatic non-small cell lung cancer and their family caregivers. Support Care Cancer 23:1035–1041

34.

Applebaum AJ, Breitbart W (2013) Care for the cancer caregiver: a systematic review. Palliative Support Care 11:231–252

35.

Piet J, Würtzen H, Zachariae R (2012) The effect of mindfulness-based therapy on symptoms of anxiety and depression in adult cancer patients and survivors: a systematic review and meta-analysis. J Consult Clin Psychol 80(6):1007–1020

36.

Borkovec TD, Ruscio A (2001) Psychotherapy for generalized anxiety disorder. J Clin Psychiatry 62:37–45
Acknowledgements
We would like to thank all the family caregivers that participated in the study. This work was possible only because they gave their time and shared their experiences with us.
Conflict of interest
The authors declare that they have no conflict of interest.
Informed consent
Informed consent was obtained from all individual participants included in the study.
About this article
Cite this article
Zavagli, V., Miglietta, E., Varani, S. et al. Associations between caregiving worries and psychophysical well-being. An investigation on home-cared cancer patients family caregivers. Support Care Cancer 24, 857–863 (2016). https://doi.org/10.1007/s00520-015-2854-y
Received:

Accepted:

Published:

Issue Date:
Keywords
Caregiving

Family caregiver

Worry

Psychophysical well-being

Cancer

Oncological home-care