Abstract
Purpose
Providing patients with written information about totally implantable access ports (TIAPs) is recommended during the pre-implantation period to reduce anxiety and to help recalling information. No study tested the effectiveness of information about TIAP neither with oral communication nor with booklets. This study aimed at evaluating the effectiveness of an information booklet, alone or together with answers to clarification questions, both in improving patients' short- and long-time knowledge about TIAP and in decreasing patients' physiological indicators of anxiety immediately after TIAP implantation.
Methods
This is a randomized controlled trial with three parallel groups: group A (n = 34) receiving only the booklet, group B (n = 34) receiving the booklet with answers to clarification questions, and group C (n = 37) receiving routine care.
Results
After 3 months, pair comparisons revealed a significant improvement in knowledge of TIAP in each group (p < 0.001), together with a significant difference in group C compared with groups A (p < 0.001) and B (p < 0.001), similar to each other. Physiological indicators of anxiety decreased in the intervention groups compared to control group immediately after TIAP implantation.
Conclusions
The interventions provided resulted effective in decreasing patients' physiological indicators of anxiety immediately after TIAP implantation and improving patients' knowledge about TIAP immediately and at 3 months. Adding answers to clarification questions to the booklet was not more effective than the booklet alone. A well-designed booklet with attention both to scientific content and to communication techniques is useful in improving patients' knowledge about TIAP and reducing anxiety.
Access options
Buy single article
Instant access to the full article PDF.
US$ 39.95
Tax calculation will be finalised during checkout.
Subscribe to journal
Immediate online access to all issues from 2019. Subscription will auto renew annually.
US$ 119
Tax calculation will be finalised during checkout.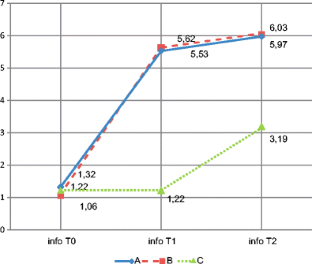 References
1.

Rutten LJF, Arora NK, Bakos AD, Aziz N, Rowland J (2005) Information needs and sources of information among cancer patients: a systematic review of research (1980–2003). Patient Educ Couns 57(3):250–261. doi:10.1016/j.pec.2004.06.006

2.

Bergenmar M, Johansson H, Sharp L (2014) Patients' perception of information after completion of adjuvant radiotherapy for breast cancer. Eur J Oncol Nurs 18(3):305–309. doi:10.1016/j.ejon.2014.02.002

3.

Cox A, Jenkins V, Catt S, Langridge C, Fallowfield L (2006) Information needs and experiences: an audit of UK cancer patients. Eur J Oncol Nurs 10(4):263–272

4.

Piredda M, Rocci L, Gualandi R, Petitti T, Vincenzi B, De Marinis MG (2008) Survey on learning needs and preferred sources of information to meet these needs in Italian oncology patients receiving chemotherapy. Eur J Oncol Nurs 12(2):120–126

5.

Kullberg A, Sharp L, Johansson H, Bergenmar M (2014) Information exchange in oncological inpatient care - Patient satisfaction, participation, and safety. Eur J Oncol Nurs. doi:10.1016/j.ejon.2014.10.005

6.

Koutsopoulou S, Papathanassoglou ED, Katapodi MC, Patiraki EI (2010) A critical review of the evidence for nurses as information providers to cancer patients. J Clin Nurs 19(5-6):749–765. doi:10.1111/j.1365-2702.2009.02954.x

7.

Piredda M, De Marinis M, Rocci L, Gualandi R, Tartaglini D, Ream E (2007) Meeting information needs on cancer-related fatigue: an exploration of views held by Italian patients and nurses. Support Care Cancer 15(11):1231–1241. doi:10.1007/s00520-007-0240-0

8.

Shea-Budgell M, Kostaras X, Myhill K, Hagen N (2014) Information needs and sources of information for patients during cancer follow-up. Current Oncology 21(4):165–173

9.

Chan K, Davey C (2014) Investigating and comparing the patients' and staff's perspectives on the usefulness of a head and neck radiotherapy patient education booklet. J Radiother Pract 13(3):284–293. doi:10.1017/s1460396913000289

10.

Angioli R, Plotti F, Capriglione S, Aloisi A, Aloisi ME, Luvero D, Miranda A, Montera R, Gulino M, Frati P (2014) The effects of giving patients verbal or written pre-operative information in gynecologic oncology surgery: a randomized study and the medical-legal point of view. Eur J Obstet Gyn R B 177:67–71. doi:10.1016/j.ejogrb.2014.03.041

11.

Walker JA (2002) Emotional and psychological preoperative preparation in adults. Br J Nurs 11(8):567–575. doi:10.12968/bjon.2002.11.8.10166

12.

Wilson FL, Mood D, Nordstrom CK (2010) The influence of easy-to-read pamphlets about self-care management of radiation side effects on patients' knowledge. Oncol Nurs Forum 37(6):774–781. doi:10.1188/10.onf.774-781

13.

Clarke Moloney M, Moore A, Adelola OA, Burke PE, McGee H, Grace PA (2005) Information leaflets for venous leg ulcer patients: are they effective? Journal Of Wound Care 14(2):75–77

14.

Zaghal A, Khalife M, Mukherji D, El Majzoub N, Shamseddine A, Hoballah J, Marangoni G, Faraj W (2012) Update on totally implantable venous access devices. Surg Oncol 21(3):207–215. doi:10.1016/j.suronc.2012.02.003

15.

Gallieni M, Pittiruti M, Biffi R (2008) Vascular access in oncology patients. CA Cancer J Clin 58(6):323–346. doi:10.3322/ca.2008.0015

16.

Lipitz-Snyderman A, Sepkowitz KA, Elkin EB, Pinheiro LC, Sima CS, Son CH, Atoria CL, Bach PB (2014) Long-term central venous catheter use and risk of infection in older adults with cancer. J Clin Oncol 32(22):2351–2356

17.

Beckers M, Ruven H, Seldenrijk C, Prins M, Biesma D (2010) Risk of thrombosis and infections of central venous catheters and totally implanted access ports in patients treated for cancer. Thromb Res 125(4):318–321

18.

Biffi R, Toro A, Pozzi S, Di Carlo I (2014) Totally implantable vascular access devices 30 years after the first procedure. What has changed and what is still unsolved? Support Care Cancer 22(6):1705–1714. doi:10.1007/s00520-014-2208-1

19.

El Hammoumi M, El Ouazni M, Arsalane A, El Oueriachi F, Mansouri H, el Kabiri H (2014) Incidents and complications of permanent venous central access systems: a series of 1,460 cases. Korean J Thorac Cardiovasc Surg 47(2):117–123. doi:10.5090/kjtcs.2014.47.2.117

20.

Goossens GA, Vrebos M, Stas M, De Wever I, Frederickx L (2005) Central vascular access devices in oncology and hematology considered from a different point of view: how do patients experience their vascular access ports? J Infus Nurs 28(1):61–67

21.

Nagel SN, Teichgräber U, Kausche S, Lehmann A (2012) Satisfaction and quality of life: a survey-based assessment in patients with a totally implantable venous port system. Eur J Cancer Care 21(2):197–204

22.

Singh KR, Agarwal G, Nanda G, Chand G, Mishra A, Agarwal A, Verma AK, Mishra SK, Goyal P (2014) Morbidity of chemotherapy administration and satisfaction in breast cancer patients: a comparative study of totally implantable venous access device (TIVAD) versus peripheral venous access usage. World J Surg 38(5):1084–1092. doi:10.1007/s00268-013-2378-x

23.

Johansson E, Engervall P, Björvell H, Hast R, Björkholm M (2009) Patients' perceptions of having a central venous catheter or a totally implantable subcutaneous port system-results from a randomised study in acute leukaemia. Support Care Cancer 17(2):137–143. doi:10.1007/s00520-008-0449-6

24.

Weingart SN, Hsieh C, Lane S, Cleary AM (2014) Standardizing central venous catheter care by using observations from patients with cancer. Clin J Oncol Nurs 18(3):321–326. doi:10.1188/14.cjon.321-326

25.

Anderson M, Ottum A, Zerbel S, Sethi A, Safdar N (2013) Are hospitalized patients aware of the risks and consequences of central line-associated bloodstream infections? Am J Infect Control 41(12):1275–1277. doi:10.1016/j.ajic.2013.05.027

26.

Bassi K, Giri A, Pattanayak M, Abraham S, Pandey K (2012) Totally implantable venous access ports: retrospective review of long-term complications in 81 patients. Indian J Cancer 49(1):114

27.

Dal Molin A, Rasero L, Guerretta L, Perfetti E, Clerico M (2011) The late complications of totally implantable central venous access ports: the results from an Italian multicenter prospective observation study. Eur J Oncol Nurs 15(5):377–381

28.

Goossens GA, Stas M, Jérôme M, Moons P (2011) Systematic review: malfunction of totally implantable venous access devices in cancer patients. Support Care Cancer 19(7):883–898

29.

Biffi R, Pozzi S, Agazzi A, Pace U, Floridi A, Cenciarelli S, Peveri V, Cocquio A, Andreoni B, Martinelli G (2004) Use of totally implantable central venous access ports for high-dose chemotherapy and peripheral blood stem cell transplantation: results of a monocentre series of 376 patients. Ann Oncol 15(2):296–300

30.

Chelf JH, Agre P, Axelrod A, Cheney L, Cole DD, Conrad K, Hooper S, Liu I, Mercurio A, Stepan K (2001) Cancer-related patient education: an overview of the last decade of evaluation and research. Oncol Nurs Forum 28:1139–1147

31.

Piredda M, Conte F, Bartolozzi F (2005) Totally implantable central venous device (port): an educational project for patients. International Nursing Perspectives 5(3):93–104

32.

Muthén LK, Muthén BO (2012) Mplus user's guide. Muthén & Muthén, Los Angeles

33.

Tanaka JS (1993) Multifaceted conceptions of fit in structural equation models. In: Bollen KA, Long JS (eds) Testing structural equation models. Sage, Newbury Park, pp 136–162

34.

Morasso G, Costantini M, Baracco G, Borreani C, Capelli M (1996) Assessing psychological distress in cancer patients: validation of a self-administered questionnaire. Oncology 53(4):295–302

35.

Moorhead S, Johnson M, Maas M, Swanson E (2013) Nursing Outcomes Classification (NOC), 5th edn. Mosby/Elsevier, St. Louis

36.

Shao J, Zhong B (2003) Last observation carry-forward and last observation analysis. Stat Med 22(15):2429–2441

37.

Humphris GM, Field EA (2003) The immediate effect on knowledge, attitudes and intentions in primary care attenders of a patient information leaflet: a randomized control trial replication and extension. British Dental Journal 194(12):683–688

38.

Kessels RPC (2003) Patients' memory for medical information. J R Soc Med 96(5):219–222

39.

Rantonen J, Vehtari A, Karppinen J, Luoto S, Viikari-Juntura E, Hupli M, Malmivaara A, Taimela S (2014) Face-to-face information combined with a booklet versus a booklet alone for treatment of mild low-back pain: a randomized controlled trial. Scand J Work Environ Health 40(2):156–166

40.

Yesilbalkan ÖU, Kir S, Karadakovan A, Uslu R (2009) Knowledge and attitudes of Turkish cancer patients regarding the implantable port catheter. Turk Onkoloji Dergisi 24(3):108–114

41.

Piredda M (2004) Patient education: a concept analysis. International Nursing Perspectives 4(2):63–71

42.

Ronco M, Iona L, Fabbro C, Bulfone G, Palese A (2012) Patient education outcomes in surgery: a systematic review from 2004 to 2010. Int J Evid Based Healthc 10(4):309–323

43.

Borst CG, de Kruif ATC, van Dam FS, de Graaf PW (1992) Totally implantable venous access ports-the patients' point of view: a quality control study. Cancer Nurs 15(5):378–381

44.

Al Qadire M (2014) Jordanian cancer patients' information needs and information-seeking behaviour: a descriptive study. Eur J Oncol Nurs 18(1):46–51. doi:10.1016/j.ejon.2013.09.007

45.

Capirci C, Feldman-Stewart D, Mandoliti G, Brundage M, Belluco G, Magnani K (2005) Information priorities of Italian early-stage prostate cancer patients and of their health-care professionals. Patient Educ Couns 56(2):174–181
Acknowledgments
We thank the cancer patients who participated in the study. This research received a grant from the Center of Excellence of Nursing Research and Culture, Nursing Professional Board of Rome.
Conflict of interest
No conflict of interest has been declared by the authors.
About this article
Cite this article
Piredda, M., Biagioli, V., Giannarelli, D. et al. Improving cancer patients' knowledge about totally implantable access port: a randomized controlled trial. Support Care Cancer 24, 833–841 (2016). https://doi.org/10.1007/s00520-015-2851-1
Received:

Accepted:

Published:

Issue Date:
Keywords
Central venous catheters

Neoplasms

Preoperative care

Patient education handout

Patient information