Abstract
Purpose
Radiotherapy-induced xerostomia (RIX) is the most common permanent side effect of radiotherapy (RT) to the head and neck (H&N). There is no effective topical treatment. LMS-611 is a mimetic of a natural lamellar body which prevents thick secretions like saliva from congesting organs. The primary objective of this study was to assess saliva properties before and during RT to the H&N. The secondary objectives were to re-assess saliva properties with the addition of LMS-611, measure inter-patient variability, correlate patient-reported symptoms with laboratory measurements and design subsequent first-in-human clinical trial of LMS-611.
Methods
Patients with H&N cancer receiving RT as primary treatment were recruited. Patients completed the Groningen RIX (GRIX) questionnaire and provided saliva samples at baseline and weeks 2, 4 and 6 of RT. Saliva adhesiveness and viscosity were tested by measuring time taken to travel 5 cm down an inclined plane.
Results
Thirty patients were enrolled. The inclined plane test (IPT) results (s) were as follows: baseline 31.3, week 2 49.7, week 4 51.1 and week 6 55.7. Wide inter-patient variability was seen at baseline. GRIX scores increased as RT progressed. Spearman rank correlation coefficient of inclined plane tests with GRIX scores was −0.06 at baseline, 0.25 at week 2, 0.12 at week 4 and 0.08 at week 6. LMS-611 concentrations of 10 and 20 mg/ml significantly reduced IPT times on saliva samples.
Conclusions
Saliva becomes more visco-adhesive and RIX worsens as RT progresses. There is little correlation between objective and subjective measures of RIX. The addition of LMS-611 to thick, sticky saliva restores its fluidity ex vivo. This warrants in vivo analysis of the effect of LMS-611 upon RIX.
Access options
Buy single article
Instant access to the full article PDF.
US$ 39.95
Tax calculation will be finalised during checkout.
Subscribe to journal
Immediate online access to all issues from 2019. Subscription will auto renew annually.
US$ 119
Tax calculation will be finalised during checkout.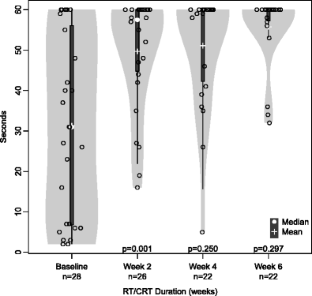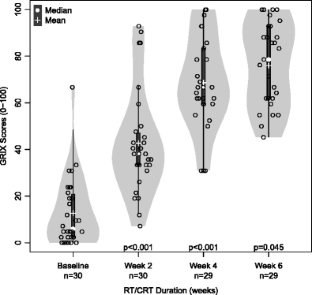 References
1.

Bhide SA, Nutting CM (2010) Advances in radiotherapy for head and neck cancer. Oral Oncol 46(6):439–441

2.

Jensen AB, Hansen O, Jorgensen K, Bastholt L (1994) Influence of late side-effects upon daily life after radiotherapy for laryngeal and pharyngeal cancer. Acta Oncol 33(5):487–491

3.

Bjordal K, Kaasa S (1995) Psychological distress in head and neck cancer patients 7–11 years after curative treatment. Br J Cancer; 71(3):592–597

4.

Dirix P, Nuyts S, Vander Poorten V, Delaere P, Van Den Bogaert W (2008) The influence of xerostomia after radiotherapy on quality of life. Results of a questionnaire in head and neck cancer. Support Care Cancer 16(2):171–179

5.

Dirix P, Nuyts S, Van den Bogaert W (2006) Radiation-induced xerostomia in patients with head and neck cancer: a literature review. Cancer 107(11):2525–2534

6.

Makkonen TA, Tenovuo J, Vilja P, Heimdahl A (1986) Changes in the protein composition of whole saliva during radiotherapy in patients with oral or pharyngeal cancer. Oral Surg Oral Med Oral Pathol 62(3):270–275

7.

Wijers OB, Levendag PC, Braaksma MM, Boonzaaijer M, Visch LL, Schmitz PI (2002) Patients with head and neck cancer cured by radiation therapy: a survey of the dry mouth syndrome in long-term survivors. Head Neck; 24(8):737–747

8.

Furness S, Worthington HV, Bryan G, Birchenough S, McMillan R (2011) Interventions for the management of dry mouth: topical therapies. Cochrane Database Syst Rev (12)

9.

Mehanna H, Jones TM, Gregoire V, Ang KK (2010) Oropharyngeal carcinoma related to human papilloma virus. BMJ 340:c1439

10.

Gillison ML, Harris J, Westra W, et al (2009) Survival outcomes by tumour human papilloma virus (HPV) status in stage III-IV oropharyngeal cancer (OPC) in RTOG 0129. J Clin Oncol ASCO Meet Abstr 27(15S):6003

11.

Fakhry C, Westra WH, Li S, Cmelak A, et al (2008) Improved survival of patients with human papilloma virus-positive head and neck squamous cell carcinoma in a prospective clinical trial. J Natl Cancer Inst 100(4):261–269

12.

Ang KK, Harris J, Wheeler R et al (2010) Human papilloma virus and survival of patients with oropharyngeal cancer. N Engl J Med Jul 1;363(1):24–35.

13.

Goldstein DP, Hynds Karnell L, Christensen AJ, Funk GF (2007) Health-related quality of life profiles based on survivorship status for head and neck cancer patients. Head Neck 29(3):221–229

14.

Semple C (2001) The role of the CNS in head and neck oncology. Nurs Stand 15(23):39–42

15.

Little M, Schipper M, Feng FY, et al (2012) Reducing xerostomia after chemo-IMRT for head-and-neck cancer: beyond sparing the parotid glands. Int J Radiat Oncol Biol Phys 83(3):1007–1014

16.

Vissink A, Mitchell JB, Baum BJ, et al (2010) Clinical management of salivary gland hypofunction and xerostomia in head-and neck cancer patients: successes and barriers. Int J Radiat Oncol Biol Phys 78(4):983–991

17.

Gregoire V, Coche E, Cosnard G, Hamoir M, Reychler H (2000) Selection and delineation of lymph node target volumes in head and neck conformal radiotherapy. Proposal for standardizing terminology and procedure based on the surgical experience. Radiother Oncol 56(2):135–150

18.

Beetz I, Burlage FR, Henk P, et al (2010) The Groningen Radiotherapy-Induced Xerostomia Questionnaire: development and validation of a new questionnaire. Radiother Oncol 97:127–131

19.

R Core Team (2013). R: a language and environment for statistical computing. R Foundation for Statistical Computing, Vienna, Austria URL http://www.R-projectorg/. Accessed Sep 2014

20.

Freitas DA, Caballero AD, Pereira MM, et al (2011) Oral sequelae of head and neck radiotherapy. CEFAC 13(6):1103–1108

21.

Franzen L, Funegård U, Ericson T, Henriksson R (1992) Parotid gland function during and following radiotherapy of malignancies in the head and neck: a consecutive study of salivary flow and patient discomfort. Eur J Cancer 28(2–3):457–462

22.

Dreizen S, Daly TE, Drane JB, Brown LR (1977) Oral complications of cancer radiotherapy. Postgrad Med 61(2):85–92

23.

Wescott WB, Mira JG, Starcke EN, Shannon IL, Thornby JI (1978) Alterations in whole saliva flow rate induced by fractionated radiotherapy. Am J Roentgenol 130(1):145–149

24.

Shannon IL, Trodahl JN, Starcke EN (1978) Radio sensitivity of the human parotid gland. Proc Soc Exp Biol Med 157(1):50–53

25.

Mira JG, Wescott WB, Starcke EN, Shannon IL (1981) Some factors influencing salivary function when treating with radiotherapy. Int J Radiat Oncol Biol Phys 7(4):535–541

26.

Konings AWT, Coppes RP, Vissink A (2005) On the mechanism of salivary gland radio sensitivity. Int J Radiat Oncol Biol Phys 62(4):1187–1194

27.

Porter S, Scully C, Hegarty AM (2004) An update of the etiology and management of xerostomia. Oral Med Oral Surg Oral Pathol 97(1):28–46

28.

Villa A, Abati S (2011) Risk factors and symptoms associated with xerostomia: a cross-sectional study. Aust Dent J 56:290–295

29.

Thomson WM (2015) Dry mouth and older people. Aust Dent J 60(1 Suppl):54–63

30.

Zuabi O, Machtei EE, Ben Aryeh H, et al (1999) The effect of smoking and periodontal treatment on salivary composition in patients with established periodontitis. J Periodontal 70:1240–1246

31.

Kolte AP, Kolte RA, Laddha RK (2012) Effect of smoking on salivary composition and periodontal status. Indian Soc Periodontol 16(3):350–353

32.

https://clinicaltrials.gov/ct2/show/NCT02123511?term=GRIX&rank=1. https://clinicaltrials.gov/ct2/show/NCT01823445?term=GRIX&rank=2. Accessed Oct 2014

33.

Tiwana MS, Mahajan MK, Uppal B, Koshy G, Sachdeva J, Lee HN, Talole SD (2011) Whole saliva physico-biochemical changes and quality of life in head and neck cancer patients following conventional radiation therapy: a prospective longitudinal study. Indian J Cancer 48(3):289–295

34.

Meirovitz A, Murdoch-Kinch CA, Schipper M, Pan C, Eisbruch A (2006) Grading xerostomia by physicians or by patients after intensity-modulated radiotherapy of head-and-neck cancer. Int J Radiat Oncol Biol Phys 66(2):445–453

35.

Lovelace TL, Fox NF, Sood AJ, et al (2014) Management of radiotherapy-induced salivary hypofunction and consequent xerostomia in patients with oral or head and neck cancer: meta-analysis and literature review. Oral Surg Oral Med Oral Pathol Oral Radiol 117(5):595–607

36.

Chaushu G, Bercovici M, Dori S, Waller A, Taicher S, Kronenberg J, Talmi YP (2000) Salivary flow and its relation with oral symptoms in terminally ill patients. Cancer 88(5):984–987

37.

Nutting CM, Morden JP, Harrington KJ, et al (2011) Parotid-sparing intensity modulated versus conventional radiotherapy in head and neck cancer (PARSPORT): a phase 3 multicentre randomised controlled trial. Lancet Oncol 12:127–136

38.

Setton J, Caria N, Romanyshyn J, et al (2012) Intensity-modulated radiotherapy in the treatment of oropharyngeal cancer: an update of the Memorial Sloan-Kettering Cancer Centre experience. Int J Radiat Oncol Biol Phys 82(1):291–298

39.

Kam M, Leung SF, Zee B (2007) Prospective randomized study of intensity-modulated radiotherapy on salivary gland function in early-stage nasopharyngeal carcinoma patients. J Clin Oncol 25(31):4873–4879

40.

Online document (2013) The radiotherapy innovation fund. An evaluation of the Prime Minister's £23 million fund. http://www.cancerresearchuk.org/prod_consump/groups/cr_common/@nre/@pol/documents/generalcontent/rifevalreport.pdf. Accessed Oct 2014

41.

Trotti A, Eisbruch A (2011) Reducing xerostomia through advanced technology. Lancet Oncol 12:110

42.

MASCC Oral care study group. Summary of the oral complications systematic reviews. http://www.mascc.org/oral-care. Accessed Apr 2015
Acknowledgments
The authors acknowledge Graham Park, Head of Technical Development, Lamellar Biomedical Limited, who contributed to the study design and saliva sample analysis but sadly passed away prior to study completion.
Authors' contributions
The following authors contributed to the study design: R Jones, J Paul and C Bray (all Cancer Research UK Clinical Trials Unit, Beatson WoSCC), and N Brittain and J Lang (NHS Greater Glasgow & Clyde Research & Development Department).
A McConnachie (Robertson Centre for Biostatistics, University of Glasgow) contributed to the statistical analysis.
Staff funding was provided by Scottish Cancer Research Network and NHS Research Scotland Career Researcher Fellowship, both from Chief Scientists Office, Scottish Government Health Directorate.
A James (Beatson WoSCC) and A J Chalmers (Institute of Cancer Sciences, University of Glasgow) provided assistance with the preparation of the manuscript.
Conflict of interest
Funding for this study was provided by Lamellar Biomedical Limited. Dr. Claire Paterson has no conflicts of interests to declare and had full access to all of the primary data. Review of the data by the journal is welcome.
Electronic supplementary material
About this article
Cite this article
Paterson, C., Caldwell, B., Porteous, S. et al. Radiotherapy-induced xerostomia, pre-clinical promise of LMS-611. Support Care Cancer 24, 629–636 (2016). https://doi.org/10.1007/s00520-015-2823-5
Received:

Accepted:

Published:

Issue Date:
Keywords
Radiation-induced xerostomia

LMS-611

Visco-ease

GRIX

RIX