Abstract
Purpose
Febrile neutropenia (FN) after chemotherapy increases complications, morbidity, risk of death, reduction of dose delivery and impairs quality of life. Primary granulocyte-colony stimulating factor (G-CSF) prophylaxis after chemotherapy is recommended in the guideline (GL) if the risk of FN is high (≥20 %) or intermediate (≥10–20 %) with additional risk factors. This study evaluated the implementation of G-CSF GL.
Patients and methods
Sample size of the survey was calculated at 2 % of the incidences of malignant lymphoma, breast cancer, and lung cancer in Germany in 2006. Patients were documented retrospectively over three to nine cycles of chemotherapy and FN risk ≥10 %. Professional physician profiles were analyzed by classification and regression tree analysis (CART).
Results
One hundred ninety-five hematologists-oncologists and pulmonologists and gynecologists specialized in oncology documented data of 666 lung cancer patients, 286 malignant lymphoma patients, and 976 breast cancer patients, with 7805 chemotherapy cycles; 85.1 % of physicians claimed adhering to G-CSF GL. Adherence to GL in all high-FN-risk chemotherapy cycles was 15.4 % in lung cancer, 84.5 % in malignant lymphoma, and 85.6 % in breast cancer, and in all intermediate-FN-risk chemotherapy cycles, lung cancer it was 38.8 %, malignant lymphoma it was 59.4 %, and breast cancer it was 49.3 %. G-CSF was overused without additional patient risk factors in 7.2 % lung cancer cycles, 16.8 % malignant lymphoma cycles, and 17.6 % breast cancer cycles. The CART analysis split pulmonologists and other specialists, with the latter adhering more to GL. Pulmonologists, trained less than 22.5 years, adhered better to GL, as did also gynecologists or hematologists-oncologists with professional experience less than 8.1 years.
Conclusions
Acceptance of and adherence to G-CSF GL differed between lung cancer, lymphoma, and breast cancer. Physicians overestimate their adherence to the GL. Physicians adhering to the GL can be characterized.
Access options
Buy single article
Instant access to the full article PDF.
US$ 39.95
Tax calculation will be finalised during checkout.
Subscribe to journal
Immediate online access to all issues from 2019. Subscription will auto renew annually.
US$ 119
Tax calculation will be finalised during checkout.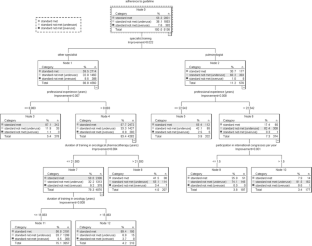 References
1.

Aapro MS, Bohlius J, Cameron DA et al (2011) 2010 update of EORTC guidelines for the use of granulocyte-colony stimulating factor to reduce the incidence of chemotherapy-induced febrile neutropenia in adult patients with lymphoproliferative disorders and solid tumours. Eur J Cancer 47:8–32

2.

Abdelsattar ZM, Reames BN, Regenbogen SE et al (2015) Critical evaluation of the scientific content in clinical practice guidelines. Cancer. 121(5):783–789

3.

Bennett CL, Djulbegovic B, Norris LB et al (2013) Colony-stimulating factors for febrile neutropenia during cancer therapy. N Engl J Med 368:1131–1139

4.

Bodey GP (2009) Fever and neutropenia: the early years. J Antimicrob Chemother 63:i3–i13

5.

Boland GM, Chang GJ, Haynes AB et al (2013) Association between adherence to National Comprehensive Cancer Network treatment guidelines and improved survival in patients with colon cancer. Cancer 119:1593–1601

6.

Bonadonna G, Valagussa P, Moliterni A et al (1995) Adjuvant cyclophosphamide, methotrexate, and fluorouracil in node-positive breast cancer: the results of 20 years of follow-up. N Engl J Med 332:901–906

7.

Breiman L (2001) Statistical Modeling: The Two Cultures (with comments and a rejoinder by the author). Stat Sci 16(3):199–231

8.

Bryant J, Boyes A, Jones K et al (2014) Examining and addressing evidence-practice gaps in cancer care: a systematic review. Implementation Sci: IS 9:37

9.

Cabana MD, Rand CS, Powe NR et al (1999) Why don't physicians follow clinical practice guidelines? A framework for improvement. JAMA 282:1458–1465

10.

Cancer Therapy Evaluation Program (CTEP) USDOHAHS. Common Terminology Criteria for Adverse Events (CTCAE) Version 4.0: National Institutes of Health National Cancer Institute, U.S.DEPARTMENT OF HEALTH AND HUMAN SERVICES; 2010 [updated v4.03: June 14, 2010; cited 2014 Feb. 8, 2014]. Version 4.03:[Available from: http://evs.nci.nih.gov/ftp1/CTCAE/CTCAE_4.03_2010-06-14_QuickReference_5x7.pdf.

11.

Choi MR, Solid CA, Chia VM et al (2014) Granulocyte colony-stimulating factor (G-CSF) patterns of use in cancer patients receiving myelosuppressive chemotherapy. Support Care Cancer 22:1619–1628

12.

Crawford J. NCCN® Practice Guidelines in Oncology - v.2.2014; Myeloid Growth Factors. National Comprehensive Cancer Network [Internet]. 2014 01/04/2015. Available from: http://www.nccn.org/

13.

Fagnani D, Isa L, Verga MF et al (2014) Granulocyte colony-stimulating factors used in clinical practice: PoloNord Registry-Based Cohort Italian Study. Tumori 100:491–498

14.

Falandry C, Campone M, Cartron G et al (2010) Trends in G-CSF use in 990 patients after EORTC and ASCO guidelines. Eur J Cancer 46:2389–2398

15.

Flowers CR, Seidenfeld J, Bow EJ et al (2013) Antimicrobial prophylaxis and outpatient management of fever and neutropenia in adults treated for malignancy: American Society of Clinical Oncology clinical practice guideline. J Clin Oncol 31:794–810

16.

Hebert-Croteau N, Brisson J, Latreille J et al (2004) Compliance with consensus recommendations for systemic therapy is associated with improved survival of women with node-negative breast cancer. J Clin Oncol 22:3685–3693

17.

Inwald EC, Ortmann O, Zeman F et al (2014) Guideline concordant therapy prolongs survival in HER2-positive breast cancer patients: results from a large population-based cohort of a cancer registry. BioMed Res Int 2014:10

18.

Jagsi R, Huang G, Griffith K et al (2014) Attitudes toward and use of cancer management guidelines in a national sample of medical oncologists and surgeons. J Natl Compr Cancer Netw 12:204–212

19.

Jolis L, Carabantes F, Pernas S et al (2013) Incidence of chemotherapy-induced neutropenia and current practice of prophylaxis with granulocyte colony-stimulating factors in cancer patients in Spain: a prospective, observational study. Eur J Cancer Care (Engl) 22:513–521

20.

Karve SJ, Price GL, Davis KL et al (2014) Comparison of demographics, treatment patterns, health care utilization, and costs among elderly patients with extensive-stage small cell and metastatic non-small cell lung cancers. BMC Health Serv Res 14:555

21.

Krebs in Deutschland 2009/2010: Robert Koch-Institut, Epidemiologie und Gesundheitsberichterstattung; Gesellschaft der epidemiologischen Krebsregister in Deutschland e.V.; 2012 [updated published on edoc: 2012-02-21T12:04:00Z; cited 2012]. Available from: http://edoc.rki.de/docviews/abstract.php?id=1843

22.

Kreys ED, Kim TY, Delgado A et al (2014) Impact of cancer supportive care pathways compliance on emergency department visits and hospitalizations. J Oncol Pract 10:168–173

23.

Krzemieniecki K, Sevelda P, Erdkamp F et al (2014) Neutropenia management and granulocyte colony-stimulating factor use in patients with solid tumours receiving myelotoxic chemotherapy—findings from clinical practice. Support Care Cancer 22:667–677

24.

Kuderer NM, Dale DC, Crawford J et al (2006) Mortality, morbidity, and cost associated with febrile neutropenia in adult cancer patients. Cancer 106:2258–2266

25.

Kuderer NM, Dale DC, Crawford J et al (2007) Impact of primary prophylaxis with granulocyte colony-stimulating factor on febrile neutropenia and mortality in adult cancer patients receiving chemotherapy: a systematic review. J Clin Oncol 25:3158–3167

26.

Kuderer NM, Lyman GH (2011) Personalized medicine and cancer supportive care: appropriate use of colony-stimulating factor support of chemotherapy. J Natl Cancer Inst 103:910–913

27.

Lyman GH, Dale DC, Culakova E et al (2013) The impact of the granulocyte colony-stimulating factor on chemotherapy dose intensity and cancer survival: a systematic review and meta-analysis of randomized controlled trials. Ann Oncol 24:2475–2484

28.

Lyman GH, Kuderer NM, Crawford J et al (2011) Predicting individual risk of neutropenic complications in patients receiving cancer chemotherapy. Cancer 117:1917–1927

29.

Lyman GH, Michels SL, Reynolds MW et al (2010) Risk of mortality in patients with cancer who experience febrile neutropenia. Cancer 116:5555–5563

30.

Potosky AL, Malin JL, Kim B et al. (2011) Use of Colony-Stimulating Factors With Chemotherapy: Opportunities for Cost Savings and Improved Outcomes. J Natl Cancer Inst 103(12):979–982

31.

Pujol JL, Daures JP, Riviere A et al (2001) Etoposide plus cisplatin with or without the combination of 4′-epidoxorubicin plus cyclophosphamide in treatment of extensive small-cell lung cancer: a French Federation of Cancer Institutes multicenter phase III randomized study. J Natl Cancer Inst 93:300–308

32.

Reames BN, Krell RW, Ponto SN et al (2013) Critical evaluation of oncology clinical practice guidelines. J Clin Oncol 31:2563–2568

33.

Shiffman RN, Dixon J, Brandt C et al (2005) The GuideLine Implementability Appraisal (GLIA): development of an instrument to identify obstacles to guideline implementation. BMC Med Inform Decis Mak 5:23

34.

Smith TJ, Hillner BE (2012) A way forward on the medically appropriate use of white cell growth factors. J Clin Oncol 30:1584–1587

35.

Smith TJ, Khatcheressian J, Lyman GH et al (2006) 2006 Update of recommendations for the Use of white blood cell growth factors: an evidence-based clinical practice guideline. J Clin Oncol 24:3187–3205

36.

Vehreschild JJ, Bohme A, Cornely OA et al (2014) Prophylaxis of infectious complications with colony-stimulating factors in adult cancer patients undergoing chemotherapy-evidence-based guidelines from the Infectious Diseases Working Party AGIHO of the German Society for Haematology and Medical Oncology (DGHO). Ann Oncol 25:1709–1718

37.

Von Elm E, Altman DG, Egger M et al (2007) The Strengthening the Reporting of Observational Studies in Epidemiology (STROBE) statement: guidelines for reporting observational studies. PLoS Med 4, e296

38.

Waters GE, Corrigan P, Gatesman M et al (2013) Comparison of pegfilgrastim prescribing practice to national guidelines at a university hospital outpatient oncology clinic. J Oncol Pract / Am Soc Clin Oncol 9:203–206

39.

Weycker D, Li X, Edelsberg J et al. (2015) Risk and Consequences of Chemotherapy-Induced Febrile Neutropenia in Patients with Metastatic Solid Tumors. J Oncol Pract / Am Soc Clin Oncol 11(1):47–54
Acknowledgments
The authors thank Dr. Rita A. Klim, Munich, who provided medical writing services.
Conflicts of interest
Prof. Link has received consulting and speaker fees from Amgen, Teva, Chugai, and Hexal. Josef Nietsch, Markus Kerkmann, and Petra Ortner have reported no potential conflicts of interest.
Funding
This work was supported by Supportive Care Group (ASORS) Deutsche Krebsgesellschaft, Berlin, Germany, with an unrestricted grant from Amgen, Munich, Germany.
Electronic supplementary material
Below is the link to the electronic supplementary material.
About this article
Cite this article
Link, H., Nietsch, J., Kerkmann, M. et al. Adherence to granulocyte-colony stimulating factor (G-CSF) guidelines to reduce the incidence of febrile neutropenia after chemotherapy—a representative sample survey in Germany. Support Care Cancer 24, 367–376 (2016). https://doi.org/10.1007/s00520-015-2779-5
Received:

Accepted:

Published:

Issue Date:
Keywords
G-CSF guidelines

Febrile neutropenia

Adherence

Implementation

Physicians' professional profile