Abstract
Purpose
The escalating health-care spending for cancer management has caused cancer patients to struggle further as a result of financial burden. This systematic review was carried out to investigate the prevalence of perceived financial hardship and associated factors among cancer patients and their families.
Methods
A systematic search for studies concerning the perception of financial burden among cancer patients and their families was conducted. Several electronic resources such as Medline, Elsevier (Science Direct), Web of Science, Embase, PubMed, CINAHL and Scopus (SciVerse) were searched. Additionally, manual search through indices citation was also thoroughly utilized. The main outcome of interest was the prevalence of perceived financial hardship among cancer patients and their families. Studies reported only the cost of cancer treatment and qualitative studies were excluded. Our search was limited to articles that were published from 2003 to 2013.
Result
Ten studies were included in this review and with a majority originating from high-income countries. The prevalence of the financial burden perception was reported between 14.8 and 78.8 %. The most frequent and significant risk factor reported associated with the perception of financial difficulty was the households with low income. Discontinuation of treatment and poverty were conversely the important consequences of financial burden in cancer patients and their families.
Conclusion
Evidently, cancer is a long-term illness that requires a high financial cost, and a significant number of cancer patients and families struggle with financial difficulty. Identifying such groups with a high risk of facing financial difficulty is a crucial measure to ensure safety nets are readily available for these targeted population.
Access options
Buy single article
Instant access to the full article PDF.
US$ 39.95
Tax calculation will be finalised during checkout.
Subscribe to journal
Immediate online access to all issues from 2019. Subscription will auto renew annually.
US$ 119
Tax calculation will be finalised during checkout.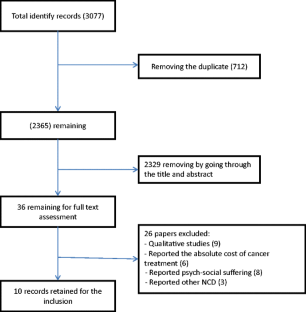 References
1.

(2011) Global status report on non-communicable diseases 2010. World Health Organization: Geneva

2.

de Souza JA, Wong Y-N (2013) Financial distress in cancer patients. J Med Pers 11:73–77

3.

van Doorslaer E et al. (2005) Paying out-of-pocket for health care in Asia: catastrophic and poverty impact. EQUITAP Project : Working Paper No. 2

4.

Kim J, Garman ET, Sorhaindo B (2003) Relationships among credit counseling clients' financial well-being, financial behaviors, financial stressor events, and health. J Assoc Financ Counsel Plan Educ 14(2):75–87

5.

Aldana SG (1998) Validity and reliability of a financial strain survey. J Financ Counsel Plan 9(2):11–19

6.

Rettig K, Leichtentritt R, Danes S (1999) The effects of resources, decision making, and decision implementing on perceived family well-being in adjusting to an economic stressor. J Fam Econ Issue 20(1):5–34

7.

Joo S, Grable JE (2004) An exploratory framework of the determinants of financial satisfaction. J Fam Econ Issue 25(1):25–50

8.

Drentea P (2000) Age, debt and anxiety. J Health Soc Behav 41(4):437–450

9.

Center for Evidence-Based Management. [cited May 2013]; Available from: http://www.cebma.org/frequently-asked-questions/what-is-critical-appraisal/.

10.

Gupta D, Lis CG, Grutsch JF (2007) Perceived cancer-related financial difficulty: implications for patient satisfaction with quality of life in advanced cancer. Support Care Cancer 15:1051–1056

11.

Bona K et al (2013) Economic impact of advanced pediatric cancer on families. J Pain Symptom Manag 47(3):594–603

12.

Pezzin LE, O'Niel MB, Nattinger AB (2009) The economic consequences of breast cancer adjuvant hormonal treatments. J Gen Intern Med 24(2):446–450

13.

Markman M, Luce R (2010) Impact of the cost of cancer treatment: an internet-based survey. Am Soc Clin Oncol 6(2):69–73

14.

Shankaran V et al (2012) Risk factors for financial hardship in patients receiving adjuvant chemotherapy for colon cancer: a population-based exploratory analysis. J Clin Oncol 30(14):1608–1614

15.

The World Bank [Retrieved June 2013: http://data.worldbank.org/country].

16.

Heath JA et al (2006) Childhood cancer: its impact and financial costs for Australian families. Pediatr Hematol Oncol 23(5):439–448

17.

Kodama Y et al (2012) Increased financial burden among patients with chronic myelogenous leukaemia receiving imatinib in Japan: a retrospective survey. BMC Cancer 12:152

18.

Zaidi AA, Ansari TZ, Khan A (2012) The financial burden of cancer: estimates from patients undergoing cancer care in a tertiary care hospital. Int J Equity Health 11:60

19.

Longo CJ et al (2006) Financial and family burden associated with cancer treatment in Ontario. Can Support Care Cancer 14:1077–1085

20.

Rogers SN et al (2012) Patients' perception of the financial impact of head and neck cancer and the relationship to health related quality of life. Br J Oral Maxillofac Surg 50:410–416

21.

Bosanquet N, Sikora K (2004) The economics of cancer care in the UK. Lancet 5(9):568–574

22.

J, M.-T.S. (1998) "C" is for costs, and cancer, and conference: highlights of the first European conference on the economics of cancer. J Oncol Pharm Pract. 4(2): 125–128

23.

Brown ML (2002) Estimating health care costs related to cancer treatment from the SEER-Medicare data. Med Care 40:104–117

24.

Gotsadze G, Zoidze A, Rukhadze N (2009) Household catastrophic health expenditure: evidence from Georgia and its policy implications. BMC Health Serv Res 9:69

25.

Somkotra T, Lagrada LP (2009) Which households are at risk of catastrophic health spending: experience in Thailand after universal coverage. Health Aff 28(3):W467–W478

26.

Su TT, Kouyate B, Flessa S (2006) Catastrophic household expenditure for health care in a low-income society: a study from Nouna District, Burkina Faso. Bull World Health Organ 84(1):21–27

27.

Yardim MS, Cilingiroglu N, Yardim N (2010) Catastrophic health expenditure and impoverishment in Turkey. Health Policy 94(1):26–33

28.

Berki SE (1986) A look at catastrophic medical expenses and the poor. Health Aff 5(4):138–145

29.

Pradhan M, Prescott N (2002) Social risk management options for medical care in Indonesia. Health Econ 11:431–446

30.

Xu K et al (2003) Household catastrophic health expenditure: a multicountry analysis. Lancet 362(9378):111–117

31.

Huffman MD et al (2011) A cross-sectional study of the microeconomic impact of cardiovascular disease hospitalization in four low- and middle-income countries. PLoS ONE 6:6

32.

Alvarez-Hernández E, Peláez-Ballestas I, Boonen A, Vázquez-Mellado J, Hernández-Garduño A, Rivera FC, Teran-Estrada L, Ventura-Ríos L, Ram-os-Remus C, Skinner-Taylor C, Goycochea-Robles MV, Bernard-Medina AG, Burgos-Vargas R (2012) Catastrophic health expenses and impoverishment of households of patients with rheumatoid arthritis. Reumatología Clínica 8(4):168–173
Acknowledgments
The study was sponsored by Institute of Research Management and Monitoring (IPPP) of the University of Malaya; PG038-2013A and University of Malaya Research Grant RP004B-13HTM.
Conflict of interest
None
Author contribution
MA developed the search strategy and performed the literature search. MA and TTS performed the study selections and drafted the manuscript. ACR reviewed and edited the manuscript.
About this article
Cite this article
Azzani, M., Roslani, A.C. & Su, T.T. The perceived cancer-related financial hardship among patients and their families: a systematic review. Support Care Cancer 23, 889–898 (2015). https://doi.org/10.1007/s00520-014-2474-y
Received:

Accepted:

Published:

Issue Date:
Keywords
Financial hardship

Cancer patient

Cancer patient's caregiver

Systematic review