Abstract
Purpose
Acute radiation cystitis, inflammation of the bladder, is a common side effect in men receiving external beam radiation for prostate cancer. Although several treatments provide symptomatic relief, there is no effective treatment to prevent or treat radiation cystitis. Cranberry products have been associated with urinary tract health. This study aimed to determine the effect of highly standardized cranberry capsules (containing 72 mg proanthocyanidins [PACS]) compared with that of placebo capsules on the incidence and severity of radiation cystitis.
Methods
Forty-one men with prostate cancer participated in a double blinded randomized placebo controlled study. Men took one capsule a day at breakfast during treatment and for 2 weeks after treatment completion. Severity of urinary symptoms and the bother these caused were measured using the individual items of the urinary domain of the Modified Expanded Prostate Index Composite (EPIC).
Results
The incidence of cystitis was lower in men taking cranberry capsules (65 %) compared with those that took placebo capsules (90 %) (p = 0.058); severe cystitis was seen in 30 % of men in the cranberry arm and 45 % in the placebo arm (p = 0.30). Overall, the incidence of pain/burning was significantly lower in the cranberry cohort (p = 0.045). Men on the low hydration regimen who took cranberry had less pain/burning (p = 0.038), stronger urine steam (p = 0.030) and used significantly fewer pads/liners (p = 0.042), which was significantly different from those on the high hydration regimen (p = 0.028).
Conclusion
Men receiving radiation therapy for prostate cancer may benefit from using cranberry capsules, particularly those on low hydration regimens or with baseline urinary symptoms.
Access options
Buy single article
Instant access to the full article PDF.
US$ 39.95
Tax calculation will be finalised during checkout.
Subscribe to journal
Immediate online access to all issues from 2019. Subscription will auto renew annually.
US$ 119
Tax calculation will be finalised during checkout.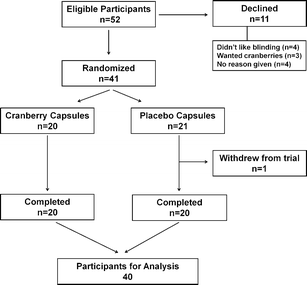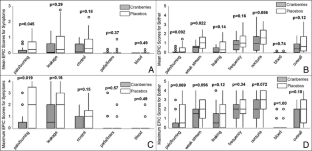 References
1.

New Zealand Cancer Registry (NZCR), Ministry of Health – Manatū Hauora, 2013. http://www.health.govt.nz/publication/cancer-selected-sites-2010-2011-2012

2.

McCammon R, Rusthoven KE, Kavanagh B, Newell S, Newman F, Raben D (2009) Toxicity assessment of pelvic intensity-modulated radiotherapy with hypofractionated simultaneous integrated boost to prostate for intermediate- and high-risk prostate cancer. Int J Radiat Oncol Biol Phys 75:413–420

3.

Pervez N, Small C, MacKenzie M, Yee D, Parliament M, Ghosh S, Mihai A, Amanie J, Murtha A, Field C, Murray D, Fallone G, Pearcey R (2010) Acute toxicity in high-risk prostate cancer patients treated with androgen suppression and hypofractionated intensity-modulated radiotherapy. Int J Radiat Oncol Biol Phys 76:57–64

4.

Cowan CC, Hutchison C, Cole T, Barry SJE, Paul J, Reed NS, Russell JM (2012) A randomised double-blind placebo-controlled trial to determine the effect of cranberry juice on decreasing the incidence of urinary symptoms and urinary tract infections in patients undergoing radiotherapy for cancer of the bladder or cervix. Clin Oncol 24:e31–e38

5.

Antonakopoulos GN, Hicks RM, Berry RJ (1984) The subcellular basis of damage to the human urinary bladder induced by irradiation. J Pathol 143:103–116

6.

Engles CD, Hauser PJ, Abdullah SN, Culkin DJ, Hurst RE (2012) Intravesical chondroitin sulfate inhibits recruitment of inflammatory cells in an acute acid damage "leaky bladder" model of cystitis. Urology 79(2):483.e13-7

7.

Giberti C, Gallo F, Cortese PS, Shenone M (2013) Combined intravesical sodium hyaluronate/chondroitin sulfate therapy for interstitial cystitis/bladder pain syndrome: a prospective study. Ther Adv Urol 5:175–179

8.

Porru D, Leva F, Parmigiani A, Barletta D, Choussos D, Gardella B, Daccò MD, Nappi RE, Allegri M, Tinelli C, Bianchi CM, Spinillo A, Rovereto B (2012) Impact of intravesical hyaluronic acid and chondroitin sulfate on bladder pain syndrome/interstitial cystitis. Int Urogynecol J 23:1193–1199

9.

Hisano M, Bruschini H, Nicodemo A, Srougi M (2012) Cranberries and lower urinary tract infection prevention. Clinics 67:661–667

10.

Jepson RG, Williams G, Craig JC (2012) Cranberries for preventing urinary tract infections. Cochrane Database Syst Rev. doi:10.1002/14651858.CD001321.pub5

11.

Brown PN, Turi CE, Shipley PR, Murch SJ (2012) Comparisons of large (Vaccinium macrocarpon Ait.) and small (Vaccinium oxycoccos L., Vaccinium vitis-idaea L.) cranberry in British Columbia by phytochemical determination, antioxidant potential, and metabolomic profiling with chemometric analysis. Planta Med 78:630–640

12.

Cesonienė L, Daubaras R, Jasutienė I, Venclovienė J, Miliauskiene I (2011) Evaluation of the biochemical components and chromatic properties of the juice of Vaccinium macrocarpon Aiton and Vaccinium oxycoccos L. Plant Foods Hum Nutr 66:238–244

13.

Côté J, Caillet S, Doyon G, Sylvain JF, Lacroix M (2010) Bioactive compounds in cranberries and their biological properties. Crit Rev Food Sci Nutr 50:666–679

14.

Kylli P, Nohynek L, Puupponen-Pimiä R, Westerlund-Wikström B, Leppänen T, Welling J, Moilanen E, Heinonen M (2011) Lingonberry (Vaccinium vitis-idaea) and European cranberry (Vaccinium microcarpon) proanthocyanidins: isolation, identification, and bioactivities. J Agric Food Chem 59:373–3384

15.

Caillet S (2012) Free Radical-scavenging properties and antioxidant activity of fractions from cranberry products. Food Nutr Sci 03:337–347

16.

Rajbhandari R, Peng N, Moore R, Arabshahi A, Wyss JM, Barnes SP, Prasain JK (2011) Determination of cranberry phenolic metabolites in rats by liquid chromatography-tandem mass spectrometry. J Agric Food Chem 59:6682–6688

17.

Milbury PE, Cao G, Prior RL, Blumberg J (2002) Bioavailablility of elderberry anthocyanins. Mech Ageing Dev 123:997–1006

18.

Milbury PE, Vita JA, Blumberg JB (2010) Anthocyanins are bioavailable in humans following an acute dose of cranberry juice. J Nutr 140:1099–10104

19.

Ohnishi R, Ito H, Kasajima N, Kaneda R, Karyama R, Kumon H, Hatano T, Yoshida T (2006) Urinary excretion of anthocyanins in humans after cranberry juice ingestion. Biosci Biotechnol Biochem 70:1681–1687

20.

Karlsen A, Retterstøl L, Laake P, Paur I, Bøhn SK, Sandvik L, Blomhoff R (2007) Anthocyanins inhibit nuclear factor-kappaB activation in monocytes and reduce plasma concentrations of pro-inflammatory mediators in healthy adults. J Nutr 137:1951–1954

21.

Campbell G, Pickles T, D'yachkova Y (2003) A randomised trial of cranberry versus apple juice in the management of urinary symptoms during external beam radiation therapy for prostate cancer. Clin Oncol 15:322–328

22.

Bonetta A, Di Pierro F (2012) Enteric-coated, highly standardized cranberry extract reduces risk of UTIs and urinary symptoms during radiotherapy for prostate carcinoma. Cancer Manag Res 4:281–286

23.

Wei JT, Dunn RL, Litwin MS, Sandler HM, Sanda MG (2000) Development and validation of the expanded prostate cancer index composite (EPIC) for comprehensive assessment of health-related quality of life in men with prostate cancer. Urology 56:899–905

24.

Hedgepeth RC, Labo J, Zhang L, Wood DP (2009) Expanded Prostate Cancer Index Composite versus Incontinence Symptom Index and Sexual Health Inventory for Men to measure functional outcomes after prostatectomy. J Urol 182:221–227, discussion 227–8

25.

Conover WJ, Iman RL (1981) IRL. Rank transformations as a bridge between parametric and nonparametric statistics. Am Stat 35:124–129

26.

Erickson DR, Herb N, Ordille S, Harmon N, Bhavanandan VP (2000) A new direct test of bladder permeability. J Urol 164:419–422

27.

Howell AB, Botto H, Combescure C, Blanc-Potard AB, Gausa L, Matsumoto T, Tenke P, Sotto A, Lavigne JP (2010) Dosage effect on uropathogenic Escherichia coli anti-adhesion activity in urine following consumption of cranberry powder standardized for proanthocyanidin content: a multicentric randomized double blind study. BMC Infect Dis 10:94. doi:10.1186/1471-2334-10-94, 2010;10:1–11
Acknowledgements
This research was funded by grants from the University of Otago and the Health Otago Charitable Trust and by the Southern Blood and Cancer centre. Cranberry and placebo capsules were provided free of charge by Naturo Pharm LTD.
Conflict of interest
The authors declare no conflict of interest. Although Naturo Pharm LTD provided the capsules, the firm had no input into study design, execution, analysis or publication of this research.
Electronic supplementary material
Below is the link to the electronic supplementary material.
About this article
Cite this article
Hamilton, K., Bennett, N.C., Purdie, G. et al. Standardized cranberry capsules for radiation cystitis in prostate cancer patients in New Zealand: a randomized double blinded, placebo controlled pilot study. Support Care Cancer 23, 95–102 (2015). https://doi.org/10.1007/s00520-014-2335-8
Received:

Accepted:

Published:

Issue Date:
Keywords
Cranberry capsules

Double blinded

Placebo capsules

Radiation cystitis

Randomized