Abstract
Objective
Androgen deprivation therapy (ADT) for the management of prostate cancer results in a range of side effects including sexual dysfunction. Exercise is proposed as a potentially effective therapy to counteract changes in sexual function. The current study explored the impact of ADT on men's sexuality and the effect of exercise on this experience.
Methods
Semi-structured, in-depth interviews were conducted with 18 men (age = 63.1 ± 3.8) who were on ADT for prostate cancer for ≤12 months and who were part of a pre-existing exercise intervention trial.
Results
Sexual concerns for men included changes in body image, partner relationships, sex drive, sexual performance and masculinity. In coping with these concerns, men described a sense of personal acceptance of sexual changes through a shift in priorities and values away from penetrative sexual intercourse, knowledge and understanding about ADT, and partner support. Exercise in a group-based setting contributed to the acceptance of sexual changes through affirming strength-based aspects of masculinity and peer support.
Conclusion
Exercise appears to have utility as a strategy to assist men to manage the negative impact of ADT on sexuality and masculinity more broadly.
Access options
Buy single article
Instant access to the full article PDF.
US$ 39.95
Tax calculation will be finalised during checkout.
Subscribe to journal
Immediate online access to all issues from 2019. Subscription will auto renew annually.
US$ 119
Tax calculation will be finalised during checkout.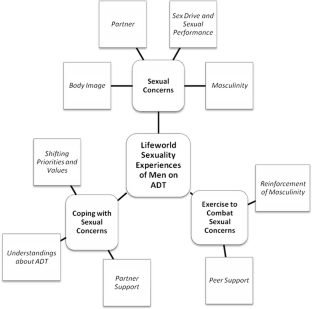 References
1.

Ottenbacher A, Sloane R, Snyder DC, Kraus W, Sprod L, Demark-Wahnefried W (2013) Cancer-specific concerns and physical activity among recently diagnosed breast and prostate cancer survivors. Integr Cancer Ther 12(3):206–212

2.

Smith DP, Supramaniam R, King MT, Ward J, Berry M, Armstrong BK (2007) Age, health, and education determine supportive care needs of men younger than 70 years with prostate cancer. J Clin Oncol 25(18):2560–2566

3.

Higano CS (2012) Sexuality and intimacy after definitive treatment and subsequent androgen deprivation therapy for prostate cancer. J Clin Oncol 30(30):3720–3725

4.

Ng E, Woo HH, Turner S, Leong E, Jackson M, Spry N (2012) The influence of testosterone suppression and recovery on sexual function in men with prostate cancer: observations from a prospective study in men undergoing intermittent androgen suppression. J Urol 187(6):2162–2167

5.

Spry N, Kristjanson L, Hooton B, Hayden L, Neerhut G, Gurney H, Corica T, Korbel E, Weinstein S, McCaul K (2006) Adverse effects to quality of life arising from treatment can recover with intermittent androgen suppression in men with prostate cancer. Eur J Cancer 42(8):1083–1092

6.

Galvao DA, Taaffe DR, Spry N, Newton RU (2011) Physical activity and genitourinary cancer survivorship. Recent Results Cancer Res 186:217–236

7.

Galvao DA, Spry NA, Taaffe DR, Newton RU, Stanley J, Shannon T, Rowling C, Prince R (2008) Changes in muscle, fat and bone mass after 36 weeks of maximal androgen blockade for prostate cancer. Br J Urol Int 102(1):44–47

8.

Steginga SK, Occhipinti S, Gardiner RA, Yaxley J, Heathcote P (2004) Prospective study of men's psychological and decision-related adjustment after treatment for localized prostate cancer. Urology 63(4):751–756

9.

Herr HW, O'Sullivan M (2000) Quality of life of asymptomatic men with nonmetastatic prostate cancer on androgen deprivation therapy. J Urol 163(6):1743–1746

10.

Galvao DA, Taaffe DR, Spry N, Joseph D, Turner D, Newton RU (2009) Reduced muscle strength and functional performance in men with prostate cancer undergoing androgen suppression: a comprehensive cross-sectional investigation. Prostate Cancer Prostatic Dis 12(2):198–203

11.

Sivarajan G, Prabhu V, Taksler GB, Laze J, Lepor HL (2013) Ten-year outcomes of sexual function after radical prostatectomy: results of a prospective longitudinal study. Eur Urol

12.

Bober SL, Varela VS (2012) Sexuality in adult cancer survivors: challenges and intervention. J Clin Oncol 30(30):3712–3719

13.

Peltier A, van Velthoven R, Roumeguère T (2009) Current management of erectile dysfunction after cancer treatment. Curr Opin Oncol 21(4):303–309

14.

Cormie P, Newton RU, Taaffe DR, Spry N, Galvão DA (2013) Exercise therapy for sexual dysfunction after prostate cancer. Nat Rev Urol 10:731–736

15.

Cormie P, Newton R, Taaffe D, Spry N, Joseph D, Akhlil Hamid M, Galvao D (2013) Exercise maintains sexual activity in men undergoing androgen suppression for prostate cancer: a randomized controlled trial. Prostate Cancer Prostatic Dis 16:170–175

16.

Cormie P, Galvão DA, Spry N, Joseph D, Chee R, Taaffe DR, Chambers SK, Newton RU (2013) Can exercise prevent treatment toxicity in prostate cancer patients initiating androgen deprivation therapy: a randomised controlled trial. BJU Int. Accepted Jan 9

17.

Galvao DA, Taaffe DR, Spry N, Joseph D, Newton RU (2010) Combined resistance and aerobic exercise program reverses muscle loss in men undergoing androgen suppression therapy for prostate cancer without bone metastases: a randomized controlled trial. J Clin Oncol 28(2):340–347

18.

Segal RJ, Reid RD, Courneya KS, Sigal RJ, Kenny GP, Prud'Homme DG, Malone SC, Wells GA, Scott CG, Slovinec D'Angelo ME (2009) Randomized controlled trial of resistance or aerobic exercise in men receiving radiation therapy for prostate cancer. J Clin Oncol 27(3):344–351

19.

Oliffe J (2005) Constructions of masculinity following prostatectomy-induced impotence. Soc Sci Med 60(10):2249–2259

20.

Oliffe J (2006) Embodied masculinity and androgen deprivation therapy. Sociol Health Illn 28(4):410–432

21.

Gergen KJ (1985) The social constructionist movement in modern psychology. Am Psychol 40(3):266

22.

Stryker S, Burke PJ (2000) The past, present, and future of an identity theory. Soc Psychol Q 63:284–297

23.

Toombs SK (1988) Illness and the paradigm of lived body. Theor Med 9(2):201–226

24.

Newton RU, Taaffe DR, Spry N, Cormie P, Chambers SK, Gardiner RA, Shum DHK, Joseph D, Galvão DA (2012) Can exercise ameliorate treatment toxicity during the initial phase of testosterone deprivation in prostate cancer patients? Is this more effective than delayed rehabilitation? BMC Cancer 12(1):432

25.

Braun V, Clarke V (2006) Using thematic analysis in psychology. Qual Res Psychol 3(2):77–101

26.

Eziefula C, Grunfeld E, Hunter M (2013) 'You know I've joined your club… I'm the hot flush boy': a qualitative exploration of hot flushes and night sweats in men undergoing androgen deprivation therapy for prostate cancer. Psycho-Oncology 22(12):2823–2830

27.

Drummond MJ (2002) Men, body image, and eating disorders. Int J Men's Health 1(1):89–103

28.

Daniel S, Bridges SK (2013) The relationships among body image, masculinity, and sexual satisfaction in men. Psychol Men Masculinity 14(4):345–351

29.

Klaeson K, Sandell K, Berterö CM (2012) Sexuality in the context of prostate cancer narratives. Qual Health Res 22(9):1184–1194

30.

Oliffe J (2009) Health behaviors, prostate cancer, and masculinities a life course perspective. Men Masculinities 11(3):346–366

31.

Taylor SE, Lobel M (1989) Social comparison activity under threat: downward evaluation and upward contacts. Psychol Rev 96(4):569

32.

Cohen S, Wills TA (1985) Stress, social support, and the buffering hypothesis. Psychol Bull 98(2):310

33.

Taylor SE (2011) Social support: a review. In: Friedman H (ed) The handbook of health psychology. Oxford University Press, New York, pp 189–214

34.

Schaefer C, Coyne JC, Lazarus RS (1981) The health-related functions of social support. J Behav Med 4(4):381–406

35.

Oliffe JL, Ogrodniczuk J, Bottorff JL, Hislop TG, Halpin M (2009) Connecting humor, health, and masculinities at prostate cancer support groups. Psycho-Oncology 18(9):916–926

36.

Sloan C, Gough B, Conner M (2010) Healthy masculinities? How ostensibly healthy men talk about lifestyle, health and gender. Psychol Health 25(7):783–803

37.

Hoey LM, Ieropoli SC, White VM, Jefford M (2008) Systematic review of peer-support programs for people with cancer. Patient Educ Couns 70(3):315–337

38.

Oliffe JL, Gerbrandt JS, Bottorff JL, Hislop TG (2010) Health promotion and illness demotion at prostate cancer support groups. Health Promot Pract 11(4):562–571

39.

Dennis C-L (2003) Peer support within a health care context: a concept analysis. Int J Nurs Stud 40(3):321–332

40.

Creighton G, Oliffe JL (2010) Theorising masculinities and men's health: a brief history with a view to practice. Health Sociol Rev 19(4):409–418

41.

Estabrooks PA (2000) Sustaining exercise participation through group cohesion. Exerc Sport Sci Rev 28(2):63–67

42.

May AM, Duivenvoorden HJ, Korstjens I, van Weert E, Hoekstra-Weebers JE, van den Borne B, Mesters I, van der Schans CP, Ros WJ (2008) The effect of group cohesion on rehabilitation outcome in cancer survivors. Psycho-Oncology 17(9):917–925

43.

Midtgaard J, Rorth M, Stelter R, Adamsen L (2006) The group matters: an explorative study of group cohesion and quality of life in cancer patients participating in physical exercise intervention during treatment. Eur J Cancer Care 15(1):25–33

44.

Dunlop WL, Beauchamp MR (2011) Does similarity make a difference? Predicting cohesion and attendance behaviors within exercise group settings. Group Dyn Theory Res Pract 15(3):258

45.

Hewitt M, Rowland JH (2002) Mental health service use among adult cancer survivors: analyses of the National Health Interview Survey. J Clin Oncol 20(23):4581–4590

46.

Cormie P, Chambers SK, Newton RU, Gardiner RA, Spry N, Taaffe D, Joseph D, Hamid MA, Chong P, Hughes D, Hamilton K, Galvão DA (2014) Improving sexual health in men with prostate cancer: randomised controlled trial of exercise and psychosexual therapies. BMC Cancer 14:199
Acknowledgments
SKC is supported by an Australian Research Council Professorial Future Fellowship. PC is supported by the Cancer Council Western Australia Postdoctoral Research Fellowship. We would like to thank exercise physiologists Courtney White, Mark Trevaskis and Kelly Vibert
Conflict of interest
None.
About this article
Cite this article
Hamilton, K., Chambers, S.K., Legg, M. et al. Sexuality and exercise in men undergoing androgen deprivation therapy for prostate cancer. Support Care Cancer 23, 133–142 (2015). https://doi.org/10.1007/s00520-014-2327-8
Received:

Accepted:

Published:

Issue Date:
Keywords
Prostate Cancer

Sexuality

Androgen deprivation therapy

Exercise

Masculinity