Abstract
Purpose
Cancer-related fatigue is a multidimensional symptom with an underestimated prevalence and severity in cancer patients. The aim of the study was to evaluate the effect of dance as a holistic sportive activity in cancer patients under active anticancer treatment with fatigue as endpoint.
Patients and methods
Forty patients under active anticancer treatment (adjuvant (25), palliative (11) or neoadjuvant (4)) with moderate or severe fatigue (≥4 on the visual analogue scale) were investigated in two groups for severity of fatigue (visual analogue scale, Functional Assessment of Chronic Illness Therapy: Fatigue questionnaire), quality of life (European Organization for Research and Treatment of Cancer, Quality of Life Questionnaire) and physical performance (6-minute walk test) before and after the study period—group A (n = 20): intervention (10 dance classes in 5 weeks in addition to counselling) and group B (n = 20): control (no dance, standard of care, counselling).
Results
We found significant improvements for cancer-related fatigue in the intervention group (baseline mean ± SD 5.95 ± 1.701, end-of-study mean 3.8 ± 1.542, p = 0.001, reduction of 36 %) compared to the control group (baseline mean 4.95 ± 0.999, end-of-study mean unchanged at 5.0 ± 1.556, p = 0.887); as well as for emotional and social functioning scales and physical performance (p < 0.05).
Conclusion
Dance might be an appropriate, effective approach for treatment of cancer-related fatigue.
This is a preview of subscription content, log in to check access.
Access options
Buy single article
Instant access to the full article PDF.
US$ 39.95
Price includes VAT for USA
Subscribe to journal
Immediate online access to all issues from 2019. Subscription will auto renew annually.
US$ 199
This is the net price. Taxes to be calculated in checkout.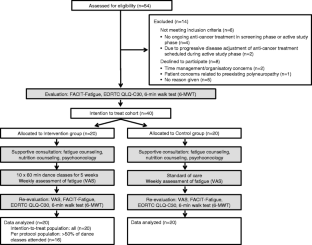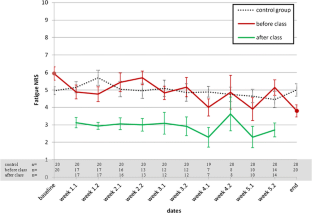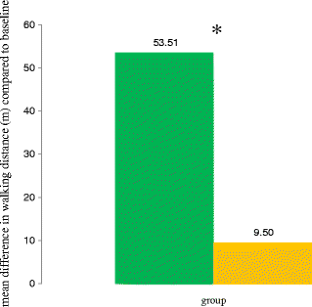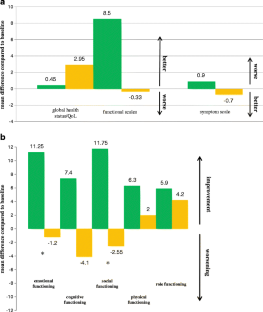 References
1.

Aaronson NK, Ahmedzai S, Bergman B, Bullinger M, Cull A, Duez NJ, Filiberti A, Flechtner H, Fleishman SB, de Haes JC et al (1993) The European Organization for Research and Treatment of Cancer QLQ-C30: a quality-of-life instrument for use in international clinical trials in oncology. J Natl Cancer Inst 85:365–376

2.

Barsevick AM, Cleeland CS, Manning DC, O'Mara AM, Reeve BB, Scott JA, Sloan JA (2010) ASCPRO recommendations for the assessment of fatigue as an outcome in clinical trials. J Pain Symptom Manage 39:1086–1099

3.

Bradt J, Goodill SW, Dileo C (2011) Dance/movement therapy for improving psychological and physical outcomes in cancer patients. Cochrane Database Syst Rev: CD007103

4.

Bruera E, Yennurajalingam S, Palmer JL, Perez-Cruz PE, Frisbee-Hume S, Allo JA, Williams JL, Cohen MZ (2013) Methylphenidate and/or a nursing telephone intervention for fatigue in patients with advanced cancer: a randomized, placebo-controlled, phase II trial. J Clin Oncol 31:2421–2427

5.

Campos MP, Hassan BJ, Riechelmann R, Del Giglio A (2011) Cancer-related fatigue: a practical review. Ann Oncol 22:1273–1279

6.

Cheville AL, Shen T, Chang M, Basford JR (2013) Appropriateness of the treatment of fatigued patients with stage IV cancer. Support Care Cancer 21(1):229–233

7.

Cramp F, Byron-Daniel J (2012) Exercise for the management of cancer-related fatigue in adults. Cochrane Database Syst Rev 11. doi:10.1002/14651858.CD006145.pub3

8.

Dibbell-Hope S (2000) The use of dance/movement therapy in psychological adaptation to breast cancer. Arts Psychother 27:51–68

9.

Dimeo F, Schwartz S, Wesel N, Voigt A, Thiel E (2008) Effects of an endurance and resistance exercise program on persistent cancer-related fatigue after treatment. Ann Oncol 19:1495–1499

10.

Donovan KA, McGinty HL, Jacobsen PB (2013) A systematic review of research using the diagnostic criteria for cancer-related fatigue. Psychooncology 22(4):737–744

11.

FACIT (2009) Functional assessment of chronic illness therapy-fatigue (FACIT-F), www.facit.org/FACITOrg, accessed 25.10.2013

12.

Glass GV (1997) Interrupted time series quasi-experiments. In: Jaeger RM (ed) Complementary methods for research in education. American Educational Research Association, Washington D. C., pp 589–608

13.

Haass M, Zugck C, Kubler W (2000) The 6 minute walking test: a cost-effective alternative to spiro-ergometry in patients with chronic heart failure? Z Kardiol 89:72–80

14.

Hanna JL (1995) The power of dance: health and healing. J Altern Complement Med 1:323–331

15.

Henry DH, Viswanathan HN, Elkin EP, Traina S, Wade S, Cella D (2008) Symptoms and treatment burden associated with cancer treatment: results from a cross-sectional national survey in the U.S. Support Care Cancer 16:791–801

16.

Hofman M, Ryan JL, Figueroa-Moseley CD, Jean-Pierre P, Morrow GR (2007) Cancer-related fatigue: the scale of the problem. Oncologist 12(Suppl 1):4–10

17.

Horneber M, Fischer I, Dimeo F, Ruffer JU, Weis J (2012) Cancer-related fatigue: epidemiology, pathogenesis, diagnosis, and treatment. Dtsch Arztebl Int 109:161–171

18.

Jean-Pierre P, Morrow GR, Roscoe JA, Heckler C, Mohile S, Janelsins M, Peppone L, Hemstad A, Esparaz BT, Hopkins JO (2010) A phase 3 randomized, placebo-controlled, double-blind, clinical trial of the effect of modafinil on cancer-related fatigue among 631 patients receiving chemotherapy: a University of Rochester Cancer Center Community Clinical Oncology Program Research base study. Cancer 116:3513–3520

19.

Jeong Y, Hong S, Lee M, Park M, Kim Y, Suh C (2005) Dance movement therapy improves emotional responses and modulates neurohormones in adolescents with mild depression. Int J Neurosci 115:1711–1720

20.

Jones L, Alfano C (2013) Exercise-oncology research: past, present, and future. Acta Oncol 52:195–215

21.

Deutsche Krebshilfe D (2012) Fatigue. Chronische Müdigkeit bei Krebs. Antworten. Hilfen. Perspektiven, http://www.krebshilfe.de/wir-informieren/material-fuer-betroffene/blaue-ratgeber.html, accessed 19.03.2014

22.

Kwon YC, Yun YH, Lee KH, Son KY, Park SM, Chang YJ, Wang XS, Mendoza TR, Cleeland CS (2006) Symptoms in the lives of terminal cancer patients: which is the most important? Oncology 71:69–76

23.

Mannheim EG, Weis J (2005) Tanztherapie mit Krebspatienten. Ergebnisse einer Pilotstudie Musik-, Tanz- und Kunsttherapie 16:121–128

24.

Mendoza TR, Wang XS, Cleeland CS, Morrissey M, Johnson BA, Wendt JK, Huber SL (1999) The rapid assessment of fatigue severity in cancer patients: use of the Brief Fatigue Inventory. Cancer 85:1186–1196

25.

Mishra SI, Scherer RW, Snyder C, Geigle PM, Berlanstein DR, Topaloglu O (2012) Exercise interventions on health-related quality of life for people with cancer during active treatment. Cochrane Database Syst Rev 8:CD008465

26.

Molassiotis A, Bardy J, Finnegan-John J, Mackereth P, Ryder D, Filshie J, Ream E, Richardson A (2012) Acupuncture for cancer-related fatigue in patients with breast cancer: a pragmatic randomized controlled trial. J Clin Oncol 30:4470–4476

27.

Mustian KM, Palesh O, Heckler CE, Roscoe JA, Morrow GR, Jacobs A, Issell B, Schwartzenberger PO (2008) Cancer-related fatigue interferes with activities of daily living among 753 patients receiving chemotherapy: a URCC CCOP study. J Clin Oncol 26: #9500 (abstract)

28.

NCCN (2014) Cancer-related fatigue. National Comprehensive Cancer Network (NCCN) Clinical Practise Guidelines in Oncology. Version 1.2014, http://www.nccn.org/professionals/physician_gls/f_guidelines.asp, accessed 19.03.2014

29.

Pichurko BM (2012) Exercising your patient: which test(s) and when? Respir Care 57:100–110, discussion 110-103

30.

Potthoff K, Schmidt M, Wiskemann J, Hof H, Klassen O, Habermann N, Beckhove P, Debus J, Ulrich C, Steindorf K (2013) Randomized controlled trial to evaluate the effects of progressive resistance training compared to progressive muscle relaxation in breast cancer patients undergoing adjuvant radiotherapy: the BEST study. BMC Cancer 13:162

31.

Puetz TW, Herring MP (2012) Differential effects of exercise on cancer-related fatigue during and following treatment: a meta-analysis. Am J Prev Med 43:e1–e24

32.

Shadish WR, Heinsman DT (1997) Experiments versus quasi-experiments: do they yield the same answer? NIDA Res Monogr 170:147–164

33.

Singer S, Kuhnt S, Zwerenz R, Eckert K, Hofmeister D, Dietz A, Giesinger J, Hauss J, Papsdorf K, Briest S, Brown A (2011) Age- and sex-standardised prevalence rates of fatigue in a large hospital-based sample of cancer patients. Br J Cancer 105:445–451

34.

Stone P, Richardson A, Ream E, Smith AG, Kerr DJ, Kearney N (2000) Cancer-related fatigue: inevitable, unimportant and untreatable? Results of a multi-centre patient survey. Cancer Fatigue Forum Ann Oncol 11:971–975

35.

Weis J, Arraras JI, Conroy T, Efficace F, Fleissner C, Gorog A, Hammerlid E, Holzner B, Jones L, Lanceley A, Singer S, Wirtz M, Flechtner H, Bottomley A (2013) Development of an EORTC quality of life phase III module measuring cancer-related fatigue (EORTC QLQ-FA13). Psychooncology 22(5):1002–1007

36.

Yun YH, Lee KS, Kim YW, Park SY, Lee ES, Noh DY, Kim S, Oh JH, Jung SY, Chung KW, Lee YJ, Jeong SY, Park KJ, Shim YM, Zo JI, Park JW, Kim YA, Shon EJ, Park S (2012) Web-based tailored education program for disease-free cancer survivors with cancer-related fatigue: a randomized controlled trial. J Clin Oncol 30:1296–1303
Acknowledgements
We thank PharmaMar, Madrid, for financial support of this study. We thank Kelvin O. Hardy, dancer, dance trainer and choreographer, Berlin, for expert choreographies and excellent dance training and Dr. Petra Jöstingmeyer, medunit GmbH, for editorial support.
Conflict of interest
All authors declare that they have no competing interests and nothing to disclose.
Additional information
This study is registered in the DRKS 00004351 (Deutsches Register Klinischer Studien).
About this article
Cite this article
Sturm, I., Baak, J., Storek, B. et al. Effect of dance on cancer-related fatigue and quality of life. Support Care Cancer 22, 2241–2249 (2014). https://doi.org/10.1007/s00520-014-2181-8
Received:

Accepted:

Published:

Issue Date:
Keywords
Cancer-related fatigue

Cancer therapy

Side effect

Fatigue

Therapy

Dance