Abstract
Purpose
We aimed to investigate whether patient self-evaluated symptoms transmitted via Internet can be used between planned visits to provide an early indication of disease relapse in lung cancer.
Methods
Between 2/2013 and 8/2013, 42 patients with lung cancer having access to Internet were prospectively recruited to weekly fill a form of 11 self-assessed symptoms called "sentinel follow-up". Data were sent to the oncologist in real-time between planned visits. An alert email was sent to oncologist when self-scored symptoms matched some predefined criteria. Follow-up visit and imaging were then organized after a phone call for confirming suspect symptoms. Weekly and monthly compliances, easiness with which patients used the web-application and the accuracy of the sentinel follow-up for relapse detection were assessed and compared to a routine visit and imaging follow-up.
Results
Median follow-up duration was 18 weeks (8–32). Weekly and monthly average compliances were 79 and 94 %, respectively. Sixty percents of patients declared to be less anxious during the few days before planned visit and imaging with the sentinel follow-up than without. Sensitivity, specificity, positive, and negative predictive values provided by the sentinel (planned imaging) follow-up were 100 %(84 %), 89 %(96 %), 81 %(91 %), and 100 %(93 %), respectively and well correlated with relapse (pχ 2 < 0.001). On average, relapses were detectable 5 weeks earlier with sentinel than planned visit.
Conclusion
An individualized cancer follow-up that schedule visit and imaging according to the patient status based on weekly self-reported symptoms transmitted via Internet is feasible with high compliance. It may even provide earlier detection of lung cancer relapse and care.
Access options
Buy single article
Instant access to the full article PDF.
USD 39.95
Price excludes VAT (USA)
Tax calculation will be finalised during checkout.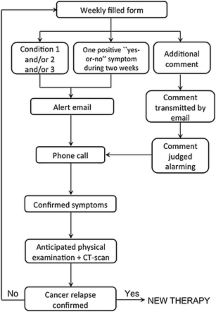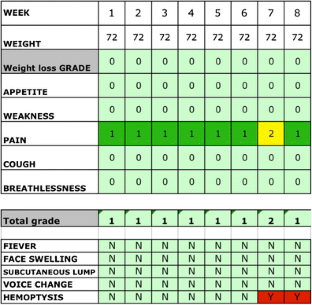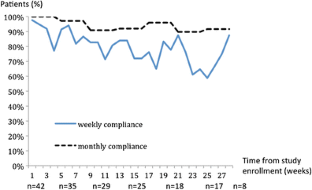 References
Selby JV, Beal AC, Frank L (2012) The Patient-Centered Outcomes Research Institute (PCORI) national priorities for research and initial research agenda. JAMA 307:1583–1584

Basch E, Artz D, Dulko D, Scher K et al (2005) Patient online self-reporting of toxicity symptoms during chemotherapy. J Clin Oncol 23:3552–3561

Walsh GL, O'Connor M, Willis KM et al (1995) Is follow-up of lung cancer patients after resection medically indicated and cost-effective? Ann Thorac Surg 60(6):1563–1570

Gilbert S, Reid KR, Lam MY et al (2000) Who should follow up lung cancer patients after operation? Ann Thorac Surg 69(6):1696–1700

Westeel V, Choma D, Clement F et al (2000) Relevance of an intensive postoperative follow-up after surgery for non-small cell lung cancer. Ann Thorac Surg 70(4):1185–1190

Vansteenkiste J, De Ruysscher D, Eberhardt WE et al (2013) ESMO Clinical Practice Guidelines for diagnosis, treatment and follow-up. Ann Oncol

Denis F, Viger L, Charron A et al (2013) Detecting lung cancer relapse using self-evaluation forms weekly filled at home: the sentinel follow-up. Support Care Cancer

Basch E, Iasonos A, Barz A et al (2007) Long-term toxicity monitoring via electronic patient-reported outcomes in patients receiving chemotherapy. J Clin Oncol 25:5374–5380

Judson TJ, Bennett AV, Rogak LJ, Sit L et al (2013) Feasibility of long-term patient self-reporting of toxicities from home via the Internet during routine chemotherapy. J Clin Oncol 31(20):2580–2585

Pietanza MC, Basch EM, Lash A et al (2013) Harnessing technology to improve clinical trials: study of real-time informatics to collect data, toxicities, image response assessments, and patient-reported outcomes in a phase II clinical trial. J Clin Oncol 31(16):2004–2009

Pfister DG, Johnson DH, Azzoli CG et al (2004) American Society of Clinical Oncology treatment of unresectable non-small-cell lung cancer guideline: update 2003. J Clin Oncol 22:330–353

NCCN Guidelines™ Version 1. (2012) Non-Small Cell Lung Cancer

Narducci F, Grande R, Mentuccia L et al (2012) Symptom improvement as prognostic factor for survival in cancer patients undergoing palliative care: a pilot study. Support Care Cancer 20(6):1221–1226

Liao YC, Liao WY, Shun SC et al (2011) Symptoms, psychological distress, and supportive care needs in lung cancer patients. Support Care Cancer 19(11):1743–1751
Financial disclosures, conflicts of interest
There are no financial disclosures, conflicts of interest, for the authors, and no funding sources for the manuscript.
About this article
Cite this article
Denis, F., Viger, L., Charron, A. et al. Detection of lung cancer relapse using self-reported symptoms transmitted via an Internet Web-application: pilot study of the sentinel follow-up. Support Care Cancer 22, 1467–1473 (2014). https://doi.org/10.1007/s00520-013-2111-1
Received:

Accepted:

Published:

Issue Date:

DOI: https://doi.org/10.1007/s00520-013-2111-1
Keywords