Abstract
Purpose
Sexual dysfunction among patients with colorectal cancer is frequently reported. Studies examining patients' sexual health care needs are rare. We examined the sexual health care needs after colorectal cancer treatment according to patients, partners, and health care professionals (HCPs). Factors that impede or facilitate the quality of this care were identified.
Method
Participants were recruited from three Dutch hospitals: St. Elisabeth, TweeSteden, and Catharina hospitals. Patients (n = 21), partners (n = 9), and 10 HCPs participated in eight focus groups.
Results
It is important to regularly evaluate and manage sexual issues. This does not always occur. Almost all participants reported a lack of knowledge and feelings of embarrassment or inappropriateness as barriers to discuss sexuality. HCPs reported stereotypical assumptions regarding the need for care based on age, sex, and partner status. The HCPs debated on whose responsibility it is that sexuality is discussed with patients. Factors within the organization, such as insufficient re-discussion of sexuality during (long-term) follow-up and unsatisfactory (knowledge of the) referral system impeded sexual health care. The HCPs could facilitate adequate sexual health care by providing patient-tailored information and permission to discuss sex, normalizing sexual issues, and establishing an adequate referral system. It is up to the patients and partners to demarcate the extent of sexual health care needed.
Conclusions
Our findings illustrate the need for patient-tailored sexual health care and the complexity of providing/receiving this care. An adequate referral system and training are needed to help HCPs engage in providing satisfactory sexual health care.
Access options
Buy single article
Instant access to the full article PDF.
US$ 39.95
Tax calculation will be finalised during checkout.
Subscribe to journal
Immediate online access to all issues from 2019. Subscription will auto renew annually.
US$ 119
Tax calculation will be finalised during checkout.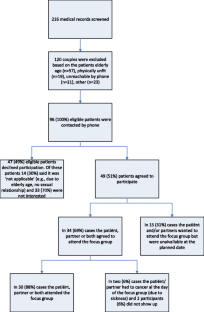 References
1.

Park ER, Norris RL, Bober SL (2009) Sexual health communication during cancer care: barriers and recommendations. Cancer J 15:74–77. doi:10.1097/PPO.0b013e31819587dc

2.

Traa MJ, De Vries J, Roukema JA, Den Oudsten BL (2012) Sexual (dys)function and the quality of sexual life in patients with colorectal cancer: a systematic review. Ann Oncol 23:19–27. doi:10.1093/annonc/mdr133

3.

Flynn KE, Reese JB, Jeffery DD, Abernethy AP, Lin L, Shelby RA, Porter LS, Dombeck CB, Weinfurt KP (2012) Patient experiences with communication about sex during and after treatment for cancer. Psychooncology 21:594–601. doi:10.1002/pon.1947

4.

Li WW, Lam WW, Au AH, Ye M, Law WL, Poon J et al (2012) Interpreting differences in patterns of supportive care needs between patients with breast cancer and patients with colorectal cancer. Psychooncology 22:792–798. doi:10.1002/pon.3068

5.

Hall S, Gray N, Browne S, Ziebland S, Campbell NC (2012) A qualitative exploration of the role of primary care in supporting colorectal cancer patients. Support Care Cancer 20:3071–3078. doi:10.1007/s00520-012-1434-7

6.

Traa MJ, De Vries J, Roukema JA, Den Oudsten BL (2013) Dyadic coping and relationship functioning in couples coping with cancer: a systematic review. Posterior Presentation, 6th Biennal Cancer Survivorship Research Conference, Arlington, Virginia

7.

Berg CA, Upchurch RA (2007) Developmental-contextual model of couples coping with chronic illness across the adult life span. Psychol Bull 133:920–954

8.

Hordern AJ, Street AF (2007) Communicating about patient sexuality and intimacy after cancer: mismatched expectations and unmet needs. Med J Aust 186:224–227

9.

Romito F, Corvasce C, Montanaro R, Mattioli V (2011) Do elderly cancer patients have different care needs compared with younger ones? Tumori 97:374–379. doi:10.1700/1125.12410

10.

Rutten LJ, Arora NK, Bakos AD, Aziz N, Rowland J (2005) Information needs and sources of information among cancer patients: a systematic review of research (1980–2003). Patient Educ Couns 57:250–261

11.

Tong A, Sainsbury P, Craig J (2007) Consolidated criteria for reporting qualitative research (COREQ): a 32-item checklist for interviews and focus groups. Int J Qual Health Care 19:349–357

12.

Krueger RA (1988) Focus groups: a practical guide for applied research. Sage, Newbury Park

13.

Corbin J, Strauss A (1990) Grounded theory research: procedures, canons, and evaluative criteria. Qual Sociol 13:3–21

14.

Glaser BG, Strauss A (1967) Discovery of grounded theory. Strategies for qualitative research. Sociology, Mill Valley

15.

Grol R, Wensing M (2004) What drives change? Barriers to and incentives for achieving evidence-based practice. Med J Aust 180:s57–s60

16.

Wensing M, Bosch M, Foy R et al (2005) Factors in theories on behavior change to guide implementation and quality improvement in healthcare. Centre for Quality of Care Research, Nijmegen

17.

Taylor B, Davids S (2007) The extended PLISSIT model for addressing the sexual wellbeing of individuals with an acquired disability or chronic illness. Sex Disabil 25:135–139

18.

Annon J (1976) The PLISSIT model: a proposed conceptual scheme for the behavioural treatment of sexual problems. J Sex Educ Ther 2:1–15

19.

Katz A (2005) The sounds of silence: sexuality information for cancer patients. J Clin Oncol 23:238–241

20.

Ayaz S, Kubilay G (2009) Effectiveness of the PLISSIT model for solving the sexual problems of patients with stoma. J Clin Nurs 18:89–98. doi:10.1111/j.1365-2702.2008.02282.x

21.

Hayter M, Ayaz S, Kubilay G (2009) Effectiveness of the PLISSIT model for solving the sexual problems of patients with stomas. J Clin Nurs 18:154–156. doi:10.1111/j.1365-2702.2008.02626.x

22.

Dutch guidelines nursing care: changed sexual functioning. http://www.oncoline.nl/veranderd-seksueel-functioneren. Accessed May 22 2013
Acknowledgments
This research is supported by the Dutch Cancer Society (UvT 2009–4495) to Brenda Den Oudsten, Jan Anne Roukema, and Jolanda De Vries. We thank all patients, partners, and HCPs for their participation. In addition, we thank the following hospitals for their cooperation: Catharina Hospital (Eindhoven), St. Elisabeth Hospital (Tilburg), and TweeSteden Hospital (Tilburg and Waalwijk). Finally, we would like to thank Marianne De Vries, Marieke Van Der Sanden, and Lindy Arts for their help in transcribing the focus groups verbatim and for their assistance during the focus groups.
Conflict of interest
None of the authors have conflicts of interest. The authors have full control of all primary data, and if needed, we allow the journal to review the data.
About this article
Cite this article
Traa, M.J., De Vries, J., Roukema, J.A. et al. The sexual health care needs after colorectal cancer: the view of patients, partners, and health care professionals. Support Care Cancer 22, 763–772 (2014). https://doi.org/10.1007/s00520-013-2032-z
Received:

Accepted:

Published:

Issue Date:
Keywords
Sexuality

Intimacy

Health care needs

Colorectal cancer

Focus group