Abstract
Background
Few treatments have the potential to reduce the severity of radiation-induced mucositis in head and neck cancer patients. Some small studies have suggested that organic honey may be a useful preventive treatment.
Methods
This investigator-initiated double-blind randomized placebo-controlled trial investigated whether honey reduced the severity of radiation-induced oral mucositis (ROM). One hundred six head and neck cancer patients from the Vancouver and Sudbury Cancer Centers in Canada were randomized to swish, hold, and swallow either 5 ml of irradiated organic manuka honey or a placebo gel, four times a day throughout radiation treatment, plus seven more days. Severity of oral mucositis according to the Radiation Therapy Oncology Group (RTOG), World Health Organization (WHO), and Oral Mucositis Assessment Scale scales, weight, and subjects' symptom severity and quality of life were assessed weekly. Sialometry was performed at baseline and at the last study visit.
Results
One hundred six patients were recruited. Twenty-four did not attend any mucositis assessments. One was removed from the study because of off-study consumption of store-bought manuka honey. The remaining 81 patients had at least one mucositis assessment and were included in the analysis. Sixty-two percent of subjects received concurrent chemotherapy; 81 % were male. The groups were well-matched, and blinding was excellent. Dropouts were mostly due to nausea and were similar in both arms, with 78 % being able to tolerate the study products for more than 1 week. The dropout rate was 57 % in those who received honey and 52 % in those who received placebo gel. The dropout rate in those who had concurrent chemotherapy was 59 % and in those who only received radiation was 47 %. There was no statistically significant difference between the honey and placebo arms in any of the outcome indicators. Those who completed the study in both treatment arms had low rates of RTOG greater than or equal to grade 3 mucositis; 35 % in the honey group and 43 % in the placebo group.
Conclusion
Despite promising earlier reports, manuka honey was not tolerated well by our patients and, even when used as directed, did not have a significant impact on the severity of ROM.
Access options
Buy single article
Instant access to the full article PDF.
USD 39.95
Price excludes VAT (USA)
Tax calculation will be finalised during checkout.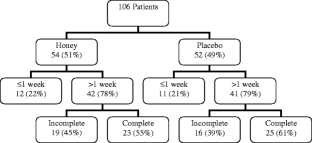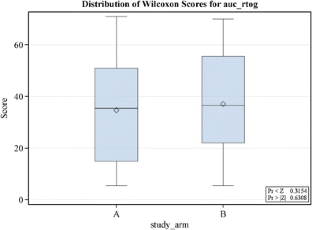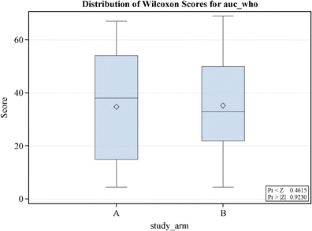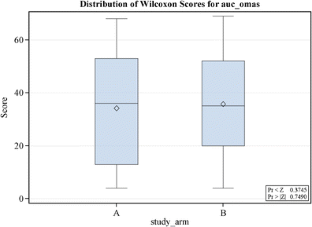 References
Worthington H et al (2011) Interventions for preventing oral mucositis for patients with cancer receiving treatment. Cochrane Database Syst Rev (4):CD000978

Clarkson J et al (2000) Interventions for treating oral mucositis for patients with cancer receiving treatment. Cochrane Database Syst Rev (8):CD001973

Keefe D, Murphy BA (2007) Clinical and economic consequences of mucositis induced by chemotherapy and/or radiation therapy. J Support Oncol 5:13–21

Vera-Llonch M et al (2006) Oral mucositis in patients undergoing radiation treatment for head and neck carcinoma. Cancer 106:329–336

Sonis ST et al (2004) Perspectives on cancer therapy-induced mucosal injury. Cancer 100(9 Suppl):1995–2025

Bjarnason GA et al (2005) A randomized prospective phase-III study comparing the acute oral mucositis of morning vs. afternoon radiotherapy (RT) in patients (pts) with squamous cell carcinoma of the head and neck (SCCHN): NCIC-CTG HN.3. Journal of Clinical Oncology, 2005 ASCO Annual Meeting Proceedings 23(16S, June 1 Supplement):LBA5500

Brizel DM et al (2000) Phase III randomized trial of amifostine as a radioprotector in head and neck cancer. J Clin Oncol 18:3339–3345

Trotti A et al (2004) A multinational, randomized phase III trial of iseganan HCl oral solution for reducing the severity of oral mucositis in patients receiving radiotherapy for head-and-neck malignancy. Int J Radiat Oncol Biol Phys 3:674–681

Dörr E, Dörr W, Herrmann T et al (2007) Gender effects on oral mucositis during radiotherapy of malignancies in the head and neck region. Proceedings from the 20th Anniversary International MASCC/ISOO Symposium, St. Gallen, Switzerland, Abstract No. P-41

Keefe D et al (2007) Updated clinical practice guidelines for the prevention and treatment of mucositis. Cancer 109(5):820–831

Garden A, Chambers M (2007) Head and neck radiation and mucositis. Curr Opin Support Palliat Care 1:30–34

El S et al (2002) Prophylaxis of radiation-associated mucositis in conventionally treated patients with head and neck cancer: a double-blind, phase 3, randomized, controlled trial evaluating the clinical efficacy of an antimicrobial lozenge using a validated scoring system. J Clin Oncol 20(19):3956–39643

Stokman M et al (2003) Oral mucositis and selective elimination of oral flora in head and neck cancer patients receiving radiotherapy: a double-blind randomized clinical trial. Br J Cancer 88(7):1012–1016

Biswal B, Zakaria A, Ahmad N (2003) Topical application of honey in the management of radiation mucositis: a preliminary study. Support Care Cancer 11(4):242–248

Mavric E et al (2008) Identification and quantification of methylglyoxal as the dominant antibacterial constituent of manuka (Leptospermum scoparium) honeys from New Zealand. Mol Nutr Food Res 52:483–489

Willix DJ, Molan PC, Harfoot CG (1992) A comparison of the sensitivity of wound-infecting species of bacteria to the antibacterial activity of manuka honey and other honey. J Appl Bacteriol 73(5):388–394

English HK, Pack AP, Molan PC (2004) The effects of manuka honey on plaque and gingivitis: a pilot study. J Int Acad Periodontol 6(2):63–67

Molan PC (2006) The evidence supporting the use of honey as a wound dressing. Int J Lower Extrem Wounds 5(1):40–54

Bang LM, Buntting C, Molan P (2003) The effect of dilution on the rate of hydrogen peroxide production in honey and its implications for wound healing. J Altern Complement Med 9(2):267–273

Molan PC, Allan KL (1996) The effect of gamma irradiation on the antibacterial activity of honey. J Pharm Pharmacol 48:1206–1209

Postmes T, vanden Bogaard A, Hazen M (1995) The sterilization of honey with cobalt 60 gamma radiation: a study of honey spiked with spores of Clostridium botulinum and Bacillus subtilis. Experientia 51:986–989

Sonis ST et al (1999) Validation of a new scoring system for the assessment of clinical trial research of oral mucositis induced by radiation or chemotherapy. Cancer 85:2103–2113

Motallebnejad M et al (2008) The effect of topical application of pure honey on radiation-induced mucositis: a randomized clinical trial. J Contemp Dent Pract 9(3):40–47

Rashad U et al (2009) Honey as topical prophylaxis against radiochemotherapy-induced mucositis in head and neck cancer. J Laryngol Otol 123:223–228

Khanal B, Baliga M, Uppal N (2010) Effect of topical honey on limitation of radiation-induced oral mucositis: an intervention study. Intl J Oral Maxillofac Surg 39:1181–1185

Song JJ, Twumasi-Ankrah P, Salcido R (2012) Systematic review and meta-analysis on the use of honey to protect from the effects of radiation-induced oral mucositis. Adv Skin Wound Care 25(1):23–28

Parsons E, Begley A, Herst P (2012) Manuka honey mouthwash does not affect oral mucositis in head and neck cancer patients in New Zealand. Journal of Radiotherapy in Practice 11(4):249–256. doi:10.1017/S1460396911000410

Bardy J et al (2012) A double-blind, placebo-controlled, randomized trial of active manuka honey and standard oral care for radiation-induced oral mucositis. Br J Oral Maxillofac Surg 50(3):221–226
Acknowledgments
The authors thank Dr. John Hay and John French from the Vancouver Cancer Centre for their assistance in planning this study. The authors would also like to acknowledge the assistance and inspiration of Dr. Barry Sheehan who died before this study was completed. Special thanks to Ms. Carole Chenier RDH for her instrumental encouragement to patients of the Sudbury arm while on study. All costs for this investigator-initiated study were paid from donated funds through the Vancouver Cancer Centre Palliative Care Fund of the BC Cancer Foundation. The authors thank MacDonald's Realty and the friends, colleagues, and family of Joy Langan. Funding to run the multicenter study arm in Sudbury was provided by the Northern Cancer Research Fund (NCRF) which covered salary for the research assistant (Carole Chenier, RDH) and the cost of product. The irradiated honey was provided at cost by Wedderspoon Organics, and the placebo gel was provided by Macdonalds Prescriptions of Vancouver. Dr. Hawley is the 2010 recipient of the Gordon Dunn Pioneer Award from the Prostate Cancer Foundation of BC, a salary support grant which facilitated the completion and analysis of the study.
Conflict of interest
The authors have no conflicts of interest.
About this article
Cite this article
Hawley, P., Hovan, A., McGahan, C.E. et al. A randomized placebo-controlled trial of manuka honey for radiation-induced oral mucositis. Support Care Cancer 22, 751–761 (2014). https://doi.org/10.1007/s00520-013-2031-0
Received:

Accepted:

Published:

Issue Date:

DOI: https://doi.org/10.1007/s00520-013-2031-0
Keywords
Radiotherapy

Mucositis

Honey

Quality of life

Randomized

Placebo-controlled