Abstract
Purpose
While spouses play a vital role in the care of cancer patients, caregiving exerts a physical and psychological toll. Caregiving burden may not only compromise spouses' quality of life but also the quality of care and support they are able to provide. Consequently, spousal caregiving burden may also negatively impact patients' psychological adjustment. However, the effect of caregiving burden on patients' psychological distress is unknown. Thus, this 6-month longitudinal study examined the associations between caregiving burden and distress in both lung cancer patients and their spouses.
Methods
Patients and their spouses individually completed questionnaires within 1 month of treatment initiation (baseline) and at 3- and 6-month follow-up. Distress was measured with the Brief Symptom Inventory and caregiving burden with the Caregiver Reaction Assessment.
Results
Multilevel modeling of data from 158 couples revealed that baseline spouses' reports of caregiving-related health problems were significantly associated with 3-month (p < 0.001) and 6-month (p = 0.01) follow-up distress in both patients and spouses even when controlling for baseline distress and dyadic adjustment. Furthermore, there was evidence that baseline spouses' reports of schedule disruption (p = 0.05) predicted 3-month patients' distress and baseline spouses' reports of financial strain (p < 0.05) and lack of support (p < 0.10) predicted their own distress at 6 month.
Conclusion
Caregiving burden is problematic for both patients and spouses. Couples in which spouses report caregiving-related health problems may be at particular high risk of long-term elevated distress. Targets of future couple-focused interventions such as self-care and use of social support are discussed.
This is a preview of subscription content, log in to check access.
Access options
Buy single article
Instant access to the full article PDF.
US$ 39.95
Price includes VAT for USA
Subscribe to journal
Immediate online access to all issues from 2019. Subscription will auto renew annually.
US$ 199
This is the net price. Taxes to be calculated in checkout.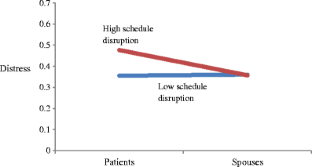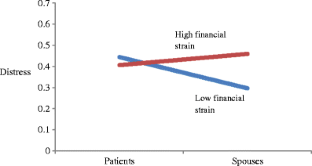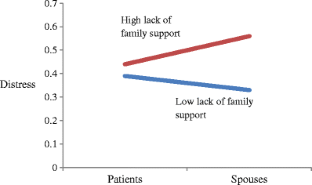 References
1.

Kim Y, Given BA (2008) Quality of life of family caregivers of cancer survivors: across the trajectory of the illness. Cancer 112(11 Suppl):2556–2568

2.

Coyne JC and V Fiske (1992) Couples coping with chronic and catastrophic illness. In: Akamatsu TJ et al. (eds) Family health psychology. Hemisphere, Washington, pp. 129–149

3.

Neuling SJ, Winefield HR (1988) Social support and recovery after surgery for breast cancer: frequency and correlates of supportive behaviours by family, friends and surgeon. Soc Sci Med 27(4):385–392

4.

Carmack Taylor CL et al (2008) Lung cancer patients and their spouses: psychological and relationship functioning within 1 month of treatment initiation. Ann Behav Med 36(2):129–140

5.

Braun M et al (2007) Hidden morbidity in cancer: spouse caregivers. J Clin Oncol 25(30):4829–4834

6.

Kim Y et al (2005) Levels of depressive symptoms in spouses of people with lung cancer: effects of personality, social support, and caregiving burden. Psychosomatics 46(2):123–130

7.

Ji J et al (2012) Increased risks of coronary heart disease and stroke among spousal caregivers of cancer patients. Circulation 125:1742–1747

8.

Swore Fletcher BA et al (2008) Symptom experience of family caregivers of patients with cancer. Oncol Nurs Forum 35(2):E23–E44

9.

Acitelli L, Badr H (2005) My illness or our illness? Attending to the relationship when one partner is ill. In: Revenson TA, Kayser K, Bodenmann G (eds) Couples coping with stress: emerging perspectives on dyadic coping. American Psychological Association, Washington, pp 121–136

10.

Kim Y et al (2011) Individual and dyadic relations between spiritual well-being and quality of life among cancer survivors and their spousal caregivers. Psychooncology 20(7):762–770

11.

Kim Y et al (2008) Quality of life of couples dealing with cancer: dyadic and individual adjustment among breast and prostate cancer survivors and their spousal caregivers. Ann Behav Med 35(2):230–238

12.

Badr H, Carmack Taylor CL (2008) Effects of relationship maintenance on psychological distress and dyadic adjustment among couples coping with lung cancer. Health Psychol 27(5):616–627

13.

Milbury K, Badr H, Carmack CL (2012) The role of blame in the psychosocial adjustment of couples coping with lung cancer. Annals of Behavioral Medicine 44(3):331–340

14.

Nijboer C et al (1999) Determinants of caregiving experiences and mental health of partners of cancer patients. Cancer 86(4):577–588

15.

Nijboer C et al (2001) The role of social and psychologic resources in caregiving of cancer patients. Cancer 91(5):1029–1039

16.

Given CW et al (1992) The caregiver reaction assessment (CRA) for caregivers to persons with chronic physical and mental impairments. Res Nurs Health 15(4):271–283

17.

Poulin MJ et al (2010) Does a helping hand mean a heavy heart? Helping behavior and well-being among spouse caregivers. Psychology and Aging 25(1):108–117

18.

Nijboer C et al (1999) Measuring both negative and positive reactions to giving care to cancer patients: psychometric qualities of the Caregiver Reaction Assessment (CRA). Soc Sci Med 48(9):1259–1269

19.

Pusa S, Persson C, Sundin K (2012) Significant others' lived experiences following a lung cancer trajectory: from diagnosis through and after the death of a family member. Eur J Oncol Nurs 16(1):34–41

20.

Zabora J et al (2001) The prevalence of psychological distress by cancer site. Psychooncology 10(1):19–28

21.

Degner LF, Sloan JA (1995) Symptom distress in newly diagnosed ambulatory cancer patients and as a predictor of survival in lung cancer. J Pain Symptom Manage 10(6):423–431

22.

Ellis J (2012) The impact of lung cancer on patients and carers. Chron Respir Dis 9(1):39–47

23.

Stone AM et al (2012) Caring for a parent with lung cancer: caregivers' perspectives on the role of communication. Qual Health Res 22(7):957–970

24.

Mosher CE et al (2013) Distressed family caregivers of lung cancer patients: an examination of psychosocial and practical challenges. Support Care Cancer 21:431–437

25.

Lambert SD et al (2013) Walking a mile in their shoes: anxiety and depression among partners and caregivers of cancer survivors at 6 and 12 months post-diagnosis. Support Care Cancer 21:75–85

26.

Stommel M et al (2004) A longitudinal analysis of the course of depressive symptomatology in geriatric patients with cancer of the breast, colon, lung, or prostate. Health Psychol 23(6):564–573

27.

Choi CW et al (2012) Group-based trajectory modeling of caregiver psychological distress over time. Ann Behav Med 44(1):73–84

28.

Oken MM et al (1982) Toxicity and response criteria of the Eastern Cooperative Oncology Group. Am J Clin Oncol 5(6):649–655

29.

Derogatis LR (1993) Brief symptom inventory: administration, scoring, and procedures manual, 3rd edn. National Computer Systems, Minneapolis

30.

Given CW et al (1992) The Caregiver Reaction Assessment (CRA) for caregivers to persons with chronic physical and mental impairments. Res Nurs Heal 15:271–283

31.

Spanier GB (1976) Measuring dyadic adjustment—new scales for assessing quality of marriage and similar dyads. J Marriage Family 38(1):15–28

32.

Badr H, Acitelli LK, Taylor CL (2008) Does talking about their relationship affect couples' marital and psychological adjustment to lung cancer? J Cancer Surviv 2(1):53–64

33.

Kenny DA, Kashy DA, Cook WL (2006) Dyadic data analysis. Guilford, New York

34.

Campbell L, Kashy DA (2002) Estimating actor, partner, and interaction effects for dyadic data using PROC MIXED and HLM: a user-friendly guide. Pers Relat 9(3):327–342

35.

Wolfer R and C Sang (1995) Comparing the SAS GLM and MIXED procedures for repeated measures. in Proceedings of the Twentieth Annual SAS Users Group Conference, Cary, NC. SAS Institute, Gary

36.

Snijders T, Bosker R (1999) Multilevel analysis. Sage, Thousand Oaks

37.

Cohen J (1988) Statistical power analysis for the behavioral sciences, 2nd edn. Earlbaum, Hillsdale

38.

Cohen J (1992) A power primer. Psychol Bull 112(1):155–159

39.

Preacher KJ, Curran PJ, Bauer DJ (2006) Computational tools for probing interaction effects in multiple linear regression, multilevel modeling, and latent curve analysis. J Educ Behav Stat 31(4):437–448

40.

Brant JM et al (2011) Symptom trajectories in posttreatment cancer survivors. Cancer Nurs 34(1):67–77

41.

Roca RM et al (2000) [Impact of caregiving on the health of family caregivers]. Aten Primaria 26(4):217–223

42.

Gaston-Johansson F et al (2004) Psychological distress, fatigue, burden of care, and quality of life in primary caregivers of patients with breast cancer undergoing autologous bone marrow transplantation. Oncol Nurs Forum 31(6):1161–1169

43.

Hopwood P, Stephens RJ (2000) Depression in patients with lung cancer: prevalence and risk factors derived from quality-of-life data. J Clin Oncol 18(4):893–903

44.

Graves KD et al (2007) Distress screening in a multidisciplinary lung cancer clinic: prevalence and predictors of clinically significant distress. Lung Cancer 55(2):215–224

45.

Jensen S, Given B (1993) Fatigue affecting family caregivers of cancer patients. Support Care Cancer 1(6):321–325

46.

Fletcher BA et al (2009) Trajectories of fatigue in family caregivers of patients undergoing radiation therapy for prostate cancer. Res Nurs Health 32(2):125–139

47.

Kiecolt-Glaser JK, Newton TL (2001) Marriage and health: his and hers. Psychol Bull 127(4):472–503

48.

Burton LC et al (1997) Preventive health behaviors among spousal caregivers. Prev Med 26(2):162–169
Conflict of interest statement
The authors have no conflict of interest to disclose.
About this article
Cite this article
Milbury, K., Badr, H., Fossella, F. et al. Longitudinal associations between caregiver burden and patient and spouse distress in couples coping with lung cancer. Support Care Cancer 21, 2371–2379 (2013). https://doi.org/10.1007/s00520-013-1795-6
Received:

Accepted:

Published:

Issue Date:
Keywords
Lung cancer

Caregiving reactions

Couples

Distress

Prospective research