Abstract
Purpose
Physical activity is associated with a reduced risk of breast cancer development and recurrence. There are several hypothesised mechanisms for this including positive effects on metabolic and inflammatory biomarkers and favourable changes in anthropometric variables. This pilot study examined the effect of an 8-week aerobic exercise intervention on several of these outcomes, including body composition, the metabolic syndrome, C-reactive protein (CRP) and physical activity, in breast cancer survivors 2–6 months post-chemotherapy.
Methods
Assessments were completed at baseline, at 8-weeks and 3-months post-intervention. Measures taken following a 12-h fast included body composition (bioimpedance analysis), metabolic syndrome (waist circumference, blood pressure, high-density lipoprotein cholesterol, triglycerides and fasting glucose), insulin resistance (homeostatic model assessment), CRP and physical activity (accelerometry and questionnaire). Participants were randomized to either an 8-week moderate-intensity aerobic exercise group or a usual-care control group. Analysis was completed using repeated-measures analysis of variance (ANOVA) (p = 0.05).
Results
Twenty-six breast cancer survivors participated (mean (standard deviation) age 48.1 (8.8) years, exercise group; n = 16, control group; n = 10). At baseline, 13 participants were overweight, 6 were obese and 19 centrally obese. Intention-to-treat analysis revealed no significant differences between the exercise and control groups in any of the outcomes measures; however, analysis of those who adhered to >90 % of the supervised exercise class showed a significant decrease in waist circumference (p = 0.05) and a significant increase in subjectively reported "total weekly" (p = 0.005) activity.
Conclusion
While this 8-week aerobic exercise pilot intervention did not elicit significant improvements in biomarkers of breast cancer risk, there was some suggestion of improvements in waist circumference and subjectively measured physical activity in participants with >90 % adherence to the programme. A trial of longer duration and greater subject numbers is warranted.
This is a preview of subscription content, log in to check access.
Access options
Buy single article
Instant access to the full article PDF.
US$ 39.95
Price includes VAT for USA
Subscribe to journal
Immediate online access to all issues from 2019. Subscription will auto renew annually.
US$ 199
This is the net price. Taxes to be calculated in checkout.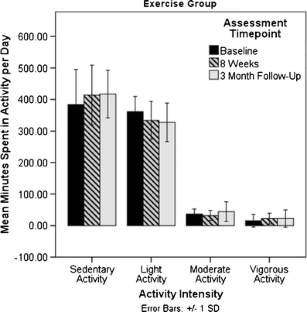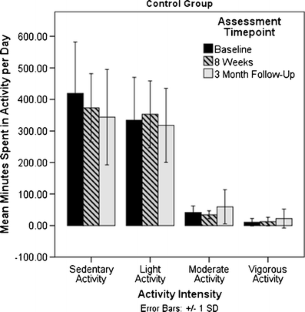 References
1.

Parkin DM, Bray F, Ferlay J, Pisani P (2005) Global cancer statistics 2002. CA Cancer J Clin 55(2):74–108

2.

Lynch BM, Neilson HK, Friedenreich CM (2011) Physical activity and breast cancer prevention. Recent Results Cancer Res 186:13–42

3.

Holmes MD, Chen WY, Feskanich D, Kroenke CH, Colditz GA (2005) Physical activity and survival after breast cancer diagnosis. JAMA 293(20):2479–2486

4.

Pierce JP, Stefanick ML, Flatt SW, Natarajan L, Sternfeld B, Madlensky L, Al-Delaimy WK, Thomson CA, Kealey S, Hajek R et al (2007) Greater survival after breast cancer in physically active women with high vegetable-fruit intake regardless of obesity. J Clin Oncol 25(17):2345–2351

5.

Irwin ML, McTiernan A, Manson JE, Thomson CA, Sternfeld B, Stefanick ML, Wactawski-Wende J, Craft L, Lane D, Martin LW et al (2011) Physical activity and survival in postmenopausal women with breast cancer: results from the women's health initiative. Cancer Prev Res (Phila) 4(4):522–529

6.

World Cancer Research Fund / American Institute for Cancer Research (2007) Food, Nutrition, Physical Activity, and the Prevention of Cancer: a Global Perspective. AICR, Washington, DC

7.

Caan BJ, Kwan ML, Hartzell G, Castillo A, Slattery ML, Sternfeld B, Weltzien E (2008) Pre-diagnosis body mass index, post-diagnosis weight change, and prognosis among women with early stage breast cancer. Cancer Causes Control 19(10):1319–1328

8.

Rock CL, Flatt SW, Newman V, Caan BJ, Haan MN, Stefanick ML, Faerber S, Pierce JP (1999) Factors associated with weight gain in women after diagnosis of breast cancer. J Am Diet Assoc 99(10):1212–1218

9.

Goodwin PJ, Ennis M, Pritchard KI, McCready D, Koo J, Sidlofsky S, Trudeau M, Hood N, Redwood S (1999) Adjuvant treatment and onset of menopause predict weight gain after breast cancer diagnosis. J Clin Oncol 17(1):120–129

10.

Thivat E, Therondel S, Lapirot O, Abrial C, Gimbergues P, Gadea E, Planchat E, Kwiatkowski F, Mouret-Reynier MA, Chollet P et al (2010) Weight change during chemotherapy changes the prognosis in non metastatic breast cancer for the worse. BMC Cancer 10:648

11.

McTiernan A, Ulrich C, Slate S, Potter J (1998) Physical activity and cancer etiology: associations and mechanisms. Cancer Causes Control 9(5):487–509

12.

Neilson HK, Friedenreich CM, Brockton NT, Millikan RC (2009) Physical activity and postmenopausal breast cancer: proposed biologic mechanisms and areas for future research. Cancer Epidemiol Biomarkers Prev 18(1):11–27

13.

Alberti KG, Eckel RH, Grundy SM, Zimmet PZ, Cleeman JI, Donato KA, Fruchart JC, James WP, Loria CM, Smith SC Jr (2009) Harmonizing the metabolic syndrome: a joint interim statement of the International Diabetes Federation Task Force on Epidemiology and Prevention; National Heart, Lung, and Blood Institute; American Heart Association; World Heart Federation; International Atherosclerosis Society; and International Association for the Study of Obesity. Circulation 120(16):1640–1645

14.

Doyle SL, Donohoe CL, Lysaght J, Reynolds JV (2012) Visceral obesity, metabolic syndrome, insulin resistance and cancer. Proc Nutr Soc 71(1):181–189

15.

Duggan C, Irwin ML, Xiao L, Henderson KD, Smith AW, Baumgartner RN, Baumgartner KB, Bernstein L, Ballard-Barbash R, McTiernan A (2011) Associations of insulin resistance and adiponectin with mortality in women with breast cancer. J Clin Oncol 29(1):32–39

16.

Goodwin PJ, Ennis M, Pritchard KI, Trudeau ME, Koo J, Madarnas Y, Hartwick W, Hoffman B, Hood N (2002) Fasting insulin and outcome in early-stage breast cancer: results of a prospective cohort study. J Clin Oncol 20(1):42–51

17.

Walsh JM, Hussey J, Guinan E, O'Donnell D (2010) Pragmatic randomized controlled trial of individually prescribed exercise versus usual care in a heterogeneous cancer survivor population': a feasibility study PEACH trial: prescribed exercise after chemotherapy. BMC Cancer 10:42

18.

Matthews DR, Hosker JP, Rudenski AS, Naylor BA, Treacher DF, Turner RC (1985) Homeostasis model assessment: insulin resistance and beta-cell function from fasting plasma glucose and insulin concentrations in man. Diabetologia 28(7):412–419

19.

Rowlands AV, Thomas PW, Eston RG, Topping R (2004) Validation of the RT3 triaxial accelerometer for the assessment of physical activity. Med Sci Sports Exerc 36(3):518–524

20.

Powell SM, Jones DI, Rowlands AV (2003) Technical variability of the RT3 accelerometer. Med Sci Sports Exerc 35(10):1773–1778

21.

Jerome GJ, Young DR, Laferriere D, Chen C, Vollmer WM (2009) Reliability of RT3 accelerometers among overweight and obese adults. Med Sci Sports Exerc 41(1):110–114

22.

Feeney C, Reynolds JV, Hussey J (2011) Preoperative physical activity levels and postoperative pulmonary complications post-esophagectomy. Dis Esophagus 24(7):489–494

23.

Godin G, Shephard RJ (1985) A simple method to assess exercise behavior in the community. Can J Appl Sport Sci 10(3):141–146

24.

Fairey AS, Courneya KS, Field CJ, Bell GJ, Jones LW, Martin BS, Mackey JR (2005) Effect of exercise training on C-reactive protein in postmenopausal breast cancer survivors: a randomized controlled trial. Brain Behav Immun 19(5):381–388

25.

Garber CE, Blissmer B, Deschenes MR, Franklin BA, Lamonte MJ, Lee IM, Nieman DC, Swain DP (2011) American College of Sports Medicine position stand. Quantity and quality of exercise for developing and maintaining cardiorespiratory, musculoskeletal, and neuromotor fitness in apparently healthy adults: guidance for prescribing exercise. Med Sci Sports Exerc 43(7):1334–1359

26.

Cowey S, Hardy RW (2006) The metabolic syndrome: a high-risk state for cancer? Am J Pathol 169(5):1505–1522

27.

Del Giudice ME, Fantus IG, Ezzat S, McKeown-Eyssen G, Page D, Goodwin PJ (1998) Insulin and related factors in premenopausal breast cancer risk. Breast Cancer Res Treat 47(2):111–120

28.

Bjorge T, Lukanova A, Jonsson H, Tretli S, Ulmer H, Manjer J, Stocks T, Selmer R, Nagel G, Almquist M et al (2010) Metabolic syndrome and breast cancer in the me-can (metabolic syndrome and cancer) project. Cancer Epidemiol Biomarkers Prev 19(7):1737–1745

29.

Goodwin PJ, Ennis M, Pritchard KI, Trudeau ME, Koo J, Taylor SK, Hood N (2012) Insulin- and obesity-related variables in early-stage breast cancer: correlations and time course of prognostic associations. J Clin Oncol 30(2):164–171

30.

Brochu M, Tchernof A, Dionne IJ, Sites CK, Eltabbakh GH, Sims EA, Poehlman ET (2001) What are the physical characteristics associated with a normal metabolic profile despite a high level of obesity in postmenopausal women? J Clin Endocrinol Metab 86(3):1020–1025

31.

Irwin ML, McTiernan A, Bernstein L, Gilliland FD, Baumgartner R, Baumgartner K, Ballard-Barbash R (2005) Relationship of obesity and physical activity with C-peptide, leptin, and insulin-like growth factors in breast cancer survivors. Cancer Epidemiol Biomarkers Prev 14(12):2881–2888

32.

Pierce BL, Neuhouser ML, Wener MH, Bernstein L, Baumgartner RN, Ballard-Barbash R, Gilliland FD, Baumgartner KB, Sorensen B, McTiernan A et al (2009) Correlates of circulating C-reactive protein and serum amyloid A concentrations in breast cancer survivors. Breast Cancer Res Treat 114(1):155–167

33.

Thomson CA, Thompson PA, Wright-Bea J, Nardi E, Frey GR, Stopeck A (2009) Metabolic syndrome and elevated C-reactive protein in breast cancer survivors on adjuvant hormone therapy. J Womens Health (Larchmt) 18(12):2041–2047

34.

Fairey AS, Courneya KS, Field CJ, Bell GJ, Jones LW, Mackey JR (2003) Effects of exercise training on fasting insulin, insulin resistance, insulin-like growth factors, and insulin-like growth factor binding proteins in postmenopausal breast cancer survivors: a randomized controlled trial. Cancer Epidemiol Biomarkers Prev 12(8):721–727

35.

Ligibel JA, Campbell N, Partridge A, Chen WY, Salinardi T, Chen H, Adloff K, Keshaviah A, Winer EP (2008) Impact of a mixed strength and endurance exercise intervention on insulin levels in breast cancer survivors. J Clin Oncol 26(6):907–912

36.

Irwin ML, Varma K, Alvarez-Reeves M, Cadmus L, Wiley A, Chung GG, Dipietro L, Mayne ST, Yu H (2009) Randomized controlled trial of aerobic exercise on insulin and insulin-like growth factors in breast cancer survivors: the Yale Exercise and Survivorship study. Cancer Epidemiol Biomarkers Prev 18(1):306–313

37.

Schmitz KH, Ahmed RL, Hannan PJ, Yee D (2005) Safety and efficacy of weight training in recent breast cancer survivors to alter body composition, insulin, and insulin-like growth factor axis proteins. Cancer Epidemiol Biomarkers Prev 14(7):1672–1680

38.

Cheema BS, Gaul CA (2006) Full-body exercise training improves fitness and quality of life in survivors of breast cancer. J Strength Cond Res 20(1):14–21

39.

Rahnama N, Nouri R, Rahmaninia F, Damirchi A, Emami H (2010) The effects of exercise training on maximum aerobic capacity, resting heart rate, blood pressure and anthropometric variables of postmenopausal women with breast cancer. J Res Med Sci 15(2):78–83

40.

Wilson DB, Porter JS, Parker G, Kilpatrick J (2005) Anthropometric changes using a walking intervention in African American breast cancer survivors: a pilot study. Prev Chronic Dis 2(2):A16

41.

Schneider CM, Hsieh CC, Sprod LK, Carter SD, Hayward R (2007) Effects of supervised exercise training on cardiopulmonary function and fatigue in breast cancer survivors during and after treatment. Cancer 110(4):918–925

42.

Irwin ML, Alvarez-Reeves M, Cadmus L, Mierzejewski E, Mayne ST, Yu H, Chung GG, Jones B, Knobf MT, DiPietro L (2009) Exercise improves body fat, lean mass, and bone mass in breast cancer survivors. Obesity (Silver Spring) 17(8):1534–1541

43.

Frank LL, Sorensen BE, Yasui Y, Tworoger SS, Schwartz RS, Ulrich CM, Irwin ML, Rudolph RE, Rajan KB, Stanczyk F et al (2005) Effects of exercise on metabolic risk variables in overweight postmenopausal women: a randomized clinical trial. Obes Res 13(3):615–625

44.

Friedenreich C, Neilson HK, Woolcott CG, Wang Q, Stanczyk FZ, McTiernan A, Jones CA, Irwin ML, Yasui Y, Courneya KS (2010) Alberta Physical Activity and Breast Cancer Prevention Trial: Inflammatory Marker Changes in a Year-long Exercise Intervention among Postmenopausal Women Cancer Prev Res (Phila).J. Clin Oncol 28(9):1458–1466

45.

Irwin ML, Yasui Y, Ulrich CM, Bowen D, Rudolph RE, Schwartz RS, Yukawa M, Aiello E, Potter JD, McTiernan A (2003) Effect of exercise on total and intra-abdominal body fat in postmenopausal women: a randomized controlled trial. JAMA 289(3):323–330

46.

Lynch BM, Dunstan DW, Healy GN, Winkler E, Eakin E, Owen N (2010) Objectively measured physical activity and sedentary time of breast cancer survivors, and associations with adiposity: findings from NHANES (2003–2006). Cancer Causes Control 21(2):283–288

47.

Courneya KS, Katzmarzyk PT, Bacon E (2008) Physical activity and obesity in Canadian cancer survivors: population-based estimates from the 2005 Canadian Community Health Survey. Cancer 112(11):2475–2482

48.

Lynch BM, Friedenreich CM, Winkler EA, Healy GN, Vallance JK, Eakin EG, Owen N (2011) Associations of objectively assessed physical activity and sedentary time with biomarkers of breast cancer risk in postmenopausal women: findings from NHANES (2003–2006). Breast Cancer Res Treat 131(1):183–194

49.

Courneya KS, Friedenreich CM (2001) Framework PEACE: an organizational model for examining physical exercise across the cancer experience. Ann Behav Med 23(4):263–272
Conflict of interest
Disclosures: None
About this article
Cite this article
Guinan, E., Hussey, J., Broderick, J.M. et al. The effect of aerobic exercise on metabolic and inflammatory markers in breast cancer survivors—a pilot study. Support Care Cancer 21, 1983–1992 (2013). https://doi.org/10.1007/s00520-013-1743-5
Received:

Accepted:

Published:

Issue Date:
Keywords
Breast cancer survivor

Physical activity

Obesity

Insulin resistance

Inflammation

Exercise intervention