Abstract
Purpose
This study presents data on the feasibility and possible benefits of a psychological intervention that uses virtual reality to induce positive emotions on adult hospitalized patients with metastatic cancer. The patient's satisfaction and perceived utility was also examined.
Method
The sample was composed of 19 patients (53 % men, aged from 29 to 85 years old; x = 60.9; standard deviation = 14.54). The intervention consisted of four 30-min sessions during 1 week in which patients navigated through virtual environments designed to induce joy or relaxation. Mood was assessed before and after each session using the Visual Analog Scale. Patient satisfaction was assessed after each session and at the end of the intervention. Qualitative data were also collected with open-ended questions.
Results
There were no major difficulties with the use of devices, and any difficulties that did arise were solved through practice. There were adequate levels of pleasantness and perceived utility of the proposed intervention. The main perceived benefits were distraction, entertainment, and promotion of relaxation states. Regarding mood changes, an increase in positive emotions and a decrease in negative emotions were also detected.
Conclusions
The intervention was positively assessed and rated as minimally uncomfortable. Future actions are discussed as well as the need to implement brief interventions that take into account the patients' medical state and physical discomfort level, especially with those in the advanced stages of disease.
Access options
Buy single article
Instant access to the full article PDF.
US$ 39.95
Tax calculation will be finalised during checkout.
Subscribe to journal
Immediate online access to all issues from 2019. Subscription will auto renew annually.
US$ 119
Tax calculation will be finalised during checkout.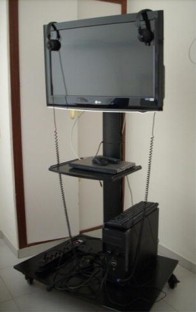 References
1.

Bellver A, Sánchez-Cánovas J, Santaballa A, Munárriz B, Pérez-Fidalgo J, Montalar J (2009) Mujeres con cáncer de mama: evaluación del afecto positivo y negativo y valoración de un programa de intervención psicológica en el ámbito hospitalario. Psicooncol 6:139–154

2.

León-Pizarro C, Gich I, Barthe E, Rovirosa A, Farrús B, Casas F, Veger E, Biete A, Craven-Bartle J, Sierra J, Arcusa A (2007) A randomized trial of the effect of training in relaxation and guided imagery techniques in improving psychological and quality-of-life indices for gynecologic and breast brachytherapy patients. Psycho Oncol 16:971–979. doi:10.1002/pon.1171

3.

Robb S, Clair A, Watanabe M, Monahan P, Azzouz F, Stouffer J, Ebberts A, Darsie E, Whitmer C, Walker J, Nelson K, Hanson-Abromeit D, Lane D, Hannan A (2008) Randomized controlled trial of the active music engagement (AME) intervention on children with cancer. Psycho Oncol 17:699–708. doi:10.1002/pon.1301

4.

Seligman M, Csikszentmihalyi M (2000) Positive psychology. Am Psychol 55:5–14

5.

Ochoa C, Sumalla E, Maté J, Castejón V, Rodríguez A, Blanco I, Gil F (2010) Psicoterapia positiva grupal en cáncer. Hacia una atención psicosocial integral del superviviente de cáncer. Psicooncol 7:7–34

6.

Ramachandra P, Booth S, Pieters T, Vrotsou K, Huppert F (2009) A brief self-administered psychological intervention to improve well-being in patients with cancer: results from a feasibility study. Psycho Oncol 18:1323–1326. doi:10.1002/pon.1516

7.

Cohn M, Fredrickson B, Brown S, Mikels J, Conway A (2009) Happiness unpacked: positive emotions increase life satisfaction by building resilience. Emotion 9:361–368

8.

Folkman S, Moskowitz J (2000) Positive affect and the other side of coping. Am Psychol 55:647–654

9.

Fredrickson B (2001) The role of positive emotions in positive psychology. The broaden-and-build theory of positive emotions. Am Psychol 56:218–226

10.

Lyubomirsky S, King L, Diener E (2005) The benefits of frequent positive affect: does happiness lead to success? Psychol Bull 131:803–855

11.

Pressman S, Cohen S (2005) Does positive affect influence health? Psychol Bull 131:925–971

12.

Tugade M, Fredrickson B, Barrett L (2004) Psychological resilience and positive emotional granularity: examining the benefits of positive emotions on coping and health. J Pers 72:1161–1190

13.

Salovey P, Birnbaum D (1989) Influence of mood on health-relevant cognitions. J Pers Soc Psychol 57:539–551

14.

Adams E, McGuire F (1986) Is laughter the best medicine? A study of the effects of humor on perceived pain and affect. Act Adapt Aging 8:157–175

15.

Pickett C, Clum G (1982) Comparative treatment strategies and their interaction with locus of control in the reduction of postsurgical pain and anxiety. J Consult Clin Psychol 50:439–441

16.

Schnur J, David D, Kangas M, Green S, Bovbjerg D, Montgomery G (2009) A randomized trial of a cognitive–behavioral therapy and hypnosis intervention on positive and negative affect during breast cancer radiotherapy. J Clin Psychol 65:443–455

17.

Hoffman H, Patterson D, Carrougher G, Nakamura D, Moore M, García-Palacios A, Furness T III (2001) The effectiveness of virtual reality pain control with multiple treatments of longer durations: a case study. Int J Hum Comput Interact 13:1–12

18.

Wiederhold M, Wiederhold B (2007) Virtual reality and interactive simulation for pain distraction. Pain Med 8:S182–S188

19.

Li A, Montaño Z, Chen V, Gold J (2011) Virtual reality and pain management: current trends and future directions. Pain Manag 1:147–157

20.

Schultheis M, Himelstein J, Rizzo A (2002) Virtual reality and neuropsychology: upgrading the current tools. J Head Trauma Rehabil 17:378–394

21.

Flanagan S, Cantor J, Ashman T (2008) Traumatic brain injury: future assessment tools and treatment prospects. Neuropsychiatr Dis Treat 4:877–892

22.

Gershon J, Zimand E, Pickering M, Rothbaum B, Hodges L (2004) A pilot and feasibility study of virtual reality as a distraction for children with cancer. J Am Acad Child Adolesc Psychiatr 43:1243–1249

23.

Nilsson S, Finnstrôm B, Kokinsky E, Enskâr K (2009) The use of virtual reality for needle-related procedural pain and distress in children and adolescents in a paediatric oncology unit. Eur J Oncol Nurs 13:102–109

24.

Windich-Biermeier A, Sjoberg I, Dale J, Eshelman D, Guzzetta C (2007) Effects of distraction on pain, fear, and distress during venous port access and venipuncture in children and adolescents with cancer. J Pediatr Oncol Nurs 24:8–19

25.

Wolitsky K, Fivush R, Zimand E, Hodges L, Rothbaum B (2005) Effectiveness of virtual reality distraction during a painful medical procedure in pediatric oncology patients. Psychol Health 20:817–824

26.

Oyama H, Kaneda M, Katsumata N, Akechi T, Oshuga M (2000) Using the bedside wellness system during chemotherapy decreases fatigue and emesis in cancer patients. J Med Syst 24:173–182

27.

Schneider S, Ellis M, Coombs W, Shonkwiler E, Folsom L (2003) Virtual reality intervention for older women with breast cancer. CyberPsychol Behav 6:301–307

28.

Schneider S, Hood L (2007) Virtual reality: a distraction intervention for chemotherapy. Oncol Nurs Forum 34:39–46

29.

Schneider S, Kisby C, Flint E (2011) Effect of virtual reality on time perception in patients receiving chemotherapy. Support Care Canc 19:555–564

30.

Schneider S, Prince-Paul M, Allen M, Silverman P, Talaba D (2004) Virtual reality as a distraction intervention for women receiving chemotherapy. Oncol Nurs Forum 31:81–88

31.

Oyama H (1998) Virtual reality for palliative medicine. In: Riva G, Wiederhold B, Molinari E (eds) Virtual environments in clinical psychology and neuroscience: methods and techniques in advanced patient therapist interaction. IOS Press, Amsterdam. Available at http://www.cybertherapy.info/pages/book2.htm. Accessed 20 August 2010

32.

Oyama H, Ohsuga M, Tatsuno Y, Katsumata N (1999) Evaluation of the psycho-oncological effectiveness of the bedside wellness system. CyberPsychol Behav 2:81–84

33.

Oyama H, Wakao F, Okamura H (1997) Virtual reality for the palliative care of cancer. In: Riva G (ed) Virtual reality in neuro-psycho-physiology. IOS Press, Amsterdam, pp 87–94

34.

Baños RM, Liaño V, Botella C, Alcañiz M, Guerrero B, Rey B (2006) Changing induced moods via virtual reality. In: Ijsselsteijn WA, de Kort Y, Mldden C, Eggen B, van der Hoven E (eds) Persuasive technology: lecture notes in computer science. Springer, Berlin, pp 7–15

35.

Gerrard-Hesse A, Spies K, Hesse FW (1994) Experimental inductions of emotional states and their effectiveness: a review. Br J Psychol 85:55–78

36.

Martin M (1990) On the induction of mood. Clin Psychol Rev 10:669–697

37.

Westermann R, Spies K, Stahl G, Hesse FW (1996) Relative effectiveness and validity of mood induction procedures: a meta-analysis. Eur J Soc Psychol 26:557–580

38.

Riva G, Baños RM, Botella C, Wiederhold BK, Gaggioli A (2012) Positive technology: using interactive technologies to promote positive functioning. CyberPsychol Behav 15:69–77

39.

Botella C, Riva G, Gaggioli A, Wiederhold BK, Alcaniz M, Baños RM (2012) The present and future of positive technologies. CyberPsychol Behav 15:78–84

40.

Borkovec TD, Nau SD (1972) Credibility of analogue therapy rationales. J Behav Ther Exp Psychiatr 3:257–260

41.

Baños RM, Botella C, Rubio I, Quero S, García-Palacios A, Alcañiz M (2008) Presence and emotions in virtual environment: the influence of stereoscopy. CyberPsychol Behav 11:1–8

42.

Botella C, Etchemendy E, Castilla D, Baños RM, García-Palacios A, Quero S, Alcañiz M, Lozano JA (2009) An e-health system for the elderly (Butler Project): a pilot study on acceptance and satisfaction. Cyberpsychol Behav 12:255–262

43.

Lang PJ, Bradley MM, Cuthbert BN (2008) International affective picture system (IAPS): affective ratings of pictures and instruction manual. Technical Report A-8, University of Florida, Gainesville, Florida

44.

Ong A, Bergeman C, Bisconti T, Wallace K (2006) Psychological resilience, positive emotions and successful adaptation to stress in later life. J Pers Soc Psychol 91:730–749
Acknowledgments
This work was partially funded by Generalitat Valenciana, PROMETEO (2008/157), Ministerio de Ciencia y Tecnología (PSI2010-09568-E). CIBER Fisiopatología de la Obesidad y Nutrición is an initiative of ISCIII.
Conflict of interest
The authors of this manuscript have no conflicts of interest to disclose. The authors have no financial relationship with the organization that sponsored the research. The authors have full control of all the primary data and agree to allow the journal to review the data if requested.
About this article
Cite this article
Baños, R.M., Espinoza, M., García-Palacios, A. et al. A positive psychological intervention using virtual reality for patients with advanced cancer in a hospital setting: a pilot study to assess feasibility. Support Care Cancer 21, 263–270 (2013). https://doi.org/10.1007/s00520-012-1520-x
Received:

Accepted:

Published:

Issue Date:
Keywords
Virtual reality

Cancer

Positive psychology

Positive emotions

Mood induction procedures