Abstract
Background
Despite state-of-the-art therapeutic strategies for pain, some types of chronic pain remain difficult to treat. We evaluated the effectiveness of an innovative neuromodulative approach to the treatment of chronic pain using electrical stimulus integrated with pharmacological support.
Methods
The MC5-A Calmare© is a new device for patient-specific cutaneous electrostimulation which, by "scrambling" pain information with "no pain" information, aims to reduce the perception of pain intensity. We prospectively treated 73 patients with cancer- (40) and non-cancer-related (33) pain whose pain management was unsatisfactory. The primary objective of the study was to assess efficacy and tolerability of the device. Pain intensity was assessed daily with a Numerical Rating Scale (NRS) for the duration of treatment (2 weeks) and then on a weekly basis for the 2 weeks of follow-up.
Results
Mean pain value at T0 (pre-treatment value) was 6.2 [±2.5 SD (standard deviation)], 1.6 (±2.0) (p < 0.0001) at T2 (after the 10th day of treatment), and 2.9 (±2.6) (p < 0.0001) at T4 (after the second week of follow-up, i.e., 1 month after the beginning of treatment). Response after the second week of treatment showed a clear reduction in pain for both cancer (mean absolute delta of the reduction in NRS value = 4.0) and non-cancer (mean delta = 5.2) patients. The pain score had decreased by 74% at T2. On the basis of pre-established response criteria, there were 78% of responders at T2 and 81% at T4. No side effects were reported.
Conclusions
Our preliminary results suggest that cutaneous electrostimulation with the MC5-A Calmare© can be hypothesized as part of a multimodality approach to the treatment of chronic pain. Further studies on larger numbers of patients are needed to assess its efficacy, to quantify the effects of inter-operator variability, and to compare results obtained from the active device versus those from a sham machine.
This is a preview of subscription content, log in to check access.
Access options
Buy single article
Instant access to the full article PDF.
US$ 39.95
Price includes VAT for USA
Subscribe to journal
Immediate online access to all issues from 2019. Subscription will auto renew annually.
US$ 199
This is the net price. Taxes to be calculated in checkout.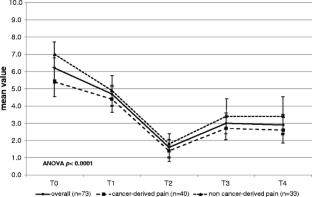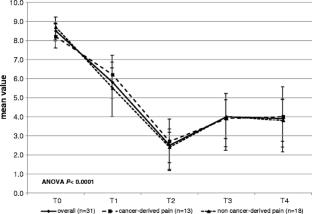 References
1.

Siddall P, Cousins M (2004) Persistent pain as a disease entity: implications for clinical management. Anesth Analg 99:510–520

2.

Breivik H, Collett B, Ventafridda V, Cohen R, Gallacher D (2006) Survey of chronic pain in Europe: prevalence, impact on daily life, and treatment. Eur J Pain 10:287–333

3.

Breivik H, Cherny N, Collett B, de Conno F, Filbet M, Foubert AJ, Cohen R, Dow L (2009) Cancer-related pain: a pan-European survey of prevalence, treatment, and patient attitudes. Ann Oncol 20:1420–1433

4.

Zenz M, Zenz T, Tryba M, Strumpf M (1995) Severe undertreatment of cancer pain: a 3-year survey of the German situation. J Pain Symptom Manage 10:187–191

5.

Von Roenn J, Cleeland C, Gonin R, Hatfield A, Pandya K (1993) Physician attitudes and practice in cancer pain management. A survey from the Eastern Cooperative Oncology Group. Ann Intern Med 119:121–126

6.

Agency for Health Care Policy and Research (1994) Clinical practice guideline cancer pain management. US Department of Health and Human Services, Rockville

7.

Maltoni M (2008) Opioids, pain, and fear. Ann Oncol 19:5–7

8.

De Leon-Casasola O (2009) Spinal cord and peripheral nerve stimulation techniques for neuropathic pain. J Pain Symptom Manage 38(2S):S28–S38

9.

American Society of Anesthesiologists Task Force on Chronic Pain Management; American Society of Regional Anesthesia and Pain Medicine (2010) Practice guidelines for chronic pain management. Anesthesiology 112:810–833

10.

Smith T, Coyne P, Parker G, Dodson P, Ramakrishnan (2010) Pilot trial of a patient-specific cutaneous electrostimulation device (MC5-A Calmare®) for chemotherapy-induced peripheral neuropathy. J Pain Symptom Manage 40(6):883–891

11.

Foletti A, Durrer A, Buchser E (2007) Neurostimulation technology for the treatment of chronic pain: a focus on spinal cord stimulation. Expert Rev Med Devices 4:201–214

12.

Ghoname E, Craig W, White P, Ahmed HE, Hamza MA, Henderson BN, Gajraj NM, Huber PJ, Gatchel RJ (1999) Percutaneous electrical nerve stimulation for low back pain: a randomized crossover study. JAMA 281:818–823

13.

Harke H, Gretenkort P, Ledleif H, Rahman S (2005) Spinal cord stimulation in sympathetically maintained complex regional pain syndrome type I with severe disability. A prospective clinical trial. Eur J Pain 9:363–373

14.

Mailis-Gagnon A, Furlan A, Sandoval J, Taylor R (2003) Spinal cord stimulation for chronic pain. Cochrane Database Syst Rev 3:CD003783

15.

Khadikar A, Milne S, Brosseau L, Robinson V, Saginur M, Shea B, Tugwell P, Wells G (2005) Transcutaneous electrical nerve stimulation (TENS) for chronic low-back pain. Cochrane Database Syst Rev 4:CD003008

16.

Robb K, Oxberry S, Bennett M, Johnson MI, Simpson KH, Searle RD (2009) A Cochrane systematic review of transcutaneous electrical nerve stimulation for cancer pain. J Pain Symptom Manage 37:746–753

17.

Nnoaham K, Kumbang J (2008) Transcutaneous electrical nerve stimulation (TENS) for chronic pain. Cochrane Database Syst Rev 3:CD003222

18.

Marineo G (2003) Untreatable pain resulting from abdominal cancer: new hope from biophysics? JOP 4:1–10

19.

Sabato AF, Marineo G, Gatti A (2005) Scrambler therapy. Minerva Anestesiol 71:479–482

20.

Gatti A, Sabato AF, Marineo G (2007) Scrambler therapy in neuropathic pain. Pathos 14:99–105

21.

Caraceni A, Cherny N, Fainsinger R, Kaasa S, Poulain P, Radbruch L, De Conno F (2002) Pain measurement tools and methods in clinical research in palliative care: recommendations of an expert working group of European Association of Palliative Care. J Pain Symptom Manage 23:239–255

22.

De Conno F, Caraceni A, Gamba A, Mariani L, Abbattista A, Brunelli C, La Mura A, Ventafridda V (1994) Pain measurements in cancer patients: a comparison of six methods. Pain 57:161–166

23.

Caraceni A, Mendoza TR, Mencaglia E, Baratella C, Edwards K, Forjaz MJ, Martini C, Serlin RC, de Conno F, Cleeland CS (1996) A validation study of an Italian version of the Brief Pain Inventory (Breve Questionario per la Valutazione del Dolore). Pain 65:87–92

24.

Serlin RC, Mendoza TR, Nakamura Y, Edwards KR, Cleeland CS (1995) When is cancer pain mild, moderate or severe? Grading pain severity by its interference with function. Pain 61:277–284

25.

Bridges D, Thompson SW, Rice AS (2001) Mechanism of neuropathic pain. Br J Anaesth 87:12–26

26.

Mercadante S (2006) Pathophysiology of chronic pain. In: Bruera E, Higginson IJ, Ripamonti C, von Gunten C (eds) Textbook of palliative medicine. Hodder Arnold, London, pp 359–366

27.

Ricci M, Pirotti S, Burgio M, Scarpi E, Sansoni E, Ridolfi R, Amadori D, Maltoni M (2010) Safety and efficacy of scrambler therapy for cancer pain. J Clin Oncol 28 (suppl; abstr e19591)
Acknowledgment
The authors wish to thank Gráinne Tierney for editing the manuscript.
Conflict of interest
There are no conflicts of interest to declare.
About this article
Cite this article
Ricci, M., Pirotti, S., Scarpi, E. et al. Managing chronic pain: results from an open-label study using MC5-A Calmare® device. Support Care Cancer 20, 405–412 (2012). https://doi.org/10.1007/s00520-011-1128-6
Received:

Accepted:

Published:

Issue Date:
Keywords
Pain

Pain management

Electrocutaneous stimulation

Scrambler therapy