Abstract
Background
We tested if magnesium would diminish bothersome hot flashes in breast cancer patients.
Methods
Breast cancer patients with at least 14 hot flashes a week received magnesium oxide 400 mg for 4 weeks, escalating to 800 mg if needed. Hot flash score (frequency × severity) at baseline was compared to the end of treatment.
Results
Of 29 who enrolled, 25 women completed treatment. The average age was 53.5 years; six African American, the rest Caucasian; eight were on tamoxifen, nine were on aromatase inhibitors, and 14 were on anti-depressants. Seventeen patients escalated the magnesium dose. Hot flash frequency/week was reduced from 52.2 (standard error (SE), 13.7) to 27.7 (SE, 5.7), a 41.4% reduction, p = 0.02, two-sided paired t test. Hot flash score was reduced from 109.8 (SE, 40.9) to 47.8 (SE, 13.8), a 50.4% reduction, p = 0.04. Of 25 patients, 14 (56%) had a >50% reduction in hot flash score, and 19 (76%) had a >25% reduction. Fatigue, sweating, and distress were all significantly reduced. Side effects were minor: two women stopped the drug including one each with headache and nausea, and two women had grade 1 diarrhea. Compliance was excellent, and many patients continued treatment after the trial.
Conclusions
Oral magnesium appears to have helped more than half of the patients and was well tolerated. Side effects and cost ($0.02/tablet) were minimal. A randomized placebo-controlled trial is planned.
This is a preview of subscription content,
to check access.
Access this article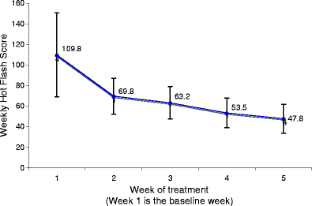 References
Feldman BM, Voda A, Gronseth E (1985) The prevalence of hot flash and associated variables among perimenopausal women. Res Nurs Health 8:261–268

Carpenter JS, Andrykowski MA (1999) Menopausal symptoms in breast cancer survivors. Oncol Nurs Forum 26:1311–1317

Loprinzi CL, Wolf SL, Barton DL et al (2008) Symptom management in premenopausal patients with breast cancer. Lancet Oncol 9:993–1001

Bordeleau L, Pritchard K, Goodwin P et al (2007) Therapeutic options for the management of hot flashes in breast cancer survivors: an evidence-based review. Clin Ther 29:230–241

Quella SK, Loprinzi CL, Sloan JA et al (1998) Long term use of megestrol acetate by cancer survivors for the treatment of hot flashes. Cancer 82:1784–1788

Loprinzi CL, Levitt R, Barton D et al (2006) Phase III comparison of depomedroxyprogesterone acetate to venlafaxine for managing hot flashes: North Central Cancer Treatment Group Trial N99C7. J Clin Oncol 24:1409–1414

Smith TJ (2009) Magnesium supplements for menopausal hot flashes. J Clin Oncol 27:1151–1152

Houston MC, Harper KJ (2008) Potassium, magnesium, and calcium: their role in both the cause and treatment of hypertension. J Clin Hypertens (Greenwich) 10:3–11

Sibai BM (2003) Diagnosis and management of gestational hypertension and preeclampsia. Obstet Gynecol 102:181–192

Gums JG (2004) Magnesium in cardiovascular and other disorders. Am J Health-Syst Pharm 61:1569–1576

Nechifor M (2009) Magnesium in major depression. Magnes Res 22:163S–166S

Sloan JA, Loprinzi CL, Novotny PJ et al (2001) Methodologic lessons learned from hot flash studies. J Clin Oncol 19:4280–4290

Mago R, Mahajan R, Thase ME (2008) Medically serious adverse effects of newer antidepressants. Curr Psychiatry Rep 10:249–257

Moret C, Isaac M, Briley M (2009) Problems associated with long-term treatment with selective serotonin reuptake inhibitors. J Psychopharmacol 23:967–974

Nechifor M (2008) Interactions between magnesium and psychotropic drugs. Magnes Res 21:97–100

Shanafelt TD, Barton DL, Adjei AA et al (2002) Pathophysiology and treatment of hot flashes. Mayo Clin Proc 77:1207–1218

Kazaks AG, Uriu-Adams JY, Albertson TE et al (2010) Effect of oral magnesium supplementation on measures of airway resistance and subjective assessment of asthma control and quality of life in men and women with mild to moderate asthma: a randomized placebo controlled trial. J Asthma 47:83–92
Acknowledgments
The authors are grateful to the VCU Department of Internal Medicine Residency Program for dedicated research time of HP; the Cancer Prevention and Control team at Massey; Dr. Charles Loprinzi, Mayo Clinic, for providing a trial framework, symptom assessment instruments, and guidance; and Dr. Mary Helen Hackney for assistance with patients.
Conflicts of interest
The authors hereby indicate that they do not have a financial relationship with any organization that sponsored the research. Research support for the investigators comes from the Massey Cancer Center NCI Core Grant 5 P30 CA16059 (TJS, GLP, MM, and CHB); salary support for TJS comes from GO8 LM0095259 from the National Library of Medicine and R01CA116227-01 from the National Cancer Institute. The pilot trial research was sponsored by the VCU-Massey Cancer Center, which has no financial interest in the publication or the results. Indeed, the low cost of oral magnesium (US $0.02 per tablet) precludes any commercial interest and was one of the attractive features of the therapy. The authors note that they have full control of all primary data, which is stored in the secure VCU-Massey ONCOR system, and that they agree to allow the journal to review their data if requested. All authors meet standards for authorship and have made important contributions to the study.
About this article
Cite this article
Park, H., Parker, G.L., Boardman, C.H. et al. A pilot phase II trial of magnesium supplements to reduce menopausal hot flashes in breast cancer patients. Support Care Cancer 19, 859–863 (2011). https://doi.org/10.1007/s00520-011-1099-7
Received:

Accepted:

Published:

Issue Date:

DOI: https://doi.org/10.1007/s00520-011-1099-7
Keywords