Abstract
Purpose
The aim of this study was to examine the prevalence of comorbid mental disorders as well as the extent of psychosocial distress in patients with intracranial tumours and their partners during the early treatment phase. Moreover, we aimed to identify which events are experienced as most distressing in the context of the early diagnosis of brain cancer by patients and spouses.
Methods
Structured clinical interviews for DSM-IV (SCID-IV) were conducted with 26 patients and their partners after the first neurosurgical treatment within the first 3 months after the detection of a brain tumour. Screening measures (NCCN distress thermometer, HADS, IES-R) were used to assess the extent of psychosocial distress as well as anxiety, depression and traumatic stress responses. Distressing experiences were assessed via a structured questionnaire and interview.
Results
Thirty-eight per cent of the patients and 47% of the partners suffered from a psychiatric disorder. Most frequent diagnoses were adjustment disorder and acute stress disorder. The majority of the participants suffered from elevated psychosocial distress. Partners were equally or even more affected than the patients. For the patients, the experience most frequently described as distressing was the first detection of the tumour. The majority of the partners reported to be distressed by the fear of surgery outcomes.
Conclusions
This study revealed that during this very first treatment phase, both brain tumour patients and their spouses show a high prevalence of comorbid mental disorders and psychosocial distress. The findings suggest that research and clinical efforts are needed to address the psychosocial concerns of these populations.
Access options
Buy single article
Instant access to the full article PDF.
US$ 39.95
Tax calculation will be finalised during checkout.
Subscribe to journal
Immediate online access to all issues from 2019. Subscription will auto renew annually.
US$ 119
Tax calculation will be finalised during checkout.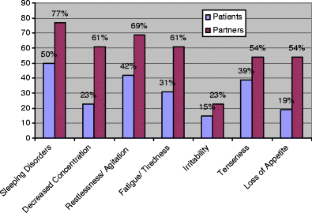 References
1.

Anderson SI, Taylor R, Whittle IR (1999) Mood disorders in patients after treatment for primary intracranial tumours. Br J Neurosurg 13:480–485

2.

Annunziata MA, Muzzatti B, Bidoli E (2010) Psychological distress and needs of cancer patients: a prospective comparison between the diagnostic and the therapeutic phase. Support Care Cancer p S1433–S7339 (in press)

3.

Arnold SD, Forman LM, Brigidi BD, Carter KE, Schweitzer HA, Qiunn HE, Bebe Guill A, Herndon JE, Raynor RH (2008) Evaluation and characterization of generalized anxiety and depression in patients with primary brain tumors. J Neuro-Oncol 10:171–181

4.

Braun M, Mikulincer M, Rydall A, Walsh A, Rodin G (2007) Hidden morbidity in cancer: spouse caregivers. J Clin Oncol 25:4829–4834

5.

Caumo W, Schmidt AP, Schneider CN, Bergmann J, Iwamoto CW, Bandeira D, Ferreira MB (2001) Risk factors for preoperative anxiety in adults. Acta Anaesthesiol Scand 45:298–307

6.

Chochinov HM (2001) Depression in cancer patients. Lancet Oncol 2:499–505

7.

Deimling GT, Kahana B, Bowman KF, Schaefer ML (2002) Cancer survivorship and psychological distress in later life. Psychooncol 11:479–494

8.

Derogatis LR, Morrow GR, Fetting J, Penman D, Piasetsky S, Schmale AM, Heinrichs M, Carnicke CL (1983) The prevalence of psychiatric disorders among cancer patients. J Clin Oncol 23:3588–3596

9.

Dowrick C, Casey P, Dalgard O, Hosman C, Lehtinen V, Vazquez-Barquero JL, Wilkinson G (1998) Outcomes of depression international network (odin). Background, methods and field trials. Odin group. Br J Psychiatry 172:359–363

10.

Durling M, Milne D, Hutton N, Ryan S (2007) Decreasing patients' preoperative anxiety: a literature review. Aust Nurs J 14(11):35

11.

First MB, Spitzer RL, Gibbon M, Williams JBW (1996) Structured clinical interview for DSM-IV Axis I disorders—clinician version. American Psychiatric Press, New York

12.

Folstein MF, Folstein SE, McHugh PR (1975) "Mini-mental-state": a practical method for grading the cognitive state of patients for the clinician. J Psychiatr Res 12:189–198

13.

Grassi L, Mangelli L, Fava GA, Grandi S, Ottolini F, Porcelli P, Rafanelli C, Rigatelli M, Sonino N (2007) Psychsomatic characterization of adjustment disorders in the medical setting: some suggestions for dsm-v. J Affect Disord 101:251–254

14.

Grassi L, Sabato S, Rossi E, Biancosino B, Marmai L (2005) Use of the diagnostic criteria for psychosomatic research in oncology. Psychother Psychosom 74:100–107

15.

Gustafsson M, Edvardsson T, Ahlström G (2006) The relationship between function, quality of life and coping in patients with low-grade gliomas. Support Care Cancer 14:1205–1212

16.

Haddad P, Pitceathly C, Maguire P (1996) Psychlogical morbidity in the partners of cancer patients. Cancer and the family. Wiley, West Sussex

17.

Hagedoorn M, Sanderman R, Bolks HN, Tuinstra J, Coyne JC (2008) Distress in couples coping with cancer: a meta-analysis and critical review of role and gender effects. Psychol Bull 134:1–30

18.

Härter M, Reuter K, Aschenbrenner A, Schretzmann B, Marschner N, Hasenburg A, Weis J (2001) Psychiatric disorders and associated factors in cancer: results of an interview study with patients in inpatient, rehabilitation and outpatient treatment. Eur J Cancer 37:1385–1393

19.

Herrmann-Lingen C, Buss U, Snaith RP (1995) HADS-D—hospital anxiety and depression scale—deutsche version: Ein fragebogen zur erfassung von angst und depressivität in der somatischen medizin Huber, Bern

20.

Hodgkinson K, Butow P, Hunt GE, Wyse R, Hobbs KM, Wain G (2007) Life after cancer: couples' and partners' psychological adjustment and supportive care needs. Support Care Cancer 15:405–415

21.

Holland JC (2002) History of psycho-oncology: overcoming attitudinal and conceptual barriers. Psychosom Med 64:206–221

22.

Huber W, Poeck K, Weninger D, Willmes K (1983) Der aachener aphasie test (aat). Hogrefe, Göttingen

23.

Janda M, Eakin E, Bailey L, Walker D, Troy K (2006) Supportive care needs of people with brain tumours and their carers. Support Care Cancer 14:1094–1103

24.

Janda M, Steginga S, Langbecker D, Dunn J, Walker D, Eakin E (2007) Quality of life among patients with a brain tumour and their carers. J Psychosom Res 63:617–623

25.

Kangas M, Henry JL, Bryant RA (2002) Posttraumatic stress disorder following cancer: a conceptual and empirical review. Clin Psychol Rev 22:499–524

26.

Kangas M, Henry JL, Bryant RA (2005) The relationship between acute stress disorder and posttraumatic stress disorder following cancer. J Consult Clin Psychol 73:360–364

27.

Keir ST, Calhoun-Eagan RD, Swartz JJ, Saleh OA, Friedman HS (2008) Screening for distress in patients with brain cancer using the NCCN's rapid screening measure. Psychooncol 17:621–625

28.

Keir ST, Guill AB, Carter KE, Friedman HS (2006) Stress and intervention preferences of patients with brain tumors. Support Care Cancer 14:1213–1219

29.

Keller M, Henrich G, Sellschopp A, Beutel M (1996) Between distress and support: spouses of cancer patients. Cancer and the family. Wiley, West Sussex

30.

Kvale EA, Murthy R, Taylor R, Lee JY, Nabors LB (2009) Distress and quality of life in primary high-grade brain tumor patients. Support Care Cancer 17:793–799

31.

Maercker A, Schützwohl M (1998) Erfassung von psychischen belastungsfolgen: die impact of event skala—revidierte version (IES-R). Diagnostica 44:130–141

32.

McGarvey EL, Canterbury RL, Koopman C, Clavet GJ, Cohen R, Largay K, Spiegler D (1998) Acute stress disorder following diagnosis of cancer. Int J Rehab Health 4:1–15

33.

Mehnert A, Koch U (2007) Prevalence of acute and posttraumatic stress disorder and comorbid mental disorders in breast cancer patients during primary cancer care: a prospective study. Psycho-Oncol 16:181–188

34.

Mehnert A, Müller D, Lehmann C, Koch U (2006) Die deutsche version des nccn distress-thermometers—empirische prüfung eines screening-instruments zur erfassung psychosozialer belastungen bei krebspatienten. Z Psychiat Psychol Psychother 54:213–223

35.

Moerman N, van Dam FS, Muller MJ, Oosting H (1996) The amsterdam preoperative anxiety and information scale. Anesth Analg 82:445–451

36.

NCCN (2003) Distress management clinical practice guidelines. J Natl Compr Canc Netw 1:344–374

37.

Newell SA, Sanson-Fisher RW, Savolainen NJ (2002) Systematic review of psychological therapies for cancer patients: overview and recommendations for future research. J Natl Cancer Inst 94:558–584

38.

Pace A, Metro G, Fabi A (2010) Supportive care in neurooncology. Curr Opin Oncol 11:S1531–1703X

39.

Palmer SC, Kagee A, Coyne JC, DeMichelle A (2004) Experience of trauma, distress, and posttraumatic stress disorder among breast cancer patients. Psychosom Med 66:258–264

40.

Perks A, Chakravarti S, Manninen P (2009) Preoperative anxiety in neurosurgical patients. J Neurosurg Anesthesiol 21:127–130

41.

Pringle A-A, Taylor R, Whittle IR (1999) Anxiety and depression in patients with an intracranial neoplasm before and after tumour surgery. Br J Neurosurg 13:46–51

42.

Rooney A, Grant R (2010) Pharmacological treatment of depression in patients with a primary brain tumour. Cochrane Database Syst Rev 3:CD006932

43.

Ross S, Mosher CE, Ronis-Tobin V, Hermele S, Ostroff JS (2010) Psychosocial adjustment of family caregivers of head and neck cancer survivors. Support Care Cancer 18:171–178

44.

Salander P (2010) Facilitating interventions and/or relationships in malignant brain tumors. Adv Ther 27:17–27

45.

Semprini F, Fava GA, Sonino N (2010) The spectrum of adjustment disorders: too broad to be clinically helpful. CNS Spectr 15:382–388

46.

Stark D, Kiely M, Smith A, Velikova G, House A, Selby PJ (2002) Anxiety disorders in cancer patients: their nature, associations, and relation to quality of life. J Clin Oncol 20:3137–3148

47.

Trask PC (2004) Assessment of depression in cancer patients. J Natl Cancer Inst Monographs 32:80–92

48.

Weiss DS, Marmar CR (1996) The impact of event scale—revised. In: Wilson JP, Keane TM (eds) Assessing psychological trauma and ptsd. Guildford Press, New York

49.

Wittchen HU, Zaudig M, Fydrich T (1997) Skid. Strukturiertes interview für dsm iv. Achse i und ii. Handanweisung. Hogrefe, Göttingen

50.

Zabora JR, BrintzenhofeSzoc KM, Curbow B, Hooker C, Piantadosi S (2001) The prevalence of psychological distress by cancer site. Psycho-Oncol 10:19–28

51.

Zigmond AS, Snaith RP (1983) The hospital anxiety and depression scale. Acta Psychiatr Scand 67:361–370
Conflicts of interests
None.
Disclosure
No financial support was received in conjunction with the generation of our submission.
About this article
Cite this article
Goebel, S., von Harscher, M. & Mehdorn, H.M. Comorbid mental disorders and psychosocial distress in patients with brain tumours and their spouses in the early treatment phase. Support Care Cancer 19, 1797–1805 (2011). https://doi.org/10.1007/s00520-010-1021-8
Received:

Accepted:

Published:

Issue Date:
Keywords
Intracranial tumour

Distress

Mental disorder

Patients

Spouses