Abstract
Purpose
Cancer patients frequently suffer from psychological comorbidities such as depression and elevated stress. Previous studies could demonstrate that cancer patients benefit from massage therapy on the physical and psychological level. This pilot study investigates the effects of massage on depression, mood, perceived stress, and the Th1/Th2 ratio in breast cancer patients.
Methods
Thirty-four breast cancer patients were randomly assigned to a massage group (n = 17) and a control group (n = 17). Patients of the massage group received two 30-min classical massages per week for 5 weeks. At baseline, at the end of the intervention period, and 6 weeks after the end of intervention, patients of both groups completed the Perceived Stress Questionnaire (PSQ), the Patient Health Questionnaire (PHQ), and the Berlin Mood Questionnaire (BFS) and blood was withdrawn for determining cytokine concentrations and the Th1/Th2 ratio.
Results
Twenty-nine patients were included in the statistical analysis. Depression (PHQ) and anxious depression (BSF) were significantly reduced immediately after massage compared to the control group. Stress (PSQ) and elevated mood (BSF) did not show significant alterations after massage therapy. Changes of cytokine concentrations and Th1/Th2 ratio were insignificant as well, although there was a slight shift towards Th1 in the massage group over time.
Conclusions
Massage therapy is an efficient treatment for reducing depression in breast cancer patients. Insignificant results concerning immunological parameters, stress, and mood indicate that further research is needed to determine psychological and immunological changes under massage therapy.
This is a preview of subscription content, log in to check access.
Access options
Buy single article
Instant access to the full article PDF.
US$ 39.95
Tax calculation will be finalised during checkout.
Subscribe to journal
Immediate online access to all issues from 2019. Subscription will auto renew annually.
US$ 199
Tax calculation will be finalised during checkout.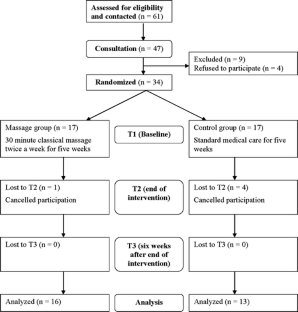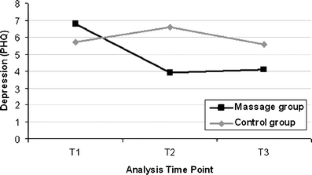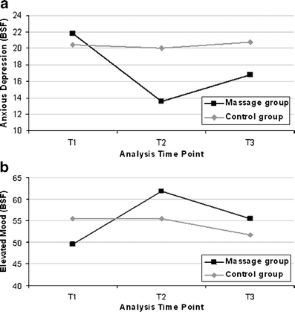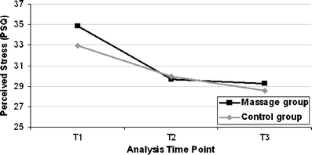 References
1.

Mehnert A, Koch U (2007) Prevalence of acute and post-traumatic stress disorder and comorbid mental disorders in breast cancer patients during primary cancer care: a prospective study. Psychooncology 16(3):181–188

2.

Burgess C, Cornelius V, Love S, Graham J, Richards M, Ramirez A (2005) Depression and anxiety in women with early breast cancer: five year observational cohort study. Bmj 330(7493):702

3.

van't Spijker A, Trijsburg RW, Duivenvoorden HJ (1997) Psychological sequelae of cancer diagnosis: a meta-analytical review of 58 studies after 1980. Psychosom Med 59(3):280–293

4.

Boon HS, Olatunde F, Zick SM (2007) Trends in complementary/alternative medicine use by breast cancer survivors: comparing survey data from 1998 and 2005. BMC Womens Health 7(4):1–7

5.

Ernstmann N, Neumann M, Ommen O, Galushko M, Wirtz M, Voltz R, Hallek M, Pfaff H (2009) Determinants and implications of cancer patients' psychosocial needs. Support Care Cancer 17(11):1417–1423

6.

Kremser T, Evans A, Moore A, Luxford K, Begbie S, Bensoussan A, Marigliani R, Zorbas H (2008) Use of complementary therapies by Australian women with breast cancer. Breast 17(4):387–394

7.

Carlson LE, Campbell TS, Garland SN, Grossman P (2007) Associations among salivary cortisol, melatonin, catecholamines, sleep quality and stress in women with breast cancer and healthy controls. J Behav Med 30(1):45–58

8.

Vedhara K, Tuinstra J, Miles JN, Sanderman R, Ranchor AV (2006) Psychosocial factors associated with indices of cortisol production in women with breast cancer and controls. Psychoneuroendocrinology 31(3):299–311

9.

Elenkov IJ, Chrousos GP (1999) Stress hormones, Th1/Th2 patterns, pro/anti-inflammatory cytokines and susceptibility to disease. Trends Endocrinol Metab 10(9):359–368

10.

Schwarz MJ, Chiang S, Muller N, Ackenheil M (2001) T-helper-1 and T-helper-2 responses in psychiatric disorders. Brain Behav Immun 15(4):340–370

11.

Zorrilla EP, Luborsky L, McKay JR, Rosenthal R, Houldin A, Tax A, McCorkle R, Seligman DA, Schmidt K (2001) The relationship of depression and stressors to immunological assays: a meta-analytic review. Brain Behav Immun 15(3):199–226

12.

Dunn AJ, Swiergiel AH, de Beaurepaire R (2005) Cytokines as mediators of depression: what can we learn from animal studies? Neurosci Biobehav Rev 29(4–5):891–909

13.

Lang K, Entschladen F, Weidt C, Zaenker KS (2006) Tumor immune escape mechanisms: impact of the neuroendocrine system. Cancer Immunol Immunother 55(7):749–760

14.

Field TM (1998) Massage therapy effects. Am Psychol 53(12):1270–1281

15.

Listing M, Reißhauer A, Voigt B, Klapp BF, Rauchfuß M (2008) Use of massage in the care of patients with breast cancer. Geburtshilfe Frauenheilkd 68:359–369

16.

Post-White J, Fitzgerald M, Savik K, Hooke MC, Hannahan AB, Sencer SF (2009) Massage therapy for children with cancer. J Pediatr Oncol Nurs 26(1):16–28

17.

Wilkie DJ, Kampbell J, Cutshall S, Halabisky H, Harmon H, Johnson LP, Weinacht L, Rake-Marona M (2000) Effects of massage on pain intensity, analgesics and quality of life in patients with cancer pain: a pilot study of a randomized clinical trial conducted within hospice care delivery. Hosp J 15(3):31–53

18.

Ahles TA, Tope DM, Pinkson B, Walch S, Hann D, Whedon M, Dain B, Weiss JE, Mills L, Silberfarb PM (1999) Massage therapy for patients undergoing autologous bone marrow transplantation. J Pain Symptom Manage 18(3):157–163

19.

Post-White J, Kinney ME, Savik K, Gau JB, Wilcox C, Lerner I (2003) Therapeutic massage and healing touch improve symptoms in cancer. Integr Cancer Ther 2(4):332–344

20.

Kutner JS, Smith MC, Corbin L, Hemphill L, Benton K, Mellis BK, Beaty B, Felton S, Yamashita TE, Bryant LL, Fairclough DL (2008) Massage therapy versus simple touch to improve pain and mood in patients with advanced cancer: a randomized trial. Ann Intern Med 149(6):369–379

21.

Corner J, Cawley N, Hildebrand S (1995) An evaluation of the use of massage and essential oils on the wellbeing of cancer patients. Int J Palliat Nurs 1(2):67–73

22.

Billhult A, Lindholm C, Gunnarsson R, Stener-Victorin E (2008) The effect of massage on cellular immunity, endocrine and psychological factors in women with breast cancer—a randomized controlled clinical trial. Auton Neurosci 140(1–2):88–95

23.

Hernandez-Reif M, Ironson G, Field T, Hurley J, Katz G, Diego M, Weiss S, Fletcher MA, Schanberg S, Kuhn C, Burman I (2004) Breast cancer patients have improved immune and neuroendocrine functions following massage therapy. J Psychosom Res 57(1):45–52

24.

Soden K, Vincent K, Craske S, Lucas C, Ashley S (2004) A randomized controlled trial of aromatherapy massage in a hospice setting. Palliat Med 18(2):87–92

25.

Cassileth BR, Vickers AJ (2004) Massage therapy for symptom control: outcome study at a major cancer center. J Pain Symptom Manage 28(3):244–249

26.

Hernandez-Reif M, Field T, Ironson G, Beutler J, Vera Y, Hurley J, Fletcher MA, Schanberg S, Kuhn C, Fraser M (2005) Natural killer cells and lymphocytes increase in women with breast cancer following massage therapy. Int J Neurosci 115(4):495–510

27.

Shor-Posner G, Hernandez-Reif M, Miguez MJ, Fletcher M, Quintero N, Baez J, Perez-Then E, Soto S, Mendoza R, Castillo R, Zhang G (2006) Impact of a massage therapy clinical trial on immune status in young Dominican children infected with HIV-1. J Altern Complement Med 12(6):511–516

28.

Shor-Posner G, Miguez MJ, Hernandez-Reif M, Perez-Then E, Fletcher M (2004) Massage treatment in HIV-1 infected Dominican children: a preliminary report on the efficacy of massage therapy to preserve the immune system in children without antiretroviral medication. J Altern Complement Med 10(6):1093–1095

29.

Zeitlin D, Keller SE, Shiflett SC, Schleifer SJ, Bartlett JA (2000) Immunological effects of massage therapy during academic stress. Psychosom Med 62(1):83–84

30.

Kuriyama H, Watanabe S, Nakaya T, Shigemori I, Kita M, Yoshida N, Masaki D, Tadai T, Ozasa K, Fukui K, Imanishi J (2005) Immunological and psychological benefits of aromatherapy massage. Evid Based Complement Alternat Med 2(2):179–184

31.

Diego MA, Field T, Hernandez-Reif M, Shaw K, Friedman L, Ironson G (2001) HIV adolescents show improved immune function following massage therapy. Int J Neurosci 106(1–2):35–45

32.

Ironson G, Field T, Scafidi F, Hashimoto M, Kumar M, Kumar A, Price A, Goncalves A, Burman I, Tetenman C, Patarca R, Fletcher MA (1996) Massage therapy is associated with enhancement of the immune system's cytotoxic capacity. Int J Neurosci 84(1–4):205–217

33.

Listing M, Reisshauer A, Krohn M, Voigt B, Tjahono G, Becker J, Klapp BF, Rauchfuss M (2009) Massage therapy reduces physical discomfort and improves mood disturbances in women with breast cancer. Psychooncology 18(12):1290–1299

34.

Levenstein S, Prantera C, Varvo V, Scribano ML, Berto E, Luzi C, Andreoli A (1993) Development of the Perceived Stress Questionnaire: a new tool for psychosomatic research. J Psychosom Res 37(1):19–32

35.

Fliege H, Rose M, Arck P, Levenstein S, Klapp BF (2001) Validierung des "Perceived Stress Questionnaire" (PSQ) an einer deutschen Stichprobe. Diagnostica 47(3):142–152

36.

Dejesus RS, Vickers KS, Melin GJ, Williams MD (2007) A system-based approach to depression management in primary care using the Patient Health Questionnaire-9. Mayo Clin Proc 82(11):1395–1402

37.

Hoerhold M, Klapp BF (1993) Testing the invariance and hierarchy of a multidimensional model of mood by means of repeated measurement with student and patient samples. Z Med Psychol 2:27–35

38.

Moyer CA, Rounds J, Hannum JW (2004) A meta-analysis of massage therapy research. Psychol Bull 130(1):3–18

39.

Billhult A, Lindholm C, Gunnarsson R, Stener-Victorin E (2009) The effect of massage on immune function and stress in women with breast cancer—a randomized controlled trial. Auton Neurosci 150(1–2):111–115

40.

Stringer J, Swindell R, Dennis M (2008) Massage in patients undergoing intensive chemotherapy reduces serum cortisol and prolactin. Psychooncology 17(10):1024–1031

41.

Kocalevent RD, Levenstein S, Fliege H, Schmid G, Hinz A, Brahler E, Klapp BF (2007) Contribution to the construct validity of the Perceived Stress Questionnaire from a population-based survey. J Psychosom Res 63(1):71–81

42.

Listing M, Krohn M, Liezmann C, Kim I, Reisshauer A, Peters E, Klapp BF, Rauchfuss M (2010) The efficacy of classical massage on stress perception and cortisol following primary treatment of breast cancer. Arch Womens Ment Health. doi:10.1007/s00737-009-0143-9

43.

Pollmacher T, Haack M, Schuld A, Reichenberg A, Yirmiya R (2002) Low levels of circulating inflammatory cytokines—do they affect human brain functions? Brain Behav Immun 16(5):525–532

44.

Rose M, Scholler G, Jorres A, Danzer G, Klapp BF (2000) Patients' expressions of complaints as a predictor of the course of acute hepatitis A. J Psychosom Res 48(2):107–113
Conflict of interest
None to declare.
About this article
Cite this article
Krohn, M., Listing, M., Tjahjono, G. et al. Depression, mood, stress, and Th1/Th2 immune balance in primary breast cancer patients undergoing classical massage therapy. Support Care Cancer 19, 1303–1311 (2011). https://doi.org/10.1007/s00520-010-0946-2
Received:

Accepted:

Published:

Issue Date:
Keywords
Massage

Breast cancer

Stress

Depression

Cytokines

Th1/Th2 immune balance