Abstract
Purpose
Virtual reality (VR) during chemotherapy has resulted in an elapsed time compression effect, validating the attention diversion capabilities of VR. Using the framework of the pacemaker–accumulator cognitive model of time perception, this study explored the influence of age, gender, state anxiety, fatigue, and cancer diagnosis in predicting the difference between actual time elapsed during receipt of intravenous chemotherapy while immersed in a VR environment versus patient's retrospective estimates of time elapsed during this treatment.
Materials and methods
This secondary analysis from three studies yielded a pooled sample of N = 137 participants with breast, lung, or colon cancer. Each study employed a crossover design requiring two matched intravenous chemotherapy treatments, with participants randomly assigned to receive VR during one treatment. Regressions modeled the effect of demographic variables, diagnosis, and Piper Fatigue Scale and State Anxiety Inventory scores on the difference between actual and estimated time elapsed during chemotherapy with VR.
Results
In a forward regression model, three predictors (diagnosis, gender, and anxiety) explained a significant portion of the variability for altered time perception (F=5.06, p = 0.0008). Diagnosis was the strongest predictor; individuals with breast and colon cancer perceived time passed more quickly.
Conclusions
VR is a noninvasive intervention that can make chemotherapy treatments more tolerable. Women with breast cancer are more likely and lung cancer patients less likely to experience altered time perception during VR (a possible indicator of effectiveness for this distraction intervention). Understanding factors that predict responses to interventions can help clinicians tailor coping strategies to meet each patient's needs.
Access options
Buy single article
Instant access to the full article PDF.
USD 39.95
Price excludes VAT (USA)
Tax calculation will be finalised during checkout.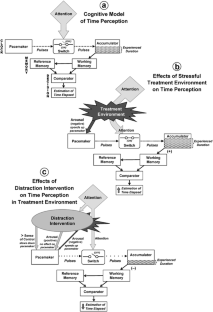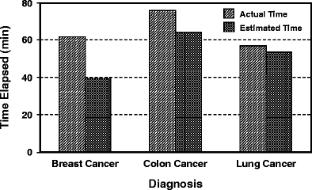 Notes
Sony PC Glasstron PLM-S700 or iO Display Systems Inc. i-Glasses SVGA 3D.
References
Abetz L, Coombs JH, Keininger DL, Earle CC, Wade C, Bury-Maynard D, Copley-Merriman K, Hsu M-A (2005) Development of the cancer therapy satisfaction questionnaire: item generation and content validity testing. Value Health 8(Suppl 1):S41–S53. doi:10.1111/j.1524-4733.2005.00073.x

Bell K (2009) 'If it almost kills you that means it's working!' Cultural models of chemotherapy expressed in a cancer support group. Soc Sci Med 68(1):169–176. doi:10.1016/j.socscimed.2008.10.023

Brañas-Garza P, Espinosa-Fernández L, Serrano-del-Rosal R (2007) Effects of gender and age on retrospective time judgements. Time Soc 16(1):99–118. doi:10.1177/0961463x07074104

Buhusi CV, Meck WH (2005) What makes us tick? Functional and neural mechanisms of interval timing. Nat Rev Neurosci 6(10):755–765. doi:10.1038/nrn1764

Burle B, Casini L (2001) Dissociation between activation and attention effects in time estimation: implications for internal clock models. J Exp Psychol Hum Percept Perform 27(1):195–205. doi:10.1037/0096-1523.27.1.195

Chaston A, Kingstone A (2004) Time estimation: the effect of cortically mediated attention. Brain Cogn 55(2):286–289. doi:10.1016/j.bandc.2004.02.013

Chernecky C (1999) Temporal differences in coping, mood, and stress with chemotherapy. Cancer Nurs 22(4):266–276

Cohen L, de Moor CA, Eisenberg P, Ming EE, Hu H (2007) Chemotherapy-induced nausea and vomiting: incidence and impact on patient quality of life at community oncology settings. Support Care Cancer 15(5):497–503. doi:10.1007/s00520-006-0173-z

Cox AC, Fallowfield LJ (2007) After going through chemotherapy I can't see another needle. Eur J Oncol Nurs 11(1):43–48. doi:10.1016/j.ejon.2006.04.035

Dahlquist LM, Weiss KE, Clendaniel LD, Law EF, Ackerman CS, McKenna KD (2009) Effects of videogame distraction using a virtual reality type head-mounted display helmet on cold pressor pain in children. J Pediatr Psychol 34(5):574–584. doi:10.1093/jpepsy/jsn023

DeVita VT Jr, Chu E (2008) A history of cancer chemotherapy. Cancer Res 68(21):8643–8653. doi:10.1158/0008-5472.CAN-07-6611

Droit-Volet S, Gil S (2009) The time–emotion paradox. Philos Trans R Soc Lond B Biol Sci 364(1525):1943–1953. doi:10.1098/rstb.2009.0013

Fischer DJ, Villines D, Kim YO, Epstein JB, Wilkie DJ (2010) Anxiety, depression, and pain: differences by primary cancer. Support Care Cancer. doi:10.1007/s00520-009-0712-5

Gershon J, Zimand E, Pickering M, Rothbaum BO, Hodges L (2004) A pilot and feasibility study of virtual reality as a distraction for children with cancer. J Am Acad Child Adolesc Psychiatr 43(10):1243–1249. doi:10.1097/01.chi.0000135621.23145.05

Goldspiel BR (2004) Chemotherapy dose density in early-stage breast cancer and non-Hodgkin's lymphoma. Pharmacotherapy 24(10):1347–1357. doi:10.1592/phco.24.14.1347.43154

Greer JA, Pirl WF, Park ER, Lynch TJ, Temel JS (2008) Behavioral and psychological predictors of chemotherapy adherence in patients with advanced non-small cell lung cancer. J Psychosom Res 65(6):549–552. doi:10.1016/j.jpsychores.2008.03.005

Grondin S, Plourde M (2007) Judging multi-minute intervals retrospectively. Q J Exp Psychol 60(9):1303–1312. doi:10.1080/17470210600988976

Hoffman HG, Richards TL, Bills AR, Van Oostrom T, Magula J, Seibel EJ, Sharar SR (2006) Using FMRI to study the neural correlates of virtual reality analgesia. CNS Spectr 11(1):45–51

Hofman M, Morrow GR, Roscoe JA, Hickok JT, Mustian KM, Moore DF, Wade JL, Fitch TR (2004) Cancer patients' expectations of experiencing treatment-related side effects: a University of Rochester Cancer Center-community clinical oncology program study of 938 patients from community practices. Cancer 101(4):851–857. doi:10.1002/cncr.20423

Humphreys GR, Buehner MJ (2009) Magnitude estimation reveals temporal binding at super-second intervals. J Exp Psychol Hum Percept Perform 35(5):1542–1549. doi:10.1037/a0014492

Kwekkeboom KL (2003) Music versus distraction for procedural pain and anxiety in patients with cancer. Oncol Nurs Forum 30(3):433–440. doi:10.1188/03.ONF.433-440

Magora F, Cohen S, Shochina M, Dayan E (2006) Virtual reality immersion method of distraction to control experimental ischemic pain. Isr Med Assoc J 8(4):261–265

Mahrer NE, Gold JI (2009) The use of virtual reality for pain control: a review. Curr Pain Headache Rep 13(2):100–109. doi:10.1007/s11916-009-0019-8

McIlfatrick S, Sullivan K, McKenna H, Parahoo K (2007) Patients' experiences of having chemotherapy in a day hospital setting. J Adv Nurs 59(3):264–273. doi:10.1111/j.1365-2648.2007.04324.x

Miró E, Cano MC, Espinosa-Fernández L, Buela-Casal G (2003) Time estimation during prolonged sleep deprivation and its relation to activation measures. Hum Factors 45(1):148–159. doi:10.1518/hfes.45.1.148.27227

Molassiotis A, Saunders MP, Valle J, Wilson G, Lorigan P, Wardley A, Levine E, Cowan R, Loncaster J, Rittenberg C (2008) A prospective observational study of chemotherapy-related nausea and vomiting in routine practice in a UK cancer centre. Support Care Cancer 16(2):201–208. doi:10.1007/s00520-007-0343-7

Morris LD, Louw QA, Grimmer-Somers K (2009) The effectiveness of virtual reality on reducing pain and anxiety in burn injury patients: a systematic review. Clin J Pain 25(9):815–826. doi:10.1097/AJP.0b013e3181aaa909

Piper BF, Dibble SL, Dodd MJ, Weiss MC, Slaughter RE, Paul SM (1998) The revised piper fatigue scale: psychometric evaluation in women with breast cancer. Oncol Nurs Forum 25(4):677–684

Roscoe JA, Morrow GR, Colagiuri B, Heckler CE, Pudlo BD, Colman L, Hoelzer K, Jacobs A (2010) Insight in the prediction of chemotherapy-induced nausea. Support Care Cancer. doi:10.1007/s00520-009-0723-2

Schneider SM (2007) A series of studies exploring the use of virtual reality for chemotherapy treatments. Oncol Nurs Forum 34(1):182–183. doi:10.1188/07.ONF.39-46

Schneider SM, Ellis M, Coombs WT, Shonkwiler EL, Folsom LC (2003) Virtual reality intervention for older women with breast cancer. Cyberpsychol Behav 6(3):301–307. doi:10.1089/109493103322011605

Schneider SM, Hood LE (2007) Virtual reality: a distraction intervention for chemotherapy. Oncol Nurs Forum 34(1):39–46. doi:10.1188/07.ONF.39-46

Schneider SM, Prince-Paul M, Allen MJ, Silverman P, Talaba D (2004) Virtual reality as a distraction intervention for women receiving chemotherapy. Oncol Nurs Forum 31(1):81–88. doi:10.1188/04.ONF.81-88

Schneider SM, Workman ML (2000) Virtual reality as a distraction intervention for older children receiving chemotherapy. Pediatr Nurs 26(6):593–597

Sharar SR, Miller W, Teeley A, Soltani M, Hoffman HG, Jensen MP, Patterson DR (2008) Applications of virtual reality for pain management in burn-injured patients. Expert Rev Neurother 8(11):1667–1674. doi:10.1586/14737175.8.11.1667

Somov PG (2000) Time perception as a measure of pain intensity and pain type. J Back Musculoskelet Rehabil 14(3):111–121

Spielberger CD (1983) Manual for the State-Trait Anxiety Inventory. Consulting Psychologist Press, Palo Alto

Thuné-Boyle ICV, Myers LB, Newman SP (2006) The role of illness beliefs, treatment beliefs, and perceived severity of symptoms in explaining distress in cancer patients during chemotherapy treatment. Behav Med 32(1):19–29. doi:10.3200/BMED.32.1.19-29

Tobin S, Grondin S (2009) Video games and the perception of very long durations by adolescents. Comput Hum Behav 25(2):554–559. doi:10.1016/j.chb.2008.12.002

Verdura GS, Alaimo S, Borzì R, Fazio M, Scavo V (2005) Trying to listen: needs of patients treated with chemotherapy. Support Palliat Cancer Care 2(1):15–20

Wearden JH (2008) The perception of time: basic research and some potential links to the study of language. Lang Learn 58:149–171. doi:10.1111/j.1467-9922.2008.00468.x

Wiederhold MD, Wiederhold BK (2007) Virtual reality and interactive simulation for pain distraction. Pain Med 8(Suppl 3):S182–S188. doi:10.1111/j.1526-4637.2007.00381.x

Wittmann M, Paulus MP (2008) Decision making, impulsivity and time perception. Trends Cogn Sci 12(1):7–12. doi:10.1016/j.tics.2007.10.004

Wittmann M, Vollmer T, Schweiger C, Hiddemann W (2006) The relation between the experience of time and psychological distress in patients with hematological malignancies. Palliat Support Care 4(4):357–363. doi:10.1017/S1478951506060469

Yoo HJ, Ahn SH, Kim SB, Kim WK, Han OS (2005) Efficacy of progressive muscle relaxation training and guided imagery in reducing chemotherapy side effects in patients with breast cancer and in improving their quality of life. Support Care Cancer 13(10):826–833. doi:10.1007/s00520-005-0806-7

Zachariae R, Paulsen K, Mehlsen M, Jensen AB, Johansson A, von der Maase H (2007) Anticipatory nausea: the role of individual differences related to sensory perception and autonomic reactivity. Ann Behav Med 33(1):69–79. doi:10.1207/s15324796abm3301_8
Acknowledgments
Data used in these analyses were from studies funded by the American Cancer Society, the Oncology Nursing Foundation (through an unrestricted grant from Ortho Biotech Products, L.P.), NINR 1 P20 NR07795-01 (PI: E. Clipp), and Duke University Medical Center.
Author disclosures
The authors of this manuscript have no conflicts of interest to disclose. The authors have no financial relationship with the organizations that sponsored the research. The corresponding/primary author has full control of all the primary data and agrees to allow the journal to review the data if requested.
About this article
Cite this article
Schneider, S.M., Kisby, C.K. & Flint, E.P. Effect of virtual reality on time perception in patients receiving chemotherapy. Support Care Cancer 19, 555–564 (2011). https://doi.org/10.1007/s00520-010-0852-7
Received:

Accepted:

Published:

Issue Date:

DOI: https://doi.org/10.1007/s00520-010-0852-7
Keywords