Abstract
Purpose
1) To determine the effect of a home-based walking exercise program on the sleep quality and quality of life of cancer patients, as well as 2) to determine if enhanced sleep quality was associated with improvement in quality of life over time.
Methods
This is a prospective, longitudinal, two-armed, randomized clinical trial. Participants were recruited from oncology outpatient clinics in two university-based medical centers and were allocated to either usual care (n = 35) or a home-based walking exercise intervention for 8 weeks (n = 36). Measurements included the Taiwanese version of the Pittsburgh Sleep Quality Index, the Medical Outcomes Study Short Form-36, the Taiwanese Version Ratings of the Perceived Exertion Scale, and a walking exercise log. This study was analyzed on an intention-to-treat basis. Effects of the walking exercise program on sleep quality and quality of life were analyzed by the generalized estimating equation method.
Results
Patients in the exercise group reported significant improvements in sleep quality (β = −3.54, p < 0.01) and the mental health dimension of quality of life (β = 10.48, p < 0.01). Among patients who exercised, enhanced sleep quality also corresponded with reduced bodily pain (β = 0.98, p = 0.04) and improvements over time in the mental health dimension of quality of life (β = −3.87, p < 0.01).
Conclusions
A home-based walking exercise program can be easily incorporated into care for cancer patients who are suffering from sleep disturbances.
Access options
Buy single article
Instant access to the full article PDF.
USD 39.95
Price includes VAT (USA)
Tax calculation will be finalised during checkout.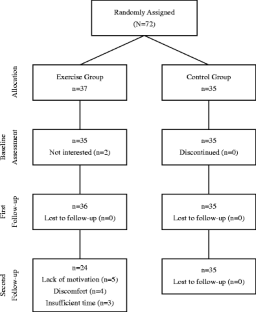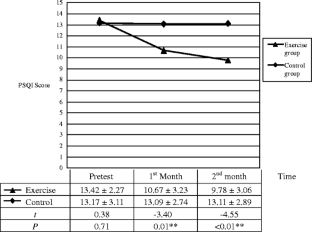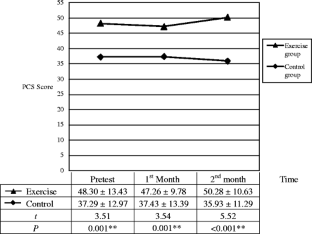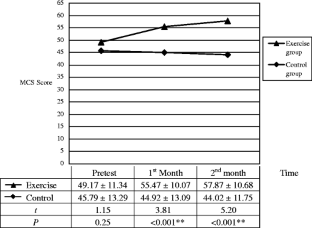 References
1.

Espie CA, Fleming L, Cassidy J et al (2008) Randomized controlled clinical effectiveness trial of cognitive behavior therapy compared with treatment as usual for persistent insomnia in patients with cancer. J Clin Oncol 26:4651–4658

2.

Andrykowski MA, Curran SL, Lightner R (1998) Off-treatment fatigue in breast cancer survivors: a controlled comparison. J Behav Med 21:1–18

3.

Carpenter JS, Elam JL, Ridner SH, Carney PH, Cherry GJ, Cucullu HL (2004) Sleep, fatigue, and depressive symptoms in breast cancer survivors and matched healthy women experiencing hot flashes. Oncol Nurs Forum 31:591–598

4.

Mock V, Dow KH, Meares CJ et al (1997) Effects of exercise on fatigue, physical functioning, and emotional distress during radiation therapy for breast cancer. Oncol Nurs Forum 24:991–1000

5.

Redeker NS, Lev EL, Ruggiero J (2000) Insomnia, fatigue, anxiety, depression, and quality of life of cancer patients undergoing chemotherapy. Sch Inq Nurs Pract 14:275–298

6.

Wang RC, Wang SJ, Chang YC, Lin CC (2007) Mood state and quality of sleep in cancer pain patients: a comparison to chronic daily headache. J Pain Symptom Manage 33:32–39

7.

Sateia MJ, Nowell PD (2004) Insomnia. Lancet 364:1959–1973

8.

Savard J, Morin CM (2001) Insomnia in the context of cancer: a review of a neglected problem. J Clin Oncol 19:895–908

9.

Bélanger L, Vallières A, Ivers H, Moreau V, Lavigne G, Morin CM (2007) Meta-analysis of sleep changes in control groups of insomnia treatment trials. J Sleep Res 16(1):77–84

10.

Sherrill DL, Kotchou K, Quan SF (1998) Association of physical activity and human sleep disorders. Arch Intern Med 158:1894–1898

11.

Shapiro CM, Bachmayer D (1988) Epidemiological aspects of sleep in general public and hospital outpatient samples. Acta Physiol Scand Suppl 574:41–43

12.

Vuori I, Urponen H, Hasan J, Partinen M (1988) Epidemiology of exercise effects on sleep. Acta Physiol Scand Suppl 574:3–7

13.

Singh NA, Clements KM, Fiatarone MA (1997) A randomized controlled trial of the effect of exercise on sleep. Sleep 20:95–101

14.

King AC, Oman RF, Brassington GS, Bliwise DL, Haskell WL (1997) Moderate-intensity exercise and self-rated quality of sleep in older adults. A randomized controlled trial. JAMA 277:32–37

15.

Yeh GY, Mietus JE, Peng CK et al (2008) Enhancement of sleep stability with Tai Chi exercise in chronic heart failure: preliminary findings using an ECG-based spectrogram method. Sleep Med 9:527–536

16.

Tworoger SS, Yasui Y, Vitiello MV et al (2003) Effects of a yearlong moderate-intensity exercise and a stretching intervention on sleep quality in postmenopausal women. Sleep 26:830–836

17.

Savard J, Simard S, Ivers H, Morin CM (2005) Randomized study on the efficacy of cognitive-behavioral therapy for insomnia secondary to breast cancer, part I: sleep and psychological effects. J Clin Oncol 23:6083–6096

18.

Berger AM, Kuhn BR, Farr LA et al (2009) Behavioral therapy intervention trial to improve sleep quality and cancer-related fatigue. Psychooncology 18(6):634–646

19.

Payne JK, Held J, Thorpe J, Shaw H (2008) Effect of exercise on biomarkers, fatigue, sleep disturbances, and depressive symptoms in older women with breast cancer receiving hormonal therapy. Oncol Nurs Forum 35:635–642

20.

Bland M (2000) An introduction to medical statistics. Oxford University Press, Oxford

21.

Schwartz AL (2000) Daily fatigue patterns and effect of exercise in women with breast cancer. Cancer Pract 8:16–24

22.

Schwartz AL (2000) Exercise and weight gain in breast cancer patients receiving chemotherapy. Cancer Pract 8:231–237

23.

Guilleminault C, Clerk A, Black J, Labanowski M, Pelayo R, Claman D (1995) Nondrug treatment trials in psychophysiologic insomnia. Arch Intern Med 155:838–844

24.

Buysse DJ, Reynolds CF III, Monk TH, Berman SR, Kupfer DJ (1989) The Pittsburgh Sleep Quality Index: a new instrument for psychiatric practice and research. Psychiatry Res 28:193–213

25.

Ware JE, Sherbourne CD (1992) The MOS 36-item short-form health survey (SF-36). I. Conceptual framework and item selection. Med Care 30:473–483

26.

Lu JR, Tseng HM, Tsai YJ (2003) Assessment of health-related quality of life in Taiwan (I): development and psychometric testing of SF-36 Taiwan version. Taiwan J Public Health 22:501–511 (in Chinese)

27.

Tseng HM, Lu JR, Tsai YJ (2003) Assessment of health-related quality of life in Taiwan (II): norming and validation of SF-36 Taiwan version. Taiwan J Public Health 22:512–518 (in Chinese)

28.

Borg GA (1982) Psychophysical bases of perceived exertion. Med Sci Sports Exerc 14:377–381

29.

Borg G, Linderholm H (1967) Perceived exertion and pulse rate during graded exercise in various age group. Acta Med Scand Suppl 472:194–206

30.

Skinner JS, Hutsler R, Bergsteinova V, Buskirk ER (1973) The validity and reliability of a rating scale of perceived exertion. Med Sci Sports 5:94–96

31.

Ulmer H, Janz U, Loogen H (1977) Aspects of the validity of Borg's scale, is it measuring stress or strain? In: Borg G (ed) Physical work and effort. Pergamon Press, New York, pp 181–196

32.

Liang KY, Zeger SL (1986) Longitudinal data analysis using generalized liner models. Biometrika 73:13–22

33.

Liang KY, Zeger SL, Qaqish B (1992) Multivariate regression analyses for categorical data. J R Stat Soc 54:3–40

34.

Zeger SL, Liang KY (1986) Longitudinal data analysis for discrete and continuous outcomes. Biometrics 42:121–130

35.

Berger AM, Farr L (1999) The influence of daytime inactivity and nighttime restlessness on cancer-related fatigue. Oncol Nurs Forum 26(10):1663–1671

36.

Mystakidou K, Parpa E, Tsilika E et al (2007) Sleep quality in advanced cancer patients. J Psychosom Res 62:527–533

37.

Verster JC, Veldhuijzen DS, Volkerts ER (2004) Residual effects of sleep medication on driving ability. Sleep Med Rev 8:309–325

38.

Lawlor DA, Hopker SW (2001) The effectiveness of exercise as an intervention in the management of depression: systematic review and meta-regression analysis of randomized controlled trials. BMJ 322:763–767

39.

Driver HS, Taylor SR (2000) Exercise and sleep. Sleep Med Rev 4:387–402

40.

Youngstedt SD, Kline CE (2006) Epidemiology of exercise and sleep. Sleep Biol Rhythms 4:215–221

41.

Mereles D, Ehlken N, Kreuscher S et al (2006) Exercise and respiratory training improve exercise capacity and quality of life in patients with severe chronic pulmonary hypertension. Circulation 114:1482–1489

42.

Segal R, Evans W, Johnson D et al (2001) Structured exercise improves physical functioning in women with stages I and II breast cancer: results of a randomized controlled trial. J Clin Oncol 19:657–665

43.

McGinty D, Szymusiak R (1990) Keeping cool: a hypothesis about the mechanisms and functions of slow-wave sleep. Trends Neurosci 13:480–487

44.

Kräuchi K, Cajochen C, Werth E, Wirz-Justice A (1999) Warm feet promote the rapid onset of sleep. Nature 401:36–37

45.

Horne JA, Moore VJ (1985) Sleep EEG effects of exercise with and without additional body cooling. Electroencephalogr Clin Neurophysiol 60:33–38

46.

Berger RJ, Phillips NH (1988) Comparative aspects of energy metabolism, body temperature and sleep. Acta Physiol Scand Suppl 574:21–27

47.

Adam K, Oswald I (1983) Protein synthesis, bodily renewal and the sleep–wake cycle. Clin Sci (Lond) 65:561–567

48.

Naylor E, Penev PD, Orbeta L et al (2000) Daily social and physical activity increases slow-wave sleep and daytime neuropsychological performance in the elderly. Sleep 23:87–95

49.

Blanco-Centurion CA, Shiromani PJ (2006) Beneficial effects of regular exercise on sleep in old F344 rats. Neurobiol Aging 27(12):1859–1869

50.

Courneya KS, Friedenreich CM (1997) Determinants of exercise during colorectal cancer treatment: an application of the theory of planned behavior. Oncol Nurs Forum 24:1715–1723

51.

Courneya KS, Friedenreich CM (1997) Relationship between exercise during treatment and current quality of life among survivors of breast cancer. J Psychosoc Oncol 15:35–57

52.

Courneya KS, Blanchard CM, Laing DM (2001) Exercise adherence in breast cancer survivors training for a dragon boat race competition: a preliminary investigation. Psychooncology 10:444–452

53.

Courneya KS, Keats MR, Turner AR (2000) Social cognitive determinants of hospital-based exercise in cancer patients following high dose chemotherapy and bone marrow transplantation. Int J Behav Med 7:189–203

54.

Jones LW, Courneya KS (2002) Exercise counseling and programming preferences of cancer survivors. Cancer Pract 10:208–215
Acknowledgments
The authors are grateful to Ms. Denise Dipert for her expertise in editing this paper.
About this article
Cite this article
Tang, MF., Liou, TH. & Lin, CC. Improving sleep quality for cancer patients: benefits of a home-based exercise intervention. Support Care Cancer 18, 1329–1339 (2010). https://doi.org/10.1007/s00520-009-0757-5
Received:

Accepted:

Published:

Issue Date:
Keywords
Exercise

Sleep

Sleep disturbances

Cancer

Home-based walking