Abstract
Goals of work
The purpose of this study is to compare the treatment and retention effects between standard decongestive lymphatic therapy (DLT) combined with pneumatic compression (PC) and modified DLT, in which the use of a short-stretch bandage is replaced with the use of Kinesio tape (K-tape) combined with PC.
Materials and methods
Forty-one patients with unilateral breast-cancer-related lymphedema for at least 3 months were randomly grouped into the DLT group (bandage group, N = 21) or the modified DLT group (K-tape group, N = 20). Skin care, 30-min manual lymphatic drainage, 1-h pneumatic compression therapy, application of a short-stretch bandage or K-tape for each group, and a 20-min physical therapy exercise were given during every treatment session. Patient evaluation items included physical therapy assessment, limb size, water composition of the upper extremity, lymphedema-related symptoms, quality of life, and patients' acceptance to the bandage or tape.
Main results
There was no significant difference between groups in all outcome variables (P > 0.05) through the whole study period. Excess limb size (circumference and water displacement) and excess water composition were reduced significantly in the bandage group; excess circumference and excess water composition were reduced significantly in the tape group. The acceptance of K-tape was better than the bandage, and benefits included longer wearing time, less difficulty in usage, and increased comfort and convenience (P < 0.05).
Conclusions
The study results suggest that K-tape could replace the bandage in DLT, and it could be an alternative choice for the breast-cancer-related lymphedema patient with poor short-stretch bandage compliance after 1-month intervention. If the intervention period was prolonged, we might get different conclusion. Moreover, these two treatment protocols are inefficient and cost time in application. More efficient treatment protocol is needed for clinical practice.
Access options
Buy single article
Instant access to the full article PDF.
US$ 39.95
Tax calculation will be finalised during checkout.
Subscribe to journal
Immediate online access to all issues from 2019. Subscription will auto renew annually.
US$ 119
Tax calculation will be finalised during checkout.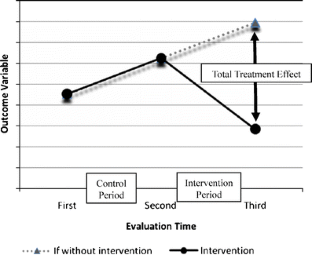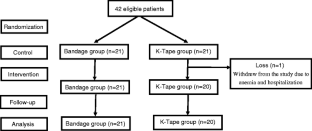 References
1.

Andersen L, Højris I, Erlandsen M, Andersen J (2000) Treatment of breast-cancer-related lymphoedema with or without manual lymphatic drainage. Acta Oncologica 39:399–405. doi:10.1080/028418600750013186

2.

Brennan MJ, DePompolo RW, Carden FH (1996) Focused review: postmastectomy lymphedema. Arch Phys Med Rehabil 77:S74–S80. doi:10.1016/S0003-9993(96)90248-8

3.

Brennan MJ, Miller LT (1998) Overview of treatment options and review of the current role and use of compression garments, intermittent pumps, and exercise in the management of lymphedema. Cancer 83(12 Suppl):2821–2827. doi:10.1002/(SICI)1097-0142(19981215)83:12B+<2821::AID-CNCR33>3.0.CO;2-G

4.

Bunce IH, Miroli BR, Hennessy JM, Ward LC, Jones LC (1994) Post-mastectomy lymphoedema treatment and measurement. Med J Aust 161:125–128

5.

Casley-Smith JR (1997) Modern treatment for lymph. Lymphoedema Association of Austria, Inc, Malvern

6.

Chen YW, Tsai HJ, Hung HC, Tsauo JY (2008) Reliability study of measurement for lymphedema in breast cancer patients. Am J Phys Med Rehabil 87:33–38

7.

Chie WC, Chang KJ, Huang CS, Kuo WH (2003) Quality of life of breast cancer patients in Taiwan: validation of the Taiwan Chinese version of the EORTC QLQ-C30 and EORTC QLQ-BR23. Psychooncology 12:729–735. doi:10.1002/pon.727

8.

Cohen SR, Payne DK, Tunkel RS (2001) Lymphedema: strategies for management. Cancer 92:980–987. doi:10.1002/1097-0142(20010815)92:4+<980::AID-CNCR1410>3.0.CO;2-E

9.

Kase K (1997) Illustrated Kinesio-taping. KEN'IKAI Information, Albuquerque

10.

Kase K, Hashimoto T, Okane T (1998) Kinesio taping perfect manual. Kinesio Taping Association, Tokyo

11.

Kase K, Wallis J, Kase T (2003) Clinical therapeutic applications of the Kinesio taping methods. Kinesio Taping Association, Tokyo

12.

Kisner C, Colby LA (2002) Therapeutic exercise: foundation and techniques. Davis, Philadelphia

13.

Ko DSC, Lerner R, Klose G, Cosimi AB (1998) Effective treatment of lymphoedema of the extremities. Arch Surg 133:452–458. doi:10.1001/archsurg.133.4.452

14.

Leduc O, Leduc A, Bourgeois P, Belgrado JP (1998) The physical treatment of upper limb edema. Cancer 83(12 Suppl):2835–2842. doi:10.1002/(SICI)1097-0142(19981215)83:12B+<2835::AID-CNCR36>3.0.CO;2-V

15.

Liao SF, Huang MS, Li SH et al (2004) Complex decongestive physiotherapy for patients with chronic cancer-associated lymphedema. J Formos Med Assoc 103:344–348

16.

Mortimer PS, Bates DO, Brassington HD, Stanton AWB, Strachan DP, Levick JR (1996) The prevalence of arm oedema following treatment for breast cancer. QJM 89:377–380

17.

O'Donnell T (2003) Principles of medical and physical treatment. In: Browse SN, Burnand KG, Mortimer PS (eds) Diseases of the lymphatics. Arnold, New York, pp 151–178

18.

Pain SJ, Purushotham AD (2000) Lymphoedema following surgery for breast cancer. Br J Surg 87:1128–1141. doi:10.1046/j.1365-2168.2000.01569.x

19.

Passik SD, McDonald MV (1998) Psychosocial aspects of upper extremity lymphedema in women treated for breast carcinoma. Cancer 83(12 Suppl):2817–2820. doi:10.1002/(SICI)1097-0142(19981215)83:12B+<2817::AID-CNCR32>3.0.CO;2-2

20.

Szuba A, Achalu R, Rockson SG (2002) Decongestive lymphatic therapy for patients with breast carcinoma-associated lymphoedema. Cancer 95:2260–2267. doi:10.1002/cncr.10976

21.

Szuba A, Cooke JP, Yousuf S, Rockson SG (2000) Decongestive lymphatic therapy for patients with cancer-related or primary lymphoedema. Am J Med 109:296–300. doi:10.1016/S0002-9343(00)00503-9

22.

Tobin M, Lacey HJ, Meyer L, Mortimer PS (1993) The psychological morbidity of breast cancer-related arm swelling. Cancer 72:3248–3252. doi:10.1002/1097-0142(19931201)72:11<3248::AID-CNCR2820721119>3.0.CO;2-Z

23.

Tsai HJ, Liu UX, Tsauo JY (2005) Reliability of lymphedema measurement. FJPT 30:124–131

24.

Williams AF, Vadgama A, Franks PJ, Mortimer PS (2002) A randomized controlled crossover study of manual lymphatic drainage therapy in women with breast cancer-related lymphoedema. Eur J Cancer Care (Engl) 11:254–261. doi:10.1046/j.1365-2354.2002.00312.x

25.

Yang JL, Wu YT (2003) Physical therapy for lymphedema. FJPT 28:157–116
Additional information
Funding was provided by the National Science Council of The Republic of China, Taipei 106, Taiwan (R.O.C.) NSC93-2314-B-002-118.
About this article
Cite this article
Tsai, HJ., Hung, HC., Yang, JL. et al. Could Kinesio tape replace the bandage in decongestive lymphatic therapy for breast-cancer-related lymphedema? A pilot study. Support Care Cancer 17, 1353 (2009). https://doi.org/10.1007/s00520-009-0592-8
Received:

Accepted:

Published:
Keywords
Breast-cancer-related lymphedema

Bandage

Taping

Decongestive lymphatic therapy