Abstract
Goals of work
This paper presents findings from a qualitative study investigating service users' experiences of a patient information pathway after a diagnosis of cancer.
Materials and methods
Patients (27) and relatives (20) were recruited from two identified Cancer Network sites representing a pathway that had been information mapped (Lung) and one which had not (Head and Neck). Respondents participated in up to three qualitative interviews in the year after diagnosis.
Main results
The need for information in response to serious health problems has become widely accepted. Providing cancer patients and their carers with high-quality information throughout their care pathway is a policy priority. However, the study findings contribute to a growing body of evidence that far from embracing the active role of "expert patient", many patients continue to prefer verbal to written information, to trust in health professionals as their primary and preferred source of information, and to be quite cautious and selective about what they want to know about their illness.
Conclusions
Good information is regarded as a prerequisite for informed decision making and a primary means of coping with the stress of illness. However, patient attitudes to information are complex and encompass resistance, ambivalence and indifference, active engagement and interest. The study findings reinforce the need for health professionals to develop competence as skilled communicators, and for efficient local systems of information transfer between service agencies and health professionals as prerequisites for delivery of the timely, tailored and personalized information which patients require.
Access options
Buy single article
Instant access to the full article PDF.
USD 39.95
Price excludes VAT (USA)
Tax calculation will be finalised during checkout.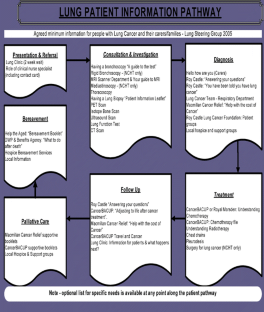 References
Beaver K, Luker KA, Owens RG, Leinster SJ, Degner LF, Sloan JA (1996) Treatment decision-making in women newly diagnosed with breast cancer. Cancer Nurs 19:8–19

Bilodeau BA, Degner LF (1996) Information needs, sources of information, and decisional roles in women with breast cancer. Oncol Nurs Forum 23:691–696

Bishop FL, Yardley L (2004) Constructing agency in treatment decisions: negotiating responsibility in cancer. Health 8:465–482

Burkitt Wright E, Holcombe C, Salmon P (2004) Doctors' communication of trust, care, and respect in breast cancer: qualitative study. BMJ 328:864–868

Cassileth BR, Zupkis RV, Sutton-Smith K, March V (1980) Information and participation preferences among cancer patients. Ann Intern Med 92:832–836

Cohen F, Lazarus RS (1979) Coping with stress in illness. In: Stone GC, Cohen F, Adler NE (eds) Health psychology. Josey Bass, San Fancisco, pp 217–224

Coulter A (2002) The autonomous patient, ending paternalism in medical care. The Nuffield Trust, London

Coulter A, Entwistle V, Gilbert D (1998) Informing patients, an assessment of the quality of patient information materials. King's Fund, London

Cox K, Pollock K, Howard P, Wilson E, Moghaddam N (2006) Evaluating the 'cancer backup network patient information project 2004–2006': Users' experiences of patient information delivery across a cancer network. University of Nottingham, Nottingham

Darrow SL, Speyer J, Marcus AC, Ter Maat J, Krome D (1998) Coping with cancer: The impact of the cancer information service on patients and significant others. Part 6. Health Commun 3:86–96

Davidson BJ, Gleave ME, Goldenberg SL, Degner LF, Hoffart D, Berkowitz J (2002) Assessing information and decision preferences of men with prostate cancer and their partners. Cancer Nurs 25:42–49

De Haes H (2006) Dilemmas in patient centeredness and shared decision making: a case for vulnerability. Patient Educ Couns 62:291–298

de Haes H, Koedoot N (2003) Patient centered decision making in palliative cancer treatment: a world of paradoxes. Patient Educ Couns 50:43–49

Degner LF (1992) Patient participation in treatment decision making. AXON:13–14

Dixon-Woods M (2001) Writing wrongs? An analysis of published discourses about the use of patient information leaflets. Soc Sci Med 52:1417–1432

DOH (2000) The cancer information strategy. Department of Health, London

DOH (2001) The expert patient: a new approach to chronic disease management for the 21st Century. Department of Health, London

DOH (2003) Building on the best: end of life care initiative. Department of Health, London

DOH (2004) Better information, better choices, better health, putting information at the centre of health. Department of Health, London

Donaldson L (2003) Expert patients usher in a new era of opportunity for the NHS. BMJ 326:1279–1280

Fallowfield L, Ford S, Lewis SE (1994) No news is not good news: information preferences of patients with cancer. Lancet 344:1576

Gattelari M, Butow PN, Tattersall MHN (2001) Sharing decisions in cancer care. Soc Sci Med 52:1865–1878

Gattelari M, Voigt KJ, Butow PN, Tattersall MHN (2002) When the treatment goal is not cure: are cancer patients equipped to make informed decisions? J Clin Oncol 20:503–515

Giddens A (1991) Modernity and self-identity, self and society in the late modern age. Polity Press, Oxford

Hardwick C, Lawson N (1995) The information and learning needs of the caregiving family of the adult patient with cancer. Eur J Cancer Care 4:118–121

Harrison-Woermke DE, Graydon JE (1993) Perceived informational needs of individuals with breast cancer receiving radiation therapy after excisional biopsy and axiliary node dissection. Cancer Nurs 16:449–455

Henwood F, Wyatt S, Hart A, Smith J (2003) 'Ignorance is bliss sometimes: constraints on the emergence of the 'informed patient' in the changing landscapes of health information. Sociol Health Illn 25:589–607

Hoff L, Tideflet U, Thaning L, Hermeren G (2007) In the shadow of bad news - Views of patients with acute leukemia, myeloma or lung cancer about information, from diagnosis to cure or death. BMC Palliative Care 6:1–25

Jenkins V, Fallowfield L, Saul J (2001) Information needs of patients with cancer: results from a large study in UK cancer centres. Br J Cancer 84:48–51

Katz SJ, Nissan N, Moyer CA (2004) Crossing the digital divide: evaluating online communication between patients and their providers. American Journal of Managed Care 10:593–598

Kenny P, Quine S, Shiell A, Cameron S (1999) Participation in treatment decision-making by women with early stage breast cancer. Health Expect 2:159–168

Kirk P, Kirk I, Kristjanson LJ (2004) What do patients receiving palliative care for cancer and their families want to be told? A Canadian and Australian qualitative study. BMJ 328:1343–1347

Leydon GM, Boulton M, Moyhihan C, Jones A, Mossman J, Boudioni M, McPherson K (2000) Cancer patients' information needs and information seeking behaviour: in depth interview study. BMJ 320:909–913

Lorig K (2000) Patients as partners in managing chronic disease. BMJ 320:526–527

Lorig K, Holman H, Sobel D, Laurent D, Gonzalez V, Minor M (1994) Living a healthy life with chronic conditions, self-management of heart disease, arthritis, stroke, diabetes, asthma, bronchitis, emphysema and others. Palo Alto

Luker KA, Beaver K, Leinster SJ, Owens RG, Degner LF, Sloan JA (1995) The information needs of women newly diagnosed with breast cancer. J Adv Nurs 22:134–141

Lupton D (1997) Consumerism, reflexivity and the medical encounter. Soc Sci Med 45:373–381

Meredith C, Symonds P, Webster L, Lamong D, Pyper E, Fallowfield L (1996) Information needs of cancer patients in west Scotland: cross sectional survey of patients' views. Br Med J 313:724–726

Michie S, Rosebert C, Heaversedge J (1996) The effects of different kinds of information on women attending an out-patient breast clinic. Pyschology Health and Medicine 1:285–296

NHSCRD (2000) Informing, communicating and sharing decisions with people who have cancer. Eff Health Care 6:1–8

Ridgeway V, Matthews A (1982) Psychological preparation for surgery: a comparison of methods. Br J Clin Psychol 2:271–280

Salkeld G, Solomon M, Short L, Butow PN (2004) A matter of trust - patient's views on decision-making in colorectal cancer. Health Expect 7:104–114

Slevin ML, Nichols SE, Downer SM, Wilson P, Lister TA (1996) Emotional support for cancer patients: what do patients really want? Br J Cancer 74:1275–1279

The A-M (2002) Palliative care and communication, experiences in the clinic. Open University Press, Buckingham

The A-M, Hak A, Koeter GH, van der Wal G (2001) Collusion in doctor-patient communication about imminent death: an ethnographic study. West J Med 174:247–253

Weisman AD (1979) Coping with cancer. McGraw Hill, London

Ziebland S, Chapple A, Dumelow C, Evans J, Prinjha S, Rozmovits L (2004) How the internet affects patients' experience of cancer: a qualitative study. BMJ 328:564–569
Acknowledgment
We are very grateful to Cancerbackup for funding this study. Cancerbackup is a leading UK voluntary organization for the support of patients and families affected by cancer. The views expressed in this paper are those of the authors and do not necessarily reflect those of the organization.
About this article
Cite this article
Pollock, K., Cox, K., Howard, P. et al. Service user experiences of information delivery after a diagnosis of cancer: a qualitative study. Support Care Cancer 16, 963–973 (2008). https://doi.org/10.1007/s00520-007-0363-3
Received:

Accepted:

Published:

Issue Date:

DOI: https://doi.org/10.1007/s00520-007-0363-3
Keywords
UK

Patient information

Cancer

Qualitative research