Abstract
Aims and objectives
To establish whether there is a correlation between spirituality and anxiety and depression in patients with advanced cancer.
Patients and methods
Patients with a diagnosis of cancer at St. Peter's day hospice in Bristol were asked to complete three questionnaires to assess anxiety, depression and spirituality. Informed consent was obtained. Anxiety and depression are indicated by the Hospital Anxiety and Depression Scale score, and spirituality is indicated by scores on the Spiritual Well-Being Scale (SWBS) and the Royal Free Interview for Spiritual and Religious Beliefs. As will be explained, religion and spirituality are generally recognised as having different meanings—religion entailing a relationship with a higher being, while spirituality can be thought of in terms of meaning and purpose in life.
Results
Eighty-five complete data sets were obtained. A significant negative correlation was found between both anxiety and depression scores and overall spiritual well-being scores (p<0.0001). When the SWBS subscale scores were analysed individually, a significant negative correlation was found between the existential well-being scores and the anxiety and depression scores (p<0.001). However, no correlation was found between the religious well-being scores and anxiety or depression.
Conclusions
This study found a significant negative correlation between spirituality (in particular, the existential aspect) and anxiety and depression in patients with advanced cancer. Religious well-being and strength of belief had no impact on psychological well-being in this study.
Access options
Buy single article
Instant access to the full article PDF.
US$ 39.95
Tax calculation will be finalised during checkout.
Subscribe to journal
Immediate online access to all issues from 2019. Subscription will auto renew annually.
US$ 119
Tax calculation will be finalised during checkout.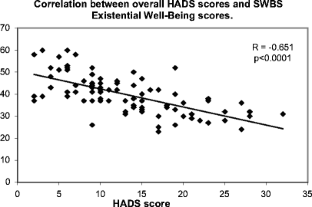 References
1.

Anandarajah G, Hight E (2001) Spirituality and medical practice: using the HOPE questions as a practical tool for spiritual assessment. Am Fam Physician 63(1):81–88

2.

Boivin MJ, Kirby AL, Underwood LK, Silva H (1999) Spiritual well-being scale. In: Hill PC, Hood RW (eds) Measures of religiosity. Religious Education Press, Birmingham, AL, pp 382–385. ISBN 089135106X

3.

Breitbart W, Rosenfeld B, Pessin H, Kaim M, Funesti-Esch J, Galietta M, Nelson CJ, Brescia R (2000) Depression, hopelessness, and desire for hastened death in terminally ill patients with cancer. JAMA 284(22):2907–2911

4.

Burton LA (1998) The spiritual dimension of palliative care. Semin Oncol Nurs 14(2):121–128

5.

Cassileth BR, Lusk EJ, Hutter R, Strouse TB, Brown LI (1984) Concordance of depression and anxiety in patients with cancer. Psychol Rep 54:588–590

6.

Chibnall JT, Videen SD, Duckro PN, Miller DK (2002) Psychosocial–spiritual correlates of death distress in patients with life-threatening medical conditions. Palliat Med 16:331–338

7.

Cotton SP, Levine EG, Fitzpatrick CM, Dold KH, Targ E (1999) Exploring the relationships among spiritual well-being, quality of life, and psychological adjustment in women with breast cancer. Psychooncology 8:429–438

8.

Daaleman TP, VandeCreek L (2000) Placing religion and spirituality in end-of-life care. JAMA 284(19):2514–2517

9.

Dom H (1999) Spiritual care, need and pain—recognition and response. Eur J Palliat Care 6(3):87–90

10.

Dyson J, Cobb M, Forman D (1997) The meaning of spirituality: a literature review. J Adv Nurs 26:1183–1188

11.

Encarta (1999) World English dictionary, Microsoft Corporation

12.

Fehring RJ, Miller JF, Shaw C (1997) Spiritual well-being, religiosity, hope, depression, and other mood states in elderly people coping with cancer. Oncol Nurs Forum 24(4):663–671

13.

Fryback PB, Reinert BR (1999) Spirituality and people with potentially fatal diagnoses. Nurs Forum 34(1):13–22

14.

Gartner J, Larson DB, Allen GD (1994) Religious commitment and mental health: a review of the empirical literature. J Psychol Theol 19(1):6–25

15.

Gioiella ME, Berkman B, Robinson M (1998) Spirituality and quality of life in gynaecologic oncology patients. Cancer Pract 6(6):333–338

16.

Grey A (1994) The spiritual component of palliative care. Palliat Med 8:215–221

17.

Hassad CS (2000) Depression: dispirited or spiritually deprived? Med J Aust 173:545–547

18.

Hermann CP (2001) Spiritual needs of dying patients: a qualitative study. Oncol Nurs Forum 28(1):67–72

19.

Herrmann C (1997) International experiences with the hospital anxiety and depression scale—a review of validation data and clinical results. J Psychosom Res 42(1):17–41

20.

Holtom N, Barraclough J (2000) Is the hospital anxiety and depression scale (HADS) useful in assessing depression in palliative care? Palliat Med 14:219–220

21.

Hotopf M, Chidgey J, Addington-Hall J, Lan Ly K (2002) Depression in advanced disease: a systematic review. Part 1. Prevalence and case finding. Palliat Med 16:81–97

22.

House A, Stark D (2002) ABC of psychological medicine: anxiety in medical patients. BMJ 325:207–209

23.

Johnston M, Pollard B, Hennessey P (2000) Construct validation of the hospital anxiety and depression scale with clinical populations. J Psychosom Res 48:579–584

24.

Kaczorowski J (1989) Spiritual well-being and anxiety in adults diagnosed with cancer. Hosp J 5:105–116

25.

Kellehear A (2000) Spirituality and palliative care: a model of needs. Palliat Med 14:149–155

26.

King M, Speck P, Thomas A (1995) The royal free interview for religious and spiritual beliefs: development and standardization. Psychol Med 25:1125–1134

27.

King M, Speck P, Thomas A (2001) The royal free interview for spiritual and religious beliefs: development and validation of a self-report version. Psychol Med 31:1015–1023

28.

Koenig HG, Larson DB, Weaver AJ (1998) Research on religion and serious mental illness. New Dir Ment Health Serv 80:81–95

29.

Lloyd-Williams M, Spiller J, Ward J (2003) Which depression screening tool should be used in palliative care? Palliat Med 17:40–43

30.

McClain CS, Rosenfeld B, Breitbart W (2003) Effect of spiritual well-being on end-of-life despair in terminally-ill cancer patients. Lancet 361:1603–1607

31.

Mickley JR, Soeken K, Belcher A (1992) Spiritual well-being, religiousness and hope among women with breast cancer. Image J Nurs Scholarsh 24(4):267–272

32.

Moberg DO, Brusek PM (1978) Spiritual well-being: a neglected subject in quality of life research. Soc Indic Res 5:303–323

33.

Moorey S, Greer S, Watson M, Gorman C, Rowden L, Tunmore R, Robertson B, Bliss J (1991) The factor structure and factor stability of the hospital anxiety and depression scale in patients with cancer. Br J Psychiatry 158:255–259

34.

Mytko JJ, Knight SJ (1999) Body, mind and spirit: towards the integration of religiosity and spirituality in cancer quality of life research. Psychooncology 8:439–450

35.

Paloutzian RF, Ellison CW (1982) Loneliness, spiritual well-being and the quality of life. In: Peplau LA, Perlman D (eds) Loneliness: a source book of current theory, research and therapy. Wiley, New York, pp 224–237

36.

Razavi D, Delvaux N, Farvacques C, Robaye E (1990) Screening for adjustment disorders and major depressive disorders in cancer inpatients. Br J Psychiatry 156:79–83

37.

Reed PG (1987) Spirituality and well-being in terminally ill hospitalised adults. Res Nurs Health 10:335–344

38.

Rousseau P (2000) Spirituality and the dying patient. J Clin Oncol 18(9):2000–2002

39.

Sloan RP, Bagiella E, Powell T (1999) Religion, spirituality and medicine. Lancet 353:664–667

40.

Speck P (1998) Spiritual issues in palliative care. In: Doyle D, Hanks GW, MacDonald N (eds) Oxford textbook of palliative medicine, 2nd edn. Oxford University Press, Oxford, pp 805–814

41.

Thomson J (2000) The place of spiritual well-being in hospice patients' overall quality of life. Hosp J 15(2):13–27

42.

Walter T (2002) Spirituality in palliative care: opportunity or burden? Palliat Med 16:133–139

43.

Wright MC (2001) Spirituality: a developing concept within palliative care? Prog Palliat Care 9(4):143–147

44.

Yates JW, Chalmer BJ, St James P, Follansbee M, McKegney FP (1981) Religion in patients with advanced cancer. Med Pediatr Oncol 9(2):121–128

45.

Zigmund A, Snaith R (1983) The hospital anxiety and depression scale. Acta Psychiatr Scand 67:361–370
Acknowledgements
We would like to thank Christopher Foy and Rosemary Greenwood for statistical assistance and Prof. Michael King, Rev. Peter Speck, Rev. Mark Cobb, Prof. Mari Lloyd-Williams and Dr. Bill Noble for other additional assistance.
About this article
Cite this article
McCoubrie, R.C., Davies, A.N. Is there a correlation between spirituality and anxiety and depression in patients with advanced cancer?. Support Care Cancer 14, 379 (2006). https://doi.org/10.1007/s00520-005-0892-6
Received:

Accepted:

Published:
Keywords
Spirituality

Religion

Anxiety

Depression

Cancer