Abstract
The physiologic process of wound healing is impaired and prolonged in pediatric patients receiving chemotherapy. Due to profound immunosuppression, wound infection can easily spread and act as the source of sepsis. Referring to in vitro studies, which confirmed the antibacterial potency of special honey preparations against typical isolates of nosocomially acquired wound infections (including Methicillin-resistant Staphylococcus aureus and Vancomycin-resistant enterococci) and considering the encouraging reports from other groups, Medihoney has now been used in wound care at the Department of Pediatric Oncology, Children's Hospital, University of Bonn for 3 years. Supplemented with clinical data from pediatric oncology patients, this article reviews the scientific background and our promising experience with Medihoney in wound care issues at our institution. To collect and analyze the available experience, we prepare an internet-based data documentation module for pediatric wound care with Medihoney.
This is a preview of subscription content, log in to check access.
Access options
Buy single article
Instant access to the full article PDF.
US$ 39.95
Tax calculation will be finalised during checkout.
Subscribe to journal
Immediate online access to all issues from 2019. Subscription will auto renew annually.
US$ 199
Tax calculation will be finalised during checkout.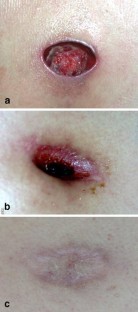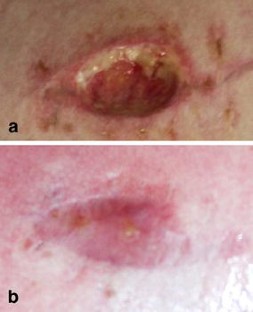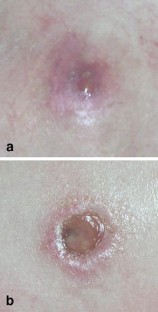 Notes
1.

The most prominent protagonist of manuka honey from New Zealand and pioneer of investigating its medical applications is Peter C. Molan, University of Waikato, Department of Biological Sciences, see http://honey.bio.waikato.ac.nz.

2.

Due to its high osmotic potential, honey facilitates the resolution of edema and keeps the wound moist by mobilizing wound exudate.
References
1.

Larson E, Nirenberg A (2004) Evidence-based nursing practice to prevent infection in hospitalized neutropenic patients with cancer. Oncol Nurs Forum 31(4):717–725

2.

Kostler WJ, Hejna M, Wenzel C, Zielinski CC (2001) Oral mucositis complicating chemotherapy and/or radiotherapy: options for prevention and treatment. CA Cancer J Clin 51(5):290–315

3.

Edwards R, Harding KG (2004) Bacteria and wound healing. Curr Opin Infect Dis 17(2):91–96

4.

Wysocki AB (2002) Evaluating and managing open skin wounds: colonization versus infection. AACN Clin Issues 13(3):382–397

5.

Al-Waili NS (2004) Investigating the antimicrobial activity of natural honey and its effects on the pathogenic bacterial infections of surgical wounds and conjunctiva. J Med Food 7(2):210–222

6.

Gardner SE, Frantz RA, Doebbeling BN (2001) The validity of the clinical signs and symptoms used to identify localized chronic wound infection. Wound Repair Regen 9(3):178–186

7.

Zaghloul AA, el-Shattawy HH, Kassem AA, Ibrahim EA, Reddy IK, Khan MA (2001) Honey, a prospective antibiotic: extraction, formulation, and stability. Pharmazie 56(8):643–647

8.

Ahmed AK, Hoekstra MJ, Hage JJ, Karim RB (2003) Honey-medicated dressing: transformation of an ancient remedy into modern therapy. Ann Plast Surg 50(2):143–147; discussion 7–8

9.

Cooper RA, Molan PC, Harding KG (1999) Antibacterial activity of honey against strains of Staphylococcus aureus from infected wounds. J R Soc Med 92(6):283–285

10.

Cooper RA, Molan PC, Krishnamoorthy L, Harding KG (2001) Manuka honey used to heal a recalcitrant surgical wound. Eur J Clin Microbiol Infect Dis 20(10):758–759

11.

Molan PC, Betts JA (2004) Clinical usage of honey as a wound dressing: an update. J Wound Care 13(9):353–356

12.

Namias N (2003) Honey in the management of infections. Surg Infect (Larchmt) 4(2):219–226

13.

Dunford C, Cooper R, Molan P (2000) Using honey as a dressing for infected skin lesions. Nurs Times 96(14 Suppl):7–9

14.

Dunford CE, Hanano R (2004) Acceptability to patients of a honey dressing for non-healing venous leg ulcers. J Wound Care 13(5):193–197

15.

Honari S (2004) Topical therapies and antimicrobials in the management of burn wounds. Crit Care Nurs Clin North Am 16(1):1–11

16.

Merz J, Schrand C, Mertens D, Foote C, Porter K, Regnold L (2003) Wound care of the pediatric burn patient. AACN Clin Issues 14(4):429–441

17.

Subrahmanyam M (1999) Early tangential excision and skin grafting of moderate burns is superior to honey dressing: a prospective randomised trial. Burns 25(8):729–731

18.

Subrahmanyam M (1993) Honey impregnated gauze versus polyurethane film (OpSite) in the treatment of burns—a prospective randomised study. Br J Plast Surg 46(4):322–323

19.

Subrahmanyam M (1991) Topical application of honey in treatment of burns. Br J Surg 78(4):497–498

20.

Al-Waili NS (2001) Therapeutic and prophylactic effects of crude honey on chronic seborrheic dermatitis and dandruff. Eur J Med Res 6(7):306–308

21.

Al-Waili NS (2004) Topical honey application vs. acyclovir for the treatment of recurrent herpes simplex lesions. Med Sci Monit 10(8):MT94–MT98

22.

Abenavoli FM, Corelli R (2003) Honey cream. Ann Plast Surg 50(1):105–106

23.

Subrahmanyam M (1993) Storage of skin grafts in honey. Lancet 341(8836):63–64

24.

Molan PC, Allen KL (1996) The effect of gamma-irradiation on the antibacterial activity of honey. J Pharm Pharmacol 48(11):1206–1209

25.

Moore G, Smith L, Campbell F, Seers K, McQauy H, Moore H (2001) Systematic review of the use of honey as a wound dressing. BMC Complement Altern Med 1(2 (4 June 2001)):http://www.biomedcentral.com/content/pdf/1472-6882-1-2.pdf

26.

Bang LM, Buntting C, Molan P (2003) The effect of dilution on the rate of hydrogen peroxide production in honey and its implications for wound healing. J Altern Complement Med 9(2):267–273

27.

Tonks AJ, Cooper RA, Jones KP, Blair S, Parton J, Tonks A (2003) Honey stimulates inflammatory cytokine production from monocytes. Cytokine 21(5):242–247

28.

Cooper R, Molan P (1999) The use of honey as an antiseptic in managing Pseudomonas infection. J Wound Care 8(4):161–164

29.

Cooper RA, Halas E, Molan PC (2002) The efficacy of honey in inhibiting strains of Pseudomonas aeruginosa from infected burns. J Burn Care Rehabil 23(6):366–370

30.

Cooper RA, Molan PC (1999) Honey in wound care. J Wound Care 8(7):340

31.

Cooper RA, Molan PC, Harding KG (2002) The sensitivity to honey of Gram-positive cocci of clinical significance isolated from wounds. J Appl Microbiol 93(5):857–863

32.

Simon A, Fleischhack G, Hasan C, Bode U, Engelhart S, Kramer MH (2000) Surveillance for nosocomial and central line-related infections among pediatric hematology–oncology patients. Infect Control Hosp Epidemiol 21(9):592–596

33.

Lubbe J (2003) Secondary infections in patients with atopic dermatitis. Am J Clin Dermatol 4(9):641–654

34.

Ricci G, Patrizi A, Neri I, Bendandi B, Masi M (2003) Frequency and clinical role of Staphylococcus aureus overinfection in atopic dermatitis in children. Pediatr Dermatol 20(5):389–392

35.

Alarcon A, Pena P, Salas S, Sancha M, Omenaca F (2004) Neonatal early onset Escherichia coli sepsis: trends in incidence and antimicrobial resistance in the era of intrapartum antimicrobial prophylaxis. Pediatr Infect Dis J 23(4):295–299

36.

Kramer A, Daeschlein G, Kammerlander G, Abdriessen A, Aspöck C, Bergemann R et al (2004) Consensus recommendation for the choice of antiseptic agents in wound care (Article in German). Hyg Med 29(5):147–157

37.

Reimer K, Wichelhaus TA, Schafer V, Rudolph P, Kramer A, Wutzler P et al (2002) Antimicrobial effectiveness of povidone-iodine and consequences for new application areas. Dermatology 204(Suppl 1):114–120

38.

Subrahmanyam M (1998) A prospective randomised clinical and histological study of superficial burn wound healing with honey and silver sulfadiazine. Burns 24(2):157–161

39.

Molan P, Betts J (2000) Using honey dressings: the practical considerations. Nurs Times 96(49):36–37

40.

Molan PC (2002) Re-introducing honey in the management of wounds and ulcers—theory and practice. Ostomy/Wound Manage 48(11):28–40

41.

Molan PC (1999) The role of honey in the management of wounds. J Wound Care 8(8):415–418

42.

Johnson DW, van Eps C, Mudge DW, Wiggins KJ, Armstrong K, Hawley CM et al (2005) Randomized, controlled trial of topical exit-site application of honey (Medihoney) versus mupirocin for the prevention of catheter-associated infections in hemodialysis patients. J Am Soc Nephrol 16:1456–1462

43.

Biswal BM, Zakaria A, Ahmad NM (2003) Topical application of honey in the management of radiation mucositis: a preliminary study. Support Care Cancer 11(4):242–248

44.

Vardi A, Barzilay Z, Linder N, Cohen HA, Paret G, Barzilai A (1998) Local application of honey for treatment of neonatal postoperative wound infection. Acta Paediatr 87(4):429–432

45.

Lehrnbecher T, Marshall D, Gao C, Chanock SJ (2002) A second look at anorectal infections in cancer patients in a large cancer institute: the success of early intervention with antibiotics and surgery. Infection 30(5):272–276
About this article
Cite this article
Simon, A., Sofka, K., Wiszniewsky, G. et al. Wound care with antibacterial honey (Medihoney) in pediatric hematology–oncology. Support Care Cancer 14, 91–97 (2006). https://doi.org/10.1007/s00520-005-0874-8
Received:

Accepted:

Published:

Issue Date:
Keywords
Wound care

Pediatric oncology

Honey

MRSA