Abstract
Goals of work
The aims of this study were (1) to prospectively evaluate the clinical benefits of switching from morphine to an alternative opioid, using oxycodone as first-line alternative opioid, in patients with cancer, (2) to evaluate the consistency of the clinical decision for the need to switch by comparing two hospital sites, and (3) to evaluate whether there were objective predictors that would help identify morphine non-responders who require switching to an alternative opioid and from this to construct a clinical model to predict the need to switch.
Patients and methods
One hundred eighty-six palliative care patients were prospectively recruited from two hospital sites. Responders were patients treated with morphine for more than 4 weeks with good analgesia and minimal side effects. Non-responders (switchers) were patients who had either uncontrolled pain or unacceptable side effects on morphine and therefore required an alternative opioid. The differentiation between responders and switchers was made clinically and later confirmed by objective parameters.
Results
In this prospective study 74% (138/186) had a good response to morphine (responders). One patient was lost to follow up. Twenty-five percent (47/186) did not respond to morphine. These non-responders were switched to alternative opioids (switchers). Furthermore, of 186 patients, 37 achieved a successful outcome when switched to oxycodone and an additional 4 were well controlled when switched to more than one alternative opioid. Overall successful pain control with minimal side effects was achieved in 96% (179/186) of patients. There were no significant differences in the need to switch between the two hospital sites.
Conclusions
This study has shown that proactive clinical identification and management of patients that require opioid switching is reproducible in different clinical settings and significantly improves pain control. Further studies are required to develop and test the predictive model.
Access options
Buy single article
Instant access to the full article PDF.
USD 39.95
Price excludes VAT (USA)
Tax calculation will be finalised during checkout.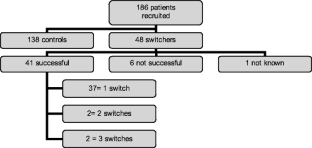 References
World Health Organisation (1996) Cancer pain relief, 2nd edn. World Health Organisation, Geneva

Mercadante S, Casuccio A, Fulfaro F, Groff L, Boffi R, Villari P et al (2001) Switching from morphine to methadone to improve analgesia and tolerability in cancer patients: a prospective study. J Clin Oncol 19(11):2898–2904

de Stoutz ND, Bruera E, Suarez-Almazor M (1995) Opioid rotation for toxicity reduction in terminal cancer patients. J Pain Symptom Manage 10(5):378–384

Poyhia R, Vainio A, Kalso E (1993) A review of oxycodone's clinical pharmacokinetics and pharmacodynamics. J Pain Symptom Manage 8(2):63–67

Ross FB, Smith MT (1997) The intrinsic antinociceptive effects of oxycodone appear to be kappa-opioid receptor mediated. Pain 73(2):151–157

Kalso E, Vainio A, Mattila MJ, Rosenberg PH, Seppala T (1990) Morphine and oxycodone in the management of cancer pain: plasma levels determined by chemical and radioreceptor assays. Pharmacol Toxicol 67(4):322–328

Saarialho-Kere U, Mattila MJ, Seppala T (1989) Psychomotor, respiratory and neuroendocrinological effects of a mu-opioid receptor agonist (oxycodone) in healthy volunteers. Pharmacol Toxicol 65(4):252–257

Gagnon B, Bielech M, Watanabe S, Walker P, Hanson J, Bruera E (1999) The use of intermittent subcutaneous injections of oxycodone for opioid rotation in patients with cancer pain. Support Care Cancer 7:265–270

Kalso E, Vainio A (1990) Morphine and oxycodone hydrochloride in the management of cancer pain. Clin Pharmacol Ther 47:639–646

Kalso E, Poyhia R, Onnela P, Linko K, Tigerstedt I, Tammisto T (1991) Intravenous morphine and oxycodone for pain after abdominal surgery. Acta Anaesthesiol Scand 35:642–646

Mercadante S (1999) Opioid rotation for cancer pain: rationale and clinical aspects. Cancer 86(9):1856–1866

Riley J, Ross JR, Rutter D, Shah S, Gwilliam B, Wells AU et al (2004) A retrospective study of the association between haematological and biochemical parameters and morphine intolerance in patients with cancer pain. Palliat Med 18(1):19–24

D'Honneur G, Gilton A, Sandouk P, Scherrmann M, Duvaldestin P (1994) Plasma and cerebrospinal fluid concentrations of morphine and morphine gluronides after oral morphine. The influence of renal failure. Anesthesiology 81:87–93

Farrell A, Rich A (2000) Analgesic use in patients with renal failure. Eur J Palliat Care 7(6):201–205

Hasselstrom J, Eriksson S, Persson A, Rane A, Svensson JO, Sawe J (1990) The metabolism and bioavailability of morphine in patients with severe liver cirrhosis. Br J Clin Pharmacol 29(3):289–297

Lesage P, Portenoy RK (1999) Trends in cancer pain management. Cancer Control 6(2):136–145

Regan J, Yarnold J, Jones PW, Cooke NT (1991) Palliation and life quality in lung cancer; how good are clinicians at judging treatment outcome? Br J Cancer 64(2):396–400

Quigley C (2004) Opioid switching to improve pain relief and drug tolerability. Cochrane Database Syst Rev 3:CD004847

Bruera E, Franco JJ, Maltoni M, Watanabe S, Suarez-Almazor M (1995) Changing pattern of agitated impaired mental status in patients with advanced cancer: association with cognitive monitoring, hydration, and opioid rotation. J Pain Symptom Manage 10(4):287–291

Cherny NJ, Chang V, Frager G, Ingham JM, Tiseo PJ, Popp B et al (1995) Opioid pharmacotherapy in the management of cancer pain: a survey of strategies used by pain physicians for the selection of analgesic drugs and routes of administration. Cancer 76(7):1283–1293

Heiskanen T, Olkkola KT, Kalso E (1998) Effects of blocking CYP2D6 on the pharmacokinetics and pharmacodynamics of oxycodone. Clin Pharmacol Ther 64(6):603–611
Acknowledgements
This study was supported by the Paul Hamlyn Foundation and the Edmund J. Safra Philanthropic Foundation.
About this article
Cite this article
Riley, J., Ross, J.R., Rutter, D. et al. No pain relief from morphine?. Support Care Cancer 14, 56–64 (2006). https://doi.org/10.1007/s00520-005-0843-2
Received:

Accepted:

Published:

Issue Date:

DOI: https://doi.org/10.1007/s00520-005-0843-2
Keywords
Cancer pain

Morphine

Switching

Alternative opioids

Oxycodone