Abstract
Neoplastic fever, a paraneoplastic syndrome caused by cancer itself, represents a diagnostic challenge for the clinician and is an important issue in supportive oncology. Timely recognition of this febrile condition by differentiating it from other cancer-associated fevers, such as infection and drug reaction, is essential for effective patient management. Although the pathophysiology of neoplastic fever is not well understood, it is suspected to be cytokine mediated. In clinical practice, when a patient with cancer presents with unexplained fever, extensive diagnostic studies are needed to differentiate neoplastic fever from nonneoplastic fever. Only after excluding identifiable etiologies of fever can the diagnosis of neoplastic fever be suspected. According to our experience, the naproxen test is a safe and useful test in differentiating neoplastic fever from infectious fever in patients with cancer. In addition, naproxen and other nonsteroidal anti-inflammatory drugs have been effective in the management of neoplastic fever and offer a significant palliative benefit for the patient.
Access options
Buy single article
Instant access to the full article PDF.
US$ 39.95
Tax calculation will be finalised during checkout.
Subscribe to journal
Immediate online access to all issues from 2019. Subscription will auto renew annually.
US$ 119
Tax calculation will be finalised during checkout.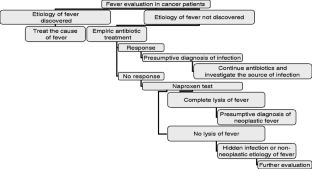 References
1.

Anonymous (2002) Leukine (sargramostim). Package Insert Rev 0230-0233:1–2

2.

Anonymous (2002) Neupogen (filgrastim). Physician Package Insert 1–29

3.

Arnow PM, Flaherty JP (1997) Fever of unknown origin. Lancet 350:575–580

4.

Ashford RF, McLachlan A, Nelson I, Mughal T, Pickering, D (1980) Pyrexia after cisplatin. Lancet 2:691–692

5.

Beaupre DM, Talpaz M, Marini FC III, Cristiano RJ, Roth JA, Estrov Z, Albitar M, Freedman MH, Kurzrock R (1999) Autocrine interleukin-1beta production in leukemia: evidence for the involvement of mutated RAS. Cancer Res 59:2971–2980

6.

Blay JY, Negrier S, Combaret V, Attali S, Goillot E, Merrouche Y, Mercatello A, Ravault A, Tourani JM, Moskovtchenko JF (1992) Serum level of interleukin 6 as a prognosis factor in metastatic renal cell carcinoma. Cancer Res 52:3317–3322

7.

Blay JY, Rossi JF, Wijdenes J, Menetrier-Caux C, Schemann S, Negrier S, Philip T, Favrot M (1997) Role of interleukin-6 in the paraneoplastic inflammatory syndrome associated with renal-cell carcinoma. Int J Cancer 72:424–430

8.

Bodel P (1974) Generalized perturbations in host physiology caused by localized tumors. Tumors and fever. Ann N Y Acad Sci 230:6–13

9.

Bodel P, Ralph P, Wenc K, Long JC (1980) Endogenous pyrogen production by Hodgkin's disease and human histiocytic lymphoma cell lines in vitro. J Clin Invest 65:514–518

10.

Bondy PK, Bodel P (1971) Mechanism of action of pyrogenic and antipyretic steroids in vitro. Ciba Found Symp 101–113

11.

Boye J, Elter T, Engert A (2003) An overview of the current clinical use of the anti-CD20 monoclonal antibody rituximab. Ann Oncol 14:520–535

12.

Browder AA, Huff JW, Petersdorf RG (1961) The significance of fever in neoplastic disease. Ann Intern Med 55:932–942

13.

Carter JJ, McLaughlin ML, Bern MM (1983) Bleomycin-induced fatal hyperpyrexia. Am J Med 74:523–525

14.

Cashman TM, Starns RJ, Johnson J, Oren J (1979) Comparative effects of naproxen and aspirin on fever in children. J Pediatr 95:626–629

15.

Chang JC (1987) How to differentiate neoplastic fever from infectious fever in patients with cancer: usefulness of the naproxen test. Heart Lung 16:122–127

16.

Chang JC (1988) Antipyretic effect of naproxen and corticosteroids on neoplastic fever. J Pain Symptom Manage 3:141–144

17.

Chang JC (1989) Naproxen test in the differential diagnosis of fever of undetermined origin in patients with cancer. Cancer Ther Control 1:57–66

18.

Chang JC (1989) Neoplastic fever. A proposal for diagnosis. Arch Intern Med 149:1728–1730

19.

Chang JC, Appleby J, Bennett JM (1974) Nitroblue tetrazolium test in Hodgkin disease and other malignant lymphomas. Arch Intern Med 133:401–403

20.

Chang JC, Gross HM (1984) Utility of naproxen in the differential diagnosis of fever of undetermined origin in patients with cancer. Am J Med 76:597–603

21.

Chang JC, Gross HM (1985) Neoplastic fever responds to the treatment of an adequate dose of naproxen. J Clin Oncol 3:552–558

22.

Chung KF, Snashall PD (1983) Suppression of prolonged fever during treatment of pulmonary tuberculosis: importance of using twice versus single daily dose of prednisolone. Postgrad Med J 59:373–375

23.

Crawford J, Ozer H, Stoller R, Johnson D, Lyman G, Tabbara I, Kris M, Grous J, Picozzi V, Rausch G (1991) Reduction by granulocyte colony-stimulating factor of fever and neutropenia induced by chemotherapy in patients with small-cell lung cancer. N Engl J Med 325(3):164–170

24.

Cunha BA (1996) Fever of unknown origin. Infect Dis Clin North Am 10:111–127

25.

Dinarello CA, Wolff SM (1978) Pathogenesis of fever in man. N Engl J Med 298:607–612

26.

Dinarello CA, Bunn PA (1997) Fever. Semin Oncol 24(3):288–298

27.

Economos K, Lucci JA III, Richardson B, Yazigi R, Miller DS (1995) The effect of naproxen on fever in patients with advanced gynecologic malignancies. Gynecol Oncol 56:250–254

28.

Fauci AS, Dale DC, Balow JE (1976) Glucocorticosteroid therapy: mechanisms of action and clinical considerations. Ann Intern Med 84:304–315

29.

Feigin RD, Shackelford PG, Choi SC, Flake KK, Franklin FA Jr, Eisenberg CS (1971) Nitroblue tetrazolium dye test as an aid in the differential diagnosis of febrile disorders. J Pediatr 78:230–237

30.

Green HD, Koelbl H, Baselga J, Galid A, Guillem V, Gascon P, Siena S, Lalisang RI, Samonigg H, Clemens MR, Zani V, Liang BC, Renwick J, Piccart MJ (2003) A randomized double-blind multicenter phase III study of fixed-dose single-administration pegfilgrastim versus daily filgrastim in patients receiving myelosuppressive chemotherapy. Ann Oncol 14:29–35

31.

Hughes WT, Armstrong D, Bodey GP, Bow EJ, Brown AE, Calandra T, Feld R, Pizzo PA, Rolston KVI, Shenep JL, Young LS (2002) 2002 guidelines for the use of antimicrobial agents in neutropenic patients with cancer. Clin Infect Dis 34:730–751

32.

Ishii E, Hara T, Mizuno Y, Ueda K (1988) Vincristine-induced fever in children with leukemia and lymphoma. Cancer 61:660–662

33.

Jacoby GA, Swartz MN (1973) Fever of undetermined origin. N Engl J Med 289:1407–1410

34.

Janssens AM, Offner FC, Van Hove WZ (2000) Bone marrow necrosis. Cancer 88:1769–1780

35.

Johnson M (1996) Neoplastic fever. Palliat Med 10:217–224

36.

Juni P, Nartey L, Reichenbach S, Sterchi R, Dieppe PA, Egger M (2004) Risk of cardiovascular events and rofecoxib: cumulative meta-analysis. Lancet 364:2021–2029

37.

Kallio R, Bloigu A, Surcel HM, Syrjala H (2001) C-reactive protein and erythrocyte sedimentation rate in differential diagnosis between infections and neoplastic fever in patients with solid tumours and lymphomas. Support Care Cancer 9:124–128

38.

Kathula SK, Shah K, Polenakovik H, Koduri J (2003) Cyclo-oxygenase II inhibitors in the treatment of neoplastic fever. Support Care Cancer 11:258–259

39.

Keinanen-Kiukaanniemi S, Simila S, Kouvalainen K (1980) Oral antipyretic therapy evaluation of the propionic acid derivatives ibuprofen, ketoprofen, fenoprofen and naproxen. Padiatr Padol 15:139–144

40.

Klastersky J (1971) Effectiveness of adrenal corticosteroids in the management of severe bacterial infections. Rev Eur Etud Clin Biol 16:413–417

41.

Knupp C, Pekala PH, Cornelius P (1988) Extensive bone marrow necrosis in patients with cancer and tumor necrosis factor activity in plasma. Am J Hematol 29(4):215–221

42.

Kurzrock R (2001) The role of cytokines in cancer-related fatigue. Cancer 92:1684–1688

43.

Lobell M, Boggs DR, Wintrobe MM (1966) The clinical significance of fever in Hodgkin's disease. Arch Intern Med 117:335–342

44.

Lusch CJ, Serpick AA, Slater L (1968) Antipyretic effect of indomethacin in patients with malignancy. Cancer 21:781–786

45.

Pangalis GA, Dimopoulou MN, Angelopoulou MK, Tsekouras C, Vassilakopoulos TP, Vaiopoulos G, Siakantaris MP (2001) Campath-1H (anti-CD52) monoclonal antibody therapy in lymphoproliferative disorders. Med Oncol 18:99–107

46.

Park BH, Fikrig SM, Smithwick EM (1968) Infection and nitroblue-tetrazolium reduction by neutrophils. A diagnostic acid. Lancet 2:532–534

47.

Petersdorf RG (1965) Fever and cancer. Hosp Med 1:2–5

48.

Plaisance KI, Mackowiak PA (2000) Antipyretic therapy: physiologic rationale, diagnostic implications, and clinical consequences. Arch Intern Med 160:449–456

49.

Quesada JR, Talpaz M, Rios A, Kurzrock R, Gutterman JU (1986) Clinical toxicity of interferons in cancer patients: a review. J Clin Oncol 4:234–243

50.

Rawlins MD, Luff RH, Cranston WI (1970) Pyrexia in renal carcinoma. Lancet 1:1371–1373

51.

Schimpff SC (1986) Empiric antibiotic therapy for granulocytopenic cancer patients. Am J Med 80:13–20

52.

Seymour JF, Talpaz M, Cabanillas F, Wetzler M, Kurzrock R (1995) Serum interleukin-6 levels correlate with prognosis in diffuse lareg cell lymphoma. J Clin Oncol 13:575–582

53.

Shah KA, Greenwald E, Levin J, Rosen N, Zumoff B (1982) Streptozocin-induced eosinophilia and fever: a case report. Cancer Treat Rep 66:1449–1451

54.

Smithson WA, Gronert GA, Moss KK (1983) Dantrolene and potentially fatal hyperthermia secondary to L-asparaginase. Cancer Treat Rep 67:318–319

55.

Sokal JE, Shimaoka K (1967) Pyrogen in the urine of febrile patients with Hodgkin's disease. Nature 215:1183–1185

56.

Tsavaris N, Zinelis A, Karabelis A, Beldecos D, Bacojanis C, Milonacis N, Karvounis N, Kosmidis P (1990) A randomized trial of the effect of three non-steroid anti-inflammatory agents in ameliorating cancer-induced fever. J Intern Med 228:451–455

57.

Trillet-Lenoir V, Green J, Manegold C, Von Pawel J, Gatzemeier U, Lebeau B, Depierre A, Johnson P, Decoster G, Tomita D (1993) Recombinant granulocyte colony stimulating factor reduces the infectious complications of cytotoxic chemotherapy. Eur J Cancer 29A(3):319–324

58.

Vanderschueren S, Knockaert D, Adriaenssens T, Demey W, Durnez A, Blockmans D, Bobbaers H (2003) From prolonged febrile illness to fever of unknown origin: the challenge continues. Arch Intern Med 163:1033–1041

59.

Vanderschueren S, Knockaert DC, Peetermans WE, Bobbaers HJ (2003) Lack of value of the naproxen test in the differential diagnosis of prolonged febrile illnesses. Am J Med 115:572–575

60.

Vasser Stats (2004) Clinical calculator 1. From an observed sample: estimates of population prevalence, sensitivity, specificity, predictive values, and likelihood ratios. http://faculty.vassar.edu/lowry/clin1.html

61.

Wolfe LS, Pappius HM, Marion J (1976) The biosynthesis of prostaglandins by brain tissue in vitro. Adv Prostaglandin Thromboxane Res 1:345–355
About this article
Cite this article
Zell, J.A., Chang, J.C. Neoplastic fever: a neglected paraneoplastic syndrome. Support Care Cancer 13, 870–877 (2005). https://doi.org/10.1007/s00520-005-0825-4
Received:

Accepted:

Published:

Issue Date:
Keywords
Neoplastic fever

Fever palliation

Fever of unknown origin

Naproxen test

Analgesics

Antipyretics