Abstract
Goals and work
Despite medical awareness, intractable pain is a serious problem in cancer and occurs in up to 2% of advanced cancer patients. However, few data are available concerning the optimal treatment of such patients. The emergence of intractable pain may notably be due to the activation of N-methyl-D-aspartate (NMDA) receptors located in the central nervous system. NMDA antagonists might thus be an interesting approach in such pain syndromes.
Patients and methods
Twelve patients with intractable cancer pain received a test dose of 5–10 mg of ketamine, a strong NMDA antagonist, in order to determine their response and tolerance to the drug. Continuous intravenous infusions of ketamine associated with morphine were then administered.
Main results
The acute test dose was successful in all cases (VAS <3/10 after 5 min). The prolonged use of ketamine allowed us to reduce the total daily dose of morphine required (range: 200–1,200 mg) by 50% and allowed eight patients to go home with a portable pump with morphine and ketamine during a relatively long period of time (range: 7–350 days, median: 58 days). Side effects were moderate (dizziness) and they were limited to the test phase.
Conclusion
Our data suggest the importance of NMDA receptors in the genesis of chronic cancer pain and indicate that NMDA antagonists should be further studied for the management of cancer pain and, in particular, intractable pain.
This is a preview of subscription content, log in to check access.
Access options
Buy single article
Instant access to the full article PDF.
US$ 39.95
Tax calculation will be finalised during checkout.
Subscribe to journal
Immediate online access to all issues from 2019. Subscription will auto renew annually.
US$ 119
Tax calculation will be finalised during checkout.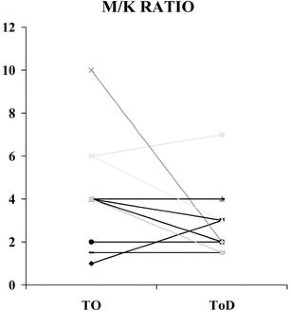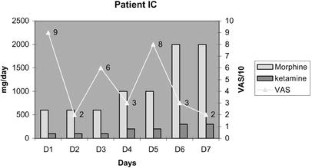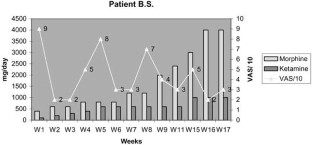 References
1.

Backonja M, Arndt G, Gombar KA, Check B, Zimmermann M (1994) Response of chronic neuropathic pain syndromes to ketamine: a preliminary study. Pain 56:51–57

2.

Bruera E, Mac Millan K, Hanson J, MacDonald RN (1989) The Edmonton grading system for cancer pain: preliminary report. Pain 37:203–209

3.

Byas-Smith MG, Max MB, Gracely RH, Bennet GJ (1993) Intravenous ketamine and alfentanil in patients with chronic causalgic pain and allodynia (abstract). 7th World Congress on Pain 454–455

4.

Chapman V and Dickenson A H (1992) The combination of NMDA antagonism and morphine produces profound antinociception in the rat dorsal horn. Brain Res 573:321–323

5.

Dickenson AH (1997) NMDA receptor antagonists: interactions with opioids. Acta Anesthesiol Scand 41:112–115

6.

Fine PG (1999) Low-dose ketamine in the management of opioid nonresponsive terminal cancer pain. J Pain Symptom Manage 14:296–300

7.

Foley KM (1985) The treatment of cancer pain. New Engl J Med 313:84–95

8.

Klepstadt P, Maurset A, Moberg ER, Oye I (1990) Evidence of a role of NMDA receptors in pain perception. Eur. J. Pharmacol 187:513–518

9.

Lossignol DA (1993) Pitfalls in the use of opiates in treatment of cancer pain. Support. Care Cancer 1:256–258

10.

Lossignol DA, Bredas P and Obiols M (1995) Patient controlled analgesia in cancer patients (abstract). Support. Care Cancer 3:356

11.

Lossignol DA (1989) Ketamine and morphine in cancer pain: preliminary report. Topics on Supportive Care in Cancer 6–9

12.

Maurset A, Skoglund LA, Hustveit O and Oye I (1989) Comparaison of ketamine and pethidine in experimental and postoperative pain. Pain 36:37–41

13.

Mercadante S, Serreta R, Sapio M, Villari P, Calderone L (1999) When all else fails: stepwise multiple solutions for a complex cancer pain syndrome. Support Care Cancer 7:47–50

14.

Obbens EAMT, Straton Hill C, Leavens ME, Ruthenbeck SS, Otis F (1987) Intraventricular morphine administration for control of chronic cancer pain. Pain 28:61–68

15.

Park KM, Max MB, Robinovitz E, Gracely RH, Bennet GJ (1995) Effect of intravenous ketamine, alfentanil, or placebo on pain pinprik hyperalgesia, and allodynia produced by intradermal capsaicin in human subjects. Pain 63:163–172

16.

Portenoy R K and Hagen NA (1990) Breakthrough pain: Definition, prevalence and characteristics. Pain 41:273–281

17.

Sethna NF, Liu M, Gracely R, Bennett GJ, Max MB (1998) Analgesic and cognitive effects of intravenous ketamine-alfentanil combinations versus either drug alone after intradermal capsaicin in normal subjects. Anesth Analg 86:1250–1256

18.

Sosnowsky M, Lossignol DA, Fodderie L (1993) Reversibility of opioid insensitive pain (abstract). 7th World Congress on Pain 16

19.

Wagemans MFM, Bakker EN, Zuurmond WWA, Spoelder EN, Loenen AC, De Lange JJ (1995) Intrathecal administration of high-dose morphine solutions decreases the pH of cerebrospinal fluid, Pain 61:55–59

20.

White PF, Way WL, Trevor AJ (1982) Ketamine-Its pharmacology and therapeutic uses. Anesthesiology 56:119–136

21.

Yamamoto T, Yaksh TL (1992) Studies on the spinal interactio of morphine and the NMDA antagonist MK-801 on the hyperesthesia observed in a rat model sciatic mononeuropathy. Neurosci Lett 135:67–70

22.

Zech DFJ, Gron S, Lynch J, Hertel D, Lehmann KA (1995) Validation of World Health Organization Guidelines for cancer pain relief: a 10-years prospective study. Pain 63:65–76
About this article
Cite this article
Lossignol, D.A., Obiols-Portis, M. & Body, JJ. Successful use of ketamine for intractable cancer pain. Support Care Cancer 13, 188–193 (2005). https://doi.org/10.1007/s00520-004-0684-4
Received:

Accepted:

Published:

Issue Date:
Keywords
Cancer pain

Intractable pain

Morphine

Ketamine