Abstract
The gastrointestinal (GI) effects of morphine and other opioids may result in opioid-induced bowel dysfunction (OBD) and the need for treatment. Although OBD is very common in morphine-treated patients, it is usually under-diagnosed. Opioids deliver their GI effect through central and peripheral mechanisms. Laxatives are the pharmaceuticals prescribed most in this area. Prokinetics as well as cholinergic agonists have been used satisfactorily. One-third of patients with OBD have to be treated rectally. The use of opioid antagonists has been favored, but the bioavailability of oral forms is poor. Opioid antagonists with a quaternary structure have a high affinity for peripheral opioid receptors and therefore do not interfere with the analgesia, nor do they generate alkaloid withdrawal syndrome. Opioid rotation is another strategy for maintaining or improving analgesic quality directed toward decreasing the effects of previous opiates on the GI tract.
This is a preview of subscription content, log in to check access.
Access options
Buy single article
Instant access to the full article PDF.
US$ 39.95
Price includes VAT for USA
Subscribe to journal
Immediate online access to all issues from 2019. Subscription will auto renew annually.
US$ 199
This is the net price. Taxes to be calculated in checkout.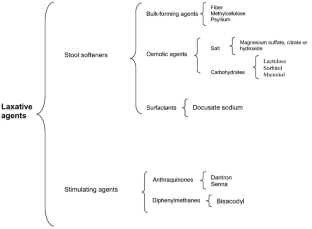 References
1.

Agra Y, Sacristán A, González M, et al (1998) Efficacy of senna versus lactulose in terminal cancer patients treated with opioids. J Pain Symptom Manage 15:1–7

2.

Basilisco G, Camboni G, Bozzani A, et al (1987) Oral naloxone antagonizes loperamide induced oro-caecal transit. Dig Dis Sci 32:829–832

3.

Brogden RN, Carmine AA, Hecl RC, et al (1982) Domperidone: a review of its pharmacological activity, pharmacokinetics and therapeutic efficacy in the symptomatic treatment of chronic dyspepsia and as an antiemetic. Drugs 24:360–400

4.

Bruera E, Berneis C, Michand M, McDonald N (1987) Continuous subcutaneous of metoclopramide for the treatment of narcotic bowel syndrome. Cancer Treat Rep 71:1121–1122

5.

Bruera E, Suarez-Almazor M, Velasco A, et al (1994) The assessment of constipation in terminal cancer patients admitted to palliative care unit: retrospective review. J Pain Symptom Manage 9:515–519

6.

Brunton L (1996) Agents affecting gastrointestinal water flux and motility; emesis and antiemetics; bile acids and pancreatic enzymes. In: Hardman J (ed) Goodman and Gilmans the pharmacological basis of therapeutics, 9th edn. McGraw Hill New York, pp 917–25

7.

Clarke Pearson Dl, Chin NO, DeLong ER, Rice R, et al (1987) Surgical management of intestinal obstruction in ovarian cancer. Gynecol Oncol 26:11–18

8.

Cherny N, Ripamonti C, Pereira J, et al (2001): Strategies to manage the adverse effects of oral morphine: an evidence based report. J Clin Oncol 19:2542–2554

9.

Culpepper-Morgan J, Inturrisi C, Portenoy R, et al (1992) Treatment of opioid induced constipation with naloxone: a pilot study. Clin Pharmacol Ther 52:90–95

10.

Daenick P, Bruera E (1999) Reduction in constipation and laxative requirements following opioid rotation to methadone: a report of four cases. J Pain Symptom Manage 18:303–309

11.

De Luca A, Coupar I (1996) Insights into opioid action in the intestinal tract. Pharmacol Ther 69:103–115

12.

Drolet B, Rousseau G, Daleau P, et al (2000) Domperidone should not be considered a no-risk alternative to cisapride in the treatment of gastrointestinal motility disorders. Circulation 102:1883–1885

13.

Fallon M, Hanks G (1999) Morphine, constipation and performance status in advanced cancer patients. Palliat Med 13:159–156

14.

Fallon M, O'Neil B (1997) ABC of palliative care: constipation and diarrhoea. BMJ 315:1293–1296

15.

Foss J (2001) A review of the potential role of methylnaltrexone in opioid bowel dysfunction. Am J Surg 182:19S–26

16.

Harrington RA, Hamilton CW, Bodgen RN, et al (1983) Metoclopramide. An update review of its pharmacological properties and clinical use. Drugs 25:451–454

17.

Hasler W, Heldsinger A, Soudah H, Owyang C (1990) Erythromycin promotes colonic transit in humans; mediation via motilin receptor. Gastroenterology 98:A358

18.

Janssens J, Peeters TL, Vantrappen G, et al (1990) Improvement of gastric emptying in diabetic gastroparesis by erythromycin. N Engl J Med 322:1028–1031

19.

Kaufman PN, Krevsky B, Malmud L, et al (1988) Role of opiate receptors in the regulation of colonic transit. Gastroenterology 94:1351–1356

20.

Lembo A, Camilier M (2002) Current concepts: chronic constipation. N Engl J Med 349:1360–1368

21.

Liu SS, Hodgson PP, Carpenter RL, et al (2001) ADL-2698, a trans-3,4-dimethyl-4-(3-hydroxyphenyl) piperidine, prevents gastrointestinal effects of intravenous morphine without affecting analgesia. Clin Pharmacol Ther 68:66–71

22.

Lock GR (2000) Technical review on constipation. American Gastroenterological Association. Gastroenterology 119:1766–1778

23.

Manara L, Bianchetti A (1985) The central and peripheral influences of opioids on the gastrointestinal propulsion. Annu Rev Pharmacol Toxicol 25:249–273

24.

Manara L, Bianchi G, Ferretti P, et al (1986) Inhibition of the gastrointestinal transit by morphine in rats results primarily from direct drug action on gut opioid sites. J Pharmacol Exp Ther 237:945–949

25.

Mancini I, Bruera E (1998) Constipation in advanced cancer patients. Support Care Cancer 6:356–364

26.

Mancini I, Bruera E (2002) Constipation. In: Ripamonti C, Bruera E (eds) Gastrointestinal symptoms in advanced cancer. Oxford University Press, Oxford, pp 193–206

27.

Margolin S (1954) Decreased gastrointestinal propulsive activity after intracranial morphine. Fed Proc 13:383–384

28.

McCallum RW, Fink SM, Lerner E, Berkowitz DM (1983) The effects of metoclopramide and bethanechol on delayed gastric emptying present in gastroesophageal reflux patients. Gastroenterology 84:1573–1577

29.

McNicol E, Horowicz-Mehler N, Fisk R, et al (2003) Management of opioid side effects in cancer-related and chronic noncancer pain: a systematic review. J Pain 4:231–256

30.

Meissner W, Schmidt U, Hartman M, et al (1999) Oral naloxone reverses opioid-associated constipation. Pain 84:105–109

31.

Mercadante S (1999) Opioid rotation for cancer pain: rationale and clinical aspects. Cancer 86:1856–1866

32.

Muller-Lissner SA (1987) Treatment of chronic constipation with cisapride and placebo. Gut 28:1033–1038

33.

Muller-Lissner SA (1988) Effect of wheat and bran on weight of stool and gastrointestinal transit time: a meta-analysis. BMJ 296:615–617

34.

Muller-Lissner SA, Fumagalli I, Bardhan KD, et al (2001) Tegaserod, a 5-HT4 receptor partial agonist, relieves symptoms in irritable bowel syndrome patients with abdominal pain, bloating and constipation. Aliment Pharmacol Ther 15:1655–1666

35.

Murphy DB, Sutton JA, Prescott LF, Murphy MB (1997) Opioid-induced delay in gastric emptying. A peripheral mechanism in humans. Anesthesiology 87:765–770

36.

Pappagallo M (2001) Incidence prevalence and management of opioid bowel dysfunction. Am J Surg 182 [Suppl 5A]:11S–18S

37.

Pappagallo M, Stewart W, Woods M (1999) Constipation symptoms in long-term users of opioid analgesic therapy. Poster abstracts. American Pain Society Annual Meeting, Fort Lauderdale, Florida, October 21–24

38.

Portenoy RK (1994) Management of common side effects during long therapy of cancer pain. Ann Acad Med Singapore 23:160–170

39.

Postlethwaite R (1965) Microenemas as evacuant before proctoscopy. Curr Ther Res 7:7–9

40.

Radbruch L Sabatowski R, Loick G, et al (2000) Constipation and the use of laxatives: a comparison between transdermal fentanyl and oral morphine. Palliat Med 14:111–119

41.

Rowbotham DJ, Bamber PA, Nimmo WS (1988) Comparison of the effects of cisapride and metoclopramide on morphine-induced delay in gastric emptying. Br J Clin Pharmacol 26:741–746

42.

Schmidt WK (2001) Alvimopan (ADL 8-2698) is a novel peripheral opioid antagonist. Am J Surg 182 [Suppl 5A]:27S–38S

43.

Shooke JE, Pelton JT, Hurby VJ, et al (1987) Peptide opioid antagonist separates peripheral and central antitransit effects. J Pharmacol Exp Ther 243:492–500

44.

Soffer E, Metcalf A, Launspach J (1994) Misoprostol is effective treatment for patients with severe chronic constipation. Dig Dis Sci 39:29–33

45.

Starreved JS, Pols MA, Vam Wijk HJ, et al (1990) The plain abdominal radiographs in the assessment of constipation. Gastroenterology 28:335–338

46.

Sykes N (1990) Methods of assessment of bowel function in patients with advanced cancer. Palliat Med 4:287–292

47.

Sykes N (1993) An investigation on the ability of oral naloxone to correct opioid induced constipation in patients with advanced cancer. Palliat Med 10:135–144

48.

Sykes N (1996) A volunteer model for the comparison of laxatives in opioid-related constipation. J Pain Symptom Manage 11:263–369

49.

Sykes N (1998) Treatment of morphine induced constipation. Eur J Palliat Care 5:12–15

50.

Sykes N (1998) Constipation and diarrhea. In: Doyle D, Hanks G, MacDonald N (eds) Oxford textbook of palliative medicine. Oxford University Press, Oxford, pp 513–21

51.

Tramonte SM, Brand MB (1997) The treatment of chronic constipation in adults. A systematic review. J Gen Intern Med 12:15–24

52.

Twycross RG, Harcourt J (1991) The use of laxatives at a palliative care centre. Palliat Med 13:159–160

53.

Twycross R, Wilcock A (2002) Pain relief. In: Twycross R, Wilcock A (eds) Symptom management in advanced cancer. Radcliff Medical Press, Oxford, pp 17–68

54.

Tzavella K, Riepl RL, Klauser AG, et al (1996) Decreased substance P in rectal biopsies from patients with slow transit constipation. Eur J Gastroenterol Hepatol 8:1207–1211

55.

Vanegas G, Ripamonti C. Sbanotto A, De Conno F (1998) Side effects of morphine administration in cancer patients. Cancer Nurs 21:289–297

56.

Verne N, Eaker E, Davis R, et al (1997) Colchicine is an effective treatment for patients with chronic constipation: an open-label trial. Dig Dis Sci 42:1079–1082

57.

Verne N, Davis R, Robinson M, et al (2003) Treatment of chronic constipation with colchicine: randomized, double blind, placebo, crossover trial. Am J Gastroenterol 98:1112–1116

58.

Wald A (2000) Constipation. Med Clin North Am 84:1231–1246

59.

Walsh TD (1990) Prevention of opioid side effects. J Pain Symptom Manage 5:362–367

60.

Wilder-Smith C, Betiga A (1997) The analgesic tramadol has minimal effect on motor gastrointestinal function. Br J Clin Pharmacol 43:71–75

61.

World Health Organization (1996) Cancer pain relief: with a guide to opioid availability. WHO Office of Publication, Geneva

62.

Yuan CS, Foss JF, O'Connor M, et al (1996) Methylnaltrexone prevents morphine-induced delay in oral-cecal transit time without affecting analgesia: a double-blind randomized trial. Clin Pharmacol Ther 59:469–475

63.

Yuan CS, Foss JF, O'Connor M, et al (1999) Effects of intravenous methylnaltrexone on opioid-induced gut motility and transit time changes in subjects receiving chronic methadone therapy: a pilot study. Pain 83:631–635

64.

Zimmerman DM, Gidda JS, Cantrell BE, et al (1994) LY246736 dihydrate m-opioid receptor antagonist. Drugs Future 19:1079–1083
Acknowledgement
We would like to thank Liliana de Lima for her valuable observations.
About this article
Cite this article
Tamayo, A.C., Diaz-Zuluaga, P.A. Management of opioid-induced bowel dysfunction in cancer patients. Support Care Cancer 12, 613–618 (2004). https://doi.org/10.1007/s00520-004-0649-7
Received:

Accepted:

Published:

Issue Date:
Keywords
Opioid-induced bowel dysfunction

Morphine

Constipation

Laxatives