Abstract
Goals of work
The aims of this study were (1) to evaluate quality of life (QoL), nutritional status and dietary intake taking into account the stage of disease and therapeutic interventions, (2) to determine potential interrelationships, and (3) to quantify the relative contributions of the cancer, nutrition and treatments on QoL.
Patients and methods
In this prospective cross-sectional study conducted in 271 head and neck, oesophagus, stomach and colorectal cancer patients, the following aspects were evaluated: QoL (EORTC-QLQ C30), nutritional status (percent weight loss over the previous 6 months), usual diet (comprehensive diet history), current diet (24-h recall) and a range of clinical variables.
Main results
Usual and current intakes differed according to the site of the tumour (P=0.02). Patients with stage III/IV disease showed a significant reduction from their usual energy/protein intake (P=0.001), while their current intakes were lower than in patients with stage I/II disease (P=0.0002). Weight loss was greater in patients with stage III/IV disease than in those with stage I/II disease (P=0.001). Estimates of effect size revealed that QoL function scores were determined in 30% by cancer location, in 20% by nutritional intake, in 30% by weight loss, in 10% by chemotherapy, in 6% by surgery, in 3% by disease duration and in 1% by stage of disease. Likewise in the case of symptom scales, 41% were attributed to cancer location, 22% to stage, 7% to nutritional intake, 7% to disease duration, 4% to surgery, 1% to weight loss and 0.01% to chemotherapy. Finally for single items, 30% were determined by stage, 20% by cancer location, 9% by intake, 4% by surgery, 3% by weight loss, 3% by disease duration and 1% by chemotherapy.
Conclusions
Although cancer stage was the major determinant of patients' QoL globally, there were some diagnoses for which the impact of nutritional deterioration combined with deficiencies in nutritional intake may be more important than the stage of the disease process.
Access options
Buy single article
Instant access to the full article PDF.
USD 39.95
Price includes VAT (USA)
Tax calculation will be finalised during checkout.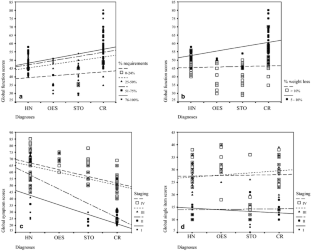 References
1.

Cravo ML, Glória ML, Claro I (2000) Metabolic responses to tumour disease and progression: tumour-host interaction. Clin Nutr 19:459–465

2.

Van der Schueren MAEB, Van Leeuwen PAM, Kuik DJ, et al (1999) The impact of nutritional status on the prognoses of patients with advanced head and neck cancer. Cancer 86:519–527

3.

Grosvenor M, Bulcavage L, Chlebowski R (1989) Symptoms potentially influencing weight loss in a cancer population. Correlations with primary site, nutritional status, and chemotherapy administration. Cancer 63:330–334

4.

Hansell DT, Davies J, Burns HJ (1986) The effects on resting energy expenditure of different tumor types. Cancer 58:1739–1744

5.

Ferrell BR, Dow KH, Grant M (1996) Measurement of quality of life in cancer survivors. Qual Life Res 4:523–531

6.

King's Fund (1992) A positive approach to nutrition as treatment. King's Fund Centre, London

7.

Vetta F, Ronzoni S, Taglieri G, Bollea MR (1999) The impact of malnutrition on the quality of life in the elderly. Clin Nutr 18:259–267

8.

Ottery F (1996) Definition of standardised nutritional assessment and interventional pathways in oncology. Nutrition 12:s15–s19

9.

Sobin L, Ch W (1997) UICC TNM classification of malignant tumours. Willey, New York

10.

Longo D (1998) Approach to the patient with cancer. In: Fauci A, Braunwald E, Isselbacher K, et al (eds) Harrison's principles of internal medicine, 14th edn. McGraw Hill, New York, pp 493–499

11.

ASPEN Board of Directors (2002) Guidelines for the use of parenteral and enteral nutrition in adult and pediatric patients. JPEN J Parenter Enteral Nutr [Suppl] 26:9SA–11SA

12.

WHO (1985) Energy and protein requirements (Technical Report Series). WHO, Geneva

13.

Owen OE, Kavle E, Owen RS (1986) A reappraisal of the caloric requirements in healthy women. Am J Clin Nutr 44:1–19

14.

Owen OE, Holup JL, D'Alessio DA, et al (1987) A reappraisal of the caloric requirements of men. Am J Clin Nutr 46:875–885

15.

Garrel DR, Jobin N, De Jonge LHM (1996) Should we still use the Harris and Benedict equations? Nutr Clin Pract 11:99–103

16.

Food and Nutrition Board Institute of Medicine (2002) Dietary reference intakes for energy, carbohydrates, fiber, fat, protein and amino acids (macronutrients). National Academy Press, Washington DC

17.

Burke B (1947) The diet history as a tool in research. J Am Diet Assoc 23:1041–1046

18.

Ocké M, Kaaks R (1997) Biochemical markers as additional measurements in dietary validity studies: application of the methods of triads with examples from the European Prospective Investigation into Cancer and Nutrition. Am J Clin Nutr 65 [Suppl 4]:1240S–1245S

19.

Whiehl D (1942) Diets of a group of aircraft workers in Southern California. Millbank Memorial Fund Q 20:329–366

20.

Aaronson NK, Ahmedzai S, Bergman B, et al (1993) The European Organisation for Research and Treatment of Cancer QLQ-C30: a quality of life instrument for use in international clinical trials in oncology. J Natl Cancer Inst 85:365–376

21.

Kern KA, Norton JÁ (1988) Cancer cachexia. JPEN J Parenter Enteral Nutr 12:286–298

22.

De Blaauw I, Deutz N, von Meyenfeldt MF (1997) Metabolic changes of cancer cachexia—second of two parts. Clin Nutr 16:223–228

23.

Van der Schueren MAE, Langendoen SI, Vondeling H, et al (2000) Perioperative enteral nutrition and quality of life of severely malnourished head and neck cancer patients: a randomised clinical trial. Clin Nutr 19:437–444

24.

Roberge C, Tran M, Massoud C, et al (2000) Quality of life and home enteral tube feeding: a French prospective study in patients with head and neck or oesophageal cancer. Br J Cancer 82:263–269

25.

de Graeff A, Leeuw RJ, Ros WJG, et al (1999) A prospective study on quality of life of laryngeal cancer patients treated with radiotherapy. Head Neck 21:291–296

26.

Padilla GV, Grant MM, Lipsett J, Anderson PR, Rhiner M, Bogen C (1992) Health quality of life and colorectal cancer. Cancer 70:1450–1456

27.

Wigmore S, Plester C, Ross AC, Fearon E (1997) Contribution of anorexia and hypermetabolism to weight loss in anicteric patients with pancreatic cancer. Br J Surg 84:196–197

28.

Cohn S, Gartenhaus W, Vartsky D, et al (1981) Body composition and dietary intake in neoplastic disease. Am J Clin Nutr 34:1997–2004

29.

Bozzetti F, Migliavacca S, Scotti A, et al (1982) Impact of cancer, type, site, stage and treatment on the nutritional status of patients. Ann Surg 196:170–179

30.

Nguyen N, Sallah S, Karlsson U, Antoine J (2001) Combined chemotherapy and radiation therapy for head and neck malignancies. Cancer 94:1131–1141

31.

Kuntz A, Weymuller E (1999) Impact of neck dissection on quality of life. Laryngoscope 109:1334–1338

32.

Liedman B (1999) Symptoms after total gastrectomy on food intake, body composition, bone metabolism and quality of life in gastric cancer patients—is reconstruction with a reservoir worthwhile? Nutrition 15:677–682

33.

Keys A, Brozec J, Henschel A (1950) The biology of human starvation. University of Minnesota Press, Minneapolis

34.

Ravasco P, Monteiro Grillo I, Marques Vidal P, Camilo ME (2003) Nutrition and patient outcomes: prospective randomised controlled trial in head-neck cancer patients undergoing radiotherapy. Eur J Cancer 1:S207–208

35.

Ravasco P, Monteiro Grillo I, Marques Vidal P, Camilo M (2003) Nutrition and patient outcomes: a prospective randomised controlled trial in colorectal cancer patients undergoing radiotherapy. Int J Radiat Oncol Biol Phys 57 [Suppl 2]:S220–S221
Acknowledgements
We are indebted to the medical, nursing and technical staff of the Radiotherapy Department of the Hospital of Santa Maria. We express our gratitude to Ms. Pat Howard for the insights and thorough revision of the text. This study was supported by a grant from Fundação para a Ciência e Tecnologia (RUN 437).
Additional information
Conflict of interest statement: The authors assert that they have no financial or personal relationships with other people or organizations that could inappropriately influence their work.
About this article
Cite this article
Ravasco, P., Monteiro-Grillo, I., Vidal, P.M. et al. Cancer: disease and nutrition are key determinants of patients' quality of life. Support Care Cancer 12, 246–252 (2004). https://doi.org/10.1007/s00520-003-0568-z
Received:

Accepted:

Published:

Issue Date:
Keywords
Cancer

Diet

Nutritional status

Stage

Quality of life