Abstract
It is estimated that one third of the population in Western industrial countries suffers from constipation at least from time to time. Constipation may have somatopathic or functional causes. Furthermore, a great number of substances are known to cause medication-induced constipation, i.e. opioid-induced constipation is caused by linkage of the opioid to opioid receptors in the bowel and the central nerve system. Whenever possible, causal therapy should be undertaken. Patients in palliative care mostly suffer from chronic functional constipation. The treatment consists of basic measures and the application of laxatives. According to their mode of action, they are divided into bulk-forming laxatives, osmotic laxatives, stimulant laxatives, lubricating agents and others. Bulk-forming laxatives are not recommended for use in palliative care patients, for such patients are normally not able to take in the required amount of fluids. Osmotic laxatives are divided into (magnesium) salts, saccharine, alcohols and macrogols. Lactulose is the most popular saccharine laxative. Because of its side effects (flatulence, bloating and abdominal cramping), lactulose is not a laxative of our choice; instead, we prefer to give macrogol. Orally administered, macrogol is not metabolised and pH value and bowel flora remain unchanged. Macrogol hydrates hardened stools, increases stool volume, decreases the duration of colon passage and dilates the bowel wall that then triggers the defecation reflex. Even when given for some time, the effectiveness of macrogol will not decrease. Because of its high effectiveness and commonly good tolerance, macrogol has become the laxative of first choice in palliative care patients with all kinds of chronic constipation, if these patients are able to take in the necessary amount of fluids. From the general medical point of view, lubricating agents have become obsolete. In palliative care patients, however, they are still important laxatives for prophylactic treatment or therapy of constipation. Due to clinical experience, in palliative care a laxative ladder has proven successful.
Access options
Buy single article
Instant access to the full article PDF.
USD 39.95
Price excludes VAT (USA)
Tax calculation will be finalised during checkout.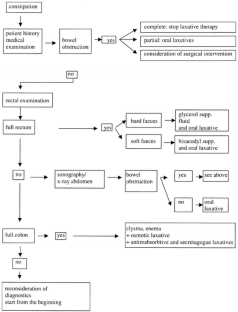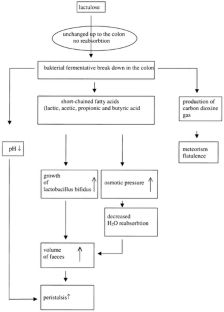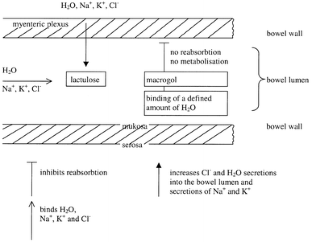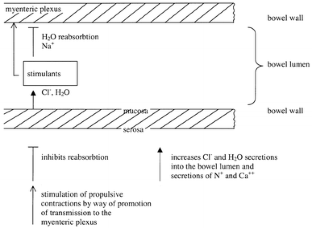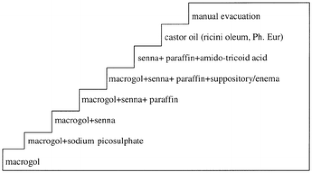 References
Cleveland M, Flavin DP, Ruben R A, Epstein RM, Clark GE (2001) New polyethylene glycol laxative for treatment of constipation in adults: a randomized, double-blind, placebo-controlled study. South Med J 94(5):478–481

Corazziari E, Badiali D, Bazzochi G, Basotti G, Roselli P, Mastropaolo G, Luca MG, Galeazzi R, Peruzzi E (2000) Long-term efficacy, safety and tolerability of low daily doses of isoosmotic polyethylene glycol electrolyte balanced solution (PMF-100) in the treatment of functional chronic constipation. Gut 46:522–526

Goerg K J, Wanitschke R, Loew D (1997) Obstipation und Laxanzien—eine Standortbestimmung, Der Allgemeinarzt. Fortbildung und Praxis für den Hausarzt. Kirchheim Verlag, Mainz. 19. Jg., 1+2, reprint

Hammer HF, Hammer J, Gasche C (2000) Polyäthylenglykol (Macrogol)—Übersicht über seine Verwendung in der Diagnostik und Therapie gastroenterologischer Erkrankungen. Wien. Klein. Wochenschr. 112:53–60

Heaton KW, O'Donnell LJ, Braddon FE, Mountford RA, Hughes RO, Cripps PJ (1992) Symptoms of irritable bowel syndrome in a British urban community: consulters and nonconsulters. Gastroenterology 102:1962–1967

Jurna I, Baldauf J (1993) Retardiert freigesetztes Naloxon oral: Aufhebung der Obstipation durch orales Morphin ohne Beseitigung der Analgesie. Der Schmerz 7:314–321

Kaufman PN, Krevsky B, Malmud LS, Maurer AH, Somers MB, Siegel JA, Fisher RS (1998) Role of opiate receptors in the regulation of colonic transit. Gastroenterology 94:1351–1356

Klauser AG, Mühldorfer BE, Vorderholzer WA, Wenzel G, Müller-Lissner SA (1995) Polyethylene glycol 4000 for slow transit constipation. Gastroenterology 33:5–8

Lasch HM, Bozymski EM (2000) A new weapon for the arsenal in the war against constipation? Am J Gastroenterol 95:341–342

Latasch L, Zimmermann M, Eberhardt B, Jurna I (1997) Aufhebung einer Morphin-induzierten Obstipation durch orales Naloxon. Anaesthesist 46:191–194

Locke GR III (1996) The epidemiology of functional gastrointestinal disorders in north America. Gastroenterol Clin North Am 25:1–19

Müller-Lissner S (1992) Nebenwirkungen von Laxantien. Z Gastroenterology 30:418–427

Müller-Lissner S, Beil W (2001) Moderne Therapie mit Laxantien, unter Mitarbeit von Erckenbrecht JF, Wagner S. UniMed Verlag. Bremen

Sonnenberg A, Koch TR (1989) Epidemiology of constipation in the United States. Dis Colon Rectum 32:1–8

Stewart WF, Liberman JN, Sandler RS, Woods MS, Sternhagen A, Chee E, Lipton RB, Farup CE (1999) Epidemiology of constipation (EPOC) Study in the United States: Relation of clinical subtypes to socioeconomic features. Am J Gastroenterol 94:3530–3539

Sykes N (1998) The treatment of morphine-induced constipation. European Journal of Palliative Care 5(1):12–15

Talley NJ, Weaver AL, Zinsmeister AR (1993) Functional constipation and outlet delay. A population-based study. Gastroenterology 105 781–790

Willweber-Strumpf A, Zenz M, Tryba M (1995) Leitlinien zur Therapie chronischer Schmerzen mit Opioiden. Anaesthesist 44:719–723
Additional information
Presented as an invited lecture at the 15th International Symposium Supportive Care in Cancer, Berlin, Germany, June 18–21, 2003.
About this article
Cite this article
Klaschik, E., Nauck, F. & Ostgathe, C. Constipation—modern laxative therapy. Support Care Cancer 11, 679–685 (2003). https://doi.org/10.1007/s00520-003-0525-x
Received:

Accepted:

Published:

Issue Date:

DOI: https://doi.org/10.1007/s00520-003-0525-x
Keywords
Constipation

Physiology

Therapy

Laxatives

Opioids

Palliative medicine