This is a preview of subscription content, log in to check access.
Access options
Buy single article
Instant access to the full article PDF.
US$ 39.95
Price includes VAT for USA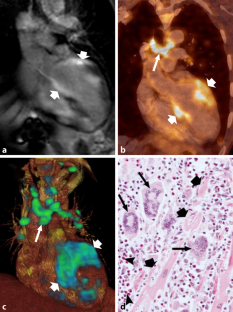 References
1.

Shih JA, Shih JA. Small steps for idiopathic giant cell myocarditis. Curr Heart Fail Rep. 2015;12:263–8.

2.

Kandolin R, Lehtonen J, Kupari M. Cardiac sarcoidosis and giant cell myocarditis as causes of atrioventricular block in young and middle-aged adults. Circ Arrhythm Electrophysiol. 2011;4:303–9.

3.

Cooper LT Jr, Berry GJ. Shabetai R. Idiopathic giant-cell myocarditis—natural history and treatment. Multicenter Giant Cell Myocarditis Study Group Investigators. N Engl J Med. 1997;336:1860–6.
Ethics declarations
Conflict of interest
P. Kuchynka, T. Palecek, L. Lambert, A. Fikrle, I. Vitkova, M. Masek, S. Magage, and A. Linhart declare that they have no competing interests.
Caption Electronic Supplementary Material
Video 1: transthoracic echocardiography, apical four-chamber view. The recording shows a non-dilated left ventricle with preserved ejection fraction despite dyskinesis of mildly thickened basal part of interventricular septum. RA right atrium, LA left atrium, RV right ventricle, LV left ventricle
Video 2: transthoracic echocardiography, apical four-chamber view. The recording shows a non-dilated left ventricle with mildly reduced global systolic function with ejection fraction of 45% with thinning and dyskinesis of basal segments of the interventricular septum. Additionally, note the lead of implantable cardioverter defibrillator in the right ventricle. RA right atrium, LA left atrium, RV right ventricle, LV left ventricle
About this article
Cite this article
Kuchynka, P., Palecek, T., Lambert, L. et al. Importance of endomyocardial biopsy in distinguishing between cardiac sarcoidosis and giant cell myocarditis. Wien Klin Wochenschr 131, 186–187 (2019). https://doi.org/10.1007/s00508-018-1413-1
Received:

Accepted:

Published:

Issue Date:
Keywords
Cardiac Sarcoidosis (CS)

Giant Cell Myocarditis (GCM)

Endomyocardial Biopsy

Positron Emission Tomography-computed Tomography

Sole Administration